L.A. classical music performances, June 4-11: The annual Ojai Music Festival and more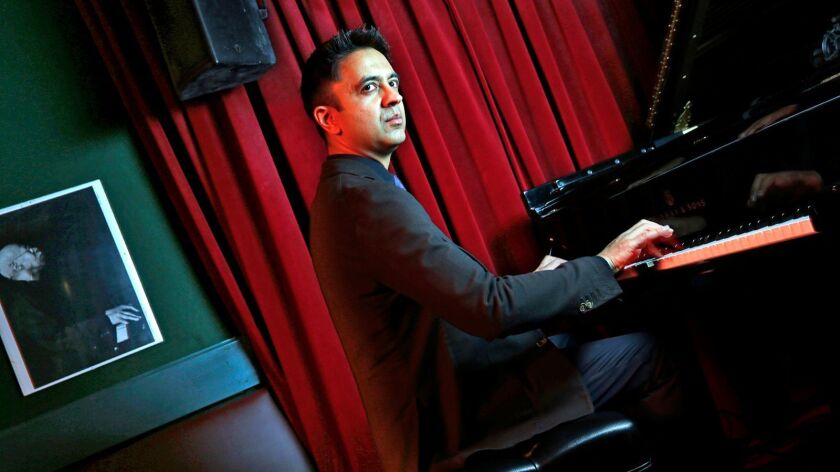 Interactive Angel City Chorale's multimedia-enhanced concert includes the world premiere of Andrew Cheeseman's "A Vibration." Wilshire United Methodist Church, 4350 Wilshire Blvd., L.A. Sun., 7 p.m. $22-$75. (800) 838-3006.
Le Salon de Musiques Season closer features chamber music for strings and piano by Mendelssohn, Scharwenka and Richard Strauss. Dorothy Chandler Pavilion, 5th Floor Salon, 135 N. Grand Ave., L.A. Sun., 4 p.m. $85; students, $45. (310) 498-0257.
Nixon Library Sunday Concerts Musical Arts Club of Orange County's winners' recital. Richard M. Nixon Library, 18001 Yorba Linda Blvd., Yorba Linda. Sun., 2 p.m. Free. (714) 993-5075.
Philip Scrivin The organist plays music by Bach, Schumann, et al. All Saints' Church, 504 N. Camden Drive, Beverly Hills. Sun., 5 p.m. $10, $20. (310) 275-0123.
SummerFest 17 Pasadena String Quartet performs pieces by Haydn, Prokofiev and Dvorak in this Music Guild presentation. University Synagogue, 11960 Sunset Blvd., Brentwood. Sun., 3 p.m. $46-$58. (310) 558-3500.
Sundays Live The UCLA Camarades, VEM String Quartet, Jocelyn Ho and baritone Garrett Schoonover perform. Bing Theater, LACMA, 5905 Wilshire Blvd., L.A. Sun., 6 p.m. Free. (323) 857-6234.
Glendale Noon Concerts Violinist Jacqueline Suzuki and pianist Brendan White perform Richard Strauss' Sonata for violin & piano in E-flat Major. Glendale City Church, 610 E. California Ave., Glendale. Wed., 12:10 p.m. Free. (818) 244-7241.
Ojai Music Festival Composer and jazz pianist Vijay Iyer serves as music director for this year's edition of the four-day festival, which features works by Iyer, Esa-Pekka Salonen, Stravinsky, et al., plus the West Coast premiere of George Lewis' "Afterword, an opera"; program details at www.ojaifestival.org. Libbey Bowl, 210 S. Signal St., Ojai; other venues. Thu.-next Sun. $20-$150. (805) 646-2053.
Pacific Symphony The orchestra is joined by Pacific Chorale and guest vocalists for Mahler's Second Symphony. Renée and Henry Segerstrom Concert Hall, Segerstrom Center for the Arts, 600 Town Center Drive, Costa Mesa. Thu.-Sat., 8 p.m.; next Sun., 3 p.m. $22 and up. (714) 755-5799.
Culver City Symphony Orchestra Mozart's Symphony No. 29, Copland's "Quiet City" and more. Kirk Douglas Theatre, 9820 Washington Blvd., Culver City. Sat., 7:30 p.m. $15, $25. (310) 717-5500.
Edendale Up Close Concerts Fiato Quartet plays music by Mozart and Beethoven. Edendale Branch Library, 2011 W. Sunset Blvd., L.A. Sat., noon. Free. (213) 207-3000.
Music & Conversations The Lyris Quartet is joined by singer-composer Moira Smiley. Jack Rutberg Fine Arts, 357 N. La Brea Ave., L.A. Sat., 8 p.m. $20. www.musicandconversations.org.
Long Beach Symphony Shostakovich's "The Gadfly Suite," Prokofiev's Suites 1-3 from "Cinderella," and Tchaikovsky's Piano Concerto No. 1 featuring pianist George Li. Terrace Theater, Long Beach Performing Arts Center, 300 E. Ocean Blvd, Long Beach. Sat., 8 p.m. $25 and up; students, $10. (562) 436-3203.
Moscow Virtuosi Chamber Orchestra Works by Mozart, Shostakovich, Grieg, Verdi, et al.; with soprano Hibla Gerzmava and cellist Danielle Akta. Wilshire Ebell Theatre, 4401 W. 8th St., L.A. Sat., 7 p.m. $55-$110. (323) 939-1128.
Pasadena Master Chorale Fauré's Requiem and Heinrich Schütz's "Musikalische Exequien." Altadena Community Church, 943 E. Altadena Drive, Altadena. Sat.-next Sun., 7:30 p.m. Free; donations accepted. (626) 208-0009.
The Romance of Yue Opera With Wang Zhiping and Huang Hui of the Shanghai Yueju Company. The Huntington, Rothenberg Hall, 1151 Oxford Road, San Marino. Sat., 3 p.m. Free; reservations required. (626) 405-2100.
Mozart, Madrigals and More! Pittance Chamber Music, featuring members of the LA Opera Orchestra and Chrous, performs works by Mozart, Villa-Lobos, et al.; with guest dancer Damara Titmus. Pasadena Conservatory of Music, Barrett Hall, 100 N. Hill Ave., Pasadena. Next Sun., 8 p.m. Free; donations accepted. www.PittanceChamberMusic.org.
Second Sundays at Two Pianist Robert Thies performs. Rolling Hills United Methodist Church, 26438 Crenshaw Blvd., Rolling Hills Estates. Next Sun., 2 p.m. Free; donations appreciated. (310) 316-5574.
Sundays Live Members of the Capitol Ensemble perform pieces by Mozart and Elgar. Bing Theater, LACMA, 5905 Wilshire Blvd., L.A. Next Sun., 6 p.m. Free. (323) 857-6234.
---
Your essential guide to the arts in L.A.
Get Carolina A. Miranda's weekly newsletter for what's happening, plus openings, critics' picks and more.
You may occasionally receive promotional content from the Los Angeles Times.