SoCal theater listings, May 12-19: 'Pippin,' 'Invisible Tango' and more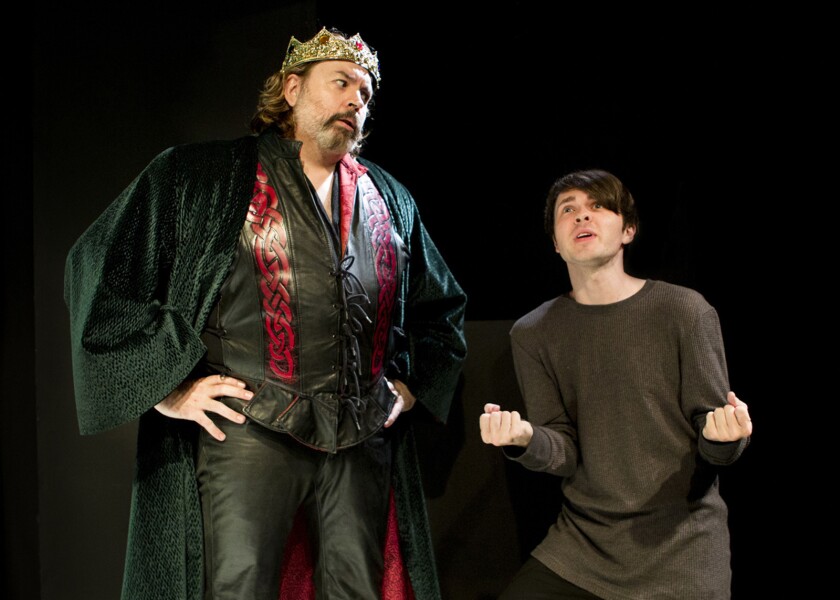 Capsule reviews are by Philip Brandes (P.B.), Charles McNulty (C.M.) and Daryl H. Miller (D.H.M.).
Openings
MOMentum Place Annual Mother's Day celebration features aerialists, circus performers, dancers and musicians. Will Geer's Theatricum Botanicum, 1419 N. Topanga Canyon Blvd., Topanga. Sun., brunch, noon; performance, 2 p.m. $10-$40; brunch, $30. (310) 455-2322. theatricum.com
Mother's Day With Elvis Tribute artist Raymond Michael salutes the king of rock 'n' Roll. Simi Valley Cultural Arts Center, 3050 E. Los Angeles Ave., Simi Valley. Sun., 7:30 p.m. $22-$29. (805) 583-7900. simi-arts.org
Solo Creation Festival Showcase for original solo works continues. Son of Semele Theater, 3301 Beverly Blvd., L.A. Sun., next Sun., 5 p.m.; Thu.-Sat., 8 p.m.; ends May 26. $15. (213) 351-3507. sonofsemele.org
StoryTime The Group Rep presents personal stories of joy, sadness and humor; for ages 18 and up. Lonny Chapman Theatre, 10900 Burbank Blvd., North Hollywood. Sun., 7 p.m. $12. (818) 763-5990. thegrouprep.com
The Living Room Series Staged reading of Ashley Rose Wellman's "Hot Tragic Dead Thing." The Blank's 2nd Stage Theatre, 6500 Santa Monica Blvd., Hollywood. Mon., 8 p.m. $15 suggested donation. (323) 661-9827. theblank.com
Shame of Thrones: The Musical Spoof of the hit fantasy drama "Game of Thrones." Whitefire Theatre, 13500 Ventura Blvd., Sherman Oaks. Mon., 8 p.m.; ends July 8. $25, $33. (800) 838-3006. brownpapertickets.com
Invisible Tango Illusionist Helder Guimarães performs in this fantastical solo show featuring original music by Moby. Geffen Playhouse, Audrey Skirball Kenis Theater, 10886 Le Conte Ave., Westwood. Wed.-Fri., 8 p.m.; Sat., 3 and 8 p.m.; ends June 30. $30-$130. (310) 208-5454. geffenplayhouse.org
A Bad Year for Tomatoes A famous actress seeking seclusion in Vermont devises a ruse to keep the townsfolk away in John Patrick's comedy. Theatre 40, Reuben Cordova Theatre, 241 S. Moreno Drive, Beverly Hills. Thu., 8 p.m.; Fri., 7 p.m.; Sat., 8 p.m., next Sun., 2 p.m.; ends June 16. $35. (310) 364-0535. theatre40.org
Dead Accounts A New York banker pays a surprise visit to his family in Cincinnati in Theresa Rebeck's comedy. Little Fish Theatre, 777 S. Centre St., San Pedro. Thu.-Sat., 8 p.m.; ends June 9. $15-$28; May 24, pay what you can ($5 minimum). (310) 512-6030. littlefishtheatre.org
The Gods of Comedy A pair of ancient Greek deities descend on a college campus after being inadvertently summoned by a young classics professor in this world-premiere comedy by Ken Ludwig. The Old Globe, 1363 Old Globe Way, San Diego. Thu.-Fri., 8 p.m.; Sat., 2 and 8 p.m.; next Sun., 2 and 7 p.m.; ends June 16. $30 and up. (619) 234-5623. theoldglobe.org
Mamma Mia! A young woman hopes to uncover which of her mother's former beaus is her father in this romantic musical built around the songs of the Swedish pop group ABBA. East West Players, David Henry Hwang Theater, 120 Judge John Aiso St., L.A. Thu.-Fri., 8 p.m.; Sat., 2 and 8 p.m.; next Sun., 2 p.m.; ends June 9. $50-$75. (213) 625-7000. eastwestplayers.org
Roots: An Evening of World Premiere Shorts Four new short plays. Theatre of NOTE, 1517 N. Cahuenga Blvd., Hollywood. Thu.-Sat., 8 p.m.; next Sun., 7 p,.m.; ends June 23. $20, $25. (323) 856-8611. theatreofnote.com
At the Table Six friends go on a weekend retreat without any digital devices in the L.A. premiere of Michael Perlman's drama. The Road on Lankershim, 5108 Lankershim Blvd., North Hollywood. Fri.-Sat., 8 p.m.; next Sun., 2 p.m.; ends July 7. $15, $34; Sundays, pay what you can. (818) 761-8838. roadtheatre.org
Die, Mommie, Die! L.A. Theatre Works records Charles Busch's campy sendup of 1960s melodramas; with Busch, Willie Garson. James Bridges Theater, UCLA School of Theater, Film and Television, 235 Charles E. Young Drive, Westwood. Fri., 8 p.m.; Sat., 3 and 8 p.m.; next Sun., 4 p.m. $15-$65. (310) 827-0889. latw.org
Lady Day at Emerson's Bar and Grill Lanie Robertson's musical bio-drama envisions one of jazz great Billie Holiday's final performances; Deidrie Henry stars. Garry Marshall Theatre, 4252 W. Riverside Drive, Burbank. Fri.-Sat., 8 p.m.; next Sun., 3 p.m.; ends June 2. $25-$65. (818) 955-8101. garrymarshalltheatre.org
New Works Festival Year 3 Readings of new works by MFA students at USC. The Pasadena Playhouse, 39 S. El Molino Ave., Pasadena. Fri., 8 p.m.; Sat., 2 and 8 p.m. $10, $15. (626) 356-7529. PasadenaPlayhouse.org
Nunsense Musical farce about a group of nuns staging a talent show. Glendale Centre Theatre, 324 N. Orange St., Glendale. Fri., 7:30 p.m.; Sat.-next Sun., 2 and 7:30 p.m.; ends June 22. $20-$34. (818) 244-8481. glendalecentretheatre.com
Paige Turner: Drag Me to the Top! The drag artist offers songs, stories and comedy. The Cavern Club @ Casita Del Campo, 1920 Hyperion Ave., L.A. Fri.-Sat., 9 p.m. $25. (800) 838-3006. brownpapertickets.com
Pippin Kentwood Players stages the classic Stephen Schwartz musical about a young medieval prince who embarks on a journey of self-discovery. Westchester Playhouse, 8301 Hindry Ave., Westchester. Fri.-Sat., 8 p.m.; next Sun., 2 p.m.; ends June 22. $25, $27. (310) 645-5156. kentwoodplayers.org
Pop-Up Magazine's 2019 Spring Issue Live magazine features writers, journalists, filmmakers and others sharing multimedia-enhanced stories. The Theatre at Ace Hotel, 929 S. Broadway, L.A. Fri., 7:30 p.m. $39-$49. popupmagazine.com
Bronco Billy — The Musical A performer in a struggling Wild West show meets an heiress on the lam in this new musical based on the 1980 Clint Eastwood comedy. Skylight Theatre, 1816 N. Vermont Ave., Los Feliz. Sat., 8:30 p.m.; next Sun., 2 p.m.; ends June 30. $29-$55; opening night only, $75; student rush, $20. (866) 811-4111. skylighttix.org
Come to the Cabaret, My Friends With Jonathan Friedmann, Avi Gross, the band Crinoline and others. Horace Heidt Estates, Aloha Room, 14155 W. Magnolia Blvd., Sherman Oaks. Sat., 5 p.m. $18. (888) 552-4552.
An Evening With James Barbour The Broadway veteran sings show tunes and more. La Mirada Theatre, 14900 La Mirada Blvd., La Mirada. Sat., 8 p.m. $15-$48. (562) 944-9801. lamiradatheatre.com
The Guys A writer helps an FDNY captain prepare eulogies for firefighters killed on Sept. 11 in a benefit performance of Anne Nelson's two-character drama; with Wendie Malick and Dan Lauria. Will Geer's Theatricum Botanicum, 1419 N. Topanga Canyon Blvd., Topanga. Sat., 6:30 p.m. $175, $250. (310) 455-3723. theatricum.com
A Jordan Downs Illumination Cornerstone Theater Company celebrates the residents of the Watts housing project in this immersive, site-specific work co-created with community members. Jordan Downs Recreation Center, 9900 Grape Ave., L.A. Sat., 8 p.m.; next Sun., 7:30 p.m.; ends May 26. Pay what you can ($20 suggested). cornerstonetheater.org
M. Butterfly A French diplomat falls in love with a beguiling Chinese opera star in David Henry Hwang's acclaimed drama; for ages high school and up; contains adult language, sexuality and nudity. South Coast Repertory, Segerstrom Stage, 655 Town Center Drive, Costa Mesa. Sat., 2:30 and 8 p.m.; next Sun., 2:30 and 7:30 p.m.; ends June 8. $23 and up. (714) 708-5555. scr.org
Seven Guitars August Wilson's drama about the trials and travails of an African American musician and others in 1940s Pittsburgh. Long Beach Playhouse, 5021 E. Anaheim St., Long Beach. Sat., 8 p.m.; ends June 5. $14-$27. (562) 494-1014. lbplayhouse.org
Backstage at the Geffen Harry Belafonte and Lily Tomlin are feted in this fundraiser hosted by Julia Sweeney. Geffen Playhouse, Gil Cates Theater, 10886 Le Conte Ave., Westwood. Next Sun., 6 p.m. $1,500 and up. (310) 208-6500. geffenplayhouse.org
Critics' Choices
Daniel's Husband This absorbing drama by Michael McKeever, which was a hit off-Broadway, explores the debate on same-sex marriage from a less obvious angle. Set in the "perfectly appointed" home of a gay couple, the play examines the conflict between Daniel and Mitchell, committed partners in their 40s who have polarized views on holy matrimony. As gleaming as a coffee table book, what begins as a contemporary gay comedy takes an unexpected turn that can't be revealed, but it changes the stakes of the marriage debate and turns comedy into serious drama. Gaining strength from the intimacy of the Fountain Theatre and the general excellence of the production, "Daniel's Husband" begins in laughter, culminates in tears and leaves off in contemplation of the dangers in putting off for another day what matters most. (C.M.) The Fountain Theatre, 5060 Fountain Ave., L.A. Sun., next Sun., 2 p.m.; Mon., Fri.-Sat., 8 p.m.; ends June 23. $25-$45. (323) 663-1525. fountaintheatre.com
Falsettos In William Finn's musical, set in 1979 and 1981, Marvin leaves his wife and son to live with a man, but although their relationships keep rearranging, they remain, resolutely, a family. This is a series of songs with no connecting dialogue, so the storytelling is elliptical. Truth be told, the show can be a challenge. But James Lapine's playful direction and resonant performances (note to "Wicked" fans: Eden Espinosa plays the wife) carry the audience through laughter and tears. (D.H.M.) Ahmanson Theatre, 135 N. Grand Ave., L.A. Sun., Tue.-Wed., 8 p.m.; Thu., 2 and 8 p.m.; Fri., 8 p.m.; Sat., 2 and 8 p.m.; next Sun., 1 p.m.; ends May 19. $30-$135. $30-$135. (213) 972-4400. centertheatregroup.org
Julius Weezer It's 44 B.C., a bit before the ides of March, and Roman citizens are in the streets singing a cheeky ode to life in the Seven Hills — to the tune of Weezer's "Beverly Hills." The Troubadour Theater Company has come up with another of its classic story/classic rock mash-ups. With Shakespeare's "Julius Caesar" as source material, it's a bit more serious than most Troubie shows, but not to worry: You'll laugh plenty. (D.H.M.) El Portal Theatre, 5269 Lankershim Blvd., North Hollywood. Fri., 8 p.m.; Sat., 4 and 8 p.m.; next Sun., 4 p.m.; ends May 19. $50-$65. (866) 811-4111. elportaltheatre.com
Smart Love Fine performances and a strikingly original premise elevate a witty but at times convoluted comedy about romantic possibilities afforded by the brave new world of ever-accelerating technology. (P.B.) Pacific Resident Theatre, 703 Venice Blvd., Venice. Ends Sun., 5 p.m. $30, $34; discounts available. (310) 822-8392. pacificresidenttheatre.com
---
The complete guide to home viewing
Get Screen Gab for weekly recommendations, analysis, interviews and irreverent discussion of the TV and streaming movies everyone's talking about.
You may occasionally receive promotional content from the Los Angeles Times.