SoCal theater, July 14-21: Musical parodies of 'Friends' and 'Lost' and more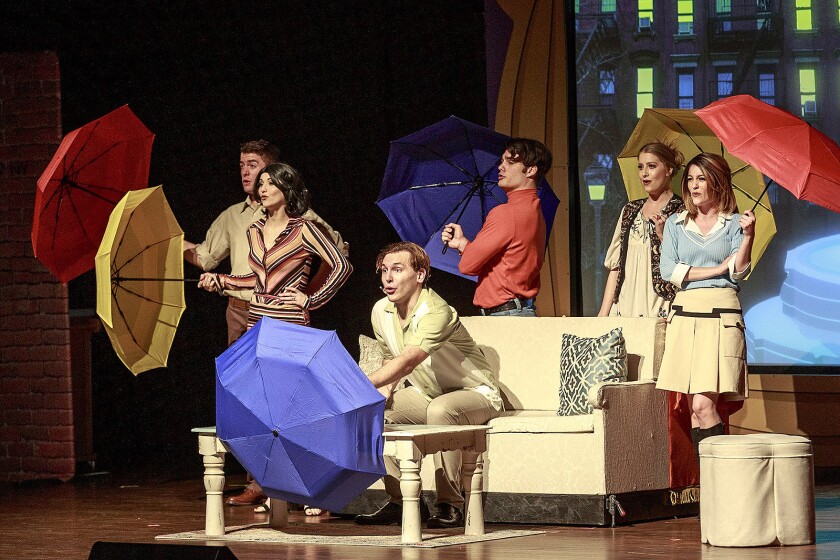 Capsule reviews are by Charles McNulty (C.M.), Philip Brandes (P.B.), F. Kathleen Foley (F.K.F.), Margaret Gray (M.G.) and Daryl H. Miller (D.H.M.).
Openings
Botanicum Seedlings: A Development Series for Playwrights Staged readings of "Sadie's Day" by Danielle DeCrette (Sun., 11 a.m.) and "The Dog Show" by Ivan Faute (next Sun., 11 a.m.). Will Geer's Theatricum Botanicum, 1419 N. Topanga Canyon Blvd., Topanga. Free; donations accepted. (310) 455-3723. theatricum.com
Free to Be The family-friendly interactive-performance series continues with Story Pirates (Sun., noon and 2 p.m.) and storyteller Rick Huddle (Sat., noon and 2 p.m.). Skirball Cultural Center, Family Amphitheater, 2701 N. Sepulveda Blvd., L.A. Included with museum admission ($7-$12). (310) 440-4500. skirball.org
Kristin Chenoweth in Concert: Pint-Sized and Half-a-Century The Tony winner sings show tunes, standards and more backed by Thomas Wilkins and the Hollywood Bowl Orchestra. Hollywood Bowl, 2301 N. Highland Ave., Hollywood. Sun., 7:30 p.m. $14-$201. (323) 850-2000. www.hollywoodbowl.com
The 2019 New Works Festival Staged readings of plays in development. Garry Marshall Theatre, 4252 W. Riverside Drive, Burbank. Sun., 7 p.m.; Mon.-Tue., 4 and 8 p.m. Free; reservations recommended. (818) 955-8101. garrymarshalltheatre.org
Lost: The Musical Send-up of the hit TV series about plane-crash survivors marooned on a mysterious island. The Whitefire Theatre, 13500 Ventura Blvd., Sherman Oaks. Mon., 8 p.m.; ends Sept. 23. $20-$25. 800) 838-3006. brownpapertickets.com
Center Theatre Group Library Play Reading Series "Chato's Kitchen" by Gary Soto. Benjamin Franklin Library, 2200 E. 1st St., L.A. Tue., 6 p.m. Also at Malabar Library, 2801 Wabash Ave., L.A. Wed., 6 p.m.; and Robert Louis Stevenson Library, 803 Spence St., L.A. Thu., 6 p.m. Free. CenterTheatreGroup.org
Mostly Macbeth Kid-friendly take on Shakespeare's dark tale; with pre-show entertainment. Sontag Greek Theatre at Pomona College, 300 E. Bonita Ave., Claremont. Tue.-Wed., 7 p.m. $15. (909) 734-6565. opheliasjump.org
Friends: The Musical Parody L.A. premiere of this sendup of the hit sitcom about a group of 20-something pals in NYC; for ages 13 and up. Kirk Douglas Theatre, 9820 Washington Blvd., Culver City. Wed.-Fri., 8 p.m.; Sat., 2 and 8 p.m.; next Sun., and 6:30 p.m.; ends Aug. 4. $25 and up. (213) 628-2772. KirkDouglasTheatre.org
Not a Genuine Black Man Writer-performer and comic Brian Copeland stars in this autobiographical solo show. Stephanie Feury Studio Theatre, 5636 Melrose Ave., L.A. Wed., 7:30 p.m.; also July 24. $25. sfstheatre.com
Beasts From the Sea! All-new deep sea-themed haunted maze. Zombie Joe's Underground Theatre Group, 4850 Lankershim Blvd., North Hollywood. Thu.-Sat., 8 to 11 p.m.; ends Aug. 3. $15. (818) 202-4120. ZombieJoes.com
King Lear The Harold Clurman Lab Theater stages Shakespeare's tragedy of an aging monarch who descends into madness. The Art of Acting Studio, 1017 N. Orange Drive, L.A. Thu.-Sat., 8 p.m.; ends Aug. 3. $20 in advance; pay what you can at the door. (323) 601-5310. ovationtix.com
Miss Saigon Hit musical, inspired by the Puccini opera "Madame Butterfly," about an ill-fated romance between a young Vietnamese woman and an American soldier. Hollywood Pantages, 6233 Hollywood Blvd., Hollywood. Thu.-Fri., 8 p.m.; Sat., 2 and 8 p.m.; next Sun., 1 and 6:30 p.m.; ends Aug. 11. $49 and up. (800) 982-2787. hollywoodpantages.com
Mueller Report Read-A-Thon Actors, community leaders and others take part in a marathon reading of former Special Counsel Robert Mueller's "Report on the Investigation into Russian Interference in the 2016 Presidential Election." The Fountain Theatre, 5060 Fountain Ave., L.A. Thu., 9 a.m. to midnight. Free. (323) 663-1525. fountaintheatre.com
100 Planes Austin's Filigree Theatre stages the West Coast premiere of Lila Rose Kaplan's 1990s-set comic drama about a hotshot female Air Force pilot. Sacred Fools Theatre Company, 1076 Lillian Way, Hollywood. Thu.-Sat., 8 p.m.; next Sun., 5 p.m.; ends Aug. 4. $20-$30. (512) 496-5208. filigreetheatre.com
Renovations for Six A young couple who are new in town host a dinner party to make new friends and promote their business in the U.S. premiere of Norm Foster's comedy. Theatre 40, Reuben Cordova Theatre, 241 S. Moreno Dr., Beverly Hills. Thu., 8 p.m.; Fri., 7 p.m.; Sat., 8 p.m.; next Sun., 2 p.m.; ends Aug. 18. $35. (310) 364-0535. theatre40.org
Soul Searching Actor-singer Mark Arthur Miller celebrates the music of Motown. Catalina Bar & Grill, 6725 W. Sunset Blvd., Hollywood. Thu., 8:30 p.m. $25; food and drink minimums apply. (866) 466-2210. catalinajazzclub.com
Blithe Spirit Kentwood Players present Noel Coward's classic supernatural comedy. Westchester Playhouse, 8301 Hindry Ave., Westchester. Fri.-Sat., 8 p.m.; next Sun., 2 p.m.; ends Aug. 24. $20, $22. (310) 645-5156. kentwoodplayers.org
How to Succeed in Business Without Really Trying Frank Loesser's classic musical satire about a young upstart climbing the corporate ladder. Rose Center Theater, 14140 All American Way, Westminster. Fri.-Sat., 7:30 p.m.; next Sun., 2 p.m.; ends Aug. 11. $20-$27. (714) 793-1150. rosecentertheater.com
Hugh Jackman: The Man. The Music. The Show. The Tony-winning Broadway star and film actor sings show tunes and more backed by a live orchestra; with guest vocalist Keala Settle ("The Greatest Showman"). Hollywood Bowl, 2301 N. Highland Ave., Hollywood. Fri.-Sat., 8 p.m. $39-$259. (323) 850-2000. hollywoodbowl.com
MenAlive: Boy Bandz The Orange County Gay Men's Chorus sings hits by New Kids on the Block, the Backstreet Boys and others. Irvine Barclay Theatre, 4242 Campus Drive, Irvine. Fri., 8 p.m.; Sat., 3 and 8 p.m. $19-$49. (949) 854-4646. thebarclay.org
Steppin' Out With Ben Vereen The Tony winner and showbiz veteran performs. Catalina Bar & Grill, 6725 W. Sunset Blvd., Hollywood. Fri.-Sat., 8:30 p.m. $35 and up; food and drink minimums apply. (866) 466-2210. catalinajazzclub.com
The Direction Home Four disparate 20-somethings share a house in late-1970s West Hollywood in Greg Vie's new relationship comedy. Let Live Theatre @ The Actors Company, 916A N. Formosa Ave., L.A. Sat., 8 p.m.; next Sun., 3 p.m.; ends Aug. 18. $30. (323) 960-1055. onstage411.com
Legends, Movement and Memories Veteran singers Freda Payne and Florence LaRue and dance artists Sheetal Gandhi Juli Kim are the featured performers in this Los Angeles Women's Theatre Festival presentation cohosted by Marla Gibbs. Greenway Court Theatre, 544 N. Fairfax Ave., L.A. Sat., 8 p.m. $25, $30. (818) 760-0408. lawtf.org
Twelve Angry Men A dozen local attorneys take part in a staged reading of the classic courtroom drama in this fundraiser. Theatre West, 3333 Cahuenga Blvd. West, L.A. Sat., 8 p.m. $50. (323) 851-4839. theatrewest.org
Water by the Spoonful Quiara Alegría Hudes' Pulitzer Prize-winning drama about an Iraq War veteran with PTSD and members of internet chat room for people battling addiction. Long Beach Playhouse, Studio Theatre (upstairs), 5021 E. Anaheim St., Long Beach. Sat., 8 p.m.; ends Aug. 17. $14-$27. (562) 494-1014. lbplayhouse.org
The Man in Black: Tribute to Johnny Cash Shawn Barker salutes the country-music legend. Scherr Forum Theatre, Thousand Oaks Civic Arts Plaza, 2100 Thousand Oaks Blvd., Thousand Oaks. Next Sun., 7 p.m. $40, $50. (800) 745-3000. ticketmaster.com
The New Bad Boys of Magic Daniel Donohue and Eric Siegel perform; ages 21 and up only. The Three Clubs, 1123 Vine St., Hollywood. July 21. Next Sun., 8 p.m. $10. badboysmagic.com
Critics' Choices
Daniel's Husband This absorbing drama by Michael McKeever, which was a hit off-Broadway, explores the debate on same-sex marriage from a less obvious angle. Set in the "perfectly appointed" home of a gay couple, the play examines the conflict between Daniel and Mitchell, committed partners in their 40s who have polarized views on holy matrimony. As gleaming as a coffee table book, what begins as a contemporary gay comedy takes an unexpected turn that can't be revealed, but it changes the stakes of the marriage debate and turns comedy into serious drama. Gaining strength from the intimacy of the Fountain Theatre and the general excellence of the production, "Daniel's Husband" begins in laughter, culminates in tears and leaves off in contemplation of the dangers in putting off for another day what matters most. (C.M.) The Fountain Theatre, 5060 Fountain Ave., L.A. Sun., next Sun., 2 p.m.; Mon., Sat., 8 p.m.; ends July 28. $5-$50. (323) 663-1525. fountaintheatre.com
Men on Boats This side of an amusement park, you're unlikely to find more thrills, chills and death-defying spills than you will in this impeccably realized production. Jaclyn Backhaus based her meticulously researched play on the travel journals of John Wesley Powell, whose 1869 expedition to survey the Grand Canyon in four rickety wooden boats was perhaps the last great adventure into the uncharted West. In a stripped down, marvelously inventive staging, director Barbara Kallir and her superlative cast make us feel every harrowing beat of Powell's death-defying escapade. As the playwright intended, an all female, non-binary cast performs the all-male roles — a device that ineffably but undeniably deepens our connection to what might otherwise have been a standard recapitulation of historical events. (F.K.F.) Son of Semele Theater, 3301 Beverly Blvd., L.A. Sun., next Sun., 5 p.m.; Tue., 7 p.m.; Fri.-Sat., 8 p.m.; ends July 28. $20, $25. (213) 351-3507. www.sonofsemele.org
Moby Dick — Rehearsed Director Ellen Geer and a cast of 19 imaginatively bring to life Orson Welles' 1955 adaptation of Herman Melville's philosophical whaling novel, constructing the Pequod of little more than a bit of rope and sending it into the rolling Atlantic. The ghostly title cetacean isn't physically manifested, but we see it nevertheless in the wonder and terror in the actors' eyes. (D.H.M.) Sun., Sat., 4 p.m.; ends Sept. 29. $10-$42; 4 and under, free. (310) 455-3723. theatricum.com
Ragtime: The Musical Although written about America at the dawn of the 20th century, this musical based on E.L. Doctorow's novel is packed with issues that demand our attention today. It's a powerfully uplifting tale about people who dare to hope amid even the bleakest circumstances, finding unity in diversity. Director Casey Stangl has cleverly rethought this massive show for a tiny space, making the story at once intimate and epic. (D.H.M.) Chance Theater, 5522 E. La Palma Ave., Anaheim. Sun., 3 p.m.; next Sun., 3 p.m.; Thu., 7:30 p.m.; Fri., 8 p.m.; Sat., 3 and 8 p.m.; ends Aug. 11. $25-$49; discounts available. (888) 455-4212. ChanceTheater.com
---
Your essential guide to the arts in L.A.
Get Carolina A. Miranda's weekly newsletter for what's happening, plus openings, critics' picks and more.
You may occasionally receive promotional content from the Los Angeles Times.