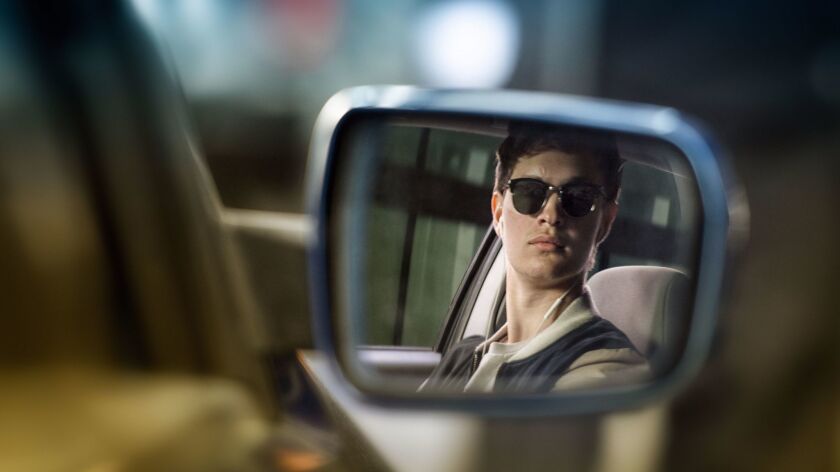 New on Blu-ray:
"Baby Driver" (Sony DVD, $30.99; Blu-ray, $34.99; 4K, $45.99; also available on VOD)
After writer-director Edgar Wright left Marvel's "Ant-Man" over creative differences, he channeled his energy into something more original and more personal — and came away with some of the best reviews and biggest box office of his career. The music-comedy-action hybrid "Baby Driver" stars Ansel Elgort as the wheelman for a crack crew of high-tech heist artists (with members played by Kevin Spacey, Jamie Foxx, Jon Hamm and Flea). When a job goes wrong, the gang descends into infighting and double-crosses, in a fast-paced and colorful chase picture, scored to the eclectic tunes on the hero's iPod. This is quintessential Wright, mixing whiz-bang genre cinema homages with swells of emotion.
Special features: deleted scenes, featurettes and multiple commentary tracks
VOD
"Brawl in Cell Block 99" (available Oct. 13)
Fans of writer-director S. Craig Zahler's 2015 instant-classic horror western "Bone Tomahawk" should be pleased to know that his follow-up, "Brawl in Cell Block 99," is no sophomore slump. The vividly detailed and unabashedly brutal prison thriller stars Vince Vaughn as an honorable bruiser who takes the fall for a crime and then finds himself having to work as a mob enforcer in prison to keep his family safe on the outside. As with Zahler's earlier film, "Brawl" is slow and long, but never boring, because each minute is filled with flavorful dialogue and careful scene-setting. And when the punching and skull-crushing begin? Hoo boy. The movie holds nothing back.
TV set of the week
"The Leftovers: The Third and Final Season" (Warner Blu-ray, $29.98)
Though it was never one of HBO's biggest hits, writer-producer Damon Lindelof's adaptation (and expansion) of Tom Perrotta's low-key post-apocalyptic novel "The Leftovers" developed a fervent following and delivered a final season so strong that the show is bound to see its devotees grow in the years to come. Without ever definitively answering the series' central question — why did 140 million people simultaneously disappear from the Earth? — the third season does offer a satisfying resolution to the story of a suicidal sheriff (Justin Theroux), a luckless widow (Carrie Coon) and the community of well-meaning family and friends they cobbled together after the "sudden departure." "The Leftovers" ends the way it began, with funny and heartbreaking stories about humanity's never-ending search for personal connections and deeper meanings.
Special features: None
From the archives
"Othello" (Criterion DVD, $39.95; Blu-ray, $49.95)
Orson Welles spent three years shooting his version of William Shakespeare's "Othello," which ultimately turned out to be one of his most artistically daring films — by necessity as much as by design. Welles kept tinkering with the movie after its initial 1951 European release, and in the decades that followed, multiple versions have been in circulation — including a controversial restoration that his daughter Beatrice oversaw. Criterion's new double-disc edition offers two very different cuts and copious supplementary materials, which taken together tell the fascinating story of a remarkable project.
Special features: New and old interviews, a scholarly commentary track and Welles' essay-film "Filming 'Othello'"
Three more to see
"The Beguiled" (Universal DVD, $29.98; Blu-ray, $34.98; also available on VOD); "The House" (Warner Bros. DVD/Blu-ray combo, $35.99; also available on VOD); "The Lure" (Criterion DVD, $29.95; Blu-ray, $39.95)
---