Digital video runs a screen on the cityscape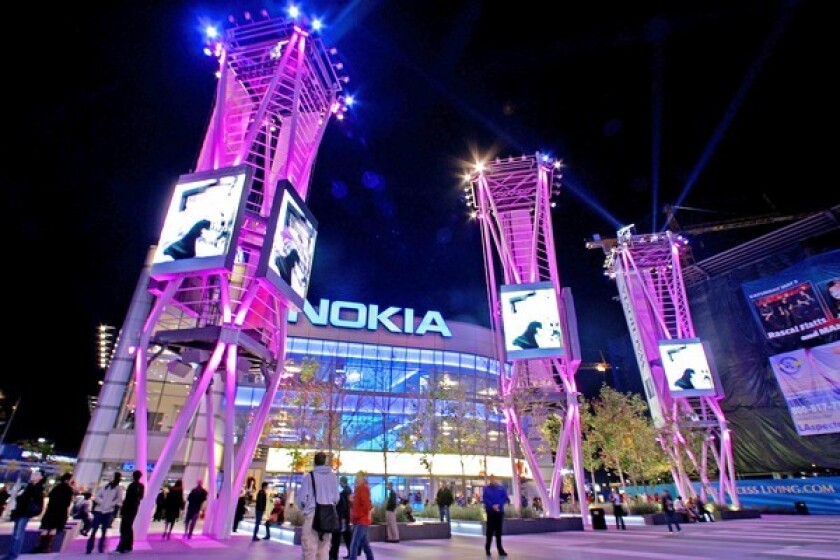 Architecture Critic
Apple is expected to unveil its much-anticipated touch-screen tablet on Wednesday morning. A few journalists see the device as a possible savior for the newspaper business. Me? I'm wondering how it'll affect the skyline.
Don't laugh. Whatever shape it takes, Apple's tablet promises to slip another digital screen -- and with it another layer of seductive interference -- between us and the contemporary cityscape. As these layers pile up, they are fundamentally changing our relationship with architecture: how we look at and think about buildings and the extent to which they even register in our minds at all.
Digital screens now line the walls of nearly every airport terminal, restaurant, convenience store, bar and waiting room in America. They have popped up in gas stations, taxis, schools and even on public buses. They wrap the exterior of L.A. Live and other major commercial complexes. And increasingly they rest in our palms, in the form of the iPhones, BlackBerrys and other smart phones that many of us rely on, like Dante following Virgil, as we walk or ride through the city.
The appearance of all these screens is not some harbinger of cultural decline. It doesn't signal the end of architecture or even, necessarily, a cheapening of it. What it does mean is that more and more we find ourselves estranged from the physical, bricks-and-mortar life of buildings -- and that we look at the cityscape not just with divided but with fully fractured attention. Even a pedigreed piece of architecture by a famous designer is no longer simply an object that we confront directly or consider whole: It is often something either hidden behind digital walls or half-glimpsed in the background as we direct our main attention to the flickering object in our hands or laps.
Most of these screens, of course, are deployed without the aid of an architect. Long after the design process for an office building, casino or shopping mall is finished, some manager or other non-designer typically steps in and decides to hang flat-screen monitors in seemingly every corner. But the effect is fundamentally architectural: The digital screen is arguably the most powerful form of decorative ornament ever invented -- a kind of super-ornament. A screen playing along a wall with the sound going -- or an iPhone showing Lakers highlights -- produces a vortex capable of sucking up nearly all our attention, making the rest of a room's design invisible or irrelevant.
Writers and architects have studied for generations the various ways signs and screens animate the city, a focus that accelerated as car travel and billboard culture began to redefine American culture after World War II. What's changed in the last two or three years is both the number and type of screens that fill our cities and, crucially, the way they operate. The collective power of these screens means that every city is capable of containing the kind of visual energy we've traditionally associated with exceptional urban pockets like the Las Vegas Strip. Every intersection is morphing into Times Square.
What is projected
For a handful of architects, these developments are welcome, opening up the chance to create buildings that are sheathed in digital skins and operate more as immersive environments than mute, monumental objects. The Los Angeles architect Greg Lynn, among others, talks about that prospect in optimistic tones.
It's not hard to understand why: As the separation between buildings and their digital exteriors falls away, architecture will become capable of endlessly reinventing itself, constantly refreshing the face it shows the city. An early example of that approach can be seen in Eric Owen Moss' newly constructed Art Tower on National Boulevard in Culver City, a 72-foot-high, open-air steel structure with digital projection screens on each of its five levels.
But other architects will react to the rise of the screen by seeking inspiration in the field's pre-digital past, making their designs quiet, contemplative or unmistakably hand-crafted -- refuges from the city's digital noise. In explaining his decision to recruit Peter Zumthor to produce a new plan for the Los Angeles County Museum of Art, Michael Govan, the museum's director, described the Swiss architect's buildings as a potential antidote to the visual overload of the Wilshire Boulevard streetscape.
As architects try to comprehend these changes, meanwhile, technology companies are busy giving us new ways to see and interpret buildings. Take the introduction last month of Google Goggles, which follows on the heels of Google Earth, Google Maps and other features from the company that have transformed the way we look at the city. The feature allows owners of cellphones with cameras to search the Web using images instead of words. Say you see a building and want to know more about it. You simply hold up your phone and snap a picture -- and Goggles delivers information from the Internet to your screen.
The arrival of this service means that the details of a building -- who designed it, even descriptions of its cultural importance -- now hover in the ether around the building itself, waiting to be downloaded onto a portable screen. A new world of architectural literacy could open up as a result.
Witness Dallas
But there is a price to pay for that stream of information, or at least a new kind of architectural way-finding to get used to. The phone becomes, in essence, the set of eyes we use to see and make sense of the city, or a second set. Even as Google Goggles and programs like it bring architecture closer to us, they also push it away.
There are yet other ways that digital screens are allowing developers and marketers to rewrite the basic definition of architecture. Two significant examples can be found in a single, albeit massive, building: the new Dallas Cowboys stadium in Arlington, Texas, which just wrapped up its first season in operation.
Designed by Dallas architecture firm HKS, the extravagant stadium cost $1.15 billion to build. Football fans have nicknamed it "the Dallas Palace." Suspended over the center of the field is its most attention-grabbing element of all: A huge four-sided video board that shows replays, and live action of the game itself, in crisp high-definition. The board -- 72 feet tall and 160 feet wide on each of its two biggest sides -- is so much larger than existing stadium screens, and its images so much sharper, that it seems to create an entirely new category of sports-world amenity.
Though the stadium holds up to 100,000 fans, depending on the configuration of the seats, and includes 300 luxury boxes and large-scale, site-specific artwork by Olafur Eliasson and Matthew Ritchie, none of that seems to matter once the video board, the largest in the world, is switched on. Many fans inside the stadium simply capitulate to its overwhelming presence. In December, the team handed out special glasses and showed part of the matchup between the Cowboys and the Chargers in 3-D -- the same game that was going on live on the field below.
Like many new sports-world facilities, Cowboys Stadium also features long, thin video screens -- so-called ribbon screens -- ringing the field and its interior concourses. Even the menu boards at the concessions stands are digital.
The presence of all those screens has opened up fresh revenue streams for the Cowboys and their marketing-savvy owner, Jerry Jones. The signage in the stadium, as it is nearly all digital, can be endlessly reprogrammed and shuffled during the course of a game or a season. Companies can buy ad segments during pregame warmups or halftime, say, when fans are out of their seats and walking around.
The result is a piece of architecture that exists not just as an arrangement of steel and glass but also, fascinatingly enough, as a broadcast medium, like television or radio. Thanks to the number and variety of screens inside the stadium, from the giant video board on down, what Jones sells to advertisers is not space but time.
Ornament as content
Ornament has long been among the most controversial subjects in architecture. A century ago, architect Adolf Loos, a self-appointed evangelist for the modern movement, infamously compared building decoration to degeneracy and crime. In the 1970s, architects including Robert Venturi and Charles Moore dusted off ornament and made it respectable again. And in recent years a new generation of digitally savvy architects have begun to weave ornament into the skins of their building designs, blurring the distinction between decoration and structural engineering.
But the rise of the digital screen has left many architects flat-footed, slow to respond to changes in the basic definition of ornament and decoration that have profound implications for the future city. In Loos' day, ornament took a very different form, and filled a different need, than it does today. The neoclassical colonnades and Gothic gargoyles of the 19th century city gave richness and depth to facades -- and stitched connections between new buildings and the architectural past. Loos argued for rejecting that sort of ornament in favor of the lean smoothness of a Modernist building -- a building shorn of extraneous detail and thus liberated from the weight of history.
The digital screen, by contrast, combines both sides of the old smoothness-versus-ornament divide. It is decoration and flatness at the same time, which is precisely what makes it so powerful.
As screens begin to cover more buildings, the city will become capable of effortlessly updating its architectural content. In the most extreme scenario, a sort of Marshall McLuhan-meets-"Blade Runner" fever dream, the skyline may begin, like television, to broadcast a continuous, all-encompassing present. Every building will be a contemporary building, carrying an up-to-date visual message, which means that no building will be a historical building. Digital screens seem likely over time to render the architectural past fainter and fainter -- and maybe even lead the city to forget itself.
That prospect remains a long way off. But it suggests that it is not just architects who ought to be paying attention as the screen continues to change the way we interact with buildings. It is also preservationists, novelists, developers, politicians and planners -- anybody with an interest in understanding the forces shaping architecture in the digital age.
---
The complete guide to home viewing
Get Screen Gab for weekly recommendations, analysis, interviews and irreverent discussion of the TV and streaming movies everyone's talking about.
You may occasionally receive promotional content from the Los Angeles Times.