The scales are balanced between the straightforward and the offbeat in the 99-Seat Beat, our weekly recommendations for Southern California's small stages. Arthur Miller's "The Price" at International City Theatre dramatizes in linear fashion the self-deceptions that people practice to justify their bungled lives. Lucas Hnath's "The Christians" at Actors Co-op examines the schism caused when a popular preacher espouses heretical views. Lauren Yee's "Samsara," about an American couple who opt to have a baby via a South Asian surrogate, boldly blurs fantasy and reality. And the wacky, politically cutting "Violence: The Misadventures of Spike Spangle, Farmer," a reprise of a 1986 Actors' Gang production, remains remarkably timely.
'The Price' at ICT
The essentials: Veteran cop Victor must empty his family's attic before the building's imminent demolition. He and wife Esther have long blamed Victor's brother Walter, an eminent surgeon, for refusing to help care for their father — which, Victor says, is why he dropped out of school and got trapped in a low-paying job he hates. When Walter unexpectedly arrives on the scene, the estranged brothers air their grievances along with some shocking revelations.
Why this? Arthur Miller's 1968 play is very much a drama of ideas. The main events have all occurred almost 30 years ago, but the self-deluded characters remain trapped in those long-ago hurts and misperceptions. It's a penetrating analysis of the lengths to which people will go to rationalize their emotional blindness.
Details: International City Theatre, Long Beach Performing Arts Center, 330 E. Seaside Way. 8 p.m. Fridays-Saturdays, 2 p.m. Sundays, through May 26. $47-$49. (562) 436-4610. InternationalCityTheatre.org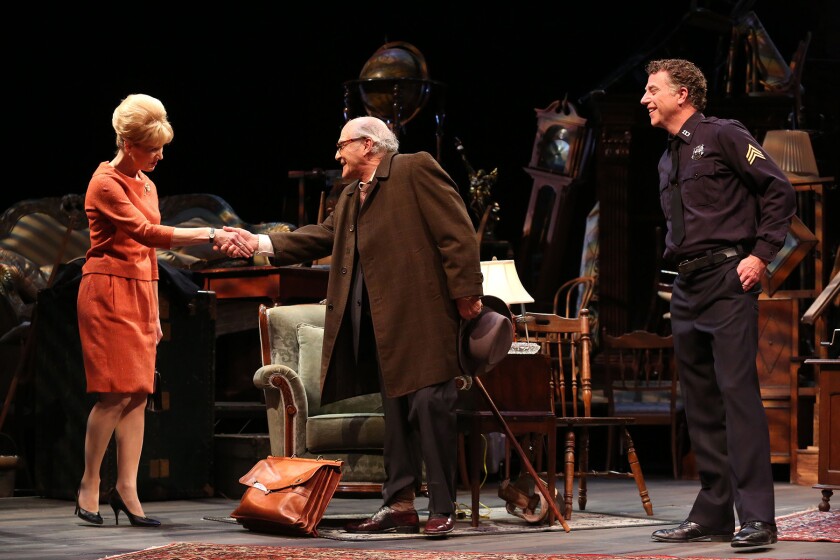 'Spike Spangle' at Actors' Gang
The essentials: In "Violence: The Misadventures of Spike Spangle, Farmer," the gullible title character is anxious to provide for his pregnant wife and unborn baby. Unable to secure a loan from his local bank, he is drawn into the coils of billionaire schemer Maximilian Enormous and his corrupt cronies. They select Spike as the perfectly patriotic figurehead to launch on a doomed space flight intended to spark a war that will further their financial and political interests.
Why this? Tim Robbins' and Adam Simon's screwball yarn is being presented with few revisions more than three decades after its premiere, but it remains current with the headlines of our day. Sardonic and just plain goofy, the play addresses the growing gap between plutocrats and the poor, the unchecked power of the military-industrial complex and the shabby treatment of immigrants.
Details: The Actors' Gang Theatre, 9070 Venice Blvd., Culver City. 8 p.m. Thursdays-Saturdays, through June 22. $34.99. (310) 838-4264. TheActorsGang.com
'The Christians' at Actors Co-op
The essentials: Pastor Paul delivers a sermon disputing the existence of hell, causing a schism within his congregation — and his marriage. The Christian theater company Actors Co-op takes on the well-balanced drama seen at the Mark Taper Forum in 2015.
Why this? Raised in an evangelical household, playwright Lucas Hnath invests "The Christians" with you-are-there authenticity. Director Thomas James O'Leary feared that the play might be too controversial for Actors Co-op, but the company embraced the work right away. "I think that it's a great move for them," he said, "to take on a play that asks big questions about faith with such humanity."
Details: Actors Co-op's Crossley Theatre, 1760 N. Gower St., Hollywood. 8 p.m. Fridays-Saturdays; 2:30 p.m. Sundays. through June 16. Also 2:30 p.m. May 18 and May 25. $35. (323) 462-8460. ActorsCo-op.org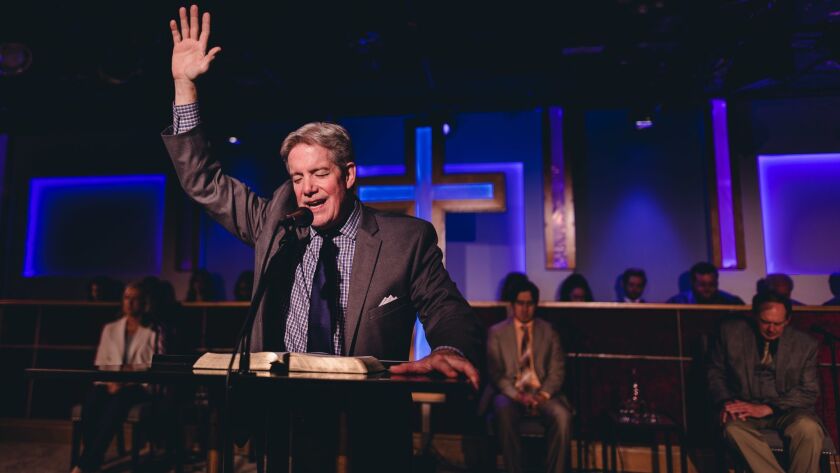 Coeurage's 'Samsara' at the Met
The essentials: Katie and Craig hire 18-year-old overseas surrogate Suraiya to carry their baby. Reluctant to fly, Katie sends Craig off to India to oversee their baby's delivery. Immersed in a new culture, Craig begins to question the morality and motives behind the surrogacy. When the unforeseen disrupts the couple's plans, the relationship faces a make-or-break moment.
REVIEW: 'The Secret Garden' in Cerritos is bountiful but still gets lost in the weeds »
Why this? In other plays such as "King of the Yees," writer Lauren Yee has demonstrated a flair for the delightfully eccentric. "Samsara" is no exception, as evidenced by characters who include Katie's fantasy French lover and an amusingly talkative fetus. At its core, however, "Samsara" is a poignant portrait of an estranged couple at a crossroads. Director Rebecca Wear looks for meaning in the play's fantastical elements, which she says "illuminate the journeys we all take to find ourselves — including the journey within."
Details: Coeurage Theater Company production at the Met Theatre, 1089 N. Oxford Ave, Los Angeles. 8:30 p.m. Thursdays-Saturdays, through June 1. Also 7 p.m. May 19 and 8:30 p.m. May 28. (323) 944-2165. Coeurage.org/buytickets
The best way to support coverage of local theater is to become a digital subscriber and to read our news and reviews at latimes.com/arts.
---