Review: 'Secret Garden' in Cerritos is bountiful but still gets lost in the weeds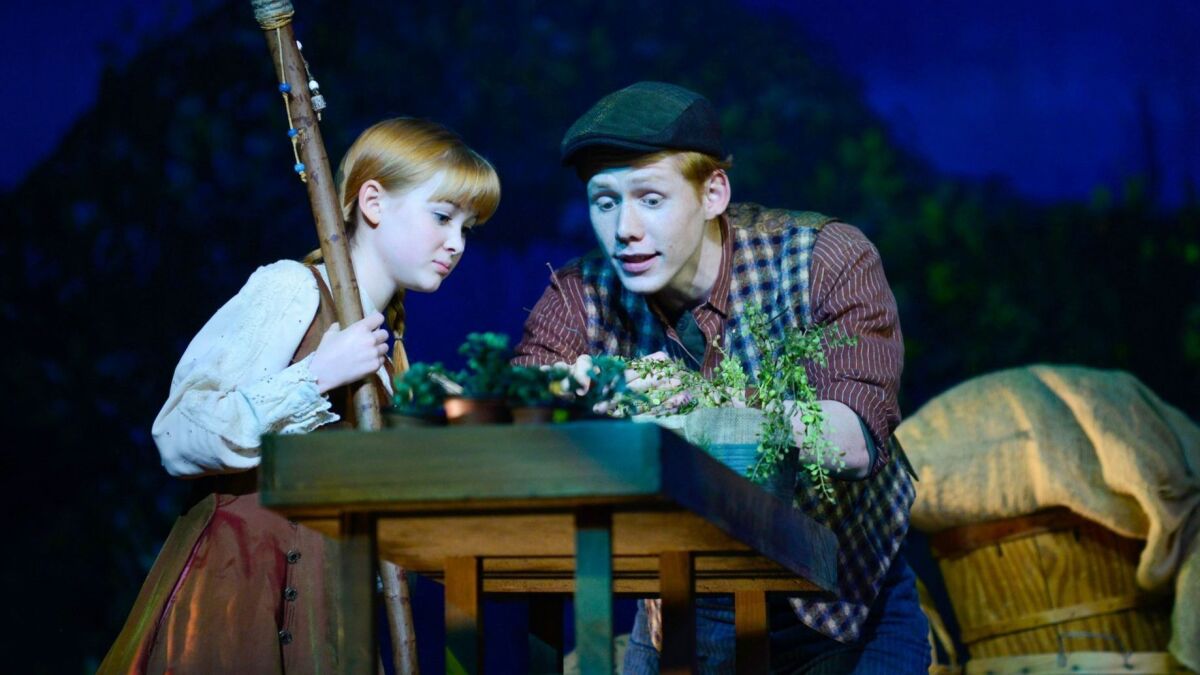 Sniffles in the darkness. They're a sign of success, right?
Yes, but at productions of the 1991 Broadway musical "The Secret Garden," they're a backhanded indicator. They come only when the show's infamously problematic framework is out of the way, letting the source material — Frances Hodgson Burnett's 1911 youth novel — go to work on the audience's sympathies.
In a progression from darkness to light, the story gradually leaves the ghostly indoors of a mansion on the moors of northern England for the wildly verdant outdoors, where garden tending becomes a metaphor for family nurturing.
A 3-D Theatricals staging at Cerritos Center for the Performing Arts spares no effort in bringing the tale to life. For starters, there are evocative new sets, costumes and projections (think: funereal paneling and imposing portraits like those in Disneyland's Haunted Mansion). A cast of 24 delivers soaring vocals and commits to the show's sweeping emotions, with an orchestra of 14, conducted by Allen Everman, deepening the lush score. Leading the endeavor, director T.J. Dawson and choreographer Leslie Stevens strive mightily to clarify the script through the images they've mapped onto the stage.
THE 99-SEAT BEAT: Our weekly column on Southern California's smaller stages »
Orphaned 10-year-old Mary Lennox (Glory Joy Rose) is sent to a house "with something wrong inside it," as the lyrics forewarn. She's become the ward of her Uncle Archibald (Dino Nicandros), a widower too lost in grief to properly care for her. So others quietly take charge, principally a fun-loving young chambermaid (Renna Nightingale), her nature-boy brother (Brandon Root) and the estate's kindly gardener (Richard Gould).
The scenes focusing on this group are fairly effective. But the script by Marsha Norman diminishes some of the novel's central characters and alters others as she shapes the material into an overcooked melodrama. Things are confusing from the start — mysterious red ribbons, a lot of people dressed in white. For a show built on youth literature, "The Secret Garden" is not very kid-friendly.
Lucy Simon's songs sound like early 20th century operetta here, British folk music there, with a fondness for robust choruses.
Rich in big voices, this production is especially powerful whenever Nicandros, as Uncle Archibald, lets his soaring baritone go husky with emotion or Jeanette Dawson, as Archibald's ghostly wife, calls out to the living in her glittering soprano.
Parts of this production really blossom; too bad so much else gets lost in the weeds.
===
'The Secret Garden'
Where: Cerritos Center for the Performing Arts, 12700 Center Court Drive
When: 8 p.m. Fridays and Saturdays, 2 p.m. Saturdays and Sundays, 7:30 p.m. Thursday; ends May 19
Tickets: $10-$85
Info: (562) 916-8500, 3dtheatricals.org
Running time: 2 hours, 45 minutes
=====
See all of our latest arts news and reviews at latimes.com/arts.
---
Get our daily Entertainment newsletter
Get the day's top stories on Hollywood, film, television, music, arts, culture and more.
You may occasionally receive promotional content from the Los Angeles Times.