The 99 Seat Beat: Gay New Orleans, police shootings and 'Wicked Lit'
If the political and social landscape looks strange at the moment, remember that it's often a playwright who shows us how current events have evolved from deeper histories. This week some of L.A.'s smallest theaters take on some of the country's biggest issues — racism, homophobia, the collapse of public education. And just in case you prefer horror of the supernatural variety, there's a spooky Halloween immersive experience too.
Here's our weekly roundup, this time featuring Celebration Theatre's "The View UpStairs," "Exit Strategy" at the Los Angeles LGBT Center, "Br'er Cotton" at Zephyr Theatre and "Wicked Lit 2017" at Mountain View cemetery in Altadena.
---
1. "The View UpStairs" at Celebration
The essentials: This musical, which premiered last spring off-Broadway, whisks its protagonist from the present day to a 1970s gay bar in New Orleans, where he gets to know a clientele of hustlers, drag queens and down-on-their-luck torch singers. Juxtaposing two eras allows playwright Max Vernon to compare and contrast — as well as revel in — gay culture, then and now.
Why this? Celebration had a gorgeous, splashy hit last season with its West Coast premiere of the musical "The Boy From Oz." Its director, Michael A. Shepperd, an L.A. theater veteran known for his infectious ebullience (and his mellifluous voice), is helming "The View UpStairs." The versatile Matthew Hancock heads up the cast.
Details: Celebration Theatre @ the Lex Theatre, 6760 Lexington Ave., L.A. 8 p.m. Thursdays-Saturdays, 2 p.m. Sundays; ends Oct. 29. $25-$45. (323) 957-1884, www.celebrationtheatre.com
---
2. "Exit Strategy" at the Los Angeles LGBT Center
The essentials: Ike Holter is the rising Chicago playwright of "Hit the Wall," the musical about the Stonewall riots produced at the LGBT Center in 2015. He turns his attention to the state of public education in "Exit Strategy." This play about an urban high school on its last gasp premiered in Chicago and later opened off-Broadway, where the New York Times called it a "pointed if sentimental drama" and said Holter "has a gift for sharp characterization and crisply funny dialogue with jagged edges."
Why this? "Hit the Wall" swept the Los Angeles Drama Critics Circle awards in 2015; co-producers Jon Imparato and Adam Silver, along with several of the other creative talents behind that success, are also on board here. Director Deena Selenow is a highly regarded artist who runs the interdisciplinary arts program at Occidental College and was named a "person to watch" by American Theatre magazine in 2015.
Details: L.A. LGBT Center's Davidson/Valentini Theatre, 1125 N. McCadden Place, Hollywood. 8 p.m. Fridays and Saturdays, 7 p.m. Sundays; ends Nov. 5. $30. (323) 860-7300, www.lalgbtcenter.org/theatre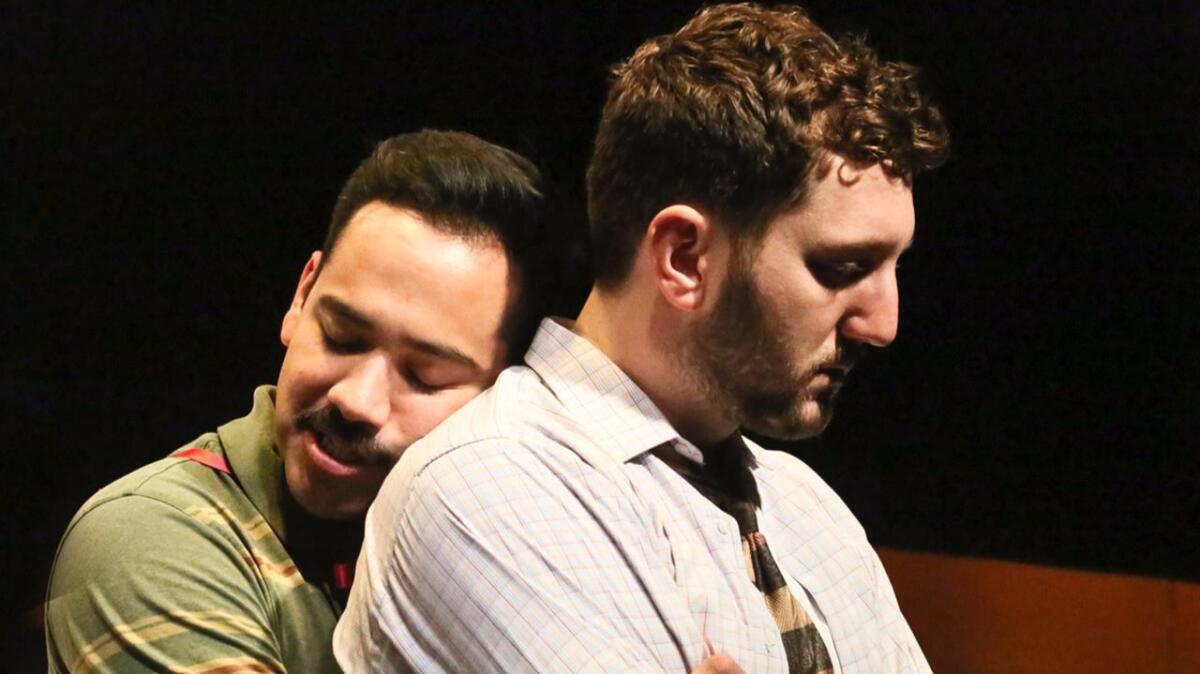 ---
3. "Br'er Cotton" at Zephyr
The essentials: This new play by Tearrance Arvelle Chisholm was selected by National New Play Network for its "rolling world premiere" program. Reports from Dallas, where "Br'er" Cotton" opened over the summer, promise a troubling take on systemic racial violence. "Br'er Cotton" (its title evokes the African American tradition of Uncle Remus tales) is set on a former cotton plantation in Lynchburg, Tenn., where a 14-year-old boy is enraged by ever-more-frequent reports of police shootings of young black men.
Why this? The director, Gregg T. Daniel, is coming off a string of critically acclaimed productions at small and midsize theaters, including "Honky" and "Les Blancs" at Rogue Machine, "All the Way" at South Coast Repertory and "Fences" at International City Theatre. It should be interesting to see how his company, Lower Depth Theatre Ensemble, handles the staging: The family's house sinks gradually into the cotton fields.
Details: Zephyr Theatre, 7456 Melrose Ave., L.A. 8 p.m. Saturdays and Mondays, 3 p.m. Sundays (no performance Oct. 9); ends Oct. 29. $15-$45. (323) 960-7745, www.lower-depth.com/on-stage.
SIGN UP for the free Essential Arts & Culture newsletter »
---
4. "Wicked Lit 2017" in Altadena
The essentials: It's the eighth annual edition of Unbound Productions' immersive experience, in which the audience wanders a graveyard to encounter three horror stories adapted for performance. This year's spooky sources include Ambrose Bierce, Margaret Oliphant and the "Egyptian Book of the Dead."
Why this? The walking means "Wicked Lit" isn't for the uncertain of gait. The spooky subject matter makes it inappropriate for the faint of heart. But those who do dare should reserve tickets soon. These shows sell out.
Details: Mountain View cemetery, 2400 N. Marengo Ave., Altadena. 7:30 p.m. Wednesdays-Sundays; ends Oct. 29. $40-$80. (323) 332-2065, www.wickedlit.org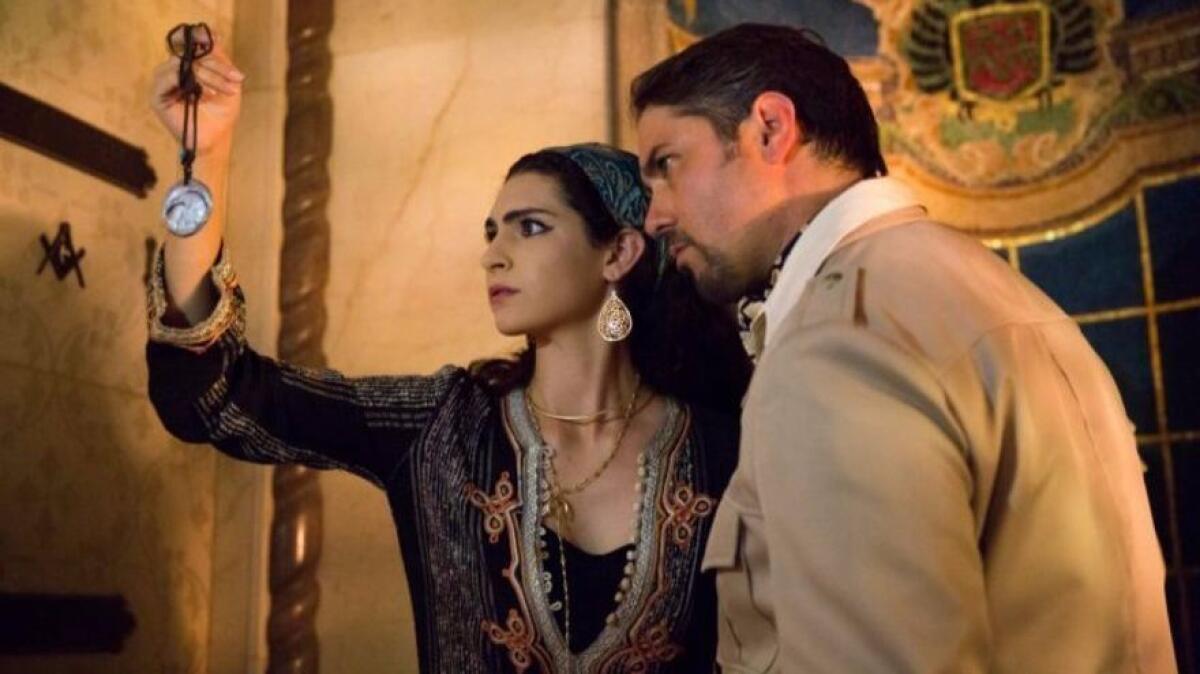 ---
The 99-Seat Beat appears every Friday. Our team of reviewers — people with more than 50 years of combined experience tracking local theater — shortlist current offerings at 99-seat theaters and other smaller venues. Some (but not all) recommendations are shows we've seen; others have caught our attention because of the track record of the company, playwright, director or cast. You can find more comprehensive theater listings posted every Sunday at latimes.com/arts.
Support coverage of the arts. Share this article.
MORE THEATER:
Review: A Noise Within's 'Madwoman of Chaillot'
Review: 'Big Night' at the Kirk Douglas
Review: Open Fist's 'Walking to Buchenwald'
Review: Tarell Alvin McCraney's 'Head of Passes'
Review: 'Please Excuse My Dear Aunt Sally'
Review: Nick Payne's 'Incognito'
Get our L.A. Goes Out newsletter, with the week's best events, to help you explore and experience our city.
You may occasionally receive promotional content from the Los Angeles Times.