Review: In 'Head of Passes,' a mother comes to terms with a storm, a secret and God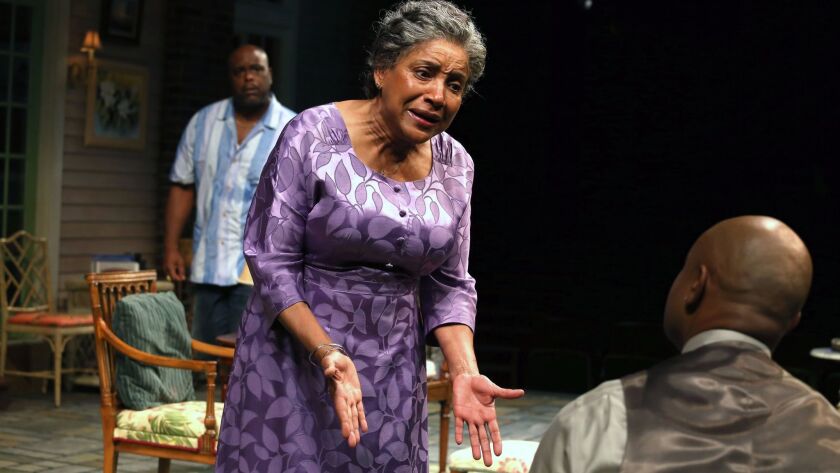 Theater Critic
"Head of Passes," Tarell Alvin McCraney's play set where the land trails off into the sea in hurricane-prone Louisiana, has undergone quite a bit of tinkering since I saw it at Berkeley Repertory Theatre in 2015. But the most profound change is the casting of powerhouse Phylicia Rashad in the central role of Shelah, an ailing matriarch calling on her faith as she tries to bring her fractured family together before departing this world.
The production, which opened Sunday at the Mark Taper Forum under the direction of Tina Landau, is both towering and teetering. Rashad, reprising her performance that wowed audiences at New York's Public Theater, is a theatrical force to be reckoned with and the answered prayer of McCraney's drama, which, like the storm-lashed house in which the play is set, has some structural vulnerabilities.
Shelah speaks to the air as though she has a direct line to her creator. In her opening monologue, she asks God to let "peace reign even in the storm." She's referring both to the torrential downpour, which is coming down so violently the roof has sprung leaks everywhere, and the state of her scattered family, which she would like to see return to this charming yet crumbling homestead she built with her late husband.
The first act plays like a contemporary update of an August Wilson drama in the way the character relationships are sorted out and the domestic rituals are observed. McCraney, a lyrically inventive playwright best known for "The Brother/Sister Plays," "Choir Boy" and the Oscar-winning film "Moonlight" (which he co-wrote with director Barry Jenkins), begins uncharacteristically in a more traditional mode of American realism.
McCraney and Landau drop us in the swirl of household activity and expect us to catch up. Creaker (John Earl Jelks), an old servant, is chiding his son, Crier (Kyle Beltran), about his handling of the potato salad. Mae (an enlivening Jacqueline Williams) arrives feeling awkward for having kept away after borrowing money she still can't repay. A loyal family doctor (James Carpenter) has come in to check on Shelah, who resents the intrusion but knows he means well.
Some muffled dialogue by cast members clouds our introduction to the world, but the background and stakes of the characters are clarified in the systematic manner of a Lillian Hellman drama. The atmosphere is tinged with melodrama. Death hangs over Shelah, who summons all her strength to complete some unfinished family business that she has been working out between herself and God.
Shelah is determined to live out her religious ideals of love, charity, kindness and forgiveness. But there are signs that not everything was always so serene in his house, which was a bed and breakfast when her husband was alive. Shelah's husband had a baby with another woman, and Shelah raised the daughter, Cookie, as though she were her own.
SIGN UP for the free Essential Arts & Culture newsletter »
Cookie (a sneakily effective Alana Arenas), now grown with children, has been grappling with drug addiction and no longer comes around. But Shelah has requested the presence of Cookie along with Shelah's two sons, Aubrey (Francois Battiste) and Spencer (J. Bernard Calloway), two brothers temperamentally unalike who are united in their devotion to their mother and their desire to preserve a protective distance.
When Cookie shows up, she announces right away that her ride is waiting outside. Her impatience with Shelah, who's spitting blood into a handkerchief, seems cruel. But family secrets are revealed that suggest Shelah may have been willfully blind to what was going on under her roof when her children were young.
Could this pious woman be guilty of playing God by constructing her own reality? Even now as the end of her life draws near, she's trying to write the script in such a way that brings her narrative closure. Her intentions are benevolent, but family members don't want to be controlled and spirituality entails surrender as well as supplication. Shelah's faith will be tested in the play's second half, when the storm's wrath wreaks havoc and exposes grievances that have long been buried.
Shelah finds herself in the position of Job, Hecuba and Lear, figures brought low by merciless fate. The example of Greek tragedy, which deals with the mystery of a divine order that can seem in conflict with human justice, looms large thematically. The plotting is another story. McCraney doesn't set up his drama with carefully calculated Sophoclean suspense. Shelah is a passive figure — her choices are all in the past — and the woe that descends on her seems like a playwriting conceit that even in these days of devastating hurricanes strains credulity.
But Rashad, Bill Cosby's TV wife turned Tony-winning actor and accomplished stage director, makes you forget about all that by tapping into a raw vein of grief and rage. She howls with an archetypal fury that brings the agony of classical tragedy to the contemporary stage. The last section of the play is a soloist movement overflowing with sorrow and savagery.
The scenic design of G.W. Mercier stylizes the destruction: Domestic realism transforms into something veering close to expressionism. Standing amid the ruins of what was once her carefully tended existence, Shelah lashes out against God's betrayal of her. What has she done to deserve this? That is the question that darkens her mind, the sins of omission haunting her every bit as much as her maternal misdeeds.
Like a protagonist in ancient tragedy beseeching the gods for guidance, Shelah confides her fears and hopes to her maker, but it's in the moment her voice stops crying out, when the silence of the world becomes deafening that a Beckettian shadow passes on her face. "Head of Passes" doesn't end in catharsis. McCraney denies his audience such consolation. But the knowledge born of suffering that dawns in Rashad's eyes is a theatrical sight you won't soon forget.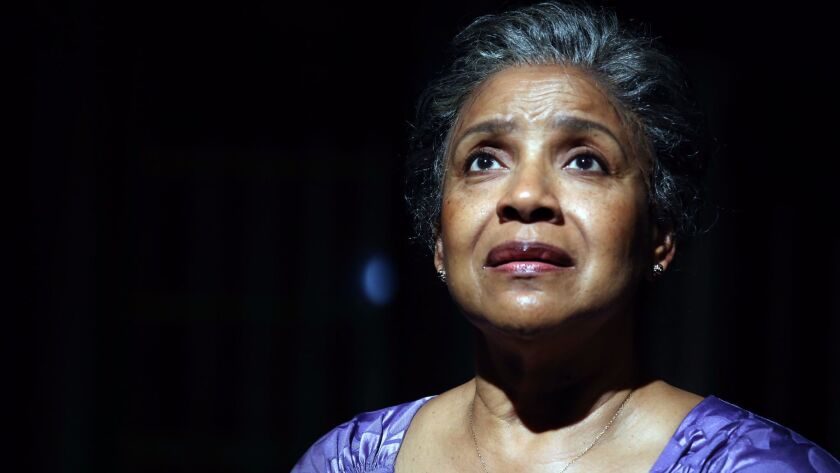 ♦ ♦ ♦ ♦ ♦ ♦ ♦ ♦ ♦ ♦
'Head of Passes'
Where: Mark Taper Forum, 135 N. Grand Ave., L.A.
When: 8 p.m. Tuesdays-Fridays, 2:30 and 8 p.m. Saturdays, 1 and 6:30 p.m. Sundays; ends Oct. 22 (call for exceptions)
Tickets: $25 to $95 (subject to change)
Info: (213) 628-2772 or www.centertheatregroup.org
Running time: 2 hours (including intermission)
Follow me @charlesmcnulty
---
From the Oscars to the Emmys.
Get the Envelope newsletter for exclusive awards season coverage, behind-the-scenes stories from the Envelope podcast and columnist Glenn Whipp's must-read analysis.
You may occasionally receive promotional content from the Los Angeles Times.