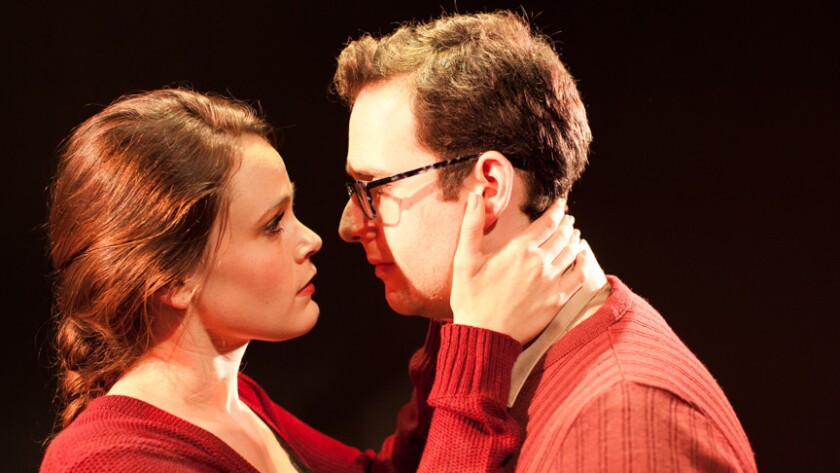 The theft of Albert Einstein's brain, an experimental surgery that leaves the patient trapped in a state of perpetual immediacy for 55 years, a form of amnesia that erases the distinction between reality and fantasy — these curious incidents from the annals of medical science may seem unlikely narrative bedfellows. They're intricately connected, however, in the inspired West Coast premiere of "Incognito," British playwright Nick Payne's ingeniously heady drama at Ventura's Rubicon Theatre.
As the title suggests, "Incognito" is a play about concealed identity, though here the mystery lies in the very concept of a stable, knowable self. With a cerebral approach similar to Payne's "Constellations" at the Geffen Playhouse this summer, "Incognito" explores aspects of human consciousness — in particular, genius, memory and imagination — as they relate to the science of neurophysiology. That makes "Incognito" one of the brain-iest plays to come along in some time.
"Incognito" challenges four actors to portray 21 characters whose nonlinear stories are scrambled into short segments that bounce around in time and place — a structure more akin to free associative neural networks. In keeping with Payne's deliberately minimal just-people-in-a-room staging style, director Katharine Farmer and her cast admirably differentiate the various characters with little more than lightning shifts in accent, posture and demeanor.
Performance clarity notwithstanding, Payne is not given to hand-holding an audience. Amid the potentially bewildering tangle of emotional tides and intellectual meditations that flow through the quick succession of scenes, the audience must keep in mind the three primary story lines that tie the piece together.
The first narrative thread, loosely historical, focuses on Thomas Harvey (Joseph Fuqua), a sad-sack pathologist who performs the autopsy on Einstein and drives home that night with the late professor's brain in the trunk of his car. Score!
Alas, Harvey's hope that dissecting the organ would yield insight into the physiology of genius ends in failure. Einstein's brain proves perfectly ordinary, and the same lack of success follows in Harvey's personal life.
The second foundational story line, also adapted from actual events, provides the emotional heart of the play. A new brain operation intended to cure 27-year-old Henry Molaison's epileptic seizures also destroys his ability to transfer information from short-term to long-term memory, and Henry (Mark Jacobson) spends the rest of his institutionalized life unable to retain experiences for more than a few seconds. In a heartbreaking cycle of repetition, his loving wife (Claire Adams) tries with increasing desperation to communicate with her childlike spouse.
The fictional third narrative pillar concerns a cynical, self-destructive divorced neuropsychologist (Betsy Zajko) whose love affair with a younger female lawyer (Adams) is undercut by a lack of honesty. The romance is well-played, but two separate pathology subplots involving confabulation and amnesia unnecessarily muddle the story. Combining them might have served the same dramatic purpose. Payne would likely resist any streamlining that might make life easier for the hard-working brain of the humble viewer, but at least the dazzling conceptual juggling act rewards the strict attention it demands, peeling away layers of intellectual abstraction to discover unexpected beauty and wonder.
♦ ♦ ♦ ♦ ♦ ♦ ♦ ♦ ♦ ♦
'Incognito'
Where: Rubicon Theatre, 1006 E. Main St., Ventura
When: 2 and 7 p.m. Wednesdays (with talkbacks at evening shows), 8 p.m. Thursdays and Fridays, 2 and 8 p.m. Saturdays, 2 p.m. Sundays; ends Oct. 1
Price: $30-$55
Info: (805) 667-2900 or www.rubicontheatre.org
Running time: 1 hour, 25 minutes
SIGN UP for the free Essential Arts & Culture newsletter »
Support coverage of the arts. Share this article.
MORE THEATER NEWS AND REVIEWS:
The 99-Seat Beat: This week's picks from the small-theater scene
Review: Rogue Machine's 'Daytona'
Review: Matthew Bourne's 'The Red Shoes'
Review: 'Ain't Misbehavin' ' at La Mirada Theatre
Review: Paul Rudnick's new 'Big Night' at the Kirk Douglas
The playwright who's big in L.A.'s small theaters
---