The 99-Seat Beat: When words and governments go on the fritz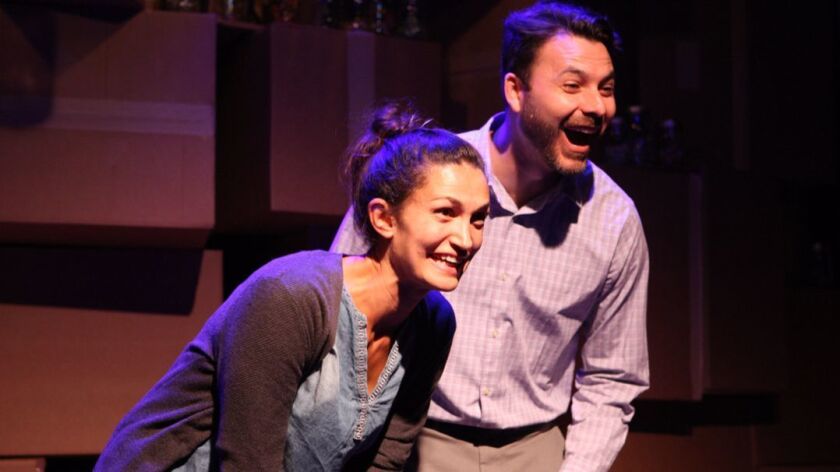 Students are back in their seats, and so are theater audiences. To fill out your fall schedule, consider these offerings at L.A.'s 99-seat and other smaller venues. The Times' theater team offers recommendations every Friday, a bookend to our comprehensive theater listings posted every Sunday at latimes.com/arts. Some shows that caught our attention for their timely themes and for the talents involved:
---
1. "In a Word" at Chance Theater
The essentials: Rising playwright Lauren Yee, whose work is everywhere this year, evokes a mother's damaged sense of self after her second-grader goes missing. Kidnappers introduce themselves at the supermarket, and the mom's language dissolves along with her perception of reality. Puns and bad jokes become the language of grief.
Why this?: Though just 32, the San Francisco-raised Yee, who earned a master's in playwriting at UC San Diego, is racking up awards and commissions. Her "King of the Yees," a kaleidoscopic yarn inspired by her dad, played at the Kirk Douglas Theatre in Culver City in July. In March, South Coast Repertory in Costa Mesa will present the world premiere of "Cambodian Rock Band," a jam-session-like exploration of a family's — and a country's — past that uses music by the Los Angeles band Dengue Fever. Her tie to the Chance: She was its resident playwright in 2015, when the theater presented her "Samsara." "In a Word," presented off-Broadway this summer, is a Southern California premiere.
Details: Chance Theater, 5522 E. La Palma Ave., Anaheim. Final preview Friday; runs Saturday-Oct. 8. 7:45 p.m. Fridays and Saturdays, 2:45 p.m. Sundays. $35. (888) 455-4212, www.ChanceTheater.com.
---
2. "Walking to Buchenwald" by Open Fist
The essentials: Inspired by a European trip that he took with his aging parents, Los Angeles playwright Tom Jacobson delivers a comic jaunt that takes a worrisome turn when the distracted travelers catch wind of disturbing actions back home in America.
Why this?: "There is very little that is made up" in this play, Jacobson says — a remarkable statement, given his reputation as one of L.A.'s most wildly inventive writers. Think: "Bunbury" or "Ouroboros." The story does have a fanciful twist, however. The characters modeled on the 56-year-old Jacobson and his partner are portrayed at alternating performances by two men or two women, with a couple of heterosexual pairings in the mix. Bonus: The news that jolts the travelers so closely parallels recent events that theatergoers are bound to pour out the door in a buzz of conversation.
Details: Open Fist at Atwater Village Theatre, 3269 Casitas Ave., L.A. 8 p.m. Thursdays-Saturdays, 7 p.m. Sundays; ends Oct. 21. $30. (323) 882-6912, www.openfist.org.
---
3. "Daytona" by Rogue Machine
The essentials: One random day in 1986, the past knocks at a door in Brooklyn. This is the home of Holocaust survivors — childhood friends who found each other after the war and married. In their 70s, they ballroom dance to their heart's content. The visitor at their door upsets everything.
Why this?: Oliver Cotton's play transferred from London's fringe to West End in 2014. Reviews were mixed, but the praise was typified by Charles Spencer, writing for the Telegraph, who admired the play's "sturdy, well-made strength and manifest humanity." The Rogue production is in the hands of L.A. directing stalwart Elina de Santos, and its cast includes Richard Fancy, who may have achieved immortality as Mr. "Muffin Tops" Lippman on "Seinfeld," and George Wyner, who did the same in "Spaceballs" as evil Col. Sandurz.
Details: Rogue Machine at the Met Theatre, 1089 N. Oxford Ave., L.A. 8:30 p.m. Saturdays and Mondays, 3 p.m. Sundays; ends Oct. 30. $40. (855) 585-5185, www.roguemachinetheatre.com.
---
4. "Aladdin" dual-language edition at LATC
The essentials: In this bilingual version of the musical Disney favorite, Princess Jazmín and the other royals speak only Spanish, Aladdin and the townspeople speak English. You can bet that Jafar is at the root of this divide. Fortunately, there are translators on hand, furry and otherwise, to break down language barriers for characters and audience alike.
Why this?: This 80-minute version of the tale played at the small Casa 0101 Theatre in Boyle Heights early this year. Now in a 300-plus-seat house at the Los Angeles Theatre Center, the bright, bouncy production is reaching more people in a brief run that ends this weekend. The young people in your life already know and love this story, so why not use it as the gateway to live theater? Cue: "A Whole New World."
Details: Los Angeles Theatre Center, 514 S. Spring St., Los Angeles. 11 a.m. and 8 p.m. Friday, 8 p.m. Saturday, 5 p.m. Sunday. $39-$79. (866) 811-4111, www.thelatc.org/events.
Twitter: @darylhmiller
MORE THEATER COVERAGE:
Review: "Blackbird" at GTC Burbank
When the playwright becomes the star: How one writer is jumping from her script onto the stage
'Scandal' actor Joe Morton on Charlottesville and reviving the activism of Dick Gregory
Remembering Royal Shakespeare founder Peter Hall, who turned language into life
---
Inside the business of entertainment
The Wide Shot brings you news, analysis and insights on everything from streaming wars to production — and what it all means for the future.
You may occasionally receive promotional content from the Los Angeles Times.