Appreciation: Remembering theater director and Royal Shakespeare founder Peter Hall, who turned language into life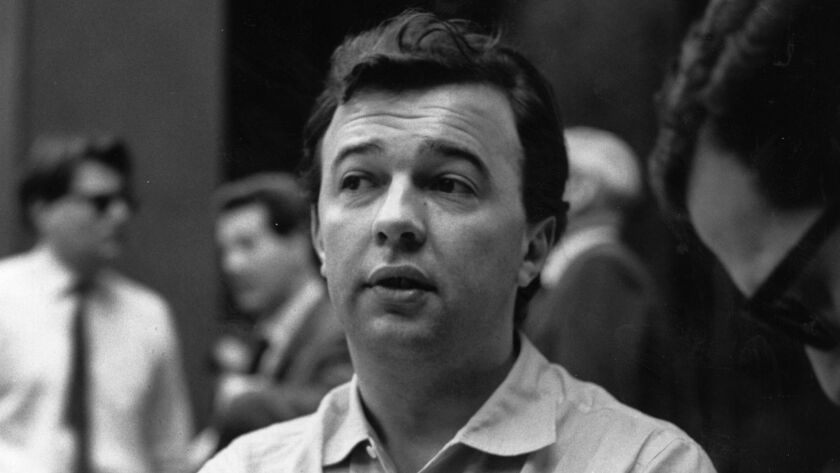 Theater Critic
Theater directors bear heavy responsibility for a production's failure yet enjoy only a meager portion of the glory that playwrights and actors receive when a show catches fire.
Auteurs rebel against this system, putting their distinctive stamp on work their productions in effect rewrite. But Peter Hall, who died Monday at 86, became one of the pillars of postwar British theater the old-fashioned way: He served the play.
To do this, he recognized every bit as much as his more radical contemporary Peter Brook that he had to clear the cobwebs of a tradition that still had a polished boot firmly planted in the Edwardian drawing room.
Shakespeare was the center of Hall's artistic universe. When he founded the Royal Shakespeare Company as a 29-year-old iconoclast, he had already introduced Samuel Beckett to the English-speaking world.
Nothing would be the same after his 1955 London production of "Waiting for Godot," which drama critic Kenneth Tynan said forced him "to reexamine the rules which have hitherto governed the drama; and having done so, to pronounce them not elastic enough." Tynan praised Hall's "marvelous ear" for the play's "elusive rhythms," a sign that the director's approach to Shakespeare would continue to be modern in sensibility yet timeless in its appreciation of dramatic poetry.
After Beckett came Harold Pinter, with whom Hall set off another revolution in dramatic possibility with "The Homecoming" in 1965. Pinter, like Beckett, was preternaturally skilled at the art of compression, stripping his writing so that it was all lean muscle, no flab. Through his ongoing collaborations with Pinter, Hall became even more exquisitely attuned to language and silence, honoring the distinctive shade of a word with the same care others would pay to a bit of scenic business.
Hall, who later went on to lead the National Theatre from 1973 to 1988, told Richard Eyre, his successor at the venerable South Bank theater complex, that his mission at the RSC was to offer a mix of modern plays with Shakespeare and other classics. "Because I believe a classical company that is not alive to the present has absolutely no prospect of making the past live," he explained.
"The War of the Roses," a trilogy adapted with John Barton from "Henry VI, Parts I, II and III" and "Richard III," demonstrated Hall's ability to make even Shakespeare's early history plays thrilling to a modern audience. Hall defended Barton's textual cuts and edits, arguing that the less mature work of Shakespeare wasn't served by museum-style re-creations. The theater is a living place where the genius of one epoch is reborn in another. The successful television adaptation for the BBC proved him right.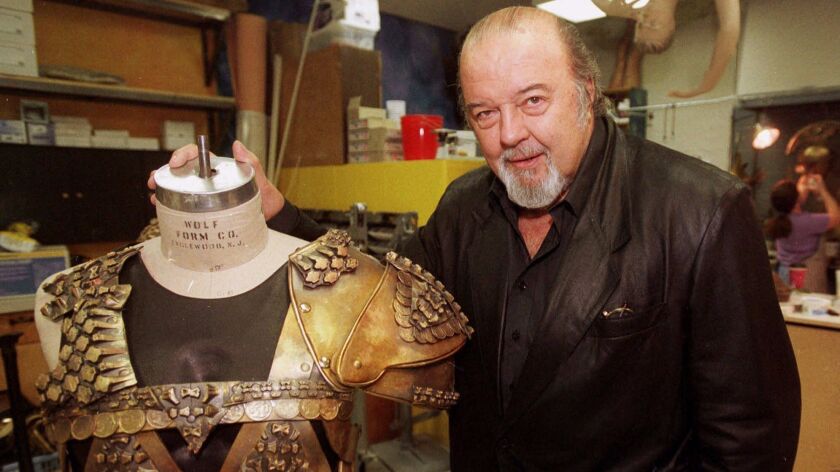 SIGN UP for the free Essential Arts & Culture newsletter »
Hall had more mixed results when he directed (with his son Edward) "Tantalus," Barton's marathon cycle about the Trojan War that was given its world premiere by the Denver Center Theatre Company in 2000. But his engagement with classical material remained dauntingly ambitious. Hall wasn't content to rest on his Shakespearean laurels.
The 1989 Broadway revival of Tennessee Williams' "Orpheus Descending" was my introduction to Hall's work. I was an impressionable theater student at the time, uncertain of my fate, but Vanessa Redgrave's performance as Lady Torrance, a thunderous portrayal that was at the same time as delicate as a bird attempting to ride out a hurricane, dispelled any doubts I may have had about my future. Some of the accents were questionable, but Hall's production captured both the play's lyricism and the menacing brutality. It remains the most memorable Williams production of my theatergoing life.
Directors can't simply let a play speak on its own, but they must put their ear to the ground. Meaning for Hall always returned to an intimate confrontation with the line. He didn't believe that Shakespeare could be properly done without respecting the forms in which he wrote his plays. Verse, diction, rhetorical patterns — attention to these matters is what allowed a play to live again.
In his book "Shakespeare's Advice to the Players," Hall drives home the point that the texts of the greatest dramatic poets are like musical scores to be "learned like the steps of dance, or practiced like the strokes of a duel." An opera director with a passion for Mozart who won a Tony for his staging of Peter Shaffer's "Amadeus," he could not abide technical sloppiness when working on "Twelfth Night" any more than when he was rehearsing "The Magic Flute."
"In modern naturalistic drama, the feeling is often more important than the form," he contended. "And unfortunately, a hundred years of Stanislavsky and the elaboration of his acting techniques into the American Method have resulted in many English-speaking actors believing that if they feel right, they will speak right. If the emotion is there, they trust that Shakespeare's blank verse, or Tennessee Williams' long antithetical sentences, or Beckett's precise pauses will follow automatically. They don't."
Hall wasn't a theorist like Bertolt Brecht and didn't set down his vision of directing in a book that had the impact of Brook's "The Empty Space." His "Diaries" are deliciously enlightening, full of backstage anecdote and intelligent candor on the art of theater, but they are the work of a practical man of theater and intellectual showman.
Hall's later work became a bit too linguistically systematized for my taste. In his production of "As You Like It," which traveled to the Brooklyn Academy of Music in 2005 with his talented daughter Rebecca playing Rosalind, I found the speech rhythms lulling. His revival of Oscar Wilde's "The Importance of Being Earnest" with Lynn Redgrave that came to the Ahmanson Theatre in 2006 seemed to privilege witty epigram over character.
Perhaps Hall was offering a corrective to the slack psychologizing that had taken hold as film and television consolidated their cultural primacy. But through the institutions that he led and the classical and new work that he brought to life onstage, Hall had already done more than any other living director to raise the articulacy of our modern theater.
Follow me @charlesmcnulty
MORE:
'Iphigenia in Aulis' at Getty Villa
Who is Hamlet? Three actors make their case
Remembering Barbara Cook: Revealing the great American songbook in a new light
---
From the Oscars to the Emmys.
Get the Envelope newsletter for exclusive awards season coverage, behind-the-scenes stories from the Envelope podcast and columnist Glenn Whipp's must-read analysis.
You may occasionally receive promotional content from the Los Angeles Times.