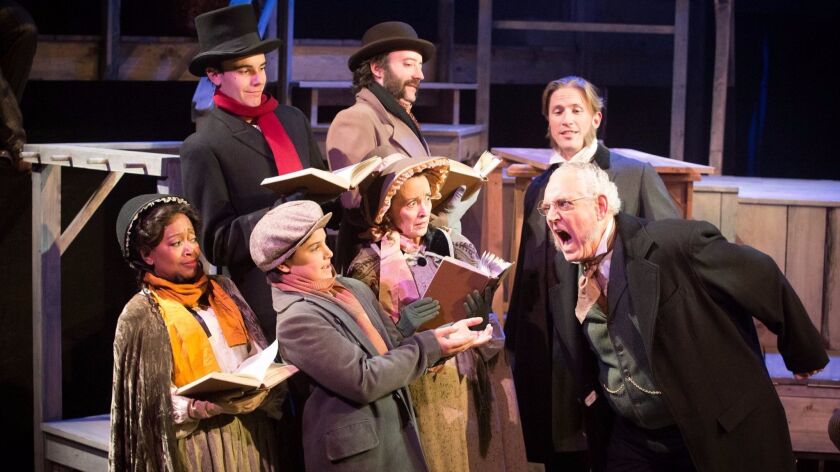 Our weekly small-theater roundup starts in Ventura, where the Rubicon Theatre narrowly escaped the Thomas fire. Although the building didn't burn, the fire forced the cancellation of previews and the opening weekend for "Charles Dickens' A Christmas Carol" — costing the company about $50,000 in lost ticket sales, it said.
But the show has since opened, in time to be one of our picks this week, along with Impro Theatre's "Jane Austen UnScripted" at the Broad Stage, "Ashes to Ashes" at the Odyssey and "Aladdin and His Winter Wish" at the Laguna Playhouse.
---
1. 'Christmas Carol' at the Rubicon
The essentials: More than two dozen performers play characters, narrators and props in this imaginatively bare-bones production, notable for its scrupulous fidelity to Dickens' text. An L.A. Times Critics Choice two years ago, this "Carol" has been embraced as a community tradition. Stage and screen veteran Peter Van Norden reprises his role as Scrooge, and Emmy-winner Joe Spano is back as Marley.
Why this? Beyond the artistic promise of the production, there's the need created by the fire's smoke and ash. Cleaning the carpeting, seats, costumes and air in the theater has been expensive, it says. Buying a ticket helps the show to go on.
Details: Rubicon Theatre, 1006 E. Main St., Ventura. You should confirm the performance schedule with the theater, but shows had been scheduled for 2 and 7 p.m. Wednesdays, 7 p.m. Thursdays, 8 p.m. Fridays, 2 and 8 p.m. Saturdays and 2 p.m. Sundays; ends Dec. 23. $65. (805) 667-2900. www.rubicontheatre.org. Donations also can be made at www.rubicontheatre.org/donate or at www.gofundme.com.
---
2. 'Jane Austen' at the Broad Stage
The essentials: Over almost 30 years, Impro Theatre has evolved into a powerhouse improvisational company that sends up authors from Shakespeare to Serling in full-length shows that are off-the-cuff and consistently hilarious.
Why this? In its year-long residency at the Broad Stage, Impro revisits a favorite author, Jane Austen, for one weekend only. The facile performers of "Jane Austen UnScripted" do not so much spoof their material as much as channel specifically delineated characters from another place and time. An indigenous Los Angeles treasure, the company should be seen — and reseen.
Details: The Edye at the Broad Stage, 1310 11th St., Santa Monica. 8 p.m. Friday, 5 and 8 p.m. Saturday, 2 and 5 p.m. Sunday. $55-$65. (310) 434-3200. www.thebroadstage.org
---
3. 'Ashes to Ashes' at the Odyssey
The essentials: Debbie Bolsky's premiere, a visiting production at the Odyssey, has been described by its director, Katherine James, as a classic screwball comedy. It charts the initial animus and — what else? — the dawning romance between an ultra-liberal woman and an arch-conservative man who, bound by the provisions of a will, travel across Europe to scatter their best friends' ashes.
Why this? "Ashes" was developed in Theatricum Botanicum's Seedlings workshop under the guidance of playwright-in-residence Jennie Webb. The play is being presented by the Athena Cats, a well established Southern California collective of female directors and playwrights that includes Webb, Bolksy and James.
Details: Odyssey Theatre, 2055 S. Sepulveda Blvd., Los Angeles. 8 p.m. Fridays-Saturdays, 2 p.m. Sundays; ends Jan. 14. Dark Dec. 24 and 31. Additional performances 8 p.m. Dec. 21 and 28. $30. (310) 564-9410. www.AshesToAshesThePlay.com
SIGN UP for the free Essential Arts & Culture newsletter »
---
4. 'Aladdin' at the Laguna Playhouse
The essentials: Popular in England since the early 1700s, the panto is eccentric entertainment with comical characters, lots of audience participation and, though the show may be aimed at kids, the kind of double entendres that elicit a wicked chuckle from adults. Lythgoe Family Panto's "Aladdin and His Winter Wish" is loosely based on the "Arabian Nights" tale of Aladdin. The musical features a bevy of talent spearheaded by Jason Graae as the Widow Twankey (also famously played by Ian McKellen in a high-camp turn at the Old Vic in 2004).
Why this? The British panto has taken Southern California by storm, thanks largely to Kris and Becky Lythgoe, whose passion for the form has paved the way to sellouts. Emmy-nominated for his choreography on "So You Think You Can Dance," Spencer Liff directs and choreographs, joined by Keith Harrison as musical director. Kids delight in the broad-as-a-barn silliness.
Details: Laguna Playhouse, 606 Laguna Canyon Road, Laguna Beach. 7 p.m. Wednesdays-Fridays, noon and 4 p.m. Saturdays and Sundays (check for exceptions); ends Dec. 31. Additional performances at 3 and 7 p.m. Dec. 21; 11 a.m., 3 p.m. and 7 p.m. Dec. 23. $45-$80. (949) 497-2787. www.lagunaplayhouse.com
The 99-Seat Beat appears almost every Friday. (We are taking a break for the holidays but will return Jan. 12.) Our team of reviewers — people with more than 75 years of combined experience tracking local theater — shortlist current offerings at 99-seat theaters and other smaller venues. Some (but not all) recommendations are shows we've seen; others have caught our attention because of the track record of the company, playwright, director or cast. You can find more comprehensive theater listings posted every Sunday at latimes.com/arts.
See all of our latest arts news and reviews at latimes.com/arts.
MORE THEATER
Jonah Platt in the Pasadena panto "Beauty and the Beast"
Chromolume's "Pacific Overtures"
L.A. theater listings for this week
'This Is Us' actress Chrissy Metz to make her theater debut in L.A.
---