With a cello and a cohort of female composers, Amanda Gookin pushes classical forward
Cellist Amanda Gookin knows firsthand that the path forward is often a circuitous one, with many pit stops and detours.
During her 20s — after completing training at the Mannes School of Music in Manhattan and before earning a graduate degree in music from Purchase College — Gookin taught theater to children in Spain, worked as a veterinary technician, recruited and coordinated volunteers at a suicide prevention hotline, and managed a folk musicians union.
Gookin has since become best known as a cellist, founding member of the PubliQuartet and creator and solo performer of Forward Music Project, an ongoing commissioning concert series focused on issues that affect women and girls. Forward Music Project is coming to Los Angeles for the first time Thursday and Friday at the Wallis Annenberg Center for the Performing Arts in Beverly Hills.
Presented by the touring arm of the hip Brooklyn-based music venue National Sawdust, the shows this week mark the first time Forward Music Project 1.0 and 2.0 will be presented back to back.
Gookin commissioned all of the works specifically for this project from female composers, and she is the sole performer both evenings. Across both concerts she expands the traditional boundaries of solo cello music to include performance art, intricate sound design, electronic components and visual projections by Gookin's close artistic collaborator, S. Katy Tucker.
When asked about the inspiration behind this project, Gookin talked less about playing the cello or going to music school and more about working those various jobs in her 20s, many of which she said required empathy and compassionate communication.
Working as a veterinary technician "offered me a completely different perspective because I was working with animals, but I was also working with humans — you know, their people," she said. "There's a lot of sadness involved with the end of a pet's life, for instance, so I was really exposed to dealing with people who I got to know in a very intimate way."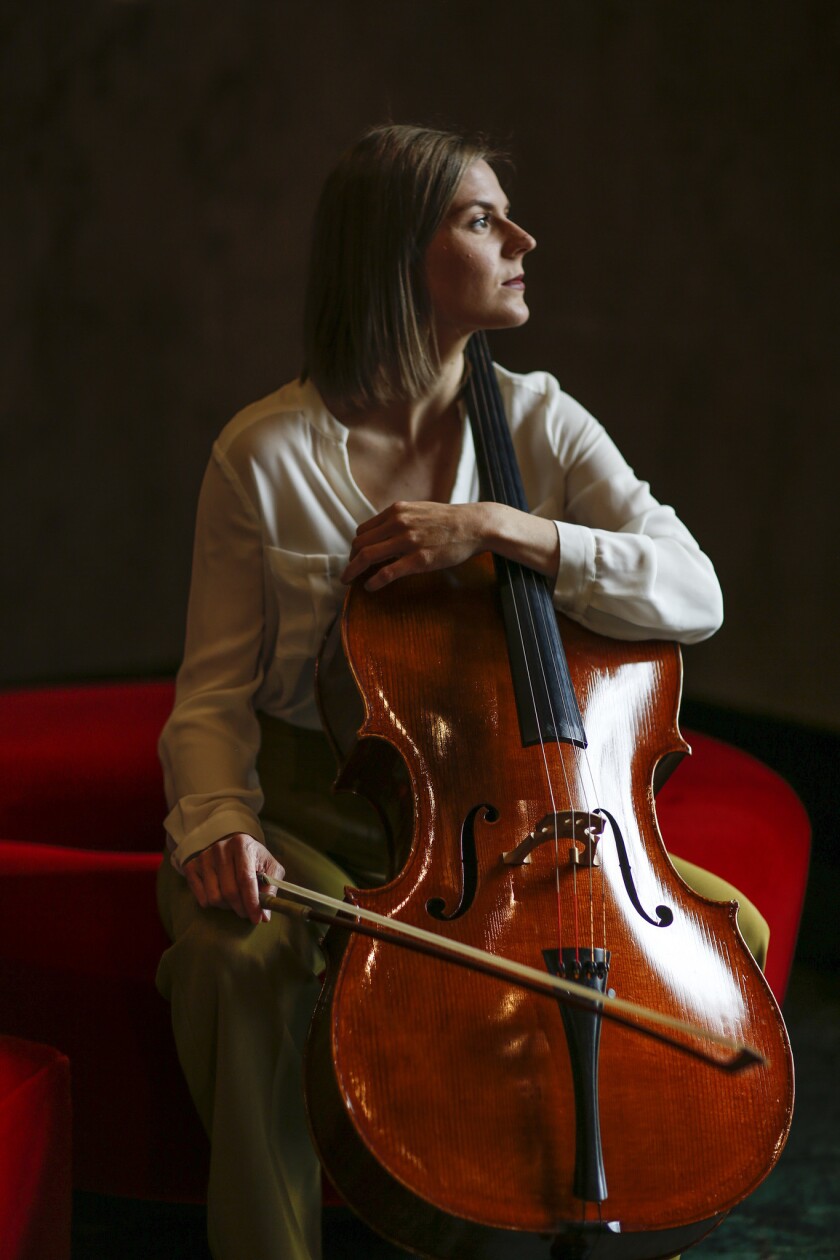 If we sit for too long and take for granted our freedoms, they slowly but surely will be taken away from us.
Amanda Gookin
When she returned her focus to music in her early 30s in graduate school, Gookin felt that something was missing. "I just felt like my musical life was not connecting with human issues," she said.
Empathy and compassionate communication proved to be transferable skills, and soon Gookin found a creative way to incorporate both into her musical life. In 2016 she self-funded the first iteration of Forward Music Project, commissioning issue-driven solo cello works from seven composers — all women and all her friends or people recommended to her. The second iteration, subtitled "in this skin," premiered in March as part of an artist residency at National Sawdust. Private donors are already lined up to fuel Forward Music Project 3.0, which Gookin said will premiere shortly before the 2020 election.
Composer Paola Prestini, the co-founder and artistic director of National Sawdust, said the diversity of the composers and the issues they tackle are partly what drew her to the project.
In Forward Music Project 2.0, for instance, Iranian composer Niloufar Nourbakhsh's piece tackles her home country's "patriarchal effort to veil and hide women's presence" through mandatory hijab and veil laws and rules against allowing female vocalists to sing solo. African American composer Shelley Washington's "Seething" depicts the rage so many women feel (and suppress) as they navigate a world of catcalls and harassment.
"That kind of discovery is exactly what I'm looking for in performers, for them to be fearless and put new voices forward," Prestini said. "Amanda also performs these pieces with complete conviction and totally owns them, and that gives them an extraordinary platform and performance. [This project] feels very artist-led, and in that way super, super direct in terms of its message."
Prestini's contribution originated on the day, coincidentally, when Christine Blasey Ford and Brett Kavanaugh were testifying in front of the Senate Judiciary Committee. She reacted to that moment in her piece "To Tell a Story," which incorporates edited audio from a 1983 interview with Susan Sontag.
In 2019 compositions dealing with issues of sexual assault and harassment and abortion feel ripped from the headlines. But Gookin and Prestini said that as timely as the project feels now, it is also timeless.
"I think it's going to take centuries for issues surrounding any kind of gender inequality to be out of date because it would take centuries to undue the systemic oppression of women," Prestini said.
Gookin agreed. Like her career, the path toward a more equal society for women is not straightforward.
"A lot of us in America are privileged," she said. "We can kind of sit pretty sometimes. But progress doesn't just move forward and stay that way. We're not on a train that's going into the future and just giving more and more freedoms to people along the way. And if we sit for too long and take for granted our freedoms, they slowly but surely will be taken away from us."
=====
'Forward Music Project 1.0 and 2.0'
Where: The Wallis, 9390 N. Santa Monica Blvd., Beverly Hills
When: 8 p.m. Thursday-Friday
Tickets: $40
Info: (310) 746-4000, thewallis.org
Running time: 1 hour, 15 minutes (no intermission)
=====
See all of our latest arts news and reviews at latimes.com/arts.
---
Inside the business of entertainment
The Wide Shot brings you news, analysis and insights on everything from streaming wars to production — and what it all means for the future.
You may occasionally receive promotional content from the Los Angeles Times.