Wrapped in stretchy fabric, orchestral musicians become performance art at Green Umbrella festival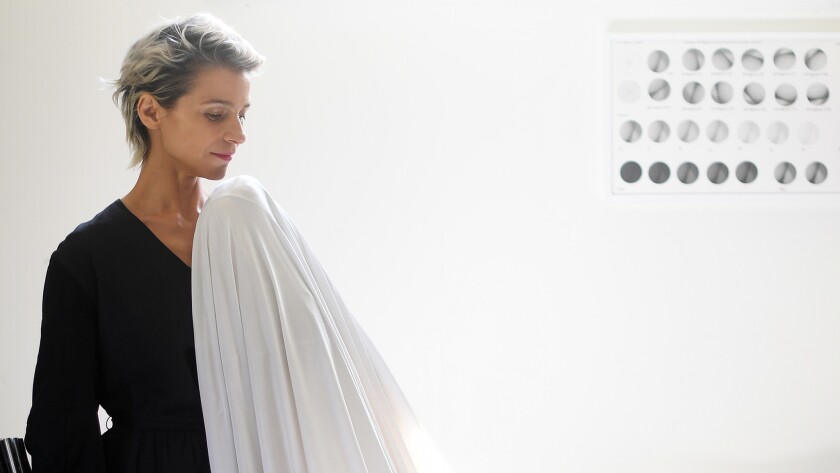 This Saturday, five members of the Los Angeles Philharmonic's double bass section will convene, bare-footed, inside a giant sack of stretchy, shimmering white fabric in Walt Disney Concert Hall.
Zipped inside the opaque pocket, the musicians will set up their instruments, transforming the amorphous fabric into a makeshift tent with the help of the basses' tall, pole-like necks. As they play, the tent will quiver and flex with each jab of a bow or poke of an arm.
Titled "Porcupine for tent, quintet, bows and elbows," the piece was conceived by artist Ana Prvacki and features new music by composer Veronika Krausas. Commissioned by the Los Angeles Philharmonic, "Porcupine," will be just one of many experimental pieces being performed throughout Walt Disney Concert Hall on Saturday at "Noon to Midnight," a one-day festival that launches the 2016-17 season of Green Umbrella, the orchestra's contemporary music series.
The experience of hearing — and watching — musicians concealed within a human cocoon comes from a woman whose roots are in music. When she was a child in Yugoslavia, Prvacki's artist parents frequently entertained musicians and other artists in their home. When Prvacki was 9, the Serbian flutist Ljubisa Jovanovic came over for a party and performed an excerpt from Christoph Gluck's "Orfeo ed Euridice." Prvacki was entranced. A year later, Jovanovic took her on as a student.
"I was the best 12-year-old flutist in Yugoslavia," Prvacki says as she snacks on Croatian chocolates in her airy back-house studio in Venice. "I won a competition. I was really passionate about it."
Prvacki fondly remembers practicing the flute for hours and listening to Rachmaninoff on her Walkman as a teen. She talks about the great Russian Romantic composers the way other people talk about first crushes. ("I had a really big thing for Shostakovich when I was 17.")
Were it not for the Yugoslav wars of the 1990s, Prvacki would likely have become a professional classical flutist. She was a teenager when her parents, outspoken opponents of Yugoslav President Slobodan Milosevic, moved their family to Singapore to escape forced enlistment in the army.
In Singapore, with no serious music school to attend, Prvacki says she felt lost and desperate. Eventually she found a new expressive outlet at theater school and, later, as a fine artist.
Prvacki's artistic practice remains infused with music. She gained notoriety for her intricate "Porn Scores," sheets of music by Mozart or Debussy that are embellished with artwork of genitalia and are meant to explore the connection between music and eroticism. At the 2008 Sydney Biennale in Austrailia, she played and practiced her flute for "Music Derived Pain Killer," gathering the saliva generated from the process and transmuting it into a painkilling compound.
"I find consolation in thinking I'm a better visual artist than I would've been a musician," Prvacki says as she sifts through drawers of sheet music in her studio. "For example, with this tent piece. There's something about it that manages to speak about the unspeakable pleasures of music. I wanted to know if you could look at a body of sound, and what that might look like."
SIGN UP for the free Essential Arts & Culture newsletter »
L.A. composer Krausas approached "Porcupine" like a piece of musical choreography.
"It starts with sound and no movement, and by the end there is movement with no sound," she says.
Krausas envisioned a series of five statues when she composed five sustained chords that require the bassists to hold a specific physical position. Throughout the piece, the poking of their bows into the tent's fabric was designed to imitate the quills of a porcupine.
For the L.A. Phil's bass quintet, the opportunity to perform a new piece while hidden inside a tent is fun. "They love playing barefoot," Prvacki said after a recent rehearsal. "They wanted to go completely naked inside it."
She laughs. "Ah, double bass humor."
------------
'Noon to Midnight'
Where: Walt Disney Concert Hall, 111 S. Grand Ave., L.A.
When: Noon to 8 p.m., $15. 8 p.m. to midnight, $20-$58 (subject to change)
Information: (323) 850-2000, www.laphil.com/tickets/noon-to-midnight
Follow The Times' arts team @culturemonster.
ALSO
40 years of Martin Scorsese movies, mashed up as a concert-musical
What a Holocaust survivor has to say to South L.A. school kids — and how she uses art to connect
The L.A. Phil's opening gala at Disney Hall finds Dudamel & Co. in full jazz swing
---
From the Oscars to the Emmys.
Get the Envelope newsletter for exclusive awards season coverage, behind-the-scenes stories from the Envelope podcast and columnist Glenn Whipp's must-read analysis.
You may occasionally receive promotional content from the Los Angeles Times.