'Apollo 11' live show brings the moon landing to life in Pasadena
Fifty years after the Apollo 11 lunar landing proved that America could meet President John F. Kennedy's challenge and beat Russia in the space race, man is walking on the moon once again. This time inside a Lunar Dome at the Rose Bowl.
"Apollo 11 — The Immersive Live Show," which is in previews and officially opens Wednesday, promises a multimedia spectacle under a gigantic $5-million dome designed to tell a big story in a big way: with live actors, documentary footage, archival audio, 360-degree video projection and props that will simulate a rocket launch and include a life-size re-creation of the lunar landing module. Yes, the one with funny foil hanging around it.
The project is the brainchild of British producer Nick Grace, veteran of international tours of the musical "Mamma Mia!" and Blue Man Group. (Grace's production is also at the center of an L.A. Times Ideas Exchange program on July 20.)
Standing on the circular stage during a press preview, he gazed about with satisfaction. The Lunar Dome can seat 1,600 and is held up through exterior bracing, so no tent poles obstruct viewing. The structure was manufactured in 10 countries, shipped in 60 containers and assembled for its world premiere here in Pasadena.
Meanwhile, the cast of 20 has been rehearsing in Burbank under veteran director Scott Faris. They perform on a stage inside the structure in combination with projections playing around them.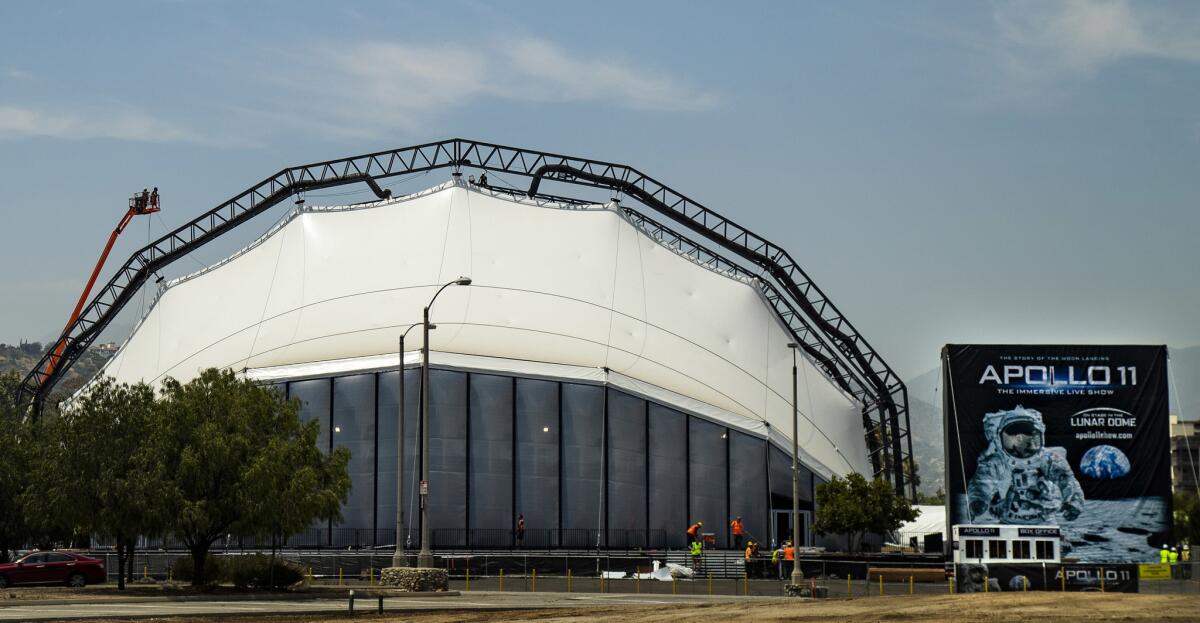 Grace admitted that he didn't know much about the Apollo missions until he met Lukas Viglietti, a Swiss pilot whose enthusiasm for the missions led him to set up the organization SwissApollo to educate the public. Apollo 11's step seen around the world — man's first landing on an extraterrestrial body, on July 20, 1969 — was the culmination of work by an estimated 400,000 people and the fulfillment of a national dream.
To re-create that magic, the "Apollo 11" show has a script is by Todd Kreidler and a score by James Brett recorded in London by a 70-piece orchestra and a rock band. Production costs (including the Lunar Dome) are about $15 million, an investment producers hope to recoup as the show travels to 17 other venues in the next three years. Next up is the OC Fair & Event Center in Costa Mesa, Oct. 10-Nov. 24. After that, Houston.
Director Faris, who grew up in Orange County, remembers watching "every launch, every landing" as a child. The creative team decided to go with a fictionalized story, he said, because a dramatization allows them "to take multiple points of view" in telling the behind-the-scenes story of the lunar touchdown and Neil Armstrong's first steps.
Their story opens with a former NASA engineer trying to pry his granddaughter from her smartphone. He tells her about the day her mother was born, the same day two men landed on the moon, and his part in the American space program. Other scenes include Mission Control in Houston and the moon landing.
Faris said their research included watching documentary footage, consulting with NASA and interviews with those who worked on the program. A key consultant was Gerry Griffin, flight director on the Apollo missions. They also met with Charlie Duke, one of the last men to walk on the moon.
"We want to entertain and to inspire, but we want to tell the story correctly," Farris said.
Behind the physical part of the production is Mat Churchill, whose London-based company is Theatre Tent. The show's 360-degree video is presented with 32 projectors, he said.
"When the lunar module's coming to land, you see the moon flying by," he said.
Like Grace, he's in awe of the space program. "I can't imagine it happening today," he said. "It was a beautiful moment. I think it's right up there with the pyramids in terms of what human beings have done."
His feelings are shared by the actors and actresses in the show, even those who weren't alive during the Apollo missions. One actor does have a surprisingly direct connection to the subject matter: Ken Stirbl, who plays the engineer in his older years, said his father was instrumental in developing the reflective thin film and heat shields used for the space vehicles.
"There were 400,000 people involved in putting a person on the moon," he said. "The whole country worked at it, and did something that was really unique, and took us out of our small little world."
=====
'Apollo 11 — The Immersive Live Show'
Where: Rose Bowl Parking Lot K, 1001 Rose Bowl Drive, Pasadena
When: Tuesdays-Sundays, through Sept. 1. Multiple performances most Saturdays and Sundays. (Also Oct. 10-Nov. 24 in Costa Mesa. See website for details.)
Tickets: $45-$215 (subject to change)
Info: (833) 527-6556, apollo11show.com
Running time: 1 hour, 30 minutes (no intermission)
=====
Support our coverage of the local arts scene by becoming a digital subscriber.
Get our L.A. Goes Out newsletter, with the week's best events, to help you explore and experience our city.
You may occasionally receive promotional content from the Los Angeles Times.