Los Angeles' Bach in the Subways celebration ready to roll Saturday
Dr. Jung-A Lee-Noon plays the organ at L.A.'s Union Station on composer Johann Sebastian Bach's 330th birthday. To celebrate his work and sow the seeds for future generations of classical music lovers, musicians around the world performed Bach's work in subways and other public spaces.
(Barbara Davidson / Los Angeles Times)
On Johann Sebastian Bach's birthday, a grass-roots organization of musicians played his music for free in public spaces around the world.
(Barbara Davidson / Los Angeles Times)
A playful photograph of Johann Sebastian Bach -- born 330 years ago -- rests on a music stand at L.A.'s Union Station.
(Barbara Davidson / Los Angeles Times)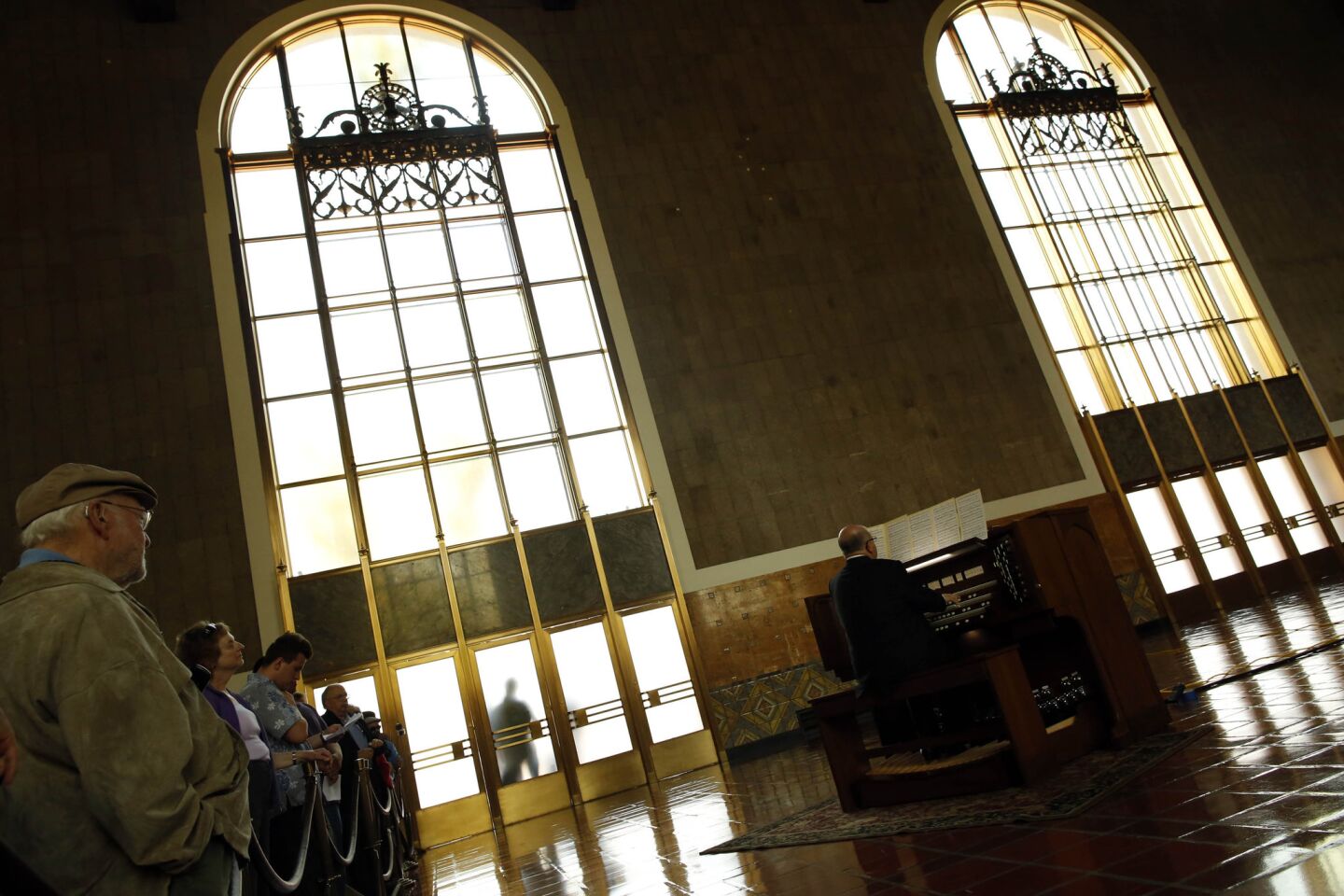 An organist performs music by Bach at L.A.'s Union Station on the German composer's 330th birthday.
(Barbara Davidson / Los Angeles Times)
Justin Bieber's fans are Beliebers. Lady Gaga's are Little Monsters. But what about fans of 18th century German composer Johann Sebastian Bach? Let's call them Bach 'n' Rollers.
Saturday would have been Bach's 330th birthday, and thousands of musicians will celebrate by playing Bach's compositions in public, across 129 cities in more than 39 countries. They will carry signs saying they are not accepting donations. Instead, they are part of a grass-roots movement called Bach in the Subways.
"A big problem for classical music is that it's cloistered away, and people don't hear it enough," says Dale Henderson, 38, a cellist in New York City who started Bach in the Subways in 2010. "I love this music with my whole soul — it is my soul, in a way."
In Los Angeles, Bach in the Subways will feature a 10-hour Bach marathon with an organ recital and an appearance by L.A. Opera violinist James Stark at Union Station as well as performances by the Pasadena Conservatory of Music at the Glendale Metrolink platform, the Glendale-based Sterling Flute Choir at the entrance to the L.A. Zoo and 100 members of the Elemental Strings youth program at Santa Monica Place.
Enlightenment Music Series, a chamber music group that usually performs in Pasadena, will play the Brandenburg Concerto No. 4 near Traxx restaurant in Union Station. It's a number that Jeehyun Lee, the 34-year-old organizer of L.A.'s Bach in the Subways performances, refers to as her "childhood jam."
Lee works for the North Hollywood-based radio station KPFK, and although she doesn't play music herself she is deeply in love with classical music and the work of Bach in particular. She contacted Henderson last year after a friend told her about the Bach event.
"The beauty of the project is so simple and so pure," Lee says. "We just want to play music for you, and we don't expect anything in return — a rarity in our society. That's just so moving."
The role of L.A. organizer didn't previously exist, so she created it. That's how the volunteer program operates, says Henderson, who calls the structure "anarchical."
Henderson, who teaches cello and graduated from the New England Conservatory of Music, started with three tenets for participation: "Play J.S. any time from 12 a.m. to 11:59 p.m. on March 21; make sure your performance is open and accessible to all; decline donations and instead offer your music as a gift."
The first year Henderson played alone in the New York subway on multiple weeks. In 2011 he hit on the idea of performing on Bach's birthday, and he started a Facebook page. Two cellists joined him. The next year, 10 more musicians signed on.
"Last year we hit an inflection point," Henderson says, referring to the jump to 77 musicians in 12 cities and four countries. "It feels to me like something whose time is right."
Performers secure their own permission and permits to play in their chosen spot, often contacting Henderson or Lee after they have done so. Organizations such as Union Station have been helpful, Lee says.
"It's not just something you hear, but it's also a visual thing. ... The connection is different," she says. "To me it's a very human experience because it gives me the opportunity to feel things, and as an audience member it can be a vulnerable experience."
So vulnerable, in fact, that Lee plans to bring tissues on Saturday in case she starts crying the first time she sees her beloved Brandenburg Concerto No. 4 played live.
She and Henderson want Bach in the Subways to be an invitation to further explore classical music. If this year's turnout is any indication, they have already succeeded.
Four orchestras are playing in Chihuahua, Mexico. A Bach flash mob will gather in front of St. Stephen's Basilica in Budapest, Hungary, where musicians who participate in that city's Bach in the Subways will unite into a large choir and orchestra under the direction of Bach scholar and conductor Salamon Kamp. A jazz trio will play Bach in Vilnius, Lithuania, and in Seattle, dozens of performances are planned in one of this country's most robust lineups.
For his part, Henderson will appear at 8 p.m. at a Washington Square subway station and at midnight at Columbus Circle. When it's over, he will turn his attention to his Kickstarter campaign aimed at making the movement a full-time job.
"The rule with Bach in the Subway is that you never know what's going to happen," Henderson says. "We're setting it up as an organization that will continue to grow, but right now it's an exciting question mark."
------------
'Bach in the Subways'
Where: Most L.A. performances are at Union Station downtown, but others are scheduled for Beverly Hills, Van Nuys, Claremont and elsewhere.
When: As of Thursday, performance starts were scheduled from 10 a.m. to 7:30 p.m.
Cost: Free
Info: bachinthesubways.com
Get our L.A. Goes Out newsletter, with the week's best events, to help you explore and experience our city.
You may occasionally receive promotional content from the Los Angeles Times.