Review: Pure joy in toe shoes: Tiler Peck and the radiant dancing of 'BalletNow'
For its three-day "BalletNow" extravaganza that ended Sunday, the Music Center of Los Angeles not only imported exceptional performers from London, Miami and New York but it also — hallelujah! — provided a live orchestra, which for dance productions isn't a given.
But the best thing about "BalletNow" was the homecoming for one woman: Tiler Peck.
The 28-year-old from Bakersfield, whose grandmother drove her to and from Downey multiple times a week so the precocious child could get better dance training, is now a star with the New York City Ballet. She can turn the smallest doodle into a memorable moment, and what she does with everything else is a gift to behold.
We can't know what's really going on in her head, but she can convince an audience that she lives to perform for us. She wrings emotion from the very art and act of moving, her face becoming a parade of feelings and moods that resonate with truth and purity. She can be elegant or playful, goofy or determined, shape-shifting with ease. Her technique is flawless, but that's only the means to the end point; her musicality and physical breadth fuse into a single, joyous package, the way dancing is supposed to be.
Rachel Moore, the Music Center's president and chief executive, invited Peck to curate three different but overlapping programs, just as Roberto Bolle and Herman Cornejo did two years ago when they inaugurated "BalletNow." These kinds of gala-style performances (remember those "Nureyev and Friends" tours?) have been staged for at least a century and can feel that tired.
But Peck surprised. Her taste and dance-world connections brought welcome refreshment, with generous renditions of works we don't see often enough, such as Jerome Robbins' "Fancy Free" and George Balanchine's "Who Cares?"
Among the invited and distinguished cast of friends, a dozen or so were standouts: Royal Ballet principal Lauren Cuthbertson, as radiant as Peck, and soloist Reece Clarke; the delightful Jeanette Delgado and Kleber Rebello, both of Miami City Ballet; American Ballet Theatre's Marcelo Gomes and Cory Stearns; and a hard-charging group from New York City Ballet.
Friday and Saturday nights began with pieces that reflected Peck's open-hearted disposition, both of them commissioned from the Vail Dance Festival and its director, Damian Woetzel. The Friday opener was "1-2-3-4-5-6," featuring Peck, hip-hop artist Virgil "Lil O" Gadson and tap virtuosos Michelle Dorrance and Byron Tittle. Dorrance clapped and stamped out a steady rhythm, while the others scampered about her, outlining the rectangular platform on which Dorrance and Tittle were centered. Peck clacked the stage with her pointe shoes; "Lil O" popped and waved his limbs to the beat. It was both entertaining ditty and allegory for something as profound as peace and harmony.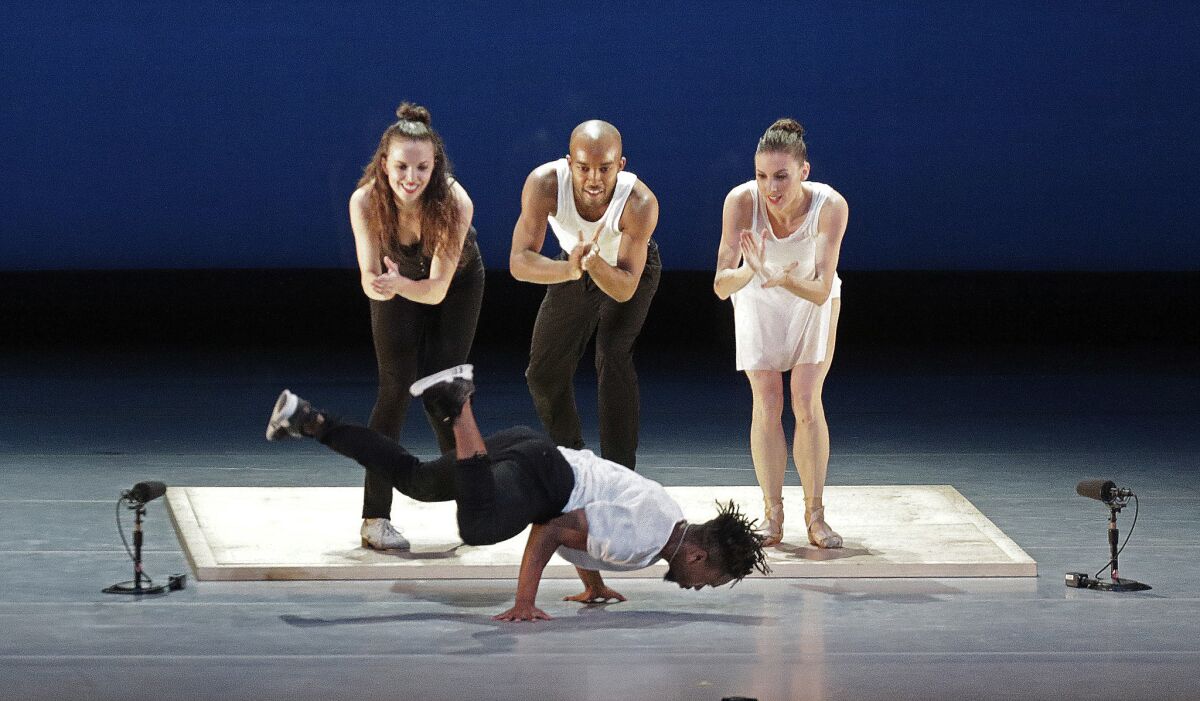 SIGN UP for the free Essential Arts & Culture newsletter »
On Saturday, Peck paired with Bill Irwin, beloved American clown, Tony-winning actor and Mr. Noodle of "Sesame Street." (Who has such a resume?) This was for another lighthearted romp, "Time It Was/116." In bow tie and oversize suits and shoes, Irwin was the shy suitor whose wayward grapevine step kept dragging him offstage. Peck was object of affection and equal partner, a figure of self-assurance and strength.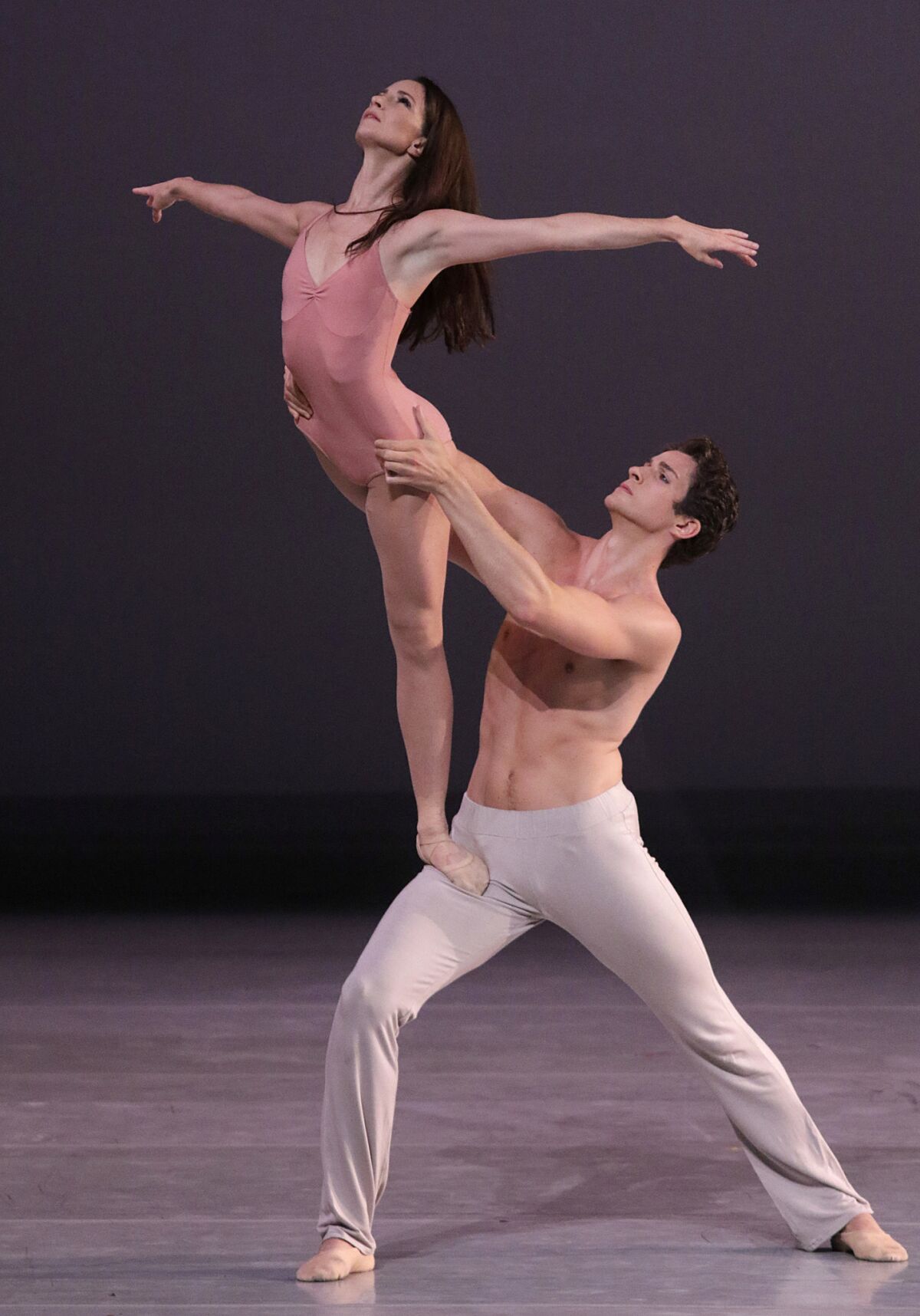 Cuthbertson and Clarke combined for a rare and mesmerizing performance of Christopher Wheeldon's popular "After the Rain" pas de deux (to mournful musical selections by Arvo Pärt) in the Friday program. These British dancers brought a fuller articulation and quiet energy to this lovely piece, and they raised it to a higher level. The same night saw a thrilling performance of Balanchine's "Allegro Brillante," thanks to fine-tuned fleetness of the New York City Ballet performers, led by Peck and Gomes. Balanchine is not Gomes' bread and butter, but he was accomplished if not assured. Peck spun fast, then faster, attacking this piece's trials with ease.
Other highlights over the two nights: Peck and NYC Ballet soloist Zachary Catazaro in Wheeldon's pas de deux from the musical "Carousel"; and Cuthbertson and Gomes in a heart-palpitating pas de deux from the first act of Kenneth MacMillan's "Manon."
Two early ballets by Justin Peck (no relation to Tiler) expanded L.A.'s exposure to this young choreographer-in-residence at New York City Ballet, a company too rarely seen here. "Chutes and Ladders" (starring Delgado and Rebello) and "In Creases" (for eight dancers) demonstrated a sophistication that has catapulted him into the "it" choreographer category. He crafts hard-edged pictures of ever-changing shapes and geometric forms, while plying a playful and deeply felt love of the ballet aesthetic.
Not everything was a hit, and the two nights I attended had a dud or two, including the balcony scene from MacMillan's "Romeo and Juliet." The orchestra was sometimes wan but at other points gorgeously full. As Peck was finishing a solo from "Who Cares?," conductor Grant Gershon seemed to speed up, but Peck just accelerated faster, leaping a fraction ahead of him — to oohs and aahs from the audience. Touché.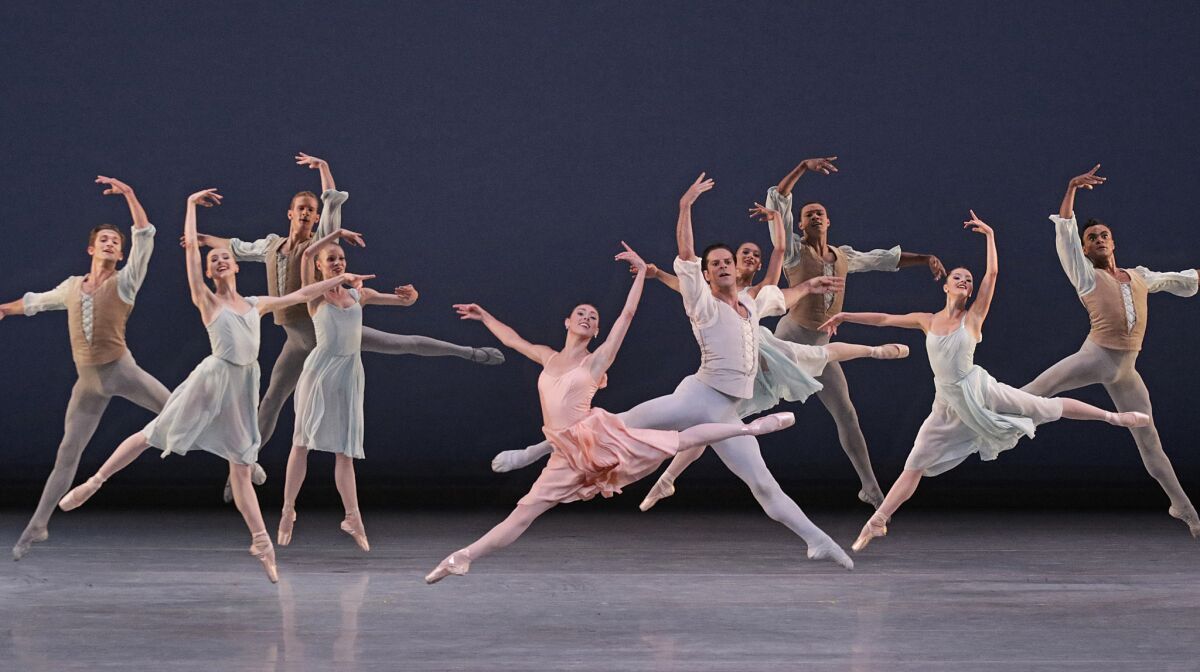 Support coverage of the arts. Share this article.
MORE NEWS AND REVIEWS
Q&A with Tiler Peck and how 'BalletNow' goes beyond 'Swan Lake'
More dance performance on the horizon
'Mamma Mia!' at the Bowl was great. Now if only the audience had loosened up
Get our L.A. Goes Out newsletter, with the week's best events, to help you explore and experience our city.
You may occasionally receive promotional content from the Los Angeles Times.