Review: 'Mamma Mia!' at the Bowl was great. Now if only the audience had loosened up
I was strangely troubled as I came away from Friday night's performance of that unlikely yet indefatigable international hit "Mamma Mia!" at the Hollywood Bowl.
Not by the production, which was perfectly delightful, from the cool blue of Derek McLane's nifty set to the accomplished cast members, directed and choreographed by Kathleen Marshall, who all seemed to be having a great time. But by the audience.
Before Friday night I would have bet actual money that few sentient humans could hear ABBA's "Dancing Queen" and remain unmoved. Or at least un-moving. Even for non-ABBA lovers, the swooping keyboards and Europop hooks are pretty irresistible.
And yet when Jennifer Nettles, Lea DeLaria and Tisha Campbell-Martin launched into an energetic and full-throated rendition of what some have called the best pop song ever, no body stirred.
The Bowl seats 17,500, and though it no longer releases attendance numbers, I'll show off my math skills and say it was pretty full. Yet I was one of, say, a dozen people even remotely dancing in their seats (and two of the others were my daughters). Even those who had bought and donned the show's whimsical flower crowns just sat there (and you could tell exactly when they moved and didn't because their heads were all lit up).
Seriously. "Mamma Mia!" at the Hollywood Bowl and everyone frozen through "Dancing Queen" as if Gustavo Dudamel were conducting the Ring Cycle. (If Dudamel had been there, you can bet your baton he'd have been seat-dancing.)
Perhaps everybody was simply rapt or exhausted from work, or too self-conscious to publicly acknowledge that they just happen to remember every ABBA lyric ever written. But the show was prefaced by a delightful mash-up of ABBA songs and the national anthem, so clearly we were there to have fun. And you know what? When DeLaria sings "Dancing Queen" right in front of me, I am going to sing it right back.
To be fair, "Mamma Mia!" is a bit of a bumpy ride at first. The show is not so much a musical as it is a clever yet narratively absurd opportunity for people to sing ABBA songs, and nowhere is the narrative absurdity more evident than during the initial exposition. On a Greek island a young woman named Sophie (Dove Cameron, greeted vigorously by her many "Liv and Maddie" fans) is about to marry Sky (Corbin Bleu, ditto by his "High School Musical" fans), and she prepares for the wedding by inviting three men who could be her father.
Without of course telling her mother (Nettles), who, though now a frazzled single mom/owner of a Greek taverna, was once the wild-child lead singer of Donna and the Dynamos.
The Dynamos — Rosie (DeLaria, "Orange Is the New Black") and Tanya (Campbell-Martin, "Dr. Ken") — arrive for the wedding, as do the might-be dads Sam ("Jane the Virgin's" Jaime Camil), Harry (Hamish Linklater, "The Newsroom") and Bill (Steven Weber, "13 Reasons Why").
(If nothing else, you gotta love any production with a representative range of "High School Musical" to "Orange Is the New Black.")
When Donna catches sight of Sam, who broke her heart, and the two men who subsequently, er, consoled her, hilarity, pathos and many, many songs ensue.
Which, mercifully, all of the cast members are more than able to sing. (Anyone who has seen the movie knows that this is not always the case.) Cameron is a perfect Sophie, sweet-faced, sweet-voiced and winsome enough to sell the ridiculous plot as if it were something a person might actually do.
Nettles has a tougher job. While every other character is along for the farce, Donna is actually worried, hurt and angry, often in a very non-ABBA way. But after the shock of seeing the three men (and a strangely aggressive performance of the title song) wears off, Nettles hits a groove, and all the high notes splendidly. DeLaria and Campbell-Martin, who have most of the best lines and some of the best songs, are clearly having a ball, as are the male stars, even when dropping a line or two.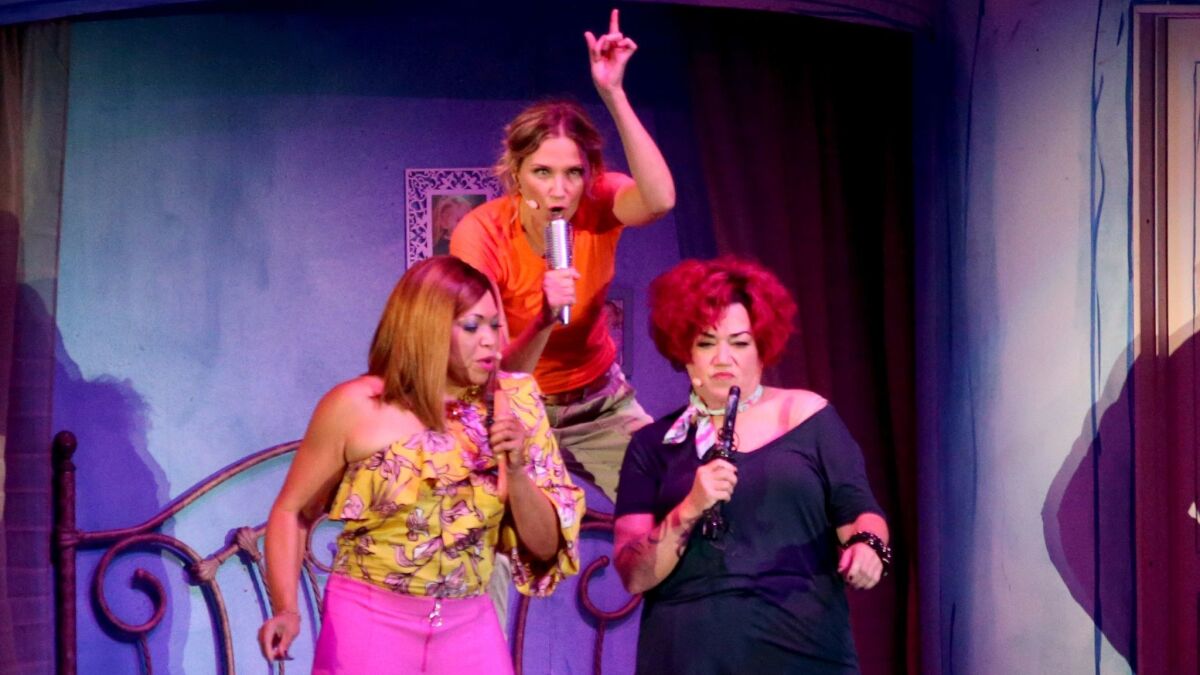 By the final number of the first act — a buoyantly choreographed "Voulez-Vous" — audience members could be heard softly singing the words "voulez-vous," and by the second act, everyone was much more relaxed. Many more illuminated flower crowns had been purchased, and perhaps a few more drinks. (Good for you, man in crown who briefly stood to sing during "SOS." )
Camil nailed "SOS," by the way; Bleu delivered the story's brief turning-point monologue with striking depth and Nettles delivered a "The Winner Takes It All" so powerful and transformative that it seemed out of place but was so good you didn't care. DeLaria and Weber turned "Take a Chance on Me" into a zoological courtship dance impossible to describe.
Spoiler alert: It's a happy ending, and for the finale the audience was finally, directly, urged to its feet and finally, ABBA lyrics rang through the Hollywood Hills just as they should each and every Friday night if some of us were in charge.
MORE NEWS AND REVIEWS:
Mandy Patinkin steps down from Broadway's 'Great Comet' amid diversity firestorm
In Antaeus Theatre Company's 'As You Like It,' missed connections foil romantic comedy
Get our L.A. Goes Out newsletter, with the week's best events, to help you explore and experience our city.
You may occasionally receive promotional content from the Los Angeles Times.