Imagine the fantastical possibilities and imagery — not to mention confusion — if figures in classical sculpture could suddenly move, breaking free of their frozen poses. This was one way to interpret "Tableaux Vivants," a gorgeous new dance for Barak Ballet made by Nicolas Blanc.
Blanc's piece was one of three pieces created for Melissa Barak's 3-year-old chamber company, which performed Saturday evening at the Wallis Annenberg Center for the Performing Arts in Beverly Hills. The former New York City Ballet dancer and choreographer returned home to Los Angeles almost 10 years ago and later launched her own troupe. Her vision and mission for this troupe, which has grown to 16 men and women, is to make a home not just for her own striking and complex neoclassical ballets, but for the work of other talented choreographers testing their mettle. Though Barak's taste in dance is broad and the repertory reflects that, she is devoted to contemporary ballet, the real deal, in pointe shoes.
See the most-read stories this hour >>
Blanc, a Chicago-based ballet master and coach with the Joffrey Ballet, has a gift for genuinely lyrical, beautifully curved and evocative movement. He has taken the deep undertones of Jonny Greenwood's score for the movie "There Will Be Blood" (all the music at the Wallis was recorded) and crafted emotionally telling and elegant phrases. At the start of "Tableaux," four couples shift from one linked-together pose to another, looking like draped figures from a Hellenic frieze. (Ruth Fentroy designed the classy costumes for all four works on the program.) As the ballet progresses, the dancers abandon these "living pictures" for more sweeping and modern groupings, duets and trios.
Along the way, dancers make an occasional and tentative reach up or forward, as though testing the boundaries of an imaginary box that confines them. It is ballerina Allynne Noelle who is determined to break away from the group. But this effort takes a toll; she holds her head and resists the efforts of the men to keep her with the ensemble. As the other seven assemble for their final static position, Noelle is lying on the ground before them, a victim maybe of her own search. On the other hand, maybe she is free? The viewer can decide.
Despite the occasional slip-up, the cast brought this concept to full flower with a refined demeanor and stretched bodies. Noelle is fleet, jack-rabbit fast and yet smooth, pushing every gesture another inch further, higher.
Norbert De La Cruz III, raised in East Los Angeles, was the night's other guest choreographer. His premiere, "Festive Devotions," is a multi-part ballet of grounded gestures and rhythmic steps for five dancers using musical selections that ranged from Vivaldi to the Many Rivers Ensemble, a Colorado pop group. Dancing in soft ballet slippers, dancers put on and then took off conical straw hats, seemingly at random.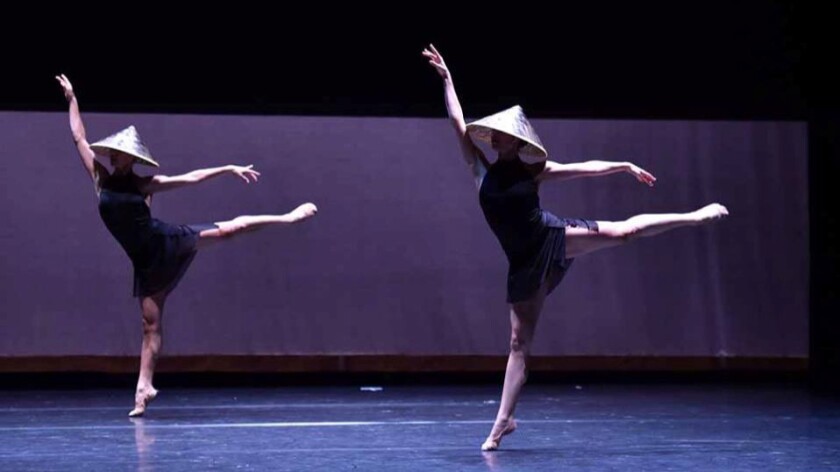 De La Cruz was born in the Philippines, where such hats are worn. If there was a story, if the dancers were enacting different rituals, they were hard to decipher. Though De La Cruz's movement choices could feel arbitrary, the overall piece's physicality was engaging. In one particularly beautiful movement, a man whirled triple time with his partner on his back. Performers Stephanie Kim, Jessica Gadzinski, Sadie Black, Brian Gephart and Ryan Camou served the choreographer well, making the best of what they were given.
Barak created a new duet for this show, "Dimittere," to music by Argentine composer Alberto Ginastera. Barak cooks up virtuoso pas de deux, with tricky lifts and fast-shifting positions, and "Dimittere" was cut from this cloth. The tall and gracious Mauro Villanueva lifted and cared for his partner, Kate Kadow, with expert assurance. Kadow, who danced in this piece only, is a long-limbed beauty, who tired noticeably at about the halfway mark. This piece will take a reviewing to fully appreciate.
The evening opened with Barak's "Aether," from 2014. Composer David Lawrence's commissioned score includes choral interludes, some prayerfulness lives in this piece for three couples. "Aether" shows off Barak's ability to shift her work effortlessly through logical progression. At the very least, Barak celebrates her dancers with beautiful moves, and that's its own special gift.
Follow The Times' arts team @culturemonster
MORE FROM ARTS & CULTURE
'Hamilton' wins 11 Tony Awards on a night that balances sympathy with perseverance
Complete list of Tony winners and nominees
Eugene O'Neill's 'The Hairy Ape' is a rallying cry for the Bernie Sanders crowd
---