Review: Artist Barbara Kruger turns a bland building into a screaming statement. Time to listen up
Art Critic
Barbara Kruger is yelling. In an extraordinary new Hollywood mural, the artist who is known for often blunt, declarative works that use plain language and sharp graphic design in ruminative ways has amped up the rhetoric.
Good for her. American society's doomsday clock is ticking, and not only in a nuclear sense. Welcome her shouts.
At LAXART, the independent nonprofit venue that has just revamped its exhibition space, Kruger commandeers the otherwise modest building's façade at a much-traveled corner on Santa Monica Boulevard. In mostly black, uppercase, sans serif typeface, poetic rat-a-tat-tat grabs passersby on foot or wheels.
When it comes to ordinary street signage for a pizzeria or muffler shop, we're used to something more playful or beguiling than "break it, own it, steal it, loan it, kiss it, slap it, hug it, hurt it." Kruger's printed verb commands are like the frieze on a classical temple's entablature; they're held aloft by fat vertical "columns" between blocked-out windows.
Holding up the abusive orders, the columns' white words on a black background sputter motivations: "pleasure, power, profit, property, poverty." Rising from beneath the windows across a podium painted vivid green, foundational words demand: "privatize, monetize, moralize, terrorize."
Atop such base ultimatums, the "it" that is being broken, owned, stolen and hurt is unidentified. Instead, the object of the punishing verbal actions is neutralized; it is something less than human, not irreplaceable.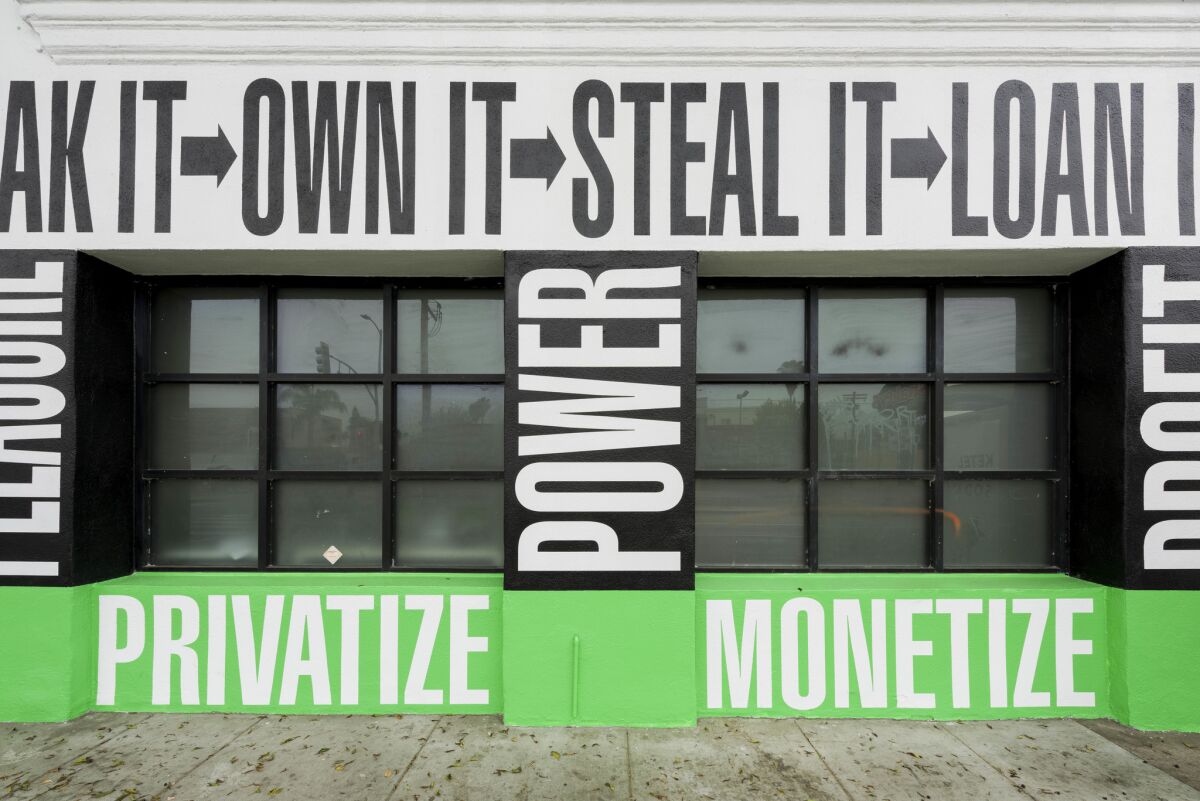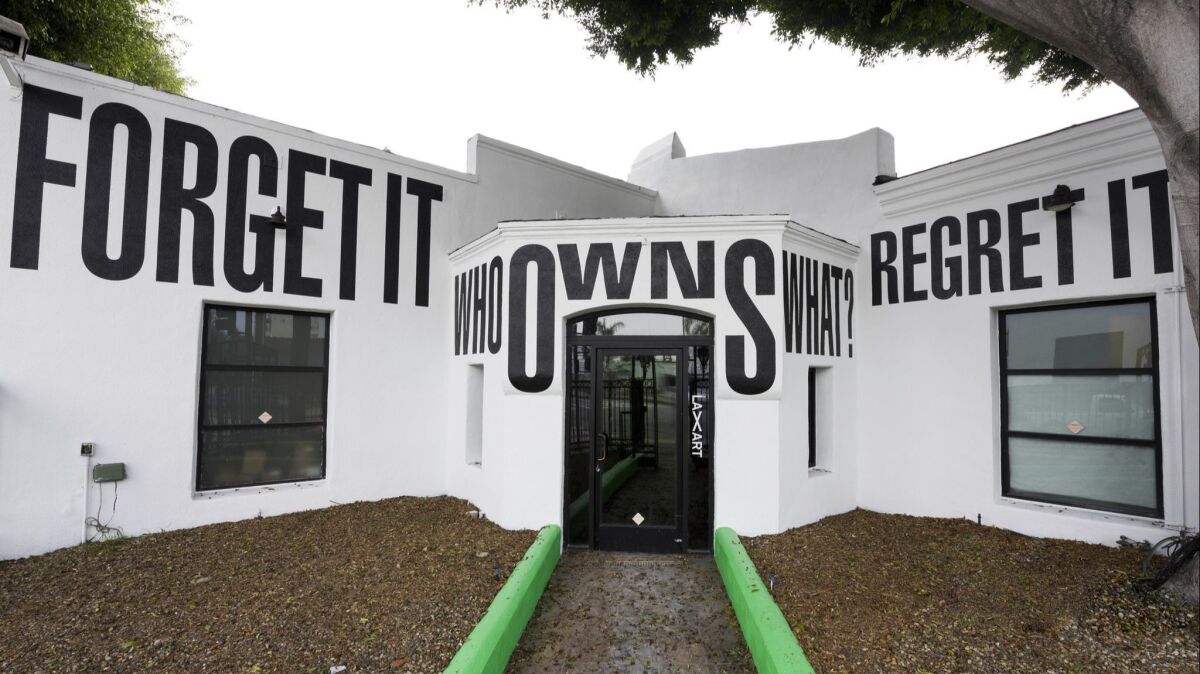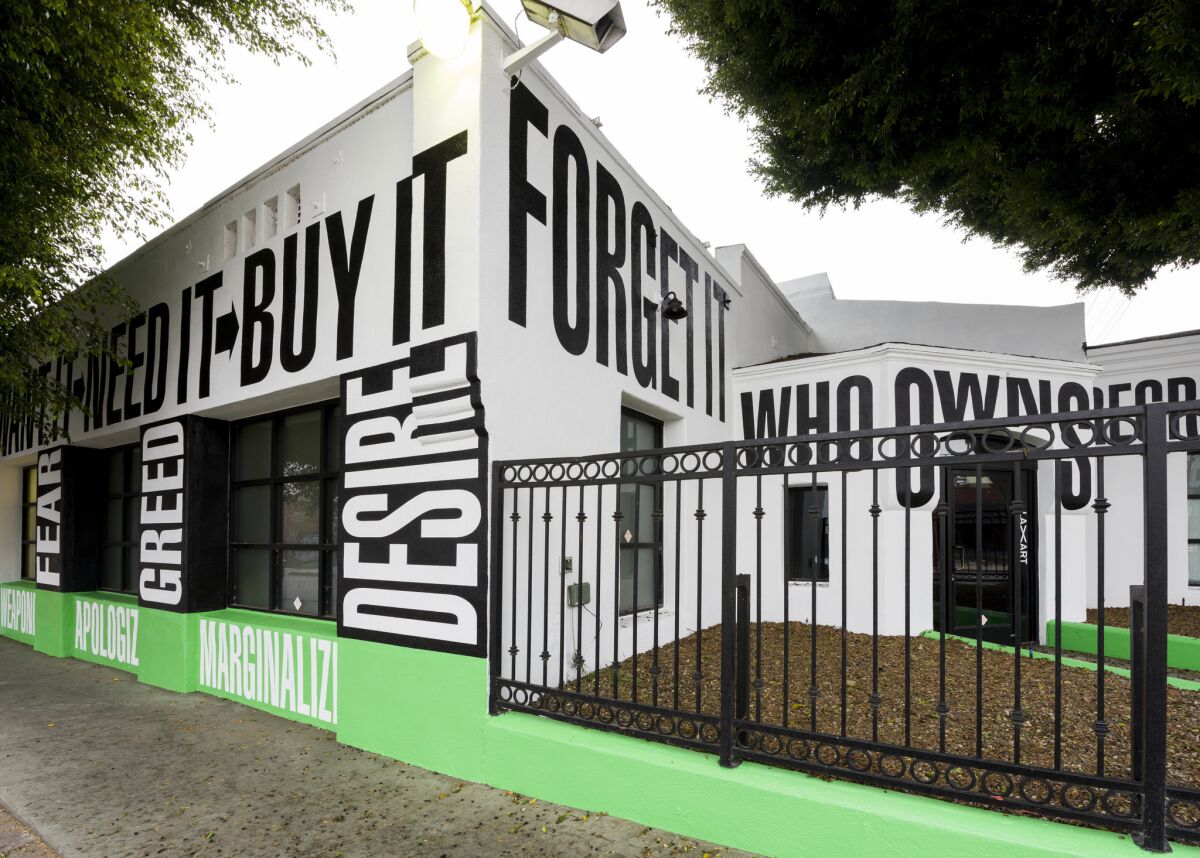 And that's just one side of the building, running along a banal strip of the boulevard. Text continues along the east side of the building too. Words wrap the protruding, porch-like entrance to the art gallery at the corner to inquire of visitors "who owns what?"
Kruger's stark, carefully laid out design cleverly turns the façade of an innocuous strip-building into the memory of a Greek temple, the classical style in which art museums were once conventionally built. Entablature, column, podium, portico — her graphic version is stripped of ornament.
In this it recalls her unforgettable text-façade for the Italian pavilion at the 2005 Venice Biennale. Kruger, representing the United States at an international art festival in the middle of the violent administration of George W. Bush, underscored the stripped classicism of the 1932 building — an architectural emblem of the era's fascist rule.
The tensions between representative democracy, always imperfect, and authoritarian power, always a threat, are now being pushed to the limit. Kruger's cautionary "Untitled (it)" shouts that enough is enough, all while seeming certain that it is not.
LAXART, 7000 Santa Monica Blvd., Hollywood, (323) 871-4140, through the fall. Daily. www.laxart.org
christopher.knight@latimes.com
Twitter: @KnightLAT
Get our L.A. Goes Out newsletter, with the week's best events, to help you explore and experience our city.
You may occasionally receive promotional content from the Los Angeles Times.