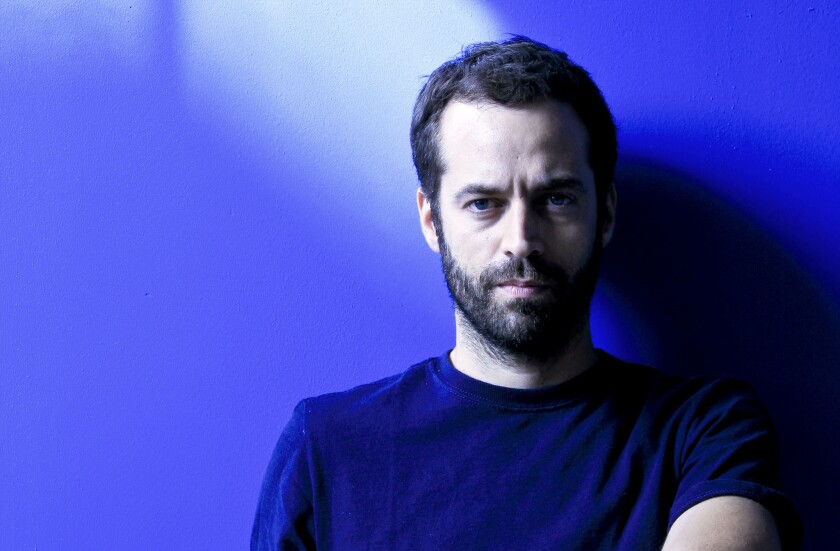 In a surprise shake-up at one of the world's most revered dance institutions, Benjamin Millepied said Thursday that he will resign his position as the director of dance at the Paris Opera Ballet after a little more than a year, citing personal reasons and his desire to devote himself entirely to artistic creation.
France's loss will be Los Angeles' gain: The star dancer and choreographer is planning to move back to Southern California, where he had lived with his wife, actress Natalie Portman, prior to joining the Paris company in 2014.
Millepied is a co-founder of L.A. Dance Project, an artist collective created four years ago that has produced modern and contemporary dance at prominent local venues including the Music Center and the Wallis Annenberg Center for the Performing Arts.
SIGN UP for the free Classic Hollywood newsletter >>
He has created new dance productions with the company and has performed with members in L.A. and on tour internationally.
Millepied made his announcement in a statement posted on his official Twitter account, where he said in French that he isleaving "for personal reasons only."
Millepied alluded to the administrative burdens that come with leading one of the world's oldest and most prestigious dance companies.
"My job as director of dance currently requires such a commitment that it largely precludes what is essential in my eyes — artistic creation and expression," he said.
Millepied said he wishes to "devote himself 100%" to creative workbut added that he intends to stay with the company until the end of the current season, which concludes this summer.
On Thursday, Millepied attendeda news conference in Paris with Stéphane Lissner, director of the Paris Opera. The company said that dancer Aurélie Dupont, who recently retired from the company, would succeed Millepied starting in August.
The 38-year-old Millepied hails from France but has spent much of his career in the United States. He is a former dancerwith the New York City Ballet, where he was a star and rose to the rank of principal.
He was considered by many as a bold choice for the venerable Paris Opera Ballet, a 3-century-old company noted for its tradition and old-fashioned ways. In his brief time there, Millepied has sought to modernize the institution, making forays into digital platforms to reach new audiences. It marked the first time that Millepied had led a major dance company.
"I am sure I will discover all the complications of it once I start," he told The Times shortly after his appointment was announced in 2013.
Charles Fabius, a co-founder of L.A. Dance Project, confirmed in an interview that Millepied is relocating to Los Angeles. "This is a great opportunity for [us] to reconnect with the founding director on a more regular basis," Fabius said. "He has taken this job in Paris extremely seriously. He was committed more than 100% on a daily basis. But he also realized after almost one and a half years, there was a price to pay for that. He had no time for his own artistic expressions as a choreographer. That's something that is extremely important to him."
L.A. Dance Project expects Millepied to work with members on growing the company upon his return, with the possibility of adding more classically trained ballet dancers to the organization's contemporary slant.
In her Times review of the company's performance last Friday at the Wallis, Laura Bleiberg said the troupe's dancing of Belgian choreographer Sidi Larbi Cherkaoui's work was "mesmerizing" but other parts of the program could have benefited from "a little more maturity."
Millepied, who couldn't be reached for comment, remains a popular choreographer with companies around the world.
He still plans to create works for the Paris Opera after his departure and is set to debut a new piece later this week with the company.
Millepied met Portman on the movie "Black Swan," where he served as choreographer. The couple has a young son and had lived in Los Feliz prior to moving to France.
Millepied had succeeded Brigitte Lefèvre as dance director in Paris. On Thursday, she took a swipe at Millepied, saying in an interview with Europe 1 radio that his appointment had been a "risky bet."
"He's an enormously charming boy who has a hypersensitive curiosity and who wants to do a lot of things," she said. But the job requires "the ability and energy to manage each position, from the administration to the rehearsals."
MORE:
In 'New Faithful Disco,' Meg Wolfe and dancers groove through a wild night out
Debbie Allen tackles gun violence, race relations in 'Freeze Frame'
The new 'Empire: The Musical,' in La Mirada, is more scaffolding than skyscraper
---