L.A.'s historic Bob Baker Marionette Theater is moving to Highland Park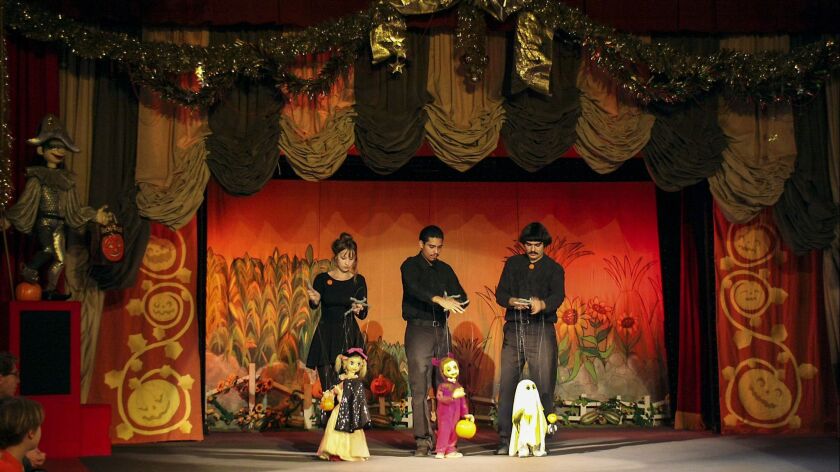 The black cat with the rhinestone collar. The hand-walking clown. The petunia that dances and sings.
These beloved characters and 2,000 other puppets handcrafted by marionette mastermind Bob Baker are about to get a new home.
After more than 55 years in a small cinder block building on the edge of downtown L.A., the historic Bob Baker Marionette Theater will move to a former movie theater turned Korean church on the corner of York Boulevard and N. Avenue 50 in Highland Park.
The theater's company of eight red-clad puppeteers hopes to start staging their playful and eccentric brand of marionette shows in its new space beginning in early summer.The official grand opening is not slated to take place until Nov. 29 — almost one year to the day after they performed their last public show in their historic original theater.
"Boy, are we rushing to figure everything out, but opening day will happen as soon as is humanly possible," said Alex Evans, the theater's executive director and head puppeteer, in the same cheerful and English-accented voice that he's used to introduce nearly every performance over the past 10 years. "I want to play with puppets again."
A few days after signing a 10-year lease, Evans and Winona Bechtle, the marionette theater's director of development, were seated at a card table in a cold, messy office on the second floor of their new headquarters.
They were already hard at work writing text for the marionette theater's website, putting together a press release about the move and preparing for a meeting with the architectural firm Escher GuneWardena, which will help them transform the building's cavernous auditorium into the cozy space draped in tinsel and red velvet that Bob Baker audiences know and love.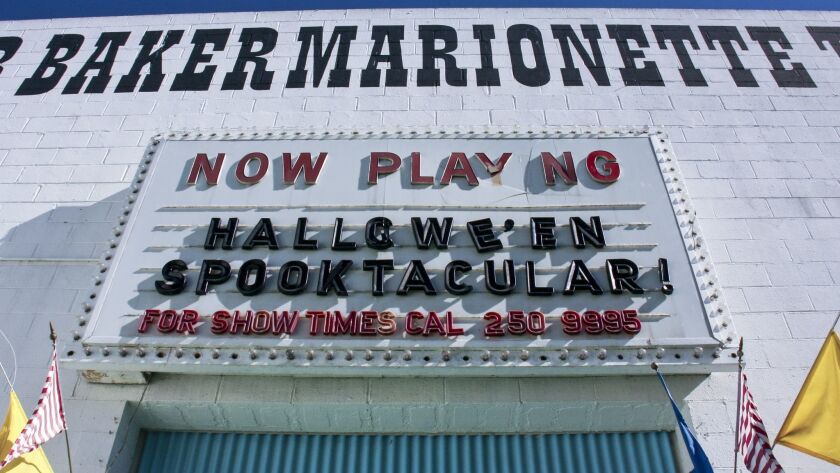 They were tired but excited. For months, the theater's future had been in limbo as they scoured the city for a suitable place to continue Baker's unique legacy. They looked at more than 30 locations before settling on the York Boulevard building. It does not have parking, but it is conveniently located across the street from a children's playground with a rattlesnake slide and a coffee shop with excellent lattes.
"This was the space where you could pretty much walk in and see it right away," Evans said. "We don't have to change much to make it feel Bob Baker."
The building was originally built as the York Theater, hosting movies and vaudeville performances in the 1920s. It most recently housed the Pyong Kang First Congregational Church. It has also been a barbershop and the site of an organ sales and repair store.
"It's very L.A., all the transitions it's been through," Bechtle said.
Inside, the building still looks like it belongs to the church, with large banners written in Korean hanging on the walls, red poinsettias lined up in front of an ornate wooden pulpit and a drum set and keyboard unmoved since the congregation's last service in early January. The room felt large and tall — a jarring contrast to the gilded intimacy of the old Bob Baker Theater.
But Bechtle and Evans pointed to its art deco touches such as the historic lettering of the Exit and Bathroom signs, and what was once an old ticket booth.
"We've done [performances] in a box for 55 years," Evans said. "There's moldings on the doorways here. That's more than we had in the other theater."
The decision to move to a new location didn't entirely come by choice. Baker sold the marionette theater's original building to a developer shortly before his death in 2014. Now, the current owner is moving forward with plans to turn the site into an apartment complex.
The Bob Baker Marionette Theater was designated a Los Angeles Historic-Cultural Monument in 2009 and soon after the sale of the building, there was talk of keeping the local institution on the premises. However, recent renderings of the project suggested that was not likely to happen.
"We thought it was the plan until we saw the plans," Bechtle said.
But the push to move to the new space — which is 10,000 square feet, while the old building was 7,000 square feet — may be a blessing for the company. It has experienced a renaissance and unprecedented growth over the last few years with gross revenues increasing from $247,687 in 2014 to $604,312 in 2018.
"Our revenue is up 60% this year over last year, and that allowed us to consider that the best option for Bob Baker wasn't necessarily staying in that building," Bechtle said.
For more than 50 years, generations of audiences attending performances at Bob Baker's Marionette Theater were treated to a singular experience. In a small theater adorned with velvet and gold garlands, audiences sat in the round, with (mostly) kids sitting criss-cross applesauce on the floor. Puppeteers brought the handcrafted marionettes right into the center of a carpeted area where they blinked and winked and danced to campy soundtracks that Baker spliced together.
If you were lucky, a puppet might sit on your lap, knock off your hat, or wave a scarf in your face.
"Who knows what they'll do," Evans said before the start of the show in recent years. "They're puppets!"
To keep that experience intact as it changes locations, the theater company is working with architects Frank Escher and Ravi GuneWardena who specialize in historic preservation projects.
The current open auditorium will become shorter and narrower once they create a backstage area, puppet storage and a workshop. A carpet stage will be created, and so will a sense of closeness to the performers.
"It really is about the audience — the kids on the carpet and their parents and older kids around them, surrounding the puppets and performers," GuneWardena said. "It is very much interactive, and it will continue to be interactive."
To guide them on the transformation, the architects are turning to dozens of original drawings that Baker made for the theater before its creation in the 1950s and '60s.
"Bob Baker had these amazing, beautiful renderings of his vision for altering the old space, so we've been collectively mining those images," GuneWardena said.
The annual Christmas show, a non-traditional and completely surreal Nutcracker that opens with a shadow puppet orchestra and includes a Clara and her little brother Fred (who each sound like they are 45 years old) was staged at the Pasadena Playhouse at the end of 2018.
Those performances "helped us see how the Bob Baker vibe works in a space that is not our original home," said Bechtle. "It was a nice exercise in what makes the theater, the theater — the tinsel, the coloring, the carpet. Transposing it there was like, 'We can do it.' "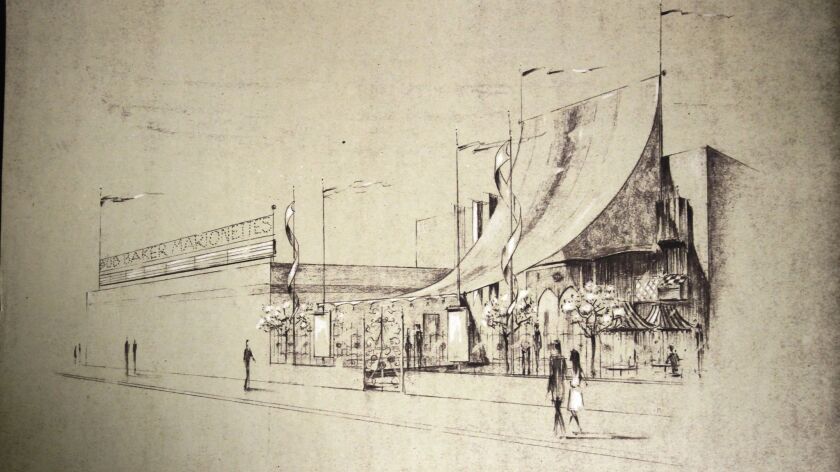 Bechtle and Evans said another priority is to create a place that will allow the marionette theater to more easily collaborate with other artists and organizations. In the last few years, the theater began hosting movie screenings, punk shows and other events that were not solely marionette-based.
In the new location, they hope to do even more of that.
"We have a library of 6,000 LPs, so music is part of what we do; Bob worked on 'Close Encounters of the Third Kind' and 'Escape from Witch Mountain,' so screenings are an obvious way to illuminate our programming," Bechtle said.
The buildout will take place in two phases. The first is getting the theater ready to receive audiences. This should wrap up by the beginning of summer, Evans said.
The second is developing the rest of the theater — carving out room for workshops and smaller performances, a library and a Bob Baker museum. But a lot will depend on how much money they can raise over the next few years.
"The goal is to get them into the building and doing shows as quickly as possible," said Michael Ferguson of the theater design company Theater DNA, who is also working on the project.
Bechtle said she is just relieved to finally be able to reveal where Bob Baker will be for the foreseeable future.
"For the longest time, we've been answering the phones saying, 'Call back next month. Call back next week,' " she said. "I can't wait to tell everyone."
---
Your essential guide to the arts in L.A.
Get Carolina A. Miranda's weekly newsletter for what's happening, plus openings, critics' picks and more.
You may occasionally receive promotional content from the Los Angeles Times.