Review: Bruce Yonemoto at Luckman Gallery: Of grow lights and glaciers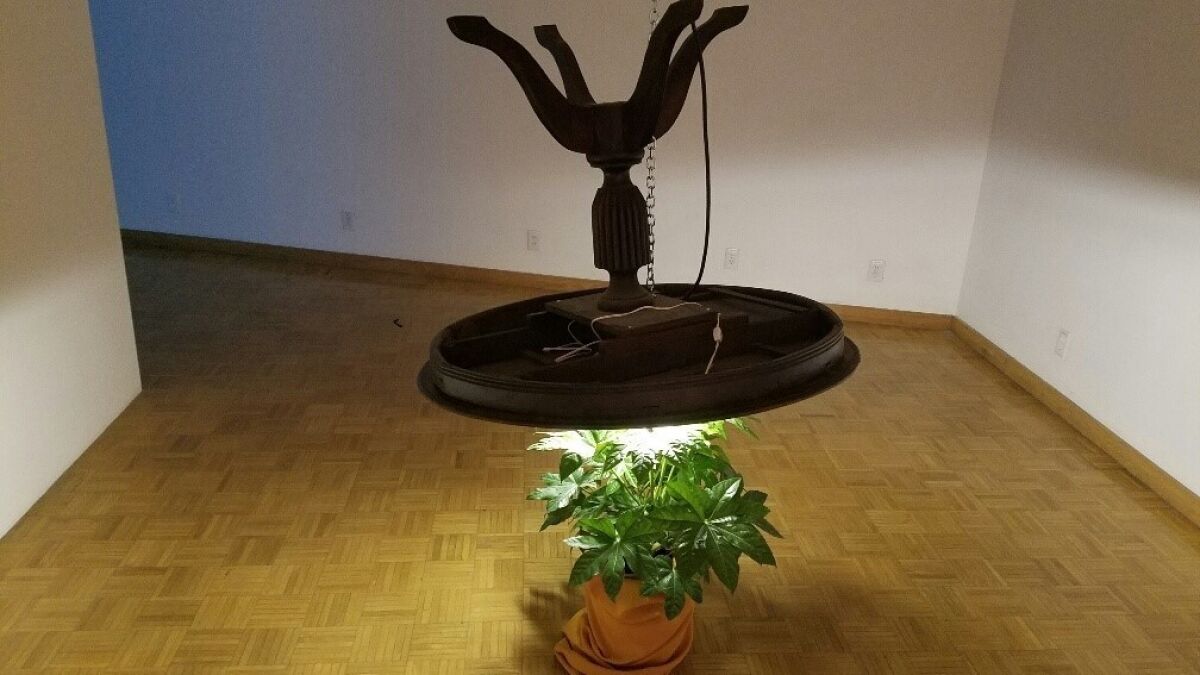 Art Critic
Near the end of Bruce Yonemoto's elaborate, multi-room, video-based installation at Cal State L.A.'s Luckman Gallery, a sculpture turns the world upside down and inside out. A potted plant on the floor flourishes beneath a fluorescent grow-light attached to the top of an upside-down table suspended from the ceiling.
It's as if the plant, thanks to the nurture of man-made light, is being grown to provide the materials to make the topsy-turvy table. Nature and culture coexist in a convoluted tangle.
The sculpture turns up amid a variety of video rooms. "Bruce Yonemoto: The Imaginary Line Around the Earth" contemplates the dizzying impact on worldly experience of reproduction — in camera images and, more recently, digital pictures. The subject has been on his mind — and in his art — for more than 30 years.
Lately it has manifested itself in response to time spent in South America, below the equator's "imaginary line." One inspiration is a Buenos Aires event by a relatively little-known Argentine artist. It may well have had stark if under-recognized cultural ramifications for the international development of Conceptual art. In 1966, Oscar Masotta (1930-1979) challenged the claim of American artist Allan Kaprow that a Happening, a genre Kaprow invented, could and should only happen once.
In essence, Masotta suggested that it was certainly true that one could not step in the same river twice, as Heraclitus explained 2,500 years ago. But — and it's a big but — if the river-stepping was reported in mass media, the happening was being repeated in a new way. He called it a "dematerialized" form.
New York critic Lucy Lippard, who knew Masotta's work, soon launched into writing "Six Years: The Dematerialization of the Art Object." The text is now a classic reference for Conceptual art.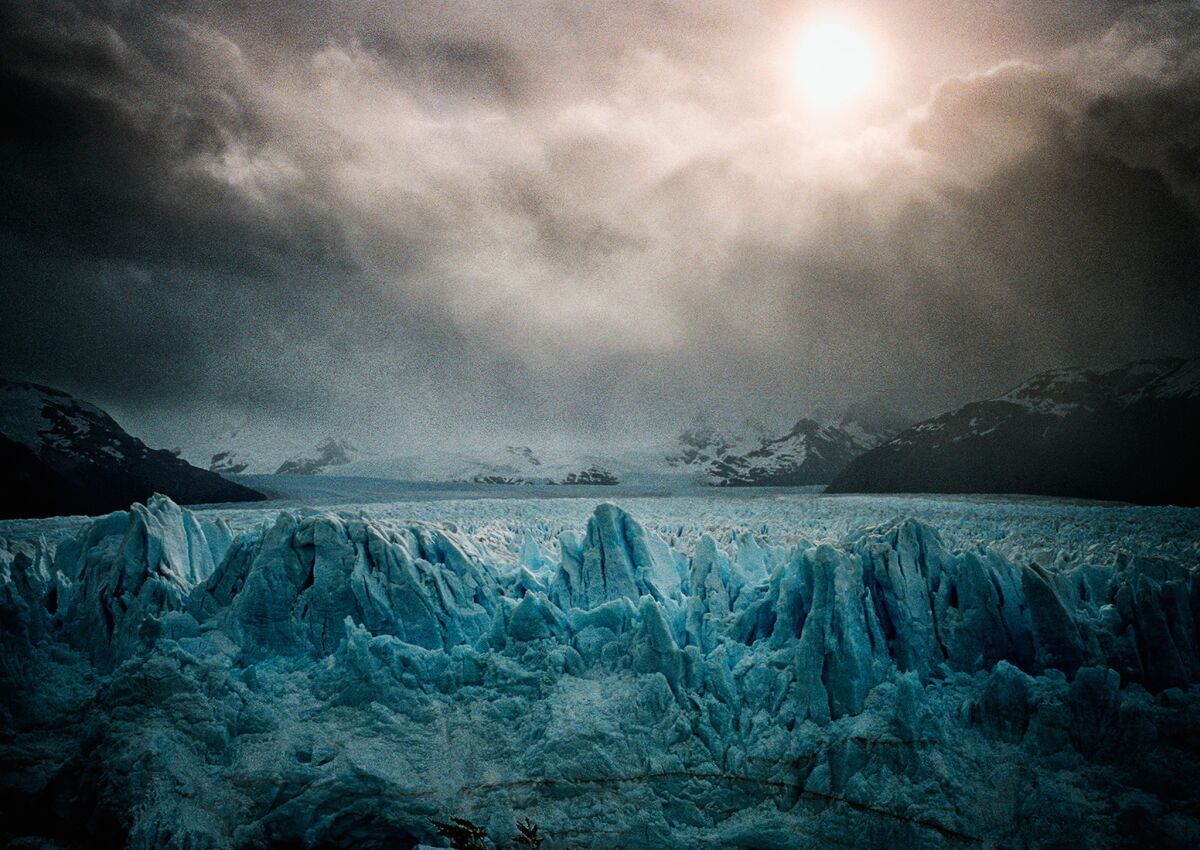 The Luckman show consists of nine interwoven parts, with individual components made as early as 1991 and as recently as this year. (Some were co-produced with his older brother, artist Norman Yonemoto, who died in 2014, as well as with others.) The assembly of parts is less a contrived, linear narrative than a kind of collaged tone poem about a pervasive sense of dislocation that characterizes our heavily mediated environment.
The newest segment incorporates a reenactment of a Masotta Happening. Its most viscerally beautiful element is a video projection of Perito Moreno Glacier, a vast ice expanse in Patagonia, made with art historian Juli Carson.
The static camera looks out over a jagged blue-white field, gray clouds drifting above and the sun blazing through. Perito Moreno is unusual because, for reasons unknown (and unlike other glaciers), it is advancing rather than receding. Looking at Yonemoto's big projected image, you strain to see the frigid mass coming toward you, nominally upside-down in a hemisphere "underneath" our own.
Masotta's artistic observation that any Happening does exist more than once — first in the event itself and again in its subsequent representations through media — was born of a cruel political reality. A right-wing military coup was roiling Argentina's social landscape. As a propagandized means of control, the dictatorship fabricated public crimes and made false claims against purported violent revolutionaries.
Yonemoto's installation — framed by the chilling, authoritarian power of fake news — is surreptitiously timely. Stare at the giant, mesmerizing mass "The End of the World at the Edge of the Earth," as the pointed piece is titled, and the glacier is imperceptibly advancing.
Luckman Gallery, Cal State L.A., 5151 State University Drive, L.A. Through Friday; closed Sunday. (323) 343-6600, www.luckmanarts.org
christopher.knight@latimes.com
Twitter: @KnightLAT
ALSO
Jessie Homer French at Various Small Fires: In death, she finds life
The exhibition that has art fans in a fury: Carl Andre at MOCA
Confronting the gender bias in art: 'Women of Abstract Expressionism'
100 missing women: Drawings at African American museum tell a powerful story of loss
Get our L.A. Goes Out newsletter, with the week's best events, to help you explore and experience our city.
You may occasionally receive promotional content from the Los Angeles Times.