Los Angeles public space is rambunctious again; let's dress it properly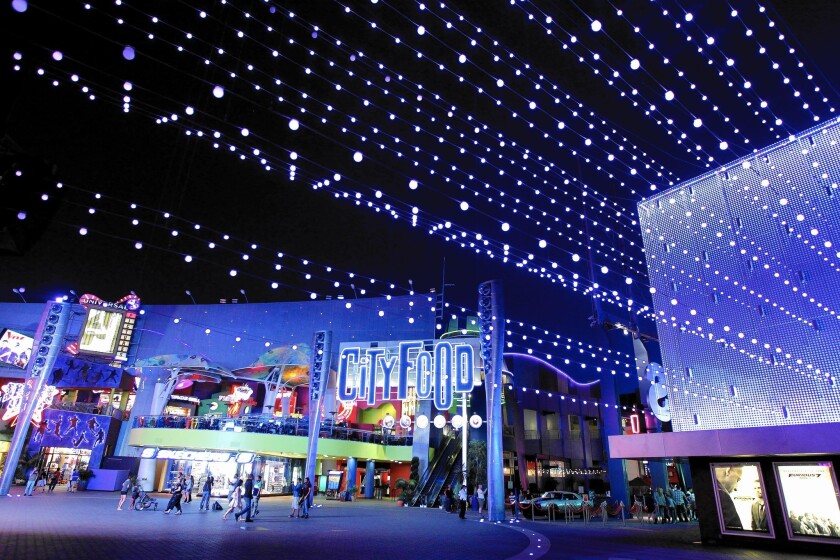 Los Angeles Times Architecture Critic
"The public sector stopped making public space a long time ago," Los Angeles architect Jon Jerde told Wired magazine rather matter-of-factly in 1999. Jerde, who died last month at age 75, was best known for projects that were both resigned to and propelled by that idea.
Among the most influential is CityWalk at Universal Studios, a lively, privatized, open-air pedestrian corridor, styled in neon-lit postmodernism, that leads from several large parking garages past restaurants, cafes, trinket shops and a multiplex to the amusement park's front gates. It was completed in 1993 as Los Angeles continued to reel from the Rodney King unrest and as the effort to build Frank Gehry's Walt Disney Concert Hall, a major new civic landmark, was beginning to stall.
A little more than two decades later, there is something quaintly fatalistic about Jerde's attitude toward the frail state of public space. In Los Angeles, at least, it has returned pretty dramatically to health.
Last month, right around the time Jerde's obituaries were appearing in newspapers around the country, a small neighborhood park opened to the public at York Boulevard and Avenue 50 in Highland Park. It joins pedestrian plazas in Leimert Park, Pacoima and North Hollywood recently created by the L.A. Department of Transportation and its new People St program.
Santa Monica, on the heels of opening the ambitious Tongva Park in 2013, is building a public plaza that will sit at the feet of the final stop on the Expo light-rail line's second phase, due to start running next year. It will connect to the new Colorado Esplanade, where sidewalks as wide as 30 feet will lead from the Expo Line station toward Tongva and the Santa Monica Pier.
Last year Los Angeles began clearing and regrading a site covering nearly 2 acres at 1st Street and Broadway, in the heart of the Civic Center. The city — which bought the parcel in 2013 from California — plans to open it as a park space, an extension of the county-run Grand Park next door.
As Union Station is remade under a master plan by the architecture firms Gruen and Grimshaw, working with landscape architect Mia Lehrer, a wide pedestrian plaza will replace the surface parking lot that stretches between Alameda Street and the main entrance. There are also a number of parks and public pathways opening along the Los Angeles River, with many more to come.
That's an impressive, wide-ranging list. Still, there's a crucial difference between simply making public space — carving out room for it — and making public space that is innovatively, memorably designed. And many public agencies in Southern California, shaking off the rust of decades of inactivity along these lines, are figuring out how to get from one side of that divide to the other.
The evolution of the admirable People St program is an example — and a cautionary tale. The DOT achieved an early success and lots of attention with Sunset Triangle Plaza, which in 2012 closed a short stretch of Griffith Park Boulevard where it meets Sunset Boulevard to car traffic. Rios Clementi Hale Studios laid a green polka-dot pattern on the pavement, extending what had been a small existing park to the east and creating a photogenic center of urban energy in the neighborhood.
Borrowing a strategy from the former New York City transportation commissioner Janette Sadik-Khan, the plaza was officially classified as a temporary project, allowing it to avoid some red tape. It had a budget to match: a remarkably low $25,000. It has since been turned into a permanent open space — a pedestrian mall, to meet state law — overseen jointly by the city and the Silver Lake Improvement Assn.
The Rios Clementi Hale design didn't apologize for (and even made a virtue of) its lo-fi, slapdash quality. Now its recognizable polka-dot pattern has been copied — cut and pasted, as it were, with minor modifications — to create the People St plazas.
In North Hollywood, an alley off Lankershim Boulevard now has the familiar green dots and some new tables and chairs. The one in Pacoima has a leaf pattern.
In Leimert Park, a brown-on-brown version of the Silver Lake design has been laid across a newly closed stretch of 43rd Place at the foot of Stiles O. Clements' grand Art Deco-style Leimert Theater, now called the Vision. The new open space is adjacent to Leimert Plaza Park, designed by the prolific Olmsted Brothers firm — they were sons of the Central Park designer Frederick Law Olmsted — and completed in 1928.
Its polka-dot design has been supplemented with new maps of the neighborhood usefully showing which attractions can be reached on foot. The dots themselves were being slowly filled in this week with Adinkra symbols from West Africa. Along the perimeter of the space are two kinds of planters, round gray ones and rectangular wooden ones.
The result is a muddle. The polka dots overwhelm the attempts to mark the African American cultural history of the neighborhood, while the adjacent Olmsted plaza, long the active center of Leimert Park's political life, is ignored altogether.
To simplify getting these plazas approved, the DOT has created a "kit of parts" that limits design choices. But there are places where a more considered approach makes sense, even if it means slowing the process and raising additional funds for a more comprehensive design. Leimert Park, where prewar City Beautiful ambition and rich postwar African American cultural history are piled together, is certainly one of them.
In the Civic Center, the city reportedly plans to extend Grand Park south to include the parcel at 1st and Broadway, across the street from City Hall in one direction and the Los Angeles Times building in another. It has yet to release any designs for the site.
About 15 years ago, the city planned a civic park on the old Caltrans site (bound by 1st, Spring, Main and 2nd streets) before the Los Angeles Police Department decided it would be the perfect spot for its new headquarters. Now the city can make up, at least to a degree, for that missed opportunity.
On a flat piece of land in the heart of the Civic Center, and just as downtown is coming back into its own, here is a chance to build the true public square the area has always needed. At the same time, it will have to complement the energetic, colorful Rios Clementi Hale design for Grand Park as well as a diverse architectural context that is dominated by the City Hall tower but will also soon include a large federal courthouse by Skidmore, Owings and Merrill just to the west.
And here's where the Jerde example becomes important again. The architect described his approach as nothing less than building a profit-generating civic sphere on private land, assembling a new commercial city from what he called, in the 1990s, "the current disarray."
CityWalk, as a product of that philosophy, still has an undeniable energy. (Herbert Muschamp was right when he wrote in 1993 in the New York Times that Jerde's design was "too rich a subject to toss away in a snit." He added, in a '90s sentence if there ever was one, "Along with scoops of Haagen-Dazs and Wolfgang Puck's tasty pizzas, the place serves up fine food for thought.") But Jerde also assumed something deeply cynical about Los Angeles: that the city's public realm was not just in trouble but beyond saving.
The truth, as Leimert Park makes clear, is that there is a rich history in Los Angeles of ambitious prewar public design. That legacy was obscured but far from buried by the subsequent emphasis on the privatized city in the postwar decades, an era in which commercial centers like CityWalk (and cultural ones like the Getty Center, for that matter) were built as detached hilltop enclaves anxious to keep the rest of L.A. at arm's length.
Now, as Los Angeles turns to the long-overdue work of repairing the civic sphere, the trick is to realize that many of the parks and plazas we're adding are both products of contemporary culture and strategies for rediscovering what came before (or extending what's nearby). Their design should reflect that; the disarray, instead of an excuse for abandoning the public realm, can be an inspiration for reconstructing it.
That doesn't mean copying or timidly repackaging earlier designs like the one the Olmsteds created for Leimert Park. It means acknowledging that the most innovative, productive reading of contemporary Los Angeles is one that understands it as a layered, complex and often contradictory city, not merely a private one turning slowly public.
It means confronting head-on the challenge of incorporating those disparate layers into something that is unapologetically but also coherently new.
Twitter: @HawthorneLAT
---
Get our daily Entertainment newsletter
Get the day's top stories on Hollywood, film, television, music, arts, culture and more.
You may occasionally receive promotional content from the Los Angeles Times.