Review: Fake fur, rubber, afghans: Craft museum unfurls some playful surprises in 'Material as Metaphor'
"Material as Metaphor," a tactile treat of a show closing this weekend at the Craft & Folk Art Museum, takes its title from artist and teacher Anni Albers, who brilliantly embodied the Bauhaus ethos. "Material is a means of communication," she wrote. And in another context: "Let threads be articulate."
A direct line can be traced from Albers to the 11 contemporary West Coast artists gathered here by museum director Suzanne Isken. It's a line that also passes through post-minimalism and process-oriented art of the late '60s and '70s, with its emphasis on exploring the properties of unorthodox materials (think Eva Hesse and Robert Morris), as well as feminist art of roughly the same period. That art reclaimed traditions of handwork and stitchery long relegated to the domestic sphere, the domain of women, the category of craft.
SIGN UP for the free Essential Arts & Culture newsletter »
It says a great deal about the post-genre moment that these works would be at home now in a range of sculptural contexts, even if, for instance, the use of pantyhose was a dramatic, disjunctive move when Senga Nengudi first started engaging with it decades ago. There are striking pieces here using fake fur and innertube rubber (Victoria May), vinyl (May Wilson), industrial felt (Lloyd Hamrol) and found afghans (Miyoshi Barosh). Allusion to the body is one through line, many of the soft surfaces evoking skins, pelts or protective coverings. Contrasts between the animate and the mechanical, the organic and the industrial, is another.
Several less overtly sensational works are among the show's most gripping. Christy Matson paints, as it were, with texture in her weavings, through subtle shifts in density — minor ruptures in the fields built of linen, paper, cotton and wool. Mary Little's raw canvas wall hanging, "Dunbar," conjures monochrome minimalism, with its evenly stitched horizontal strips, but with a sly twist: Toward the center of the work, the strips transform into sagging pouches, ripples of heavy flesh.
The material ingenuity here runs deep, as does a sense of play and the element of surprise. Also included in the refreshingly multigenerational mix are Joel Allen, Phyllis Green, Lisa Soto and Kay Whitney.
Craft & Folk Art Museum, 5814 Wilshire Blvd., L.A. Ends Sunday. (323) 937-4230, www.cafam.org.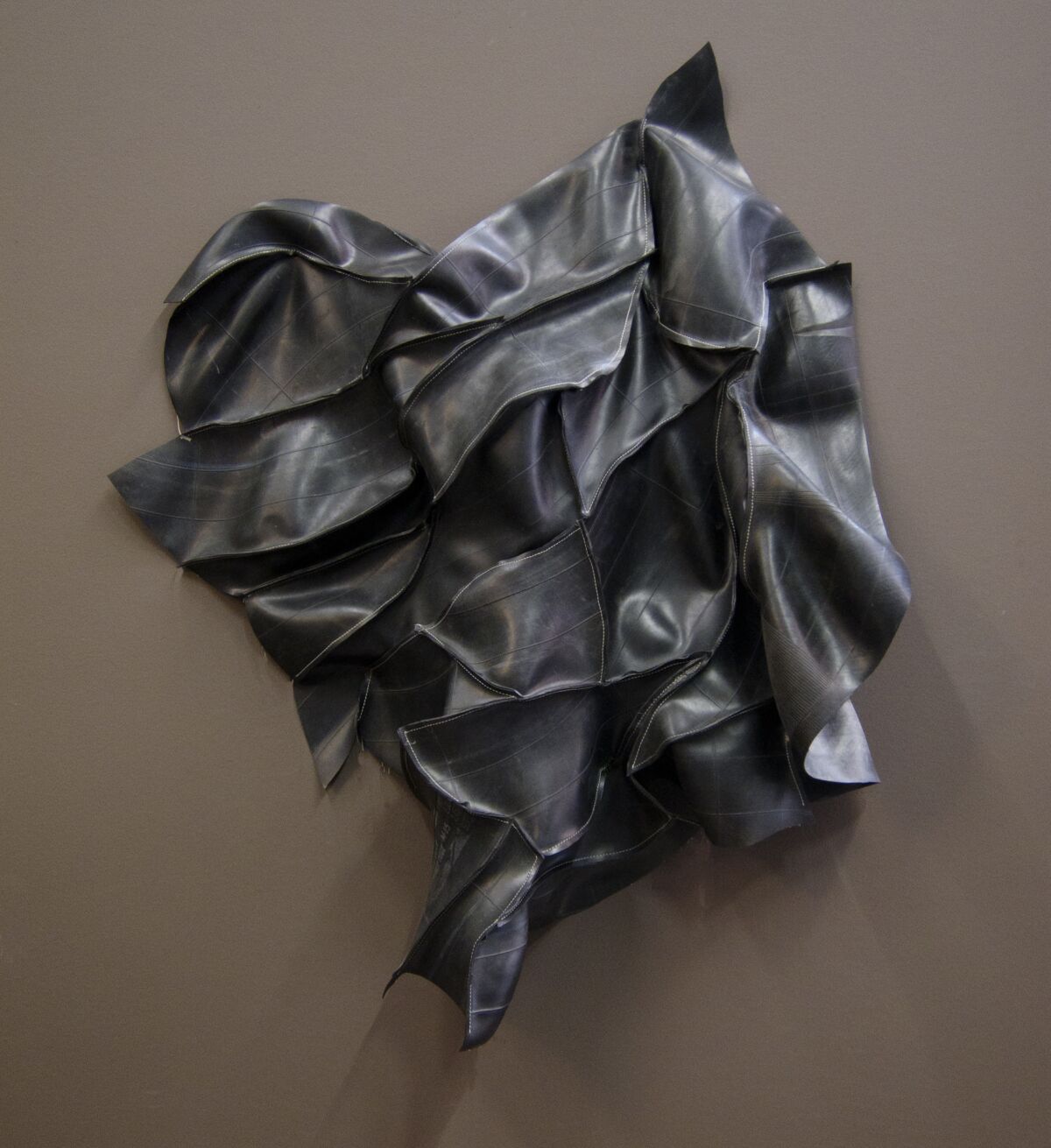 Support coverage of the arts. Share this article.
MORE ART:
What to do with Confederate monuments? Put them in museums as examples of ugly history, not civic pride
Is that a laugh? A cry? In Ben Jackel's sculpture, messages molded by deft hands
Datebook: 'Infamy' at LACMA, Hollywood and Havana, art and the solar eclipse
---
Get our L.A. Goes Out newsletter, with the week's best events, to help you explore and experience our city.
You may occasionally receive promotional content from the Los Angeles Times.