Youth symphony conductor Carlos Izcaray makes a new-music pledge: 50% female composers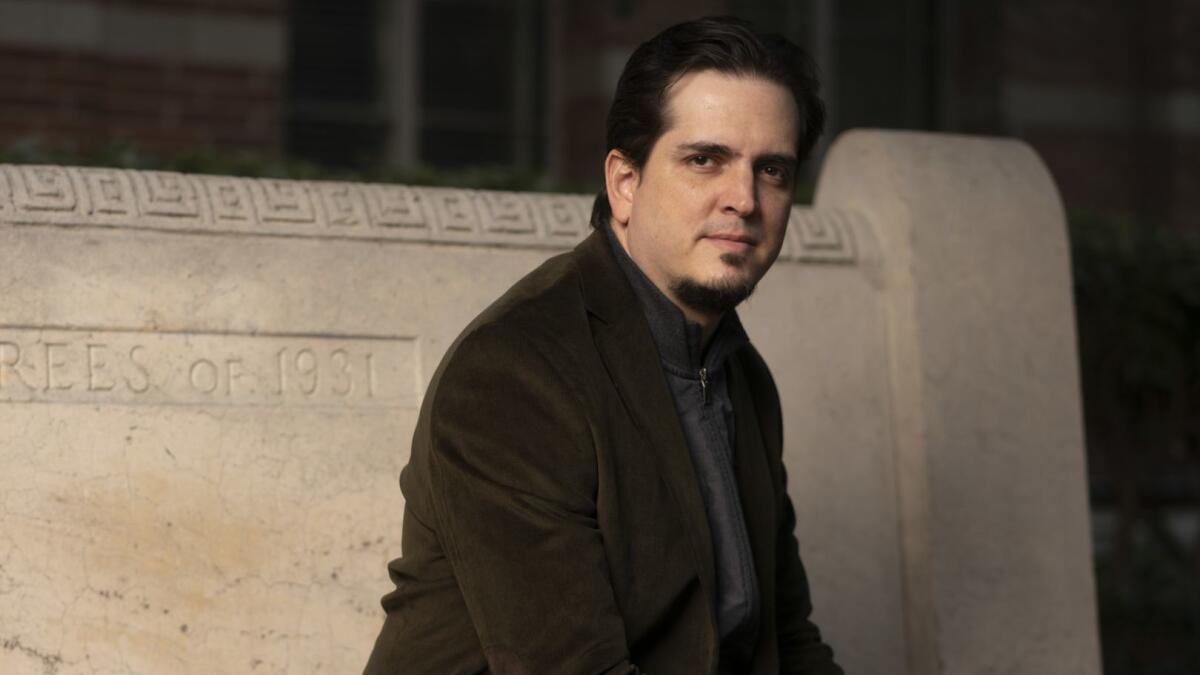 Carlos Izcaray was planning the American Youth Symphony's season when the thought occurred: Why not make this the year of the woman?
Izcaray, who took over as music director of the Los Angeles-based AYS in 2016, didn't stop at one season. Faced with the reality that most of the classical canon was written by men, he figured that, at least when programming music by living composers, he could even the score.
So he made a pledge: From now on, 50% or more of new music performed by the youth orchestra will be the work of female composers.
SPRING ARTS PREVIEW: Critics' recommendations on theater, art, music and more »
"These are just the composers that I follow," Izcaray said. "You know, like Joan Tower, Jennifer Higdon."
A year ago he conducted the AYS in Higdon's "Blue Cathedral" at Walt Disney Concert Hall, and the very first piece he conducted in his full-time gig as music director of the Alabama Symphony Orchestra was Tower's "Tambor."
Izcaray's interest in gender equality in the concert hall ties into his broader passion for human rights, integral to his own personal story as a cellist and conductor. In 2004, the native Venezuelan was imprisoned and tortured by the country's national guard, he said, for being a bystander to a political protest. For more than 24 hours, he was electrocuted, smothered with tear gas and struck hard on his right elbow — his bow arm — which has affected his mobility ever since.
"One of the things that they told us when they released us was, 'If anybody speaks out and says anything, we'll kill you,' " he said.
Izcaray has been a vociferous critic of the current Venezuelan regime of President Nicolas Maduro and of its human rights violations, speaking out to journalists, Amnesty International, Human Rights Watch and the U.S. Congress.
"This is a dictatorial regime," he said. "They've silenced all political dissent and voices, but most importantly, they've created conditions for people that are oppressed, that are going hungry now. People are dying."
Izcaray grew up in Caracas and attended the school named after Emil Friedman, a Jewish Czech musician who fled Europe during the rise of Hitler and founded the K-12 school with the motto: "There is no culture without musical culture."
Seeds for Venezuela's famed El Sistema music education program were planted at that school, and the ideology about music's strength to unite and power a fair society runs through Izcaray's veins. His father, Felipe Izcaray, is a prominent conductor and music educator, and his mother, Norma Pinto, works in arts administration. Both were in the first generation of musicians in a youth program in Carora that predated El Sistema and was founded by Izcaray's great-uncle, Juan Martínez.
"I grew up parallel with this, like the bread and butter — not just literally for my family, but it was also an existential thing," he said. "I believe in this as a way to move society forward."
How is the symphony orchestra relevant in a 21st century world?
— Carlos Izcaray
Izcaray studied cello at the Interlochen Arts Academy in Michigan, then at the New World School of Arts in Miami. Gorgias Sanchez, a clarinetist in the Simón Bolívar Symphony Orchestra, was Izcaray's roommate and close friend there in the mid-'90s. He remembers the young cellist as a laid-back, sociable guy with baggy shorts and a ponytail.
Izcaray had no interest in conducting at the time, but Sanchez could tell he was a natural.
"I always teased him about it," Sanchez said by phone from his home in Caracas. "He always had a few batons in his room, and he would stand in front of the mirror and conduct, and had a very clear gesture."
They roomed together again at Indiana University graduate school, where Izcaray continued to avoid the podium — to avoid competition with his father, Sanchez surmises.
"He knew so much music," Sanchez said. "Any Brahms symphony, he knew it by heart, or any Beethoven symphony. He's somebody who heard 'The Rite of Spring' since he was born. This is something special. So I always tried to push him a little into that direction."
'DREAMERS': Immigrant-themed oratorio gets its premiere »
Izcaray finally answered the call after returning home to Venezuela. After a fellowship at the Aspen Conducting Academy and a few guest engagements with orchestras, he was plucked up by the Alabama Symphony in 2015. When the American Youth Symphony came courting soon after, it was a no-brainer.
The AYS consists of about 100 musicians ranging in age from 15 to their late 20s — students from high schools, the Colburn School, USC, UCLA and elsewhere mixing with young professions who may have already finished with their MFAs and PhDs. On March 31, the orchestra performs a world premiere by Nico Muhly, a co-commission with the Los Angeles Philharmonic and the National Children's Chorus.
"It's more of an open book when you're working with young musicians," he said. "On one end, I have to be the best role model I can be. But on the other end, also supporting individual, entrepreneurial initiatives that might come from young minds, that are looking at the world and want to try new things.
"It serves a little bit like a lab, to discover: How is the symphony orchestra relevant in a 21st century world?"
♦ ♦ ♦ ♦ ♦ ♦ ♦ ♦ ♦ ♦
'Sounds About Town'
Who: American Youth Symphony conducted by Carlos Izcaray, with the National Children's Chorus, soprano Jessica Rivera and pianist Gloria Cheng
What: A Nico Muhly world premiere; Gabriel Fauré's "Messe Basse" ; Igor Stravinsky's Symphony of Psalms and Alexander Scriabin's Symphony No. 5; "Prometheus, Poem of Fire"
Where: Walt Disney Concert Hall, 111 S. Grand Ave., L.A.
When: 7:30 p.m. March 31
Tickets: $33-$45 (subject to change)
Information: (310) 470-2332, aysymphony.org
Support our coverage of local artists and the local arts scene by becoming a digital subscriber.
See all of our latest arts news and reviews at latimes.com/arts.
Get our L.A. Goes Out newsletter, with the week's best events, to help you explore and experience our city.
You may occasionally receive promotional content from the Los Angeles Times.