Carpenter arts center director resigns, saying cancellation of race-themed show is censorship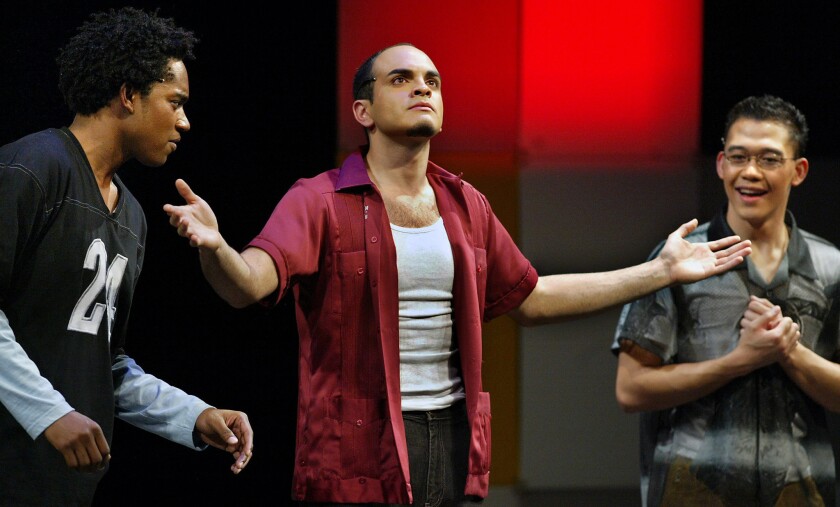 The head of the Carpenter Performing Arts Center at Cal State Long Beach is resigning after the university canceled a popular and provocatively titled play about race.
Michele Roberge, who has served as executive director of the center for 14 years, called the cancellation an act of censorship, but the university's president has maintained that the decision was based on academic considerations.
The Carpenter was to present the comedy "N*gger Wetb*ck Ch*nk" on Sept. 29. The order to pull the plug came in early August from university President Jane Close Conoley, who instructed the dean of the College of the Arts to tell the Carpenter to cancel the show, Roberge said in an interview.
Following failed efforts to reach a compromise, Roberge said she canceled the performance and then submitted her resignation.
"It took me about 15 nanoseconds to decide that I could no longer work for an organization that not only condones but practices censorship," she said.
Her last day at the university was Thursday.
The play uses racial slurs in an effort to explore stereotypes and identity in contemporary American culture.
The show originated as a project among student theater artists at UCLA, and it has toured the country for nearly 10 years, playing at more than 150 colleges and universities. It was performed at the Carpenter last season.
University leaders didn't attempt to cancel the play last year, Roberge said.
"I told [the university] president that I wanted to present the show each year. She laughed, and I don't know if she thought I was joking, but I wasn't," Roberge said. "The show is hugely popular because it's fun. It's not a controversial show, but it's a provocative title."
Conoley said in a statement that she is standing by her decision to cancel the performance but added "this was a decision that was not made lightly and came after much deliberation and feedback."
She said that after last year's performance, "faculty members shared feedback that the performance lacked educational value."
Conoley said she didn't "intend my decision as a form of censorship, and I fully support the right to free expression. As an academic, my decision was based on my perception of the academic value of the performance for our students and faculty."
The effort to cancel the show came from faculty members and private donors, Roberge said. She declined to identify the individuals but said none was a student.
Roberge said that she met with Conoley twice to voice her concerns and offered to postpone the show until spring to create contextual programming, such as lectures and student discussions.
"The president kept saying it was a bad time to do the show," Roberge said.
A university spokesman said Conoley wasn't available for interview.
One of the show's creators described the cancellation as "bizarre," saying that the show received enthusiastic support from Cal State Long Beach students last year.
"I don't know what to say except when is the right time, if not now?" writer-actor Rafael Agustin said by phone.
He declined to elaborate but said in a prepared statement that he was "disappointed" by the cancellation and Roberge's departure.
"While we acknowledge the undeniably challenging nature of the show title, there is a long history of broad support for this project dating back to its origin as a student show at UCLA," the statement said.
Agustin said the show's cancellation comes at a "critical juncture in the path of free speech on the campus of a public educational institution in perhaps our most liberal state. The same act of censorship that today may seem to protect a community may be used next time as justification to silence a community in desperate need of a voice."
ALSO
One black kid, one white kid and the riveting friendship that unfolds onstage in 'Dutch Masters'
The lives of Colman Domingo: acting in 'Fear the Walking Dead,' now directing 'Barbecue' at the Geffen
'Nightmare Before Christmas' and Danny Elfman returning to Hollywood Bowl for 2016 Halloween
---
Your essential guide to the arts in L.A.
Get Carolina A. Miranda's weekly newsletter for what's happening, plus openings, critics' picks and more.
You may occasionally receive promotional content from the Los Angeles Times.