Review: It took 228 years, but L.A. Opera's 'Clemency of Titus' proves worth the wait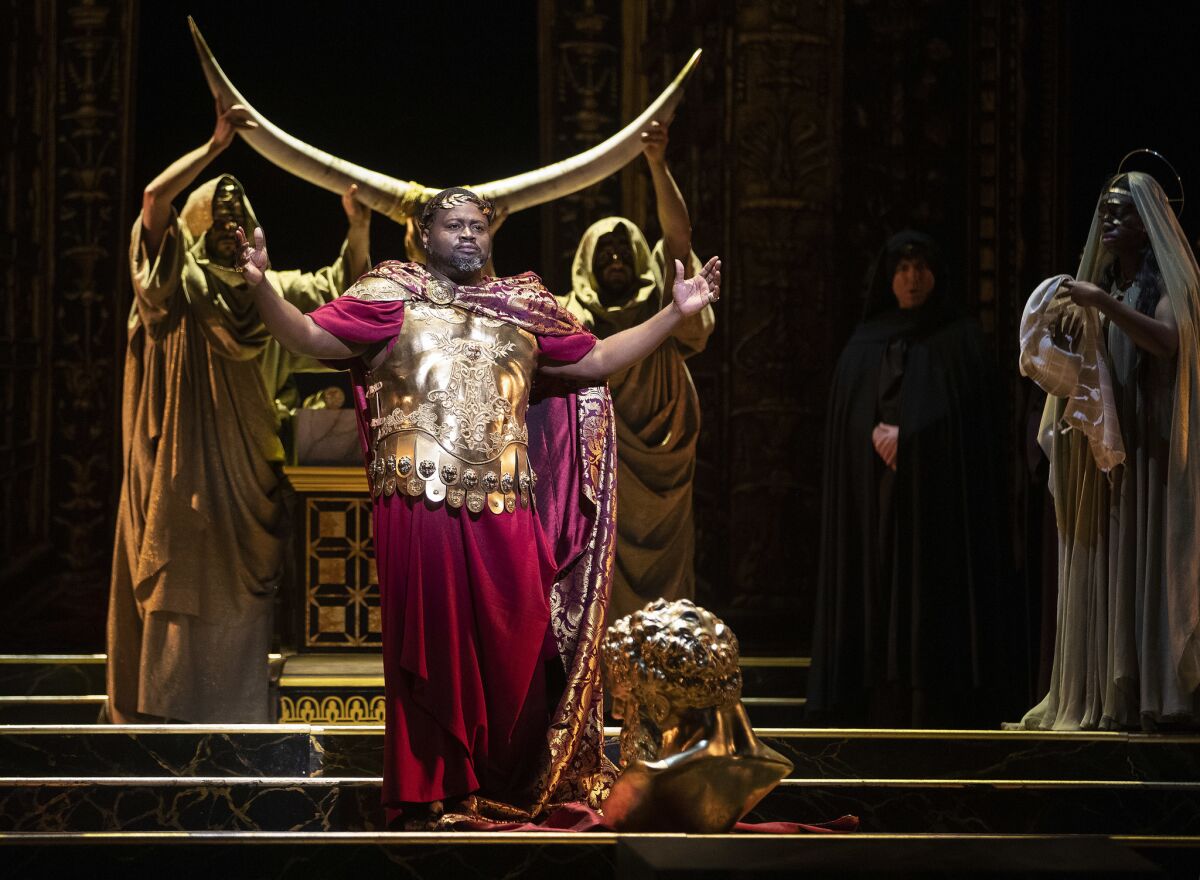 Los Angeles Opera is a Mozart house, as any world-class house would be, and over three decades, the company has staged all of the genius' seven major operas except one. James Conlon, the company's music director, has conducted all of them except one.
The missing piece is "La Clemenza di Tito" (The Clemency of Titus), which comes at the end of the line of Mozart's Big Seven — the last begun, the second to last (after "The Magic Flute") completed. The company and its maestro finally took it on Saturday night at the Dorothy Chandler Pavilion, and in doing so they made the most convincing case — musically and dramatically — for this once-neglected opera that I've experienced so far. And yes, the piece does need some advocacy.
Having been commissioned to write an opera celebrating the coronation of Emperor Leopold II in Prague, Mozart is said to have finished the piece in 18 days, more or less, on tight deadline. Not only that but he was also simultaneously working on "The Magic Flute," due to be unveiled 24 days after "Tito."
In another of his insight-filled pre-opera lectures, Conlon demonstrated how certain passages in "Tito" are related to other works from Mozart's last days, like "Magic Flute," the Clarinet Concerto and the Requiem. If there is a modern parallel, it would be Leonard Bernstein working on "Candide" and "West Side Story" simultaneously — also two very different works where ideas meant for one turned up in the other , and vice-versa.
An opera seria written at a time when such works based on Greek and Roman mythology or history were going out of style and based on an existing libretto that already had been set 45 times by others, "La Clemenza di Tito" nevertheless scored a hit at the 1791 premiere. For some 40 years afterward, it was Mozart's second most popular opera. But then it faded from sight for over a century.
The subject matter was considered hopelessly dated, the dramatic action static, the music worth hearing but not as immediately winning as that of Mozart in peak form. The first major recording wasn't made until 1967, and even then was missing some of the recitatives.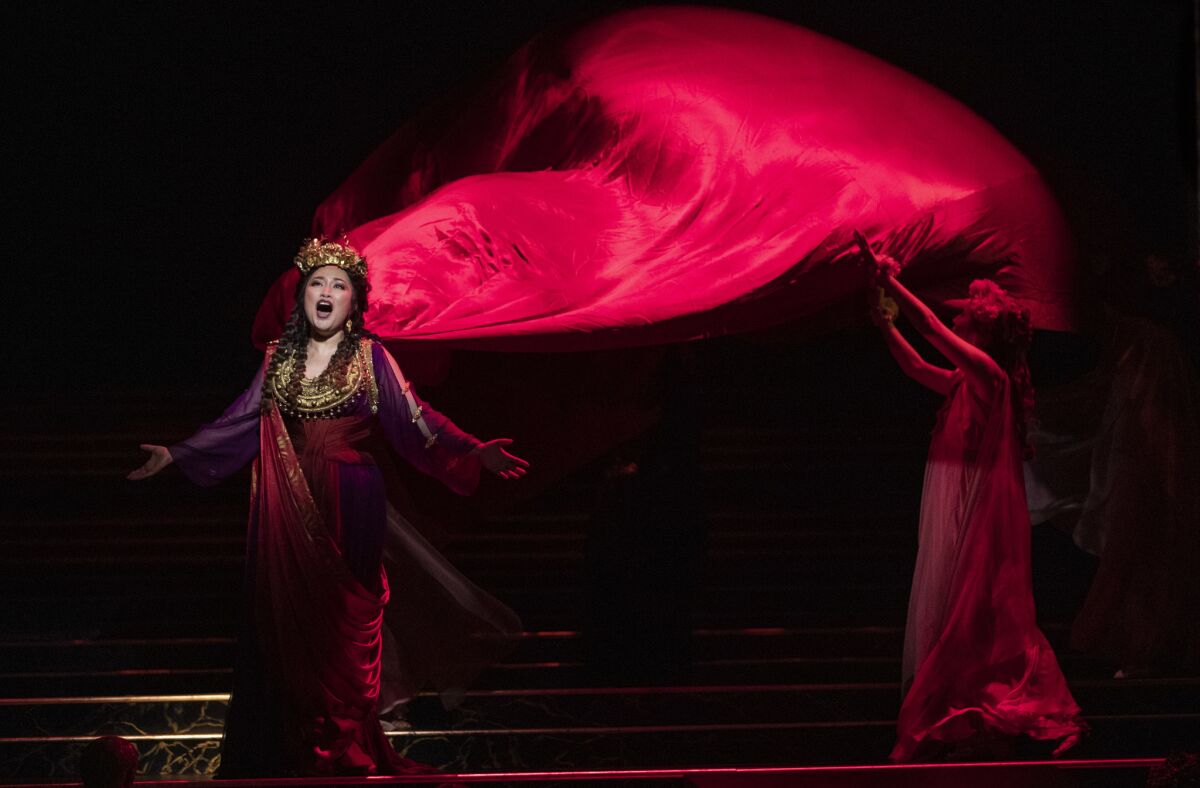 But "Tito" has been gaining traction, and the plot — portraying the Roman Emperor Titus, circa AD 79, as a civilized ruler who cares about his people and is quick to forgive — could serve as a morality tale in politically cynical 2019. This emperor decrees that gold tributes gathered from the provinces should be devoted to providing aid to the victims of a Vesuvius eruption. This emperor forgives Sesto, a good friend who tried to kill him, and Vitellia, Sesto's scheming lover who made Sesto try it. Human conflicts and transgressions are settled by compassion and forgiveness, not violence.
It's not an easy story to grasp on paper, but L.A. Opera's supertitles did an amazingly successful job at making it clear and relevant to the audience, the vast majority of which probably never had encountered this opera before. At certain twists in the plot, some of the supertitles even generated appropriate laughs, lightening the load that opera seria carries.
Conlon launched into the overture, which is first-rate Mozart, with a shot of adrenaline and fizz that propelled him and the L.A. Opera Orchestra throughout the evening. His conducting and the orchestra's playing conveyed audible delight at exploring a whole new corner of Mozart, complete with occasional deep-diving solos on the rarely used basset horn by clarinetist Stuart Clark.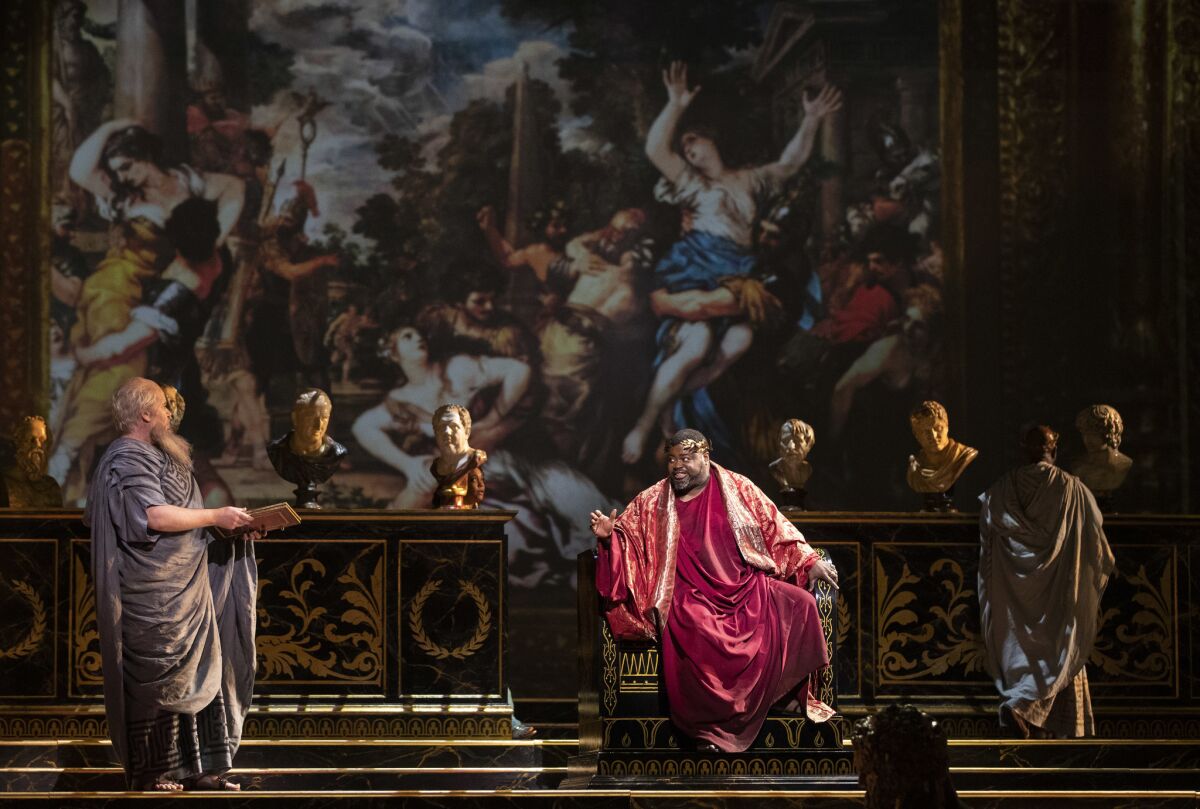 2019-20 SEASON LINEUP: Kosky's new 'Bohème,' Aucoin's 'Eurydice' and Du Yun »
Director and scenery designer Thaddeus Strassberger made Act I look like a composite tour of Italian art museums, placing the action in gilded frames. But lest things become too predictable, the Act II curtain revealed the spectacularly smoldering wreckage of Rome after a fire. The penultimate scene found Vitellia's gown bathed in electric crimson light, and the final crowd scene in full Roman costume was a complex, marble-tiled feast for the eyes.
The core of tenor Russell Thomas' powerful Titus was compassionate and thoughtful, but he could also show flashes of anger in the rare situations that called for it. Soprano Guanqun Yu made a credible transition from vengeful manipulator to remorseful penitent as Vitellia; mezzo-soprano Elizabeth DeShong dazzled in the florid runs of the trouser role, Sesto, and blended beautifully with mezzo-soprano Taylor Raven's Annio in an Act I duet. Janai Brugger displayed an opulent soprano voice as Servilia, and bass-baritone James Creswell made an imposing Publio.
With not a weak spot in the cast, Mozart — and the legend of Emperor Titus — were well served. Go.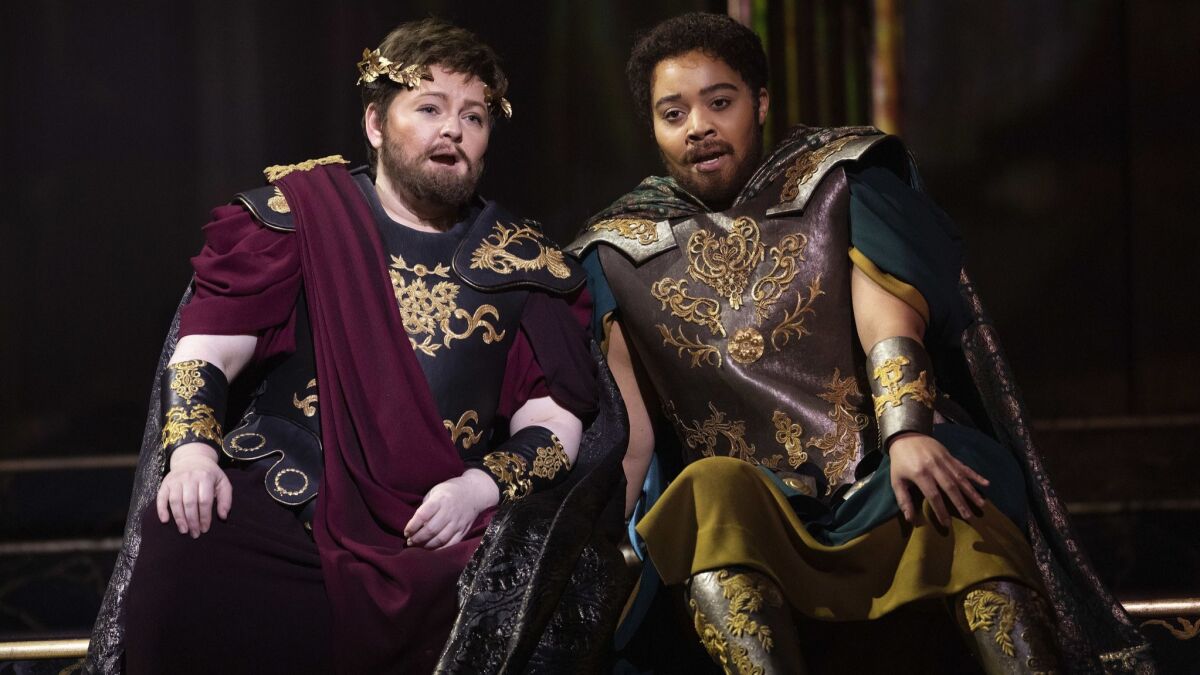 ♦ ♦ ♦ ♦ ♦ ♦ ♦ ♦ ♦ ♦
'La Clemenza di Tito' (The Clemency of Titus)
Where: Dorothy Chandler Pavilion, 135 N. Grand Ave., Los Angeles
When: 7: 30 p.m. Thursday, 2 p.m. March 10, 7:30 p.m. March 13 and 16, 2 p.m. March 24
Tickets: $16-$299 (subject to change)
Info: (213) 972-8001, LAOpera.org/Titus
Running time: 2 hours, 40 minutes (including one intermission); performed in Italian with English supertitles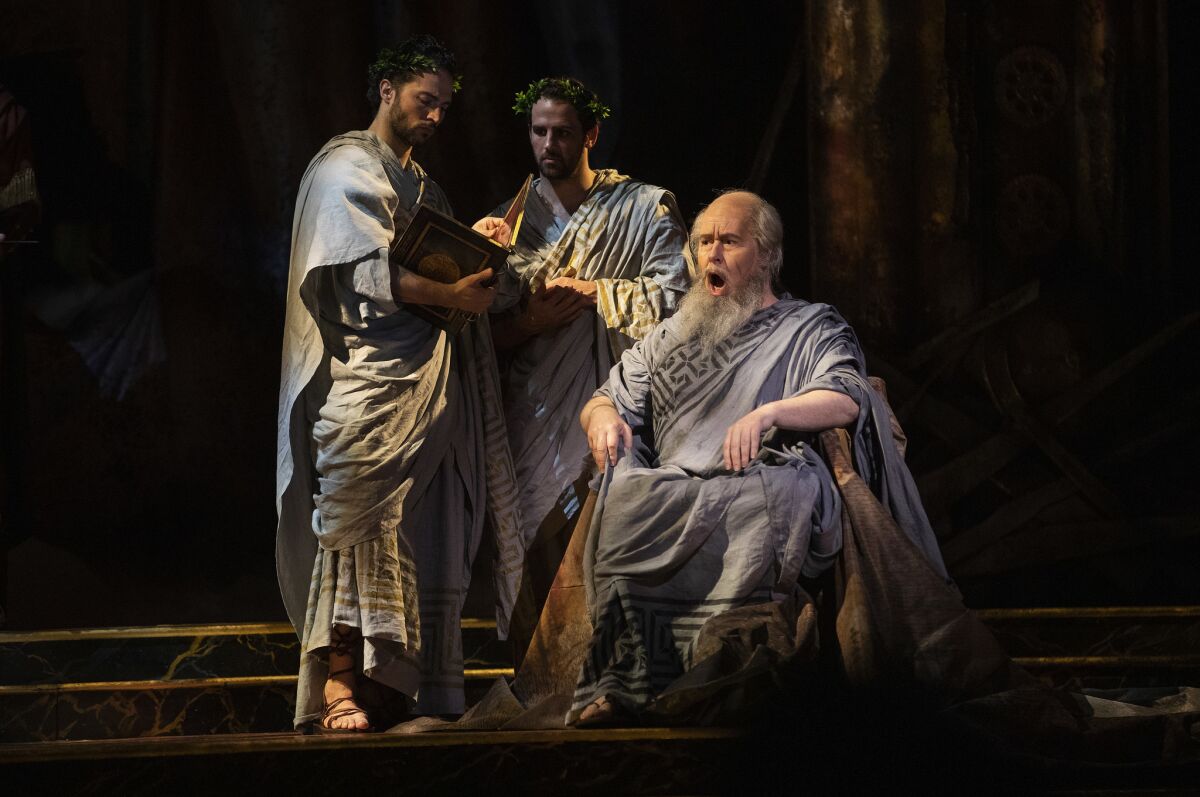 Support our coverage of local artists and the local arts scene by becoming a digital subscriber.
See all of our latest arts news and reviews at latimes.com/arts.
Get our L.A. Goes Out newsletter, with the week's best events, to help you explore and experience our city.
You may occasionally receive promotional content from the Los Angeles Times.