Review: L.A. Opera and a 'Candide' for all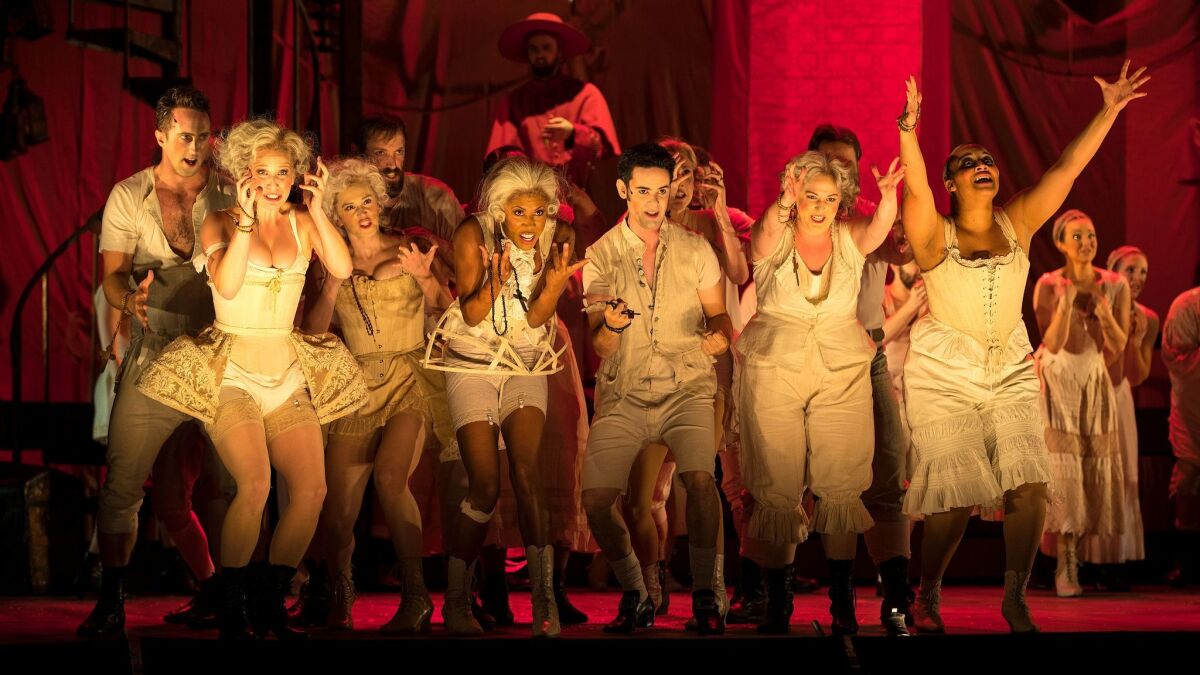 Music Critic
In his Los Angeles Opera program note for Leonard Bernstein's "Candide," which opened at the Dorothy Chandler Pavilion on Saturday night, music director James Conlon points out that the original Broadway show's origins lie in a response to Joseph McCarthy's House Un-American Activities Committee in the 1950s.
In a short interview on the L.A. Opera website, director Francesca Zambello notes that the operetta (or whatever you want to call it these days), which is based on Voltaire's study in meticulous and miraculous abuse, seems about right for our current #MeToo moment.
That is to say the ever-messy "Candide," which went through 35 years of revision from the Broadway stage to the opera house to the concert hall right up to the last year of Bernstein's life, has always also been right for its current moment. And for the Music Center.
In fact, there was something very right about L.A. Opera beginning the Bernstein centennial with "Candide" just as the campus has begun a major renovation meant to better integrate the performing arts center into downtown L.A. street life.
It was director Gordon Davidson's 1966 UCLA production, which had flopped on Broadway a decade earlier despite its remarkable score, that not only began a serious reassessment of "Candide" but also led to Dorothy Chandler hiring Davidson to create the Center Theatre Group at the Music Center.
In 1995, Davidson staged a new production to open the renovated Ahmanson Theatre. Across the way at the Music Center, "Candide" came to the Dorothy Chandler Pavilion first as light opera (by the then-resident company, Civic Light Opera, in 1971) and later in a touring production by New York City Opera (the first opera company to come up with a version of "Candide").
No two of those "Candide" productions were remotely similar. The work evolved theatrically and musically. There are now a number of versions from which to pick and chose, or to make your own.
Voltaire recognized back in the 18th century that, try to change the world and you will only make matters worse with its intractable dualities. Ultimately, we can only accept frailty as the human condition and cultivate our own garden as best we can. The same goes with mounting "Candide."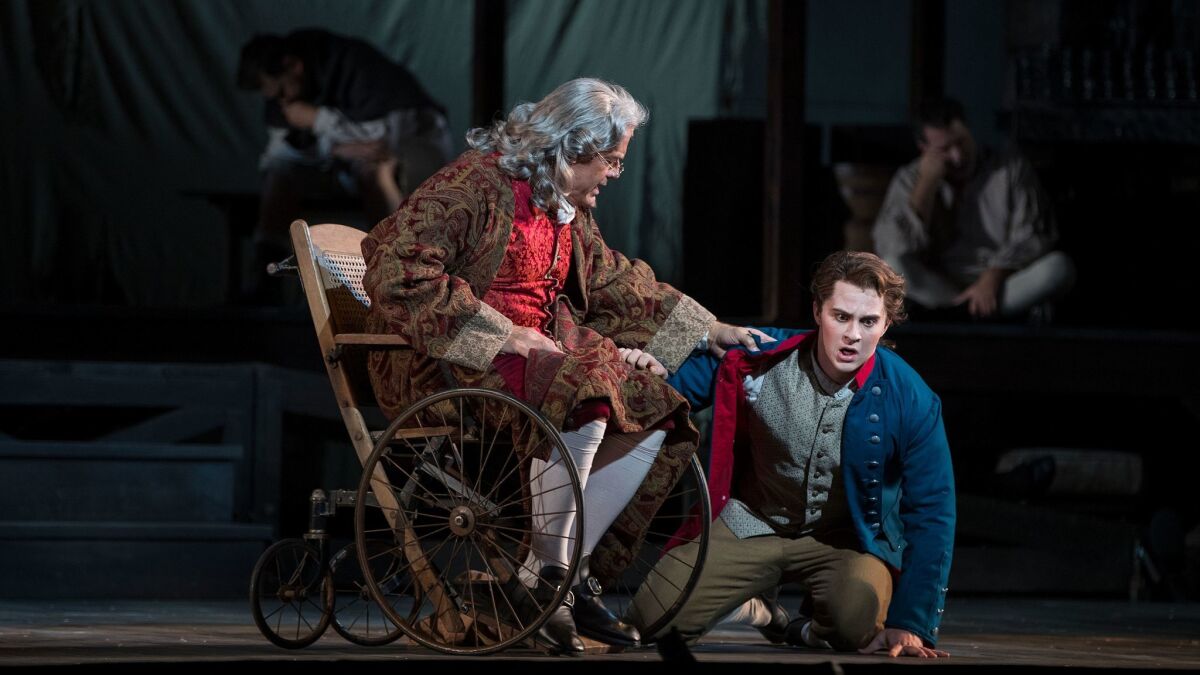 The L.A. Opera "Candide," which Zambello directed for her Glimmerglass Festival in upstate New York three years ago, relies on a 1999 Royal National Theatre production by John Caird, who rewrote the book to more closely reflect Voltaire's novel. Zambello hues to Voltaire as well, with a period production, but one fanciful enough to allow in a bit of Las Vegas.
There is not much in the way of the overtly political, or any other kind of, innuendo that has tempted many another director. (A 2006 production in Paris scandalously parodied George W. Bush, Vladimir Putin, Tony Blair and other world leaders, all of whom parade in bathing suits.) Zambello keeps slapstick at a respectful minimum, although there is frolicking aplenty by dancers in their corsets and stockings.
Mainly, though, this is a "Candide" that tries to have a little of it all without ever getting out of hand. The cast features young opera singers and two Broadway (and television) veterans, Kelsey Grammer and Christine Ebersole. Broadway sound-designer Kai Harada adds respectfully restrained amplification. James Conlon conducts with Verdian verve.
The results are a model "Candide" for a show that has no model, which is a mixed blessing. Everyone works together well as an ensemble. Broadway and the lyric stage find common ground. But that requires taming a wondrous beast.
The two-level stage set by James Noone looks like a decaying theater or ship. Jennifer Moeller's costumes are conventional but come off often enough to add to the sense of things coming apart. Eric Sean Fogel's choreography creates an ongoing atmosphere of movement.
Grammer serves as both Voltaire, who in Caird's often tiresome version, acts as host offering a long-winded précis of his novel, and Dr. Pangloss, the optimist tutor who views all things in the world as for the best, no matter how terrible. In this Grammer gives as much theatrical heft to Voltaire as he can (a thankless task) but proves an engagingly ridiculous Pangloss as well as capable singer.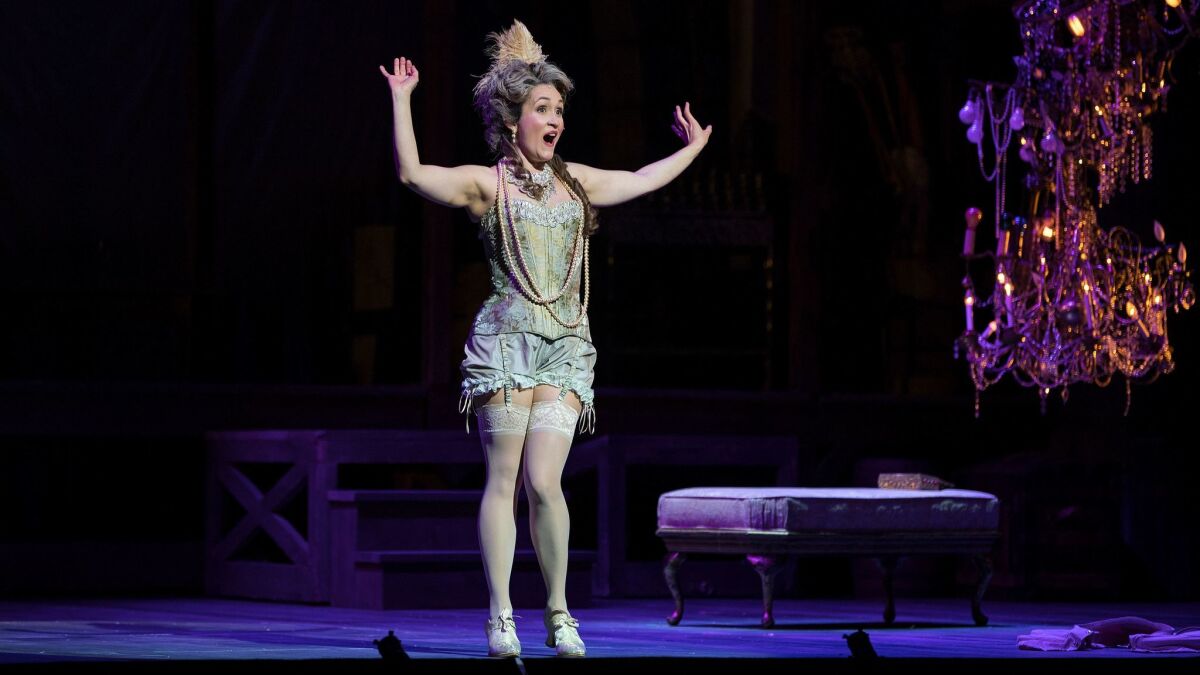 Jack Swanson is a sweet-natured, sensitive Candide, game for it all as he travels from country to country getting taken advantage of. Erin Morley's slightly hardened Cunegonde — her "Glitter and Be Gay" is played more for coloratura #MeToo anxiety than laughs — makes her own travails more touching than usual. Likewise, both the supercilious Maximillian (Theo Hoffman) nor the flirtatious Paquette (Peabody Southwell) are unusually fleshed out, rather than Broadway comic book. Ebersole's Old Lady, she who is so easily assimilated, gracefully refrains from broad ethnic humor (another mixed blessing).
All in all, the large cast (which includes Matthew Scollin as James the Anabaptist and Martin, the pessimist philosopher), Brian Michael Moore (Grand Inquisitor and Governor of Montevideo), Joshua Wheeker (Cacambo) and Taylor Raven (Vanderdendur) all add something of value.
Even so, the greatness of "Candide" is that, as Conlon also suggests in his note, is that it is no one thing. In Bernstein, stylistic opposites and theatrical opposites may attract but not tidily. The L.A. Opera "Candide" makes its garden grow by tidying up and making do of a glorious mess like no other. A little more of that bewildering mess might make for an even more organically authentic garden. But this is a garden worth tending nonetheless.
The Music Center's Bernstein celebration continues with the Los Angeles Philharmonic mounting "Mass" for Gustavo Dudamel's programs this week in Walt Disney Concert Hall. The late Gordon Davidson also happened to stage the premiere of that for Bernstein to open the Kennedy Center. The Los Angeles Master Chorale has also joined into the Bernstein Music Center festivities this season. Yet the Bernstein-begun Center Theatre Group, with the most to celebrate, remains curiously aloof.
♦ ♦ ♦ ♦ ♦ ♦ ♦ ♦ ♦ ♦
'Candide'
Where: Dorothy Chandler Pavilion, 135 N. Grand Ave., Los Angeles
When: 7:30 p.m. Saturday Feb. 3, 7:30 p.m. Feb. 8, 2 p.m. Feb. 11, 7:30 p.m. Feb. 15, 2 p.m. Feb. 17 and 18
Tickets: $18-$324
Info: (213) 972-8001 or laopera.org
Running time: 3 hours (with one intermission)
ALSO
Gilbert & Sullivan's 'Pirates of Penzance' with a piña colada
With Dutoit out, Royal Philharmonic tries a Swiss conductor — and has a blast
L.A. Phil premiere finds its power in percussion, percussion and more percussion
---
UPDATES:
2:20 p.m. Jan. 29: This article was updated to reflect the addition of a Feb. 17 matinee to the performance schedule.
Get our L.A. Goes Out newsletter, with the week's best events, to help you explore and experience our city.
You may occasionally receive promotional content from the Los Angeles Times.