Frida Kahlo and John Coltrane are an unlikely pair, but at the Ford amphitheater in Hollywood, they proved an exhilarating match.
The Los Angeles-based Latin dance theater troupe Contra-Tiempo opened the Ford show Saturday night with a new homage to Mexican painter Kahlo choreographed by Marjani Forté-Saunders, an alum of the Brooklyn-based dance company Urban Bush Women. That troupe then presented the West Coast premiere of "Walking With 'Trane," an ode to the late jazz musician known for what critic Ira Gitler called "sheets of sound."
In "She Who: Frida, Mami & Me," Forté-Saunders and Contra-Tiempo masterfully captured the fraught and complex spirit of Kahlo. Each dancer passionately embodied a slice of Kahlo's multidimensional personality: a languid lover fanning herself with a voluptuous skirt, a tortured soul grabbing her back to make sure her spine is still intact, a fiery diva baring her teeth — reaching out with fingers flared as if to summon more inspiration from her canvas.
SIGN UP for the free Essential Arts & Culture newsletter »
The dancers moved through the artist's life with elegance, reverence and an eye to the events that shaped her. Diana Toledo and Christopher Cuenza lingered lovingly in each other's arms, as if channeling Kahlo and her husband, Mexican muralist Diego Rivera. Yet even as they sank into each other's folds, they were surrounded by a sea of people, suggesting the many lovers who would circle their relationship.
Gorgeously designed skirts by David Reynoso turned up over the dancers' heads and transformed into bridal hoodies for an imaginary trip down the aisle. A pile of pineapples ceremoniously laid at the edge of the stage read as a reference to Kahlo's unborn children, lost to abortion or miscarriage.
Like Kahlo's paintings, "She Who" conveyed vulnerability and power. It was a mighty and moving tribute to the artist who poured her heart out with paint.
Similarly, the essence of Coltrane's music seemingly oozed out of dancers' pores in Urban Bush Women's two-part piece, "Walking With 'Trane."
Not all aspects of the dance inspired, however. "Side A: Just a Closer Walk With 'Trane" chugged along in fits and starts, losing momentum in deep valleys of silence, occupied only by a soloist here or there tapping barefoot wildly. Fortunately these deft dancers could hold the spotlight, but the extended riffs made me tap my own foot impatiently.
The performance also languished when each dancer limply jammed to his or her own internal beat. Like silent disco revelers stuck inside their headphones, they may have shared music and space, but they were disconnected. One scatted like a jazz singer, another embodied hip-hop, another the smooth and swiveling hip movements of a salsa.
"Walking With 'Trane" found harmony once again in "Side B: Freed(om)" when these individual rhythms coalesced into a unified composition of springing, jumping, swooping bodies that exploded into beautifully organized chaos. To George Caldwell's euphoric and dreamy piano composition — played live by the Grammy winner himself — "Freed(om)" surged with the unfettered joy of jazz.
When inspiration struck, it was electric.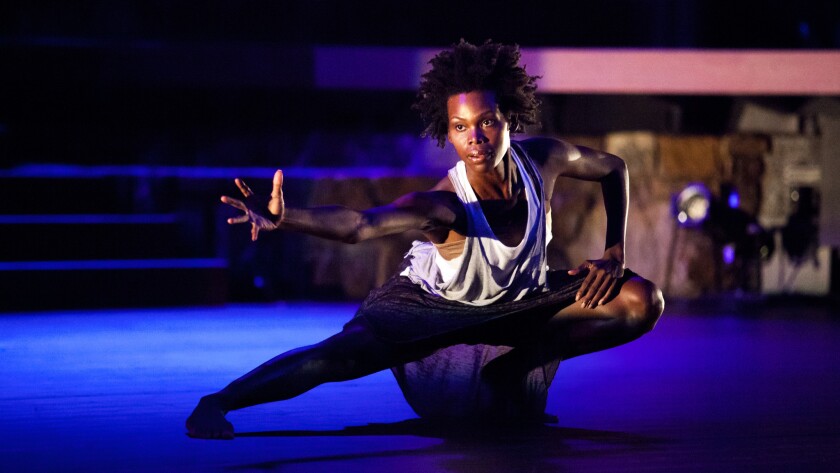 Follow The Times' arts team @culturemonster.
---