Review: Dan McCleary's paintings: Life at its peak beauty, but then what?
Art Critic
Mortality is a subtle subtext in Dan McCleary's ravishing exhibition of recent paintings, drawings and etchings, some hand-colored with pastels and watercolors. The tone is profoundly civilized and searching.
Forty-four works, most of modest size and all but four from the last two years, are at Craig Krull Gallery. As usual, McCleary looks and looks hard. Here the focus is on people and simple still lives — portrait busts, casual arrangements of cut flowers in unpretentious glass vases and plain table tops with one or a few pieces of fruit.
Oranges and kumquats glow like small suns. One pear stands at attention, another stretches out and reclines. A lemon and a persimmon cozy up to one another, a small but vivid yellow sphere nestled within the irregular contour of a radiant, asymmetrically shaped red-orange globe.
Laid out for close inspection — the largest canvas dimension is 18 inches — on unadorned tables before backgrounds of soft color, the fruit is invariably at peak ripeness. It's all downhill from here, but here is sheer magnificence.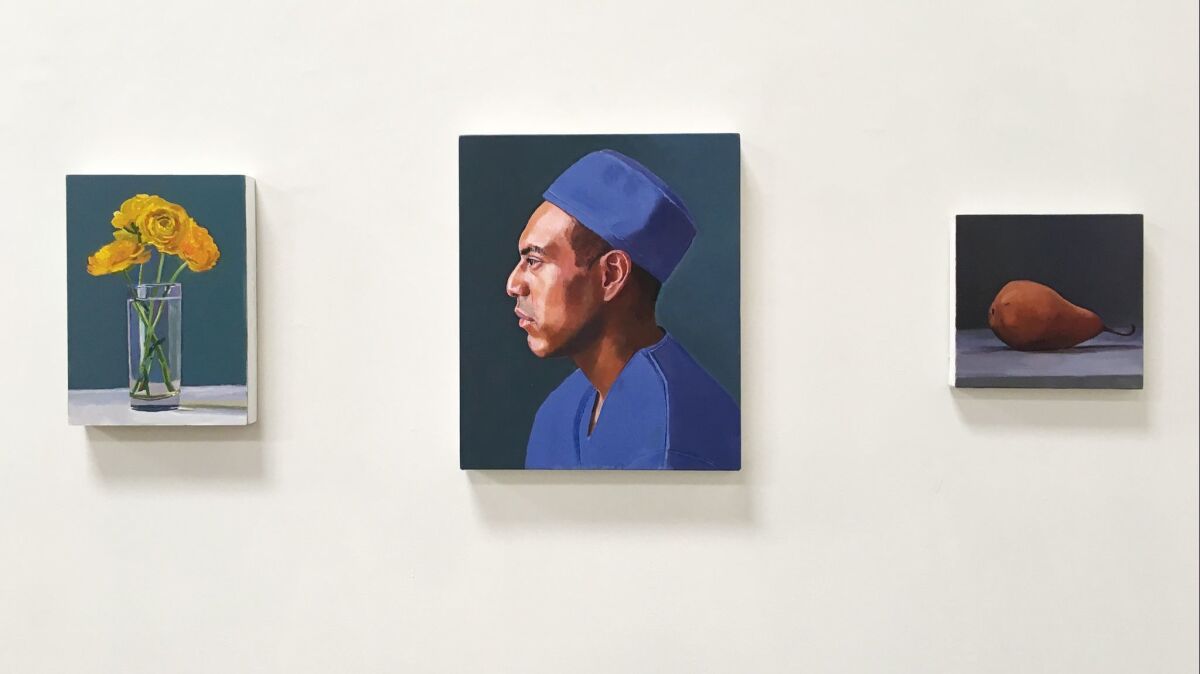 The floral pictures are sometimes slightly larger but not by much. Single and mixed bouquets of red, yellow and white carnations, purple roses, goldenrod, chubby pink ranunculus, delicate Queen Anne's lace and buttery acacia stand in tall, cylindrical glass vases.
The optical displacement of a glinting green stem as it enters water is keenly recorded, an unselfconscious detail emphasizing that these flowers have been cut from field or garden. They won't last long, poised to wilt and fade, but they are gorgeous right now. The right-nowness sings.
Finally, the portraits: It takes a few moments to realize that almost all of them are doctors, nurses or other medical personnel. Some wear scrubs, others sport a stethoscope casually draped around the neck. Their common role is the diagnosis, care or treatment of human beings in distress.
McCleary typically paints them not much differently from those hearty limes or snowberry honeysuckles. The figure is bust-length and head-on or in profile, like a Renaissance prince or lady, posed with casual gravity before a background whose contrasting blankness heightens the specificity of individual features.
What ties together sitter and space is the artist's brilliant command of color. A wall can slide almost imperceptibly from charcoal gray at one side to dusty blue at the other, embracing a shift in light that occurs in the context of the sitter. A single face might encompass an array of pinks, greens, violet, brown, ochre and white, the head partly framed by a secular halo in a glowing line of gold.
Two non-medical portraits take on unexpected resonance in this company. One is a department store employee whose Target insignia on his crimson shirt assumes a quietly fateful meaning. The other, the show's largest work at around 44 inches by 40 inches, is a seated security guard, left elbow propped on a table and right hand holding a cellphone.
McCleary began the painting a decade ago, apparently setting it aside and only completing it this year. The guardian's revealing shirt-pocket name tag — Will — assumes a wry philosophical heft in relation to inevitable human fate, which no amount of security can deter.
The artist's fondness for the focused geometries of artists such as Renaissance master Piero della Francesca is well-known. Here, Edouard Manet also comes to mind — and not just in the Frenchman's notable exploitation of portrait illumination from the side, rather than bathing the sitter in a uniform light, to throw a face into striking shadow.
In 1872, Manet painted a small still life of a bouquet of violets for his close friend and fellow artist, Berthe Morisot, and the flowers showed up again that year in his portrait of Morisot dressed in black mourning clothes. Velvety little violets are about as fragile and fleeting as flowers get. Mortality is their calling card, which McCleary's poignant paintings splendidly repurpose for our own time.
Craig Krull Gallery, 2525 Michigan Ave., Santa Monica. Through July 7; closed Sundays and Mondays. (310) 828-6410, craigkrullgallery.com
christopher.knight@latimes.com
Twitter: @KnightLAT
Get our L.A. Goes Out newsletter, with the week's best events, to help you explore and experience our city.
You may occasionally receive promotional content from the Los Angeles Times.