An overnight sensation after 45 years in the biz: Denis Arndt, Mary-Louise Parker's co-star in 'Heisenberg'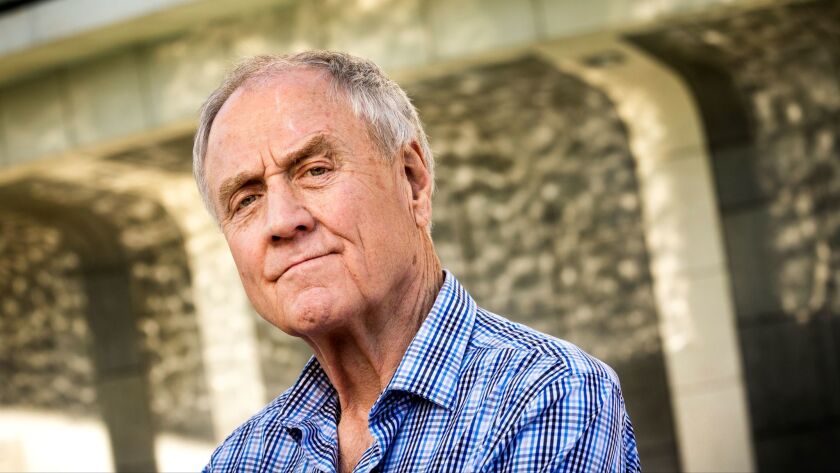 On the surface, actor Denis Arndt appears very much like the character he plays in "Heisenberg": comfortably masculine and fit, in blue jeans and a plaid shirt. When show time arrives at the Mark Taper Forum, "All I do is put on a different shirt and change jeans," he says with a laugh.
The similarities end there, as his character, the Irish-born butcher Alex Priest, finds his long isolation interrupted by the interest of a much younger woman (played by Mary-Louise Parker) and the sudden possibility of romance and reengagement with the world. For Arndt, the role in "Heisenberg" is among the most meaningful in a long, busy career as a "migratory arts worker" in theater, film and television. It delivered a Tony nomination for lead actor in his Broadway debut last year — at age 77.
"I was prepared for this. This was prepared for me," he says with a smile, sitting in his dressing room at the Taper, where opening night for "Heisenberg" is set for Thursday. "The material there, my insight, my chemistry with this woman, her incredible skill — it's too much fun to use all the tools in my box."
As he speaks, a preview performance of the Simon Stephens play is still hours away, and Arndt has his door propped open, a bouquet of flowers sitting beside a row of mirrors. Above his head, a TV monitor shows the stage, bare except for the play's two simple tables and chairs that provide an austere setting for 80 minutes of layered drama and comedy.
Arndt has played the part for two years, first in the 2015 premiere production off-Broadway, followed by a Broadway run that ended in December, both directed by Mark Brokaw. Arndt suggests that the play would still be running in New York if a stage had only been available. (The production grossed more than $4.5 million during 12 weeks of previews and regular performances, according to the Broadway League.) Instead, it arrives in Los Angeles this week with its original cast and director intact.
"I don't think any of us would consider doing it without each other," says Brokaw, who has directed Parker several times since the 1990s. "They have a very particular charisma together. I feel like I'm watching two lifetimes collide up there onstage."
Arndt considers Alex one of the defining roles of his 45-year acting career. The play begins in a London train station, where a curious, energetic woman named Georgie unexpectedly kisses him on the back of his neck and playfully engages the older man in conversation. Early in this first encounter, Alex abruptly asks, "Why are you talking to me?"
It works as a laugh line but also reveals something of a character late in life, someone who's not accustomed to being spoken to or noticed during his daily routines. His butcher shop draws few customers, and he lives alone with his memories, regrets and love for music.
"I really feel a lot of distance between myself personally and Alex, because I do have kids, and I have had a life, and I have done a lot of things. Alex, not so much," says Arndt, who lives in Ashland, Ore. "He's dealt with however his life turned out in a very mature, stoic kind of way. He says, 'I'm not in the least bit strange,' and he really isn't. His is one of those 'lives of quiet desperation.'"
The play, with a title in reference to physicist Werner Heisenberg's "uncertainty principle," follows its own uncertain trajectory. The invasive Georgie sends the old butcher's life off its otherwise predictable course, though the woman's reasons for doing so remain uncertain. She speaks of an ex-husband who may or may not be alive, who may or may not have ever existed, and describes a grown-up son who has fled to America. Georgie may feel genuine affection for Alex, or she may be a grifter — or both.
The part of Alex came to Arndt with little warning. The original off-Broadway production had cast a different actor who dropped out days before rehearsals were to begin. Tony-winning director Doug Hughes suggested Arndt, and by chance Brokaw had just seen Arndt in "The Night Alive" at the Geffen Playhouse in L.A.
Arndt was sent the script. After three quick readings, he wanted the part, and within days he was in rehearsals in New York. The premiere run on the tiny basement stage of the Manhattan Theatre Club was exceptionally intimate.
His character is revealed slowly in the interaction between the two actors. "He has an ability to get things down to its essence," Brokaw says. "He has a great stillness about him onstage that is demanding and totally perfect for this character — who feels like he has his life totally under control. This woman comes into his life who exposes that he truly doesn't."
Key to that was the chemistry with Parker.
"Luckily, I liked her, and she liked me. Within three or four days, it just started to bloom," Arndt recalls. "There is no action in this play. The only action is inside the transaction between the two characters. That's what carries the substance, what elicits nuance, innuendo and meaning.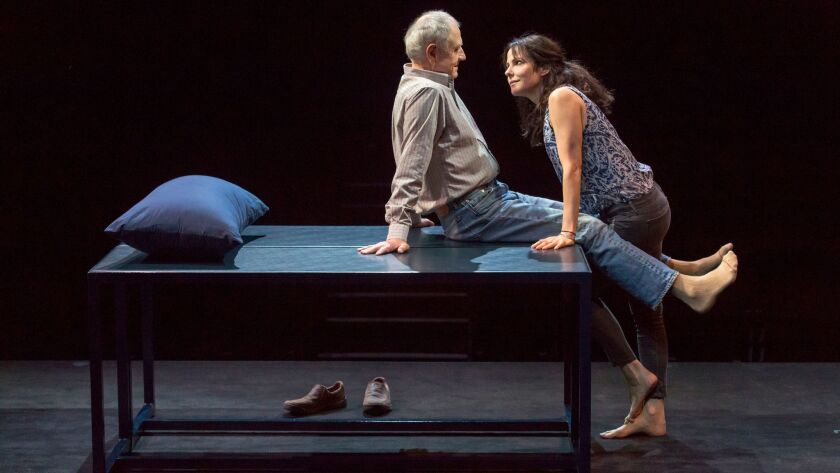 SIGN UP for the free Essential Arts & Culture newsletter »
"She loves doing it, and I love doing it. It's a skate. The ice is black. Both skaters have really sharp skates, and you go out there and see what happens every night. It's exciting."
When the play moved to the larger Samuel J. Friedman Theatre the following year, it marked a milestone for Arndt. Though he'd worked in New York over the decades, including for producer Joseph Papp at the Public Theater and at Shakespeare in the Park, he had never acted on Broadway.
"I'll tell you this," he says of New York. "It's hell of a lot more fun being in town in a big hit."
His first experiences as an actor were in high school, but after graduation he joined the Army in 1957 and became a helicopter pilot. He spent nine years in the service, including more than a year and a half flying combat missions in Vietnam.
"The costumes were great and all the props worked. It was one of my best roles: Army aviator," he says with a smile, then turns serious regarding how the experience of Vietnam has stayed with him in other ways. "There is a part of me, that in certain circumstances, I can still feel the same anger that I felt at the betrayal. ... What did we learn from 58,000 boys and girls dead?"
He got out in 1966 and piloted helicopters as a profession, flying private missions for research, exploration and development, hauling men and steel for oil drilling operations inside the Arctic Circle. Flying in Alaska was "one of the most healing things that happened to me over the course of reentering society."
It's a skate. The ice is black. Both skaters have really sharp skates, and you go out there and see what happens every night.
— Actor Denis Arndt, on performing "Heisenberg" with Mary-Louise Parker
In 1971 while studying in Seattle at the University of Washington, Arndt auditioned for a play and got the part, "as though a circle had been closed." He continued to explore local theater, but it took time for him to accept that acting was his life. "It was always: Wait until the 11th hour and take the best offer," he says. "If the best offer was that I could go fly a helicopter on a forest fire, maybe that would be the best offer. But that never turned out to be the best offer."
He acted full time along the West Coast, calling himself the I-5 Player for all the freeway hours he logged. He was cast in plays from contemporary to Shakespearean, from Washington to the Old Globe in San Diego, plus roles for TV and film.
In 1988 he was cast as husband to Mary Tyler Moore in the short-lived but critically lauded CBS series "Annie McGuire," which led to years of regular TV work for producers Steven Bochco and David E. Kelley and various episodes of "L.A. Law," "Picket Fences," "Life Goes On," "The Wonder Years" and "Columbo." He was one of the interrogators of Sharon Stone in the notorious scene from the 1992 erotic thriller "Basic Instinct."
For a time, he kept a small house in Sherman Oaks but maintained his Oregon home base.
"If you can do what you need to do in three takes, in this business you'll work. It's as simple as that," he says of his experience in Los Angeles. "I was lucky enough to be a fast study and I could take changes as they came, and I would come in, shoot from the hip ... and go back to Oregon. I raised three kids up there."
A purity and simplicity to "Heisenberg" excite him. The stripped down production is "almost subversive" as the two actors move the chairs and tables in the moments between scenes.
"This one is not a spectator sport," Arndt says. "You can't come in and sit down and not be involved in this piece. Which makes it really exciting and also very dangerous because there's nowhere to hide."
♦ ♦ ♦ ♦ ♦ ♦ ♦ ♦ ♦ ♦
'Heisenberg'
Where: Mark Taper Forum, 135 N. Grand Ave., L.A.
When: 8 p.m. Tuesdays-Fridays, 2:30 and 8 p.m. Saturdays, 1 and 6:30 p.m. Sundays; ends Aug. 6
Tickets: $25-$95 (subject to change)
Information: (213) 628-2772 or CenterTheatreGroup.org
Running time: 1 hour, 20 minutes
Support coverage of the arts. Share this article.
YOU MIGHT ALSO LIKE:
The last (porn) picture shows: Once dotted with dozens of adult cinemas, L.A. now has only two
A Christian conservative baker, a gay wedding and the smart, funny play 'The Cake'
'That '70s Show' actress Debra Jo Rupp on her a rich, delicious role
---
Get our daily Entertainment newsletter
Get the day's top stories on Hollywood, film, television, music, arts, culture and more.
You may occasionally receive promotional content from the Los Angeles Times.