Villain and heroine: The real-life husband and wife onstage in 'Tales of Hoffmann'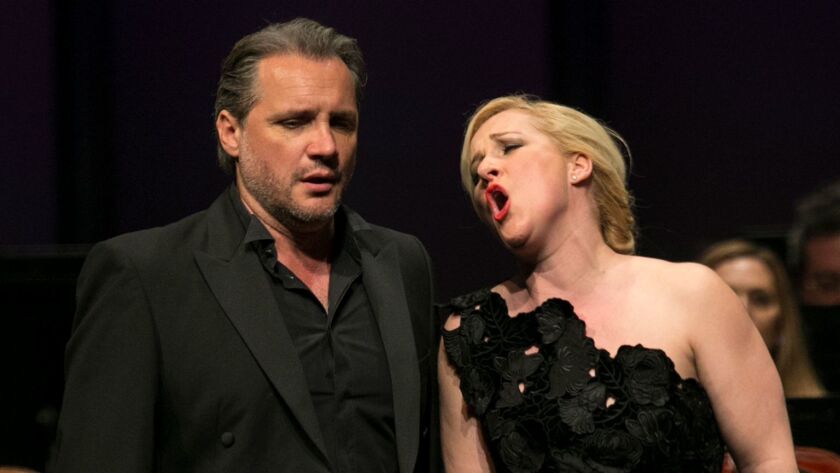 The acclaimed German soprano Diana Damrau met her future husband, French bass-baritone Nicolas Testé, in a Munich church 13 years ago while performing Jean Francaix's oratorio "L'Apocalypse Selon."
"It was a heaven-and-hell orchestra, a heaven-and-hell chorus, and Nicolas sang Christ," Damrau said, adding "my redeemer" with a laugh.

For the record:
5:28 a.m. June 26, 2022An earlier version of this article said the Tale of Antonia was the second act. In L.A. Opera's production, it is the third act.
On Saturday, the couple begin a six-performance run of Los Angeles Opera's production of Jacques Offenbach's "The Tales of Hoffmann," conducted by Placido Domingo.
Both Damrau and Testé have been fighting bronchitis the last few months, so Damrau has chosen not to portray all four of the opera's heroines, as originally planned. She will play two: Antonia, the frail young woman who loves to sing, and Stella, the diva loved by the opera's titular protagonist, sung by star tenor Vittorio Grigolo. Testé will be portraying the opera's four villains, who frustrate Hoffman's love affairs.
"Unfortunately I had to step back," Damrau said. "I'm still with medicine. To do the four roles in the extreme high and extreme low would have been too much for my body."
Damrau is referring to the role of Olympia, a mechanical doll who Hoffmann is tricked into believing is real. The role's coloratura "mechanical" aria is demanding, to say the least. So Young Park will sing four performances, Liv Redpath two. Filling out the four heroines is mezzo-soprano Kate Aldrich as Giulietta, a courtesan.
Grigolo and Damrau, recently acclaimed for their performance of Gounod's "Roméo et Juliette" in January at the Metropolitan Opera in New York, have not been strangers to Los Angeles. Both displayed by turns fiery and charming spontaneity in 2015 as part of the Celebrity Opera Series at the Broad Stage in Santa Monica. (This season's lineup includes an April 18 concert with Grigolo and young Italian soprano Carmen Giannattasio.)
"He has everything," Damrau said of Grigolo. "He can play introvert roles, like Massenet's 'Werther,' with emotional outbursts but holding everything together. He's really in the character. When he looks at me as Romeo, or as Edgardo in 'Lucia di Lammermoor' — nobody ever threw me to the floor and sang to me with such intensity. That's how Vittorio is onstage."
The soprano can't be quite that romantically volatile in real life, since she and Testé have two boys, 4 and 6, who are home-schooled and travel with them. Earlier this month at the Broad Stage, during the couple's touching rendition of "Bess, You Is My Woman Now" from Gershwin's "Porgy and Bess," Damrau echoed Porgy's vow of constancy and flashed her wedding ring, and the two kissed. The audience seemed to love Damrau's proud gesture and Testé's strength and vulnerability.
SIGN UP for the free Essential Arts & Culture newsletter »
Damrau, who sang all four heroines in "Hoffmann" at the Bavarian State Opera in 2011, said she prefers the L.A. Opera production, directed by Marta Domingo.
"From a psychological point of view, the Munich production was dark and depressing," Damrau said.
Because the composer died in 1880 before finishing the score, no definitive version of "Hoffmann" exists. "It's a very difficult opera to stage and also to play," she said. "It's quite complicated to put everything together."
Damrau said that the production's third act, set in Venice, is especially stunning. "The costumes, the colors, everything," she said, adding that the first act, the Tale of Olympia, is quite striking. So are her husband's quick-change roles.
"It's so much fun watching Nicolas changing his look as the villains, from Lindorf to the crazy Coppélius to the almost devil-like Miracle, and Dapertutto is just overloaded with glamour," she said.
But the biggest singing part in the opera is the third act, the Tale of Antonia.
"I love most Antonia," Damrau said. "As Hoffmann says, she has everything. She's the artist, flesh and blood, and has passion for her singing — for the art. She is more similar to Hoffmann than all the other women he meets."
Damrau, reflecting on Hoffmann's plight, seemed grateful for how her life and family with Testé has worked out. She said it helped that both of their careers were settled when they married in 2010, allowing them to perform in the same opera houses, if not necessarily in the same operas.
"The aim is that we are together, that we can make family life and life as a couple possible in our profession," Damrau said. "As traveling opera singer-soloists, it's really hard to find the right partner. It took both of us a long time. You meet a lot of villains and also Don Giovannis and Giuliettas until you find the right match. Sometimes you don't find it and, like Hoffmann, you stay alone."
♦ ♦ ♦ ♦ ♦ ♦ ♦ ♦ ♦ ♦
L.A. Opera's 'The Tales of Hoffmann'
Where: Dorothy Chandler Pavilion, 135 N. Grand Ave., L.A.
When: 7:30 p.m. Saturday, Thursday, April 6 and April 15; 2 p.m. April 2 and 9
Tickets: $24 and up
Information: (213) 972-8001 or LAOpera.org
Running time: 3 hours, 35 minutes (with two intermissions)
♦ ♦ ♦ ♦ ♦ ♦ ♦ ♦ ♦ ♦
Broad Stage's Celebrity Opera Series
Where: 1310 11th St., Santa Monica
When: Michael Fabiano on April 8, Vittorio Grigolo and Carmen Giannattasio on April 18, Joseph Calleja's tribute to Mario Lanza on May 10, Marcelo Alvarez's tango concert on July 5
Tickets: Starting at $80 or $85 (varies by show, subject to change)
Information: (310) 434-3200, www.thebroadstage.com
Follow The Times' arts team @culturemonster.
ALSO
The Industry's opera on a San Pedro beach among winners of Mike Kelley Foundation grants
The Calder Quartet rolls along with Beethoven
In a startling coup, New York lures L.A. Phil chief Deborah Borda
---
From the Oscars to the Emmys.
Get the Envelope newsletter for exclusive awards season coverage, behind-the-scenes stories from the Envelope podcast and columnist Glenn Whipp's must-read analysis.
You may occasionally receive promotional content from the Los Angeles Times.