Remember the Haunted Mansion stretching portraits at Disneyland? Now you can own one — for a price
The portrait is tall and stately, its subject a distinguished gentleman who stands with chest puffed out, proudly. But here's the thing: He wears no pants. The man, it turns out, stands atop a barrel of lighted dynamite, in striped boxers.
If this image stirs childlike glee in the depths of your soul, you are not alone. Disneyland's famous "stretching portraits" inside its Haunted Mansion elevator are among the most beloved of the park's images. And now one of them is up for grabs.
Van Eaton Galleries in Sherman Oaks, which specializes in original animation art, will hold on Saturday the Souvenirs of Disneyland sale, the largest auction to date dedicated to Disneyland memorabilia, it says. Among more than 1,000 rare artifacts, from about 30 collectors nationwide, is an original, hand-painted stretching portrait — our man, sans his pants. It will go on the auction block along with original Audio-Animatronic figures from the It's a Small World and Enchanted Tiki Room attractions, an original "devil prop" from Mr. Toad's Wild Ride, silk-screened attraction posters from the '50s and '60s, vintage souvenirs and props from the park.
READ MORE: Digging up the ghosts of Disneyland's Haunted Mansion ride »
The stretching portrait, which came from a Florida collector who acquires only Disney Haunted Mansion memorabilia, is clearly a star of the event and estimated at $30,000 to $40,000. The painting has been generating early buzz, says gallery co-founder Mike Van Eaton, among collectors and Disneyphiles coming to the gallery to view it and take pictures.
"This is one of the most recognizable things from the park, they have such appeal," Van Eaton says. "That's what makes them so desirable as auction items. You have this huge fan base that spans generations."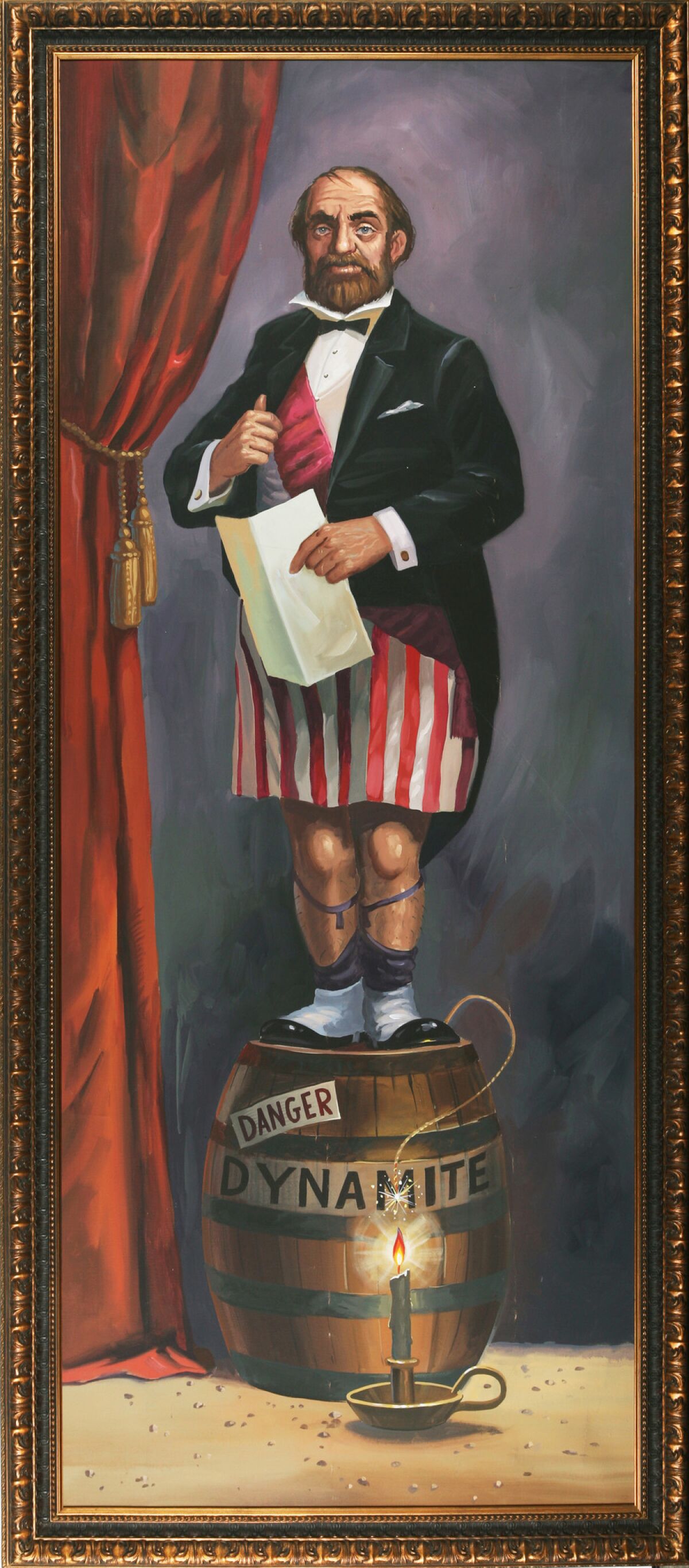 Disney theme park Imagineer Marc Davis, who was part of Walt Disney's core group of "nine old men" animators and who designed the character of Snow White for the 1937 film, created the portraits for the Haunted Mansion, which opened in 1967. The four scroll paintings in the elevator, acrylics on canvas, appear benign enough at first — all proper, pleasant-looking or ruddy-cheeked characters depicted from the bust up. But as the elevator slowly drops down, the top half of the paintings stretch upward, eventually reaching about 10 feet tall, revealing more dramatic, humorous narratives that were brewing from the waist down.
An angelic, parasol-wielding tightrope-walker turns out to have an alligator nipping at her feet; a sweet older lady clutching a rose is, in fact, perched on her late husband's tombstone, her grin suddenly seeming more devilish; a confident-looking man in a top hat is actually balancing himself on the shoulders of another man, who's on the shoulders of another — and they're all in quicksand.
Disney magic in action. Davis painted small masters for each portrait and other artists, such as Clem Hill, re-created them by hand on giant canvas scrolls. Over time, the paintings became worn from repeatedly unfurling. Disneyland replaced them as necessary, and Davis' team painted new, original portraits each time. In 1972, the laborious process was streamlined, and Disney began replacing the hand-painted canvas scrolls with prints on canvas. Today, the images are printed on paper.
But what happened to the original paintings, during the ride's first five years? They were likely tossed in the garbage or squirreled away by park employees, Van Eaton says. He's seen only two or three of each of these portrait characters.
"They're pretty rare," he says. "If I had to guess, I'd say there are only 15 or 20, total, of the hand-painted ones out there."
Disney memorabilia stirs the hearts of so many Americans, with interest crossing socio-economic and political divisions. The response to the gallery's inaugural Disneyland auction in March 2015 was so strong — with about 700 items bringing in $1.5 million — that the company staged another sale that November. "It doubled our expectations. It was a very exciting thing for us," Van Eaton says of the first auction. "The same thing happened the second time. Pieces went for well above what we expected."
Van Eaton credits nostalgia — connections to childhood and memories of special trips made with family.
That's particularly true of the stretching paintings, says Van Eaton, who received a call months ago from the Florida collector reluctantly parting with his towering portrait — the man without pants — partly because of the wall space it requires. The collector purchased the piece about 20 years ago at auction from Burbank dealer Howard Lowery, who acquired it in the early '90s, likely from a former park employee or their family, Van Eaton says.
The framed portrait is so heavy, Van Eaton had a custom wooden crate built for it before transporting the painting by truck to Los Angeles.
Based on website traffic, early mail bids and online registrations, this auction will be the gallery's highest attended yet, Van Eaton says.
"It's just pure fantasy," he says of the whimsical stretching portraits' appeal. "They immerse you and transport you into another world — and it resonates and it just sticks with you."
Follow me on Twitter: @debvankin
George Takei is giving 70 years of his belongings to a museum. Here's a sneak peek
L.A. County supervisors place the welcome mat out for George Lucas' museum
LACMA's star-jammed Art + Film Gala
Photographer Deirdre O Callaghan captures Dave Grohl, Questlove and others doing "The Drum Thing."
Get our L.A. Goes Out newsletter, with the week's best events, to help you explore and experience our city.
You may occasionally receive promotional content from the Los Angeles Times.