Review: Ibsen's radical 1879 play about women's equality gets a 2017 sequel: Lucas Hnath's 'A Doll's House, Part 2'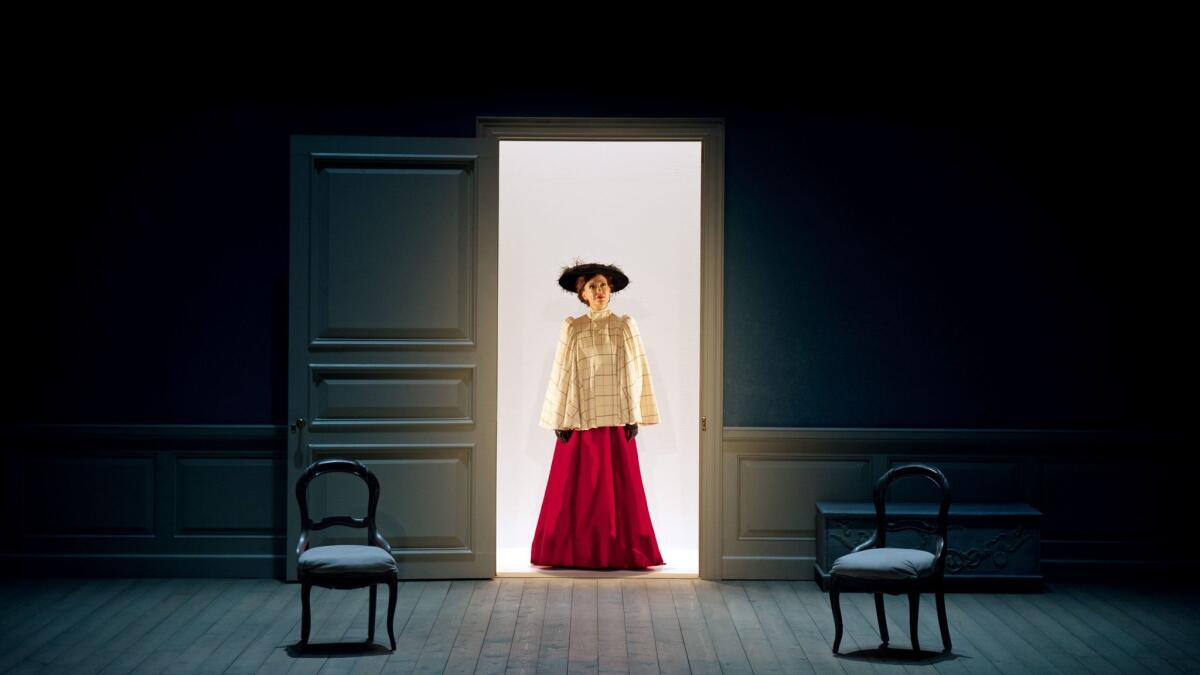 Theater Critic
A door dominates the backdrop of Lucas Hnath's "A Doll's House, Part 2," which picks up the story 15 years after Henrik Ibsen's landmark drama ends. This is the door that Nora slammed (famously now, infamously in the 19th century), leaving behind her husband and three young children in a quest to forge an identity as a human being apart from her role as wife and mother.
No door slam in the history of the theater has been so consequential. Nora's momentous exit startled audiences and critics with its defiance of respectable societal and theatrical conventions. The prevailing laws of melodrama permitted the character two options: death or reconciliation. The iconoclastic Norwegian playwright, a founding father of modern realism, tested out a more radical truth.
Ibsen's daring, enraging to conservative detractors, galvanized those on the forefront of the battle for gender equality. Ibsen denied that he was writing a feminist tract ("to me it has been a question of human rights"), but the play marks a watershed in the way women were represented onstage. Sexist stereotypes didn't end after the 1879 premiere, but a consciousness was awakened in the theater as the drama was debated all across Europe and eventually throughout much of the world.
Hnath isn't the first to try his hand at a sequel. ("A Doll's Life," a misguided 1982 musical imagining what happened to Nora after she left her cozy domestic prison, quickly died on Broadway.) But he is the only one to my knowledge who has had any success.
"A Doll's House, Part 2," which is receiving its world premiere at South Coast Repertory in a quietly gripping production directed by Shelley Butler, is smart, compact and stirring. The play, which opens next week on Broadway in a different production, seems destined to have a life as a puissant postscript to Ibsen's masterwork.
Hnath, a rising playwriting talent, has arranged his work as a series of duologues. Those who saw his play "The Christians" (at the Mark Taper Forum in 2015) will recognize certain stylistic continuities in the intellectualized treatment — the way the drama unfolds as an evolving argument, kaleidoscopically shifting as new information and points of view are added.
As a character enters for a tête-à-tête, his or her name is projected onto Takeshi Kata and Se Hyun Oh's elegantly abstract set, which consists mostly of a few chairs that are rearranged for each new encounter. Nothing is permitted to obstruct our view of perspectives that are still violently in collision. Age may bring humility, but ingrained patterns of thought are difficult to change.
Plays of ideas can sometimes lack heart, but "A Doll's House, Part 2" has an emotional generosity. Bad productions of Ibsen's play portray Nora as the victimized heroine and her husband, Torvald, as a chauvinistic monster, but Hnath sees them as Ibsen did — as a woman and a man stunted by a system that deprives them of a partnership based on love and mutuality.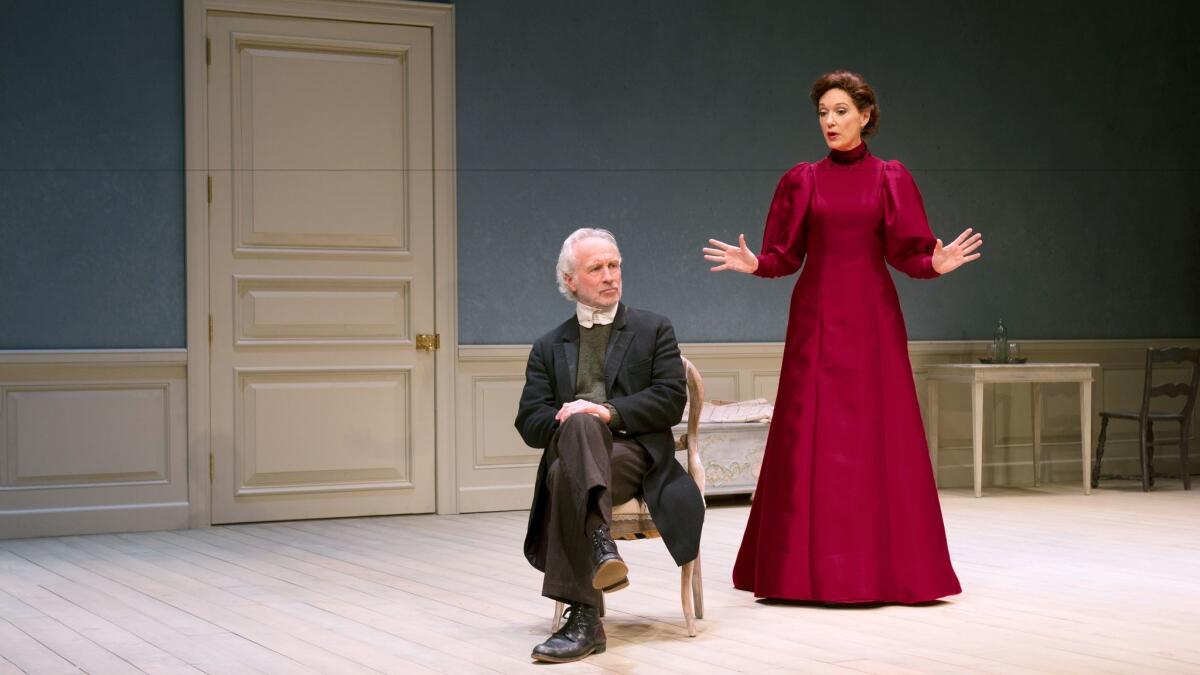 Nora necessarily occupies the center of this new drama. But it is to the credit of Hnath's playwriting that some of the most moving moments are focused on those family members still reeling from Nora's fateful decision — Torvald (played with aching complexity by Bill Geisslinger) and the couple's super controlled, quietly shattered daughter Emmy (sensitively brought to life by Virginia Vale).
There's a quality of defiant grandeur to Shannon Cochran's Nora, who returns not with her tail between her legs but in an expensive red dress announcing that she has done just fine for herself, thank you very much. There were difficult years in the beginning, she tells Anne Marie (a delectably tart Lynn Milgrim), the old nanny who was not only a mother to her but also to the children she left behind.
But eventually, this notorious wife, who many assumed fell ill and died (an assumption not corrected by Torvald), found success as an author by writing a version of her own story under a pseudonym. The heroine of her tale meets a less happy ending — the only way Nora could get her book published — but her anti-marriage views have sparked a growing movement and made her independent and prosperous.
Contrivances are hard to avoid in a play of this sort, but the crisis that has brought Nora back (and any play inspired by Ibsen needs a good crisis) is effectively pulled off. A judge, angry at the anti-marriage message of Nora's book, has discovered not only her real name but also a facet of her identity that she herself didn't know: She's still married to Torvald, who never filed the divorce papers. The judge has threatened to expose her as a fraud if she doesn't renounce her views. She needs her husband to save her from possible jail time by properly divorcing her, but is Torvald, who hasn't remarried, ready to grant her this reprieve?
Hnath handles the melodramatic aspects of Nora's return more convincingly than he does some of the behavioral details. But it's the mind of the protagonist that interests the playwright most. Nora is defined here by her convictions, and as portrayed by Cochran, she's more public figure than private woman.
Cochran is capable of searing realism. (Her Obie-winning performance in Tracy Letts' "Bug" was a master class in gritty stage acting.) But I occasionally longed for a more personalized interpretation of the character. The outline she has created is majestic, and there are moments of poignant reflection, as when Nora talks about that period after leaving Torvald when she needed to immerse herself in silence to finally hear the sound of her own voice. But insight is narrated rather than embodied.
I'm curious to see what Laurie Metcalf does with the role in New York (I'll be reviewing her performance next week), but some of this distance seems written into the play. In picking up the argument of Ibsen's drama, Hnath keeps the emotion tightly tethered to the intellectual journey. The result is never dryly abstract, however. Minds stretched to the breaking point can powerfully move us.
There's something deeply affecting about the way Geisslinger's Torvald listens to Nora — he wants to know her story, but he keeps getting lost in his own painful thoughts. His silences communicate brokenness as eloquently as the smiling restraint of Vale's Emmy. The hushed desperation of these characters makes the sudden bursts of resentment from Milgrim's Anne Marie, who swears like a character on HBO, all the more invigorating.
A central perception driving Hnath's play is that epiphanies of the kind that Nora had at the end of "A Doll's House" are just the starting point for revolutions. Nora sounds like a dreamy Chekhov character when she holds forth on how the patriarchal institution of marriage will be obsolete in the next 20 to 30 years. But her circumstances keep teaching her variations of the same lessons — that societal change is slow and never finished, that freedom entails loss and that relationships are imperfect because human beings are flawed even when they're trying their hardest.
"The world didn't change as much as I thought it would," Nora admits to Torvald. But she's not prepared to concede defeat. Hnath brings her noble fight to a new generation.
♦ ♦ ♦ ♦ ♦ ♦ ♦ ♦ ♦ ♦
'A Doll's House, Part 2'
Where: South Coast Repertory, 655 Town Center Drive, Costa Mesa
When: 7:45 p.m. Tuesdays-Fridays, 2 and 7:45 p.m. Saturdays-Sundays; ends April 30
Cost: $33-$79
Info: (714) 708-5555, www.scr.org
Running time: 1 hour, 30 minutes
SIGN UP for the free Essential Arts & Culture newsletter »
Follow me @charlesmcnulty
ALSO
Pull off the wig and falsies, and 'Georgia McBride' hits its groove
A backstage conversation with 'The Encounter's' Simon McBurney
Why Hillary Clinton's next big stage should be at the Tony Awards
Get our L.A. Goes Out newsletter, with the week's best events, to help you explore and experience our city.
You may occasionally receive promotional content from the Los Angeles Times.