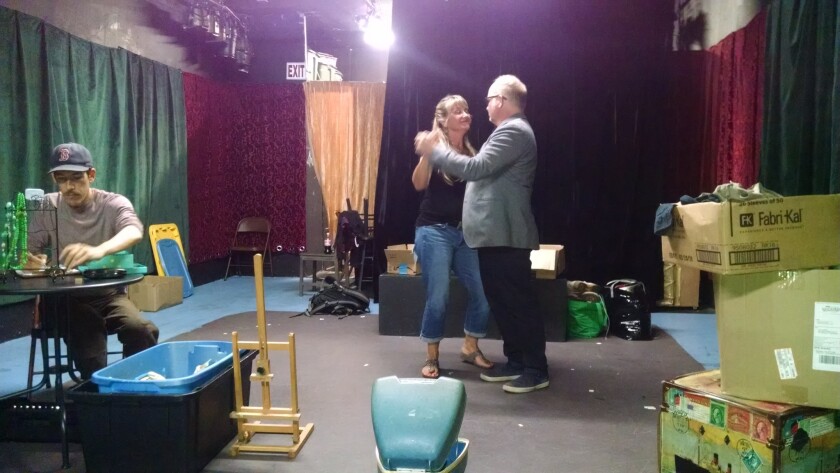 There's a thing or two to kvetch about at Eclectic Company Theatre in Valley Village.
For one, parking is limited. And the building is old and idiosyncratic: Company members have to reach behind the coffee pot to get to the house lights.
But top of the list is the fact that the nonprofit ensemble is being booted from its home of more than 25 years. The building was sold and the new owner sent a termination of residency notice, the theater said. Eclectic is closing the 45-seat venue for good on June 8.
But not without a grand finale of comedic kvetching.
The theater is staging a three-day festival of 10-minute plays, "Family Schmamily," starting Friday. The event, produced in partnership with the Valley Beth Shalom Synagogue's Jewish Writer's Roundtable, includes five original Jewish-themed works by local writers. Many of the one-act plays are winners of a Jewish Writer's Roundtable contest.
Eclectic Artistic Director Thomas C. Prosser said the festival will be an uplifting and funny way to end a long run. Prosser said he hopes to continue a theater company — likely under the same name — and is exploring possible locations, including shared spaces.
Eclectic Company Theatre was founded in 1989. The vision of its actors, writers, directors, and producers has been to allow for different voices and viewpoints, Prosser said.
Jewish Writer's Roundtable Chairman Michael Goldstein, whose "Estate Sale" is among the five plays being presented in "Family Schmamily," said Eclectic's closing will leave a void in the theater landscape.
"It's sad for me because I just discovered this theater in the last six months and thought 'let's unite and do this,'" he said. "As a playwright it's very difficult to get your work produced in the U.S. in a professional setting. At Eclectic, I've had the chance not only to put on my own work but to direct a play. It's an opportunity for me to give back and participate in the theater on a personal and professional level."
The "Family Schmamily" lineup explores love, marriage and relationships. The works are mostly comedic, Goldstein said.
"Franny and Fidelia," by Beth Polsky, is about two elderly sisters who share most everything but do have secrets. "Abram and Sarai," by Mona Deutsch Miller, reimagines the biblical story of Abram set in Brooklyn, with a feminist take. "Sudden Death," by Robin Russin, is about a couple who, after torrid sex, discover she's Jewish and he's Catholic. "Dinner With the Girls," by Andrea Rosenwein, is about three women arguing over splitting the check in a diner — but with a twist. "Estate Sale," by Goldstein, follows a middle-aged couple with different ideas about how to navigate an estate sale in the San Fernando Valley.
"Hopefully it'll make people think," Goldstein said.
Of Eclectic's final curtain call, Prosser added: "I'm sad, it's been a real home for me. But I've been battling the last six months to try and keep this place alive — and I hope we do. We need to fight the fight."
Follow me on Twitter: @debvankin
MORE THEATER:
Weekly picks from L.A.'s small-theater scene
A splendid 'Beauty and the Beast' proves why Casa 0101 deserves a fairy-tale ending
'The Color Purple' national tour turns down the wattage
Wearing a 'Red Speedo,' Lucas Hnath goes swimming with sharks
The Actors Co-op production of 'Violet' might make you believe in miracles
---