Review: 'The Color Purple' national tour turns down the wattage — and burns a little less brightly
Theater Critic
John Doyle, the British director who brought fresh life to well-trod Sondheim musicals by having the casts of "Sweeney Todd" and "Company" double as the band, is a master of transformation.
In his Tony Award-winning revival of "The Color Purple," which began at London's Menier Chocolate Factory, he didn't ask his actors to cart around tubas, trumpets and clarinets. But he did something even more radical.

For the record:
4:05 p.m. May 30, 2018An earlier version of this article said the Hollywood Pantages show opened Wednesday. It opened Tuesday.
Doyle pruned the melodramatic musical of all its literal trappings and invited his ensemble to contact the spiritual essence of Alice Walker's parable. The story of an African American woman who outlasts her male tormentors by finding strength in sisterhood was conducted with the intensity of a High Mass.
That spiritual fervor is conspicuously missing in the national tour production that opened Tuesday at the Hollywood Pantages Theatre. The sparse wooden set designed by Doyle that makes imaginative use of chairs, laundry baskets and some billowing fabrics still captivates in its earthy minimalism.
What's missing is the nuclear power of Cynthia Erivo, who won a Tony for her performance in Doyle's production as poor, put-upon Celie, the protagonist of Walker's novel played by Whoopi Goldberg in the Steven Spielberg film and LaChanze in the musical's first outing on Broadway. At the Pantages, the role is assayed by Adrianna Hicks, an ensemble player in the Broadway revival who hasn't quite made the leap to headliner.
Hicks has the right look for a woebegone young woman who doesn't want to take up a lot of space in the world. And she proves herself eventually to be a potent singer (though she saws the air with her hands a little too much when in full flight).
But the inner radiance of the character is kept under wraps. The brimming emotion with which Erivo filled every stage moment isn't there. It's almost as if Hicks is aiming for a more subdued realism, not recognizing that musicals require a magnification of simple truths.
The production still has advantages over the original Broadway production, which lumbered its way to the Ahmanson Theatre when it went on tour. The expositional fat of Marsha Norman's book has been burned away, leaving us more opportunity to appreciate the always lively (if unmistakably derivative) score by Brenda Russell, Allee Willis and Stephen Bray.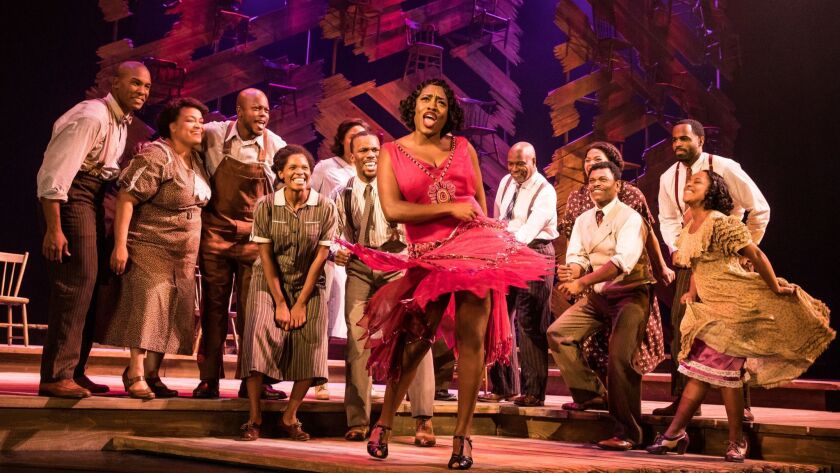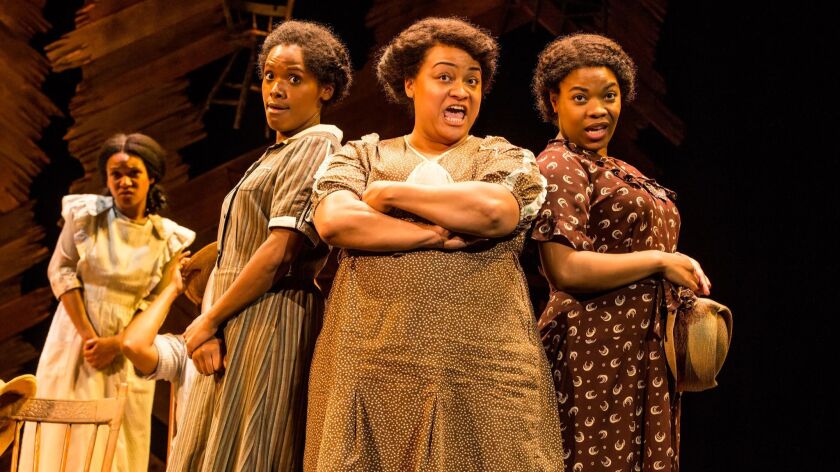 The musical numbers, which leap from gospel to honky-tonk to R&B, provide plenty of opportunities (especially for the female cast members) to bring down the house. And Carrie Compere, who plays the lovably formidable Sofia, and Carla R. Stewart, who plays brassy blues singer Shug Avery, don't disappoint.
This incarnation of the revival is perhaps best enjoyed as a staged concert. Highlights include Sofia laying down the law when it comes to abusive men in "Hell No!" and Shug shamelessly strutting her bawdy stuff in "Push da Button."
The salacious exuberance of "Any Little Thing," the rekindling duet between Sofia and Harpo (an appealing J. Daughtry) is ludicrously overdone. Yes, it's meant to be steamy. But the story of the couple's relationship — the tale of a woman who refuses to be dominated, never mind beaten, by her man — gets lost in the audience-pandering burlesque.
Celie's journey toward independence and self-esteem is marked by a series of songs, which she or Shug, the true object of her affection, performs with the full expectation of leaving theatergoers drowning in tears. I remained dry eyed during "Too Beautiful for Words," "The Color Purple" and "I'm Here," but I enjoyed the pleasant singing that paved the way for Celie's belated happy ending.
Subjected to horrific abuse by family members, her babies torn away from her in her youth, the menace of racism blocking her escape routes, Celie survives like a character in a Shakespearean romance whose losses are restored only after her suffering has been converted into quiet wisdom.
The inner light that's needed to reanimate the fable flickers meekly at the Pantages. In retrospect, the success of the Broadway revival of "The Color Purple" depended in no small measure on the soulful radiance of Erivo's tour de force, one of the greatest musical theater performances of the last 10 years.
More star wattage would have helped this touring production, which heads after its run at the Pantages to the Segerstrom Center for the Arts in Costa Mesa. But Doyle's cunning renovation, which distills the essence of Walker's beloved book in this trimmed-down musical revival, is still an impressive sight.
♦ ♦ ♦ ♦ ♦ ♦ ♦ ♦ ♦ ♦
'The Color Purple'
Where: Hollywood Pantages Theatre, 6233 Hollywood Blvd., L.A.
When: 8 p.m. Tuesdays-Fridays, 2 and 8 p.m. Saturdays, 1 and 6:30 p.m. Sundays; ends June 17
Tickets: Start at $35
Information: (800) 982-2787 or HollywoodPantages.com or Ticketmaster.com
Running time: 2 hours, 20 minutes
Also:
Where: Segerstrom Center for the Arts, 600 Town Center Drive, Costa Mesa
When: June 19-24
Tickets: Start at $29
Information: (714) 556-2787 or www.SCFTA.org
MORE THEATER:
For the Berkeley Rep revival of 'Angels in America,' the play is the thing
In 'Tyrant,' Harvard professor Stephen Greenblatt turns to Shakespeare for answers to Trump
'Soft Power' at the Ahmanson: Big, bold, overly complicated and spectacularly unique
---
Your essential guide to the arts in L.A.
Get Carolina A. Miranda's weekly newsletter for what's happening, plus openings, critics' picks and more.
You may occasionally receive promotional content from the Los Angeles Times.