Review: In 'The End of Sex,' a fed-up wife takes a fierce, funny stand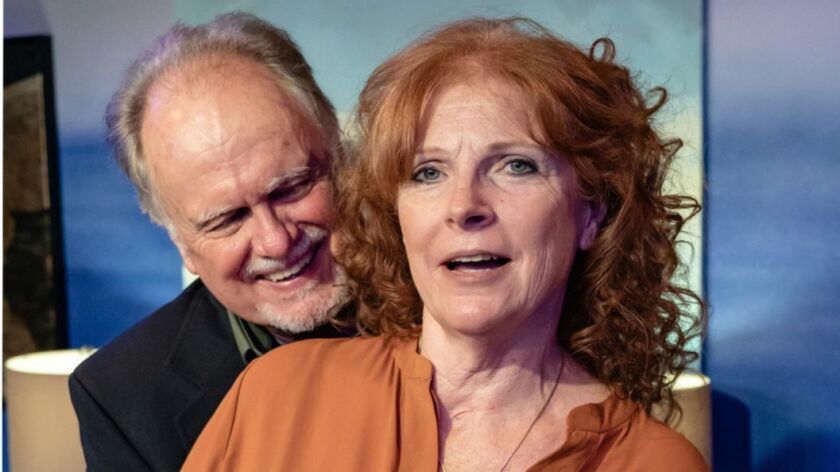 "The End of Sex," a new play by Gay Walch at the Big Victory Theatre, commences with the kind of wink-wink, nudge-nudge sexual innuendo that could have been lifted from an episode of "2 Broke Girls."
Don't be misled. After that self-consciously naughty first scene, Walch's play builds into a nuanced comedy-drama about the battle between the sexes, with an emphasis on the inequitable expectations placed on women within heteronormative marriages. And if the play occasionally turns a bit twee, it nonetheless taps into a rich source of female ire.
The subtitle, "Or What's Wrong With Mom?" is obviously ironic — the assumption that, if anything goes wrong in a relationship, it's the wife's fault. When Nancy (Sara Botsford), who apparently has been happily married to Ken (Tom Ormeny) for 26 years, finally expresses her dissatisfaction with their relationship, Ken and their grown daughter Heather (Austin Highsmith) think she's flipped her lid.
The crux of the disagreement is that Nancy is "done" with sex — a shock for Ken, who regularly pops pills in order to perform and "feel like a man." Meanwhile, Heather, who is about to publish a bestseller and get tenure at USC, is having her own marital problems with Ryan (Chad Coe), a failed rocker who bitterly resents Heather's success.
NEW IN L.A. THEATER: 'Anna in the Tropics,' 'Crime and Punishment' and more »
Walch shorthands the reasons why Heather remains so invested in the wounded, weak Ryan, but their sizzling interactions are nonetheless a highlight. And Nancy's denunciation of Ken's birthday flowers — bought at a supermarket instead of a florist — may be intended to symbolize larger issues, but comes off as petty, undermining Nancy's otherwise compelling contentions.
Director Maria Gobetti orchestrates a fine cast, which also includes Lianna Liew, in yet another of the Victory's impressive succession of premieres. Walch's play may have a blemish or two, but its fierce, funny feminist message is delivered in high style in this well-paced and entertaining production.
=====
'The End of Sex'
where: Big Victory Theatre, 3326 W. Victory Blvd., Burbank
When: 8 p.m. Fridays-Saturdays, 4 p.m. Sundays, through June 2
Info: (818) 841-5421, thevictorytheatrecenter.org
Running time: 1 hour, 50 minutes
The best way to support coverage of local theater is to show demand for the material: Read our news and reviews as latimes.com/arts.
---
From the Oscars to the Emmys.
Get the Envelope newsletter for exclusive awards season coverage, behind-the-scenes stories from the Envelope podcast and columnist Glenn Whipp's must-read analysis.
You may occasionally receive promotional content from the Los Angeles Times.