Review: Boni B. Alvarez's remarkable 'Fixed' by Echo Theater: Love, and gender roles, tested by naysayers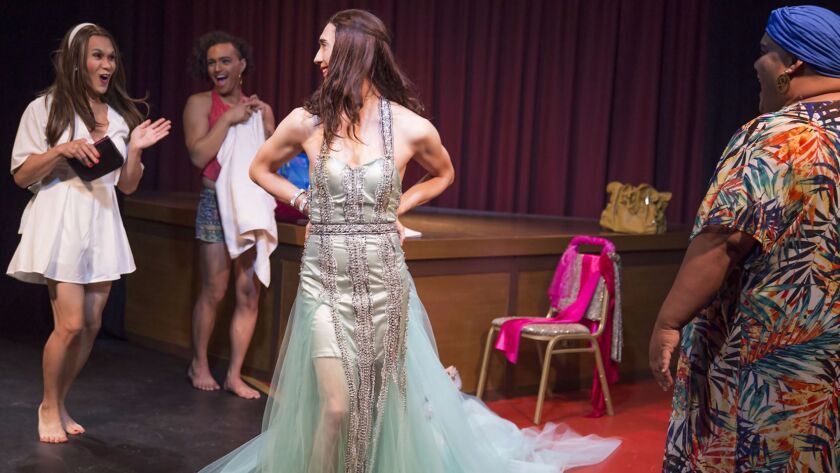 The remarkable new play "Fixed" is set in a drag ball culture where "realness" is prized. To an outsider, that might seem an odd word to ascribe to what seems a world of illusion, but to the participants it can be more truthful than the strict gender roles of social conformity.
As entertaining as it is thought-provoking, the play, presented by Echo Theater Company in Atwater Village, percolates with ideas about identity and diversity, conveyed through a tale of two people who might find love if the world would just leave them alone. It's written by a Los Angeles playwright who's headed nowhere but up: Boni B. Alvarez, whose previous plays include "Ruby, Tragically Rotund" and "Dallas Non-Stop."
The piece is inspired by a 1637 Spanish drama by one of the greats of that era — Pedro Calderón de la Barca — called "The Physician of His Own Honor," though that "Othello"-like tale of an honor killing "might be hard to spot at this point," Alvarez said at a recent after-performance talk. The drag balls are the sort recorded in the documentaries "Paris Is Burning" (1990) and "Kiki" (2016) and taking place in L.A. and other cities today.
The story begins at a ball where ethereal figures, diaphanous and sparkling, move like fashion models and bust some serious dance moves. Two of them lift a third, who trails a gauzy train, looking like an angel taking wing.
This heavenly creature is Miracles (Chris Aguila), who works as a cross-dressed masseuse in an L.A. parlor among other young Filipinos and Latinos (Allen Lucky Weaver and Tonatiuh Elizarraraz). The business' no-nonsense mother figure (the playwright, Alvarez, lips pursed into a ferocious frown) is also matriarch of the drag-ball "house" with which the workers perform.
Miracles is in love with the macho yet soulful Mariano (Wade Allain-Marcus), who is often absent.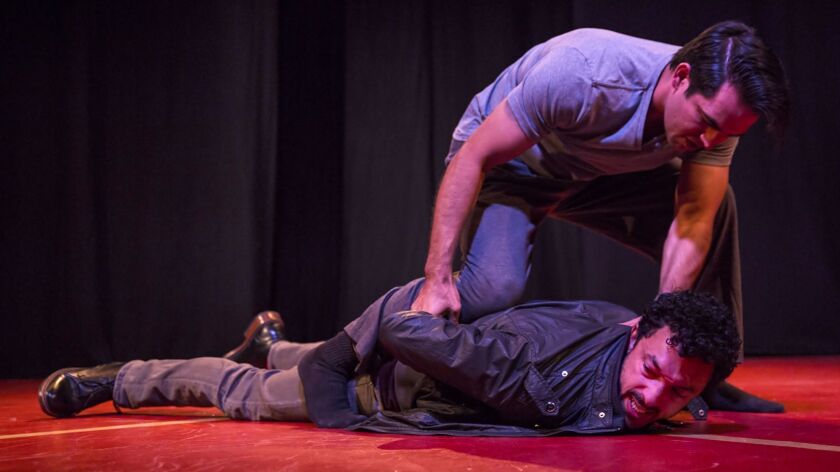 Their relationship is complex, to say the least. Miracles has been seeking gender reassignment because Mariano once said that things would be easier if Miracles were a woman. Whether Mariano meant this literally is not clear, nor is the question of whether Miracles is truly transgender. For his part, Mariano insists he's not gay.
They defy categories, which makes nearly everyone around them nervous.
Seeing how misunderstood they are even among compatriots, we realize how compounded the situation is in the larger world.
A runway extends through the audience, so we never entirely leave the balls, even when the action takes place elsewhere (design by Amanda Knehans). The marvelously detailed clothes (by Michael Mullen) convey volumes about the people wearing them.
Director Rodney To shapes the story with tremendous variety and specificity. His extraordinary cast — every performer filling a role to a T — includes Joseph Valdez, Renee-Marie Brewster, Adrian Gonzalez and Anna Lamadrid, all contributing vivid texture to the secondary plots.
As Miracles and Mariano try to find their way, their situation touches on issues of community, family, honor, self-worth and more. The script reaches wide, and though it doesn't always express itself clearly, it sparks thoughts that keep bubbling up days afterward.
Miracles displays rare courage in pursuing love in no uncertain terms and insisting, "Me and Mariano, that's God's work."
♦ ♦ ♦ ♦ ♦ ♦ ♦ ♦ ♦ ♦
'Fixed'
Where: Echo Theater Company at Atwater Village Theatre, 3269 Casitas Ave., L.A.
When: 8:30 p.m. Mondays, Fridays and Saturdays, 4 p.m. Sundays; ends Oct. 22
Tickets: $20 and $34
Info: (310) 307-3753, www.EchoTheaterCompany.com
Running time: 1 hour, 30 minutes (no intermission)
Twitter: @darylhmiller
MORE THEATER:
The 99-Seat Beat: This week's picks for L.A.'s small-theater scen
He's big in L.A.'s small theaters: Tom Jacobson, master of puzzles
Alex Alpharaoh put his own DACA story onstage
Review: Sharr White's premiere of 'Stupid Kid'
Review: A Noise Within's 'Madwoman of Chaillot'
Review: Playwrights' Arena's 'Billy Boy'
---
UPDATES:
5:10 p.m. Sept. 29: This story has been updated to provide more detail about characters' sexuality.
This story was first published at 9:40 a.m. Sept. 29.
---
Inside the business of entertainment
The Wide Shot brings you news, analysis and insights on everything from streaming wars to production — and what it all means for the future.
You may occasionally receive promotional content from the Los Angeles Times.