College students make musical instruments from trash in the L.A. River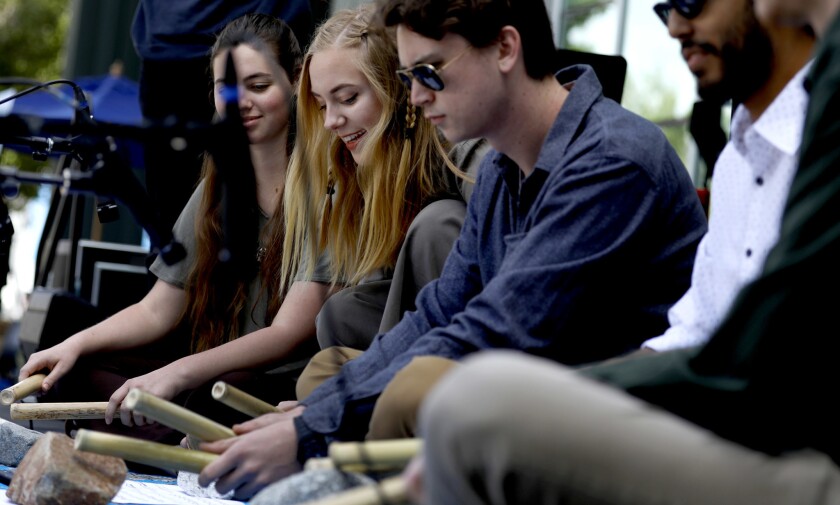 The hills of Griffith Park are lush and green, and a wildflower superbloom is just a day-trip away, but down in the bed of the L.A. River, a different remnant of winter rains lingers: trash.
Clinging to the branches of willow trees and large reeds in the riverbed by Elysian Valley, a.k.a. Frogtown, thousands of strips of plastic bags and tattered clothing flutter in the breeze. When heavy rains carried litter down the storm drain, the water may have continued into the ocean but the trash stayed.
For the last six months, Cal State Northridge students in art, music, anthropology, interior design and dance left their campus studios and rehearsal spaces for occasional trips here. They gathered some of that trash, as well as some of the river's more natural materials, such as rocks and reeds.
Back on campus Friday, those students will play musical instruments made from their scavenging, and they will dance in costumes made from river detritus. It's all part of Future Currents: L.A. River, a daylong festival designed to engage students and visitors with the river through creative projects. Presented by the Younes and Soraya Nazarian Center for the Performing Arts, the free event will take place throughout the center's indoor and outdoor spaces on the CSUN campus.
Future Currents is a part of Soraya Executive Director Thor Steingraber's desire for sustainability-themed programming. He and his team turned to Brooklyn eco-artist and choreographer Lynn Neuman and Los Angeles artist and river advocate Steve Appleton.
CASTING COUP: A 'Madama Butterfly' like never before »
Appleton owns a small plot along the river in Frogtown. There he runs a kayak touring business and creates artworks out of trash and natural materials collected from the riverbed.
One material that Appleton has worked with a great deal recently is Arundo donax, a tall, bamboo-like reed that is native to the Middle East and Africa. Appleton has watched the Army Corps of Engineers wage a battle with the invasive species, trying to clear it out so it doesn't impede the flow of the river.
Whether and how to remove Arundo donax is just one of the many complex questions engineers, city planners and environmentalists face as they contemplate the river's future.
"When we first started working on this project, people in the various river communities told us that there can be a lot of contention from opposing sides of different issues surrounding the river," Steingraber said. "But I told them I think artists have a unique opportunity to be agnostic about those issues. We can do a project that brings attention to the river without taking sides, without being pro-development or anti-development, for example."
And so CSUN students have gotten to know Arundo donax, learning about its history. For millenniums the reed has been used to make music. The ney, a popular Persian, Turkish and Arabic end-blown flute and one of the world's oldest instruments, is made from carefully treated and prepared Arundo donax. Western reed instruments like the oboe and clarinet also rely on the uniquely structured material.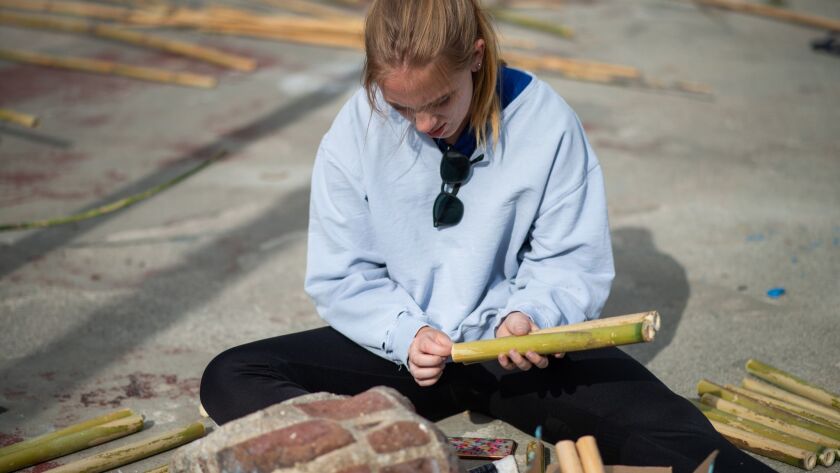 GMCLA: Why the Gay Men's Chorus of L.A. is singing for survival »
With the help of a local ney player and an ethnomusicologist, the students have built their own original percussion and wind instruments — drums, "bonkers," pan flutes and more — from reeds they gathered with Appleton and Neuman. Using Arundo donax instruments, they will perform a work composed by percussion student Genevieve Hilburn. Festival attendees can make their own reed instruments as well.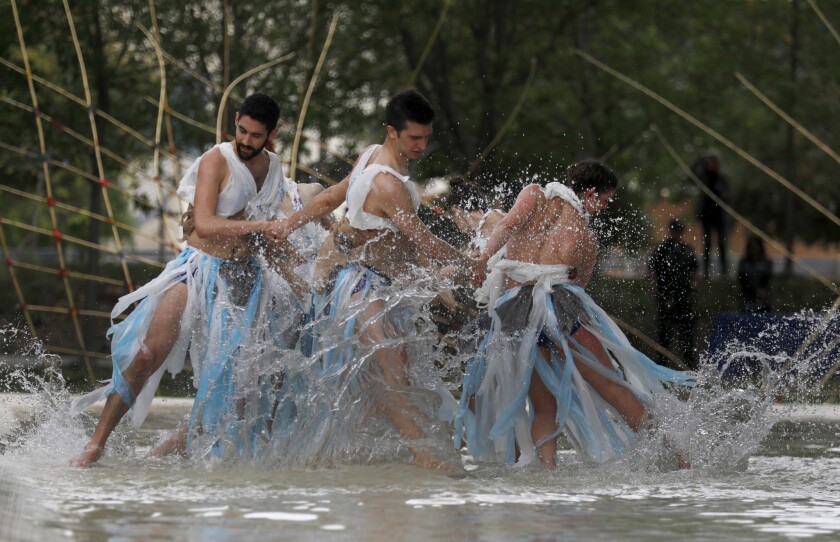 Wearing costumes made out of plastic bags, six dancers from Neuman's Artichoke Dance Company will premiere "Visioning Bodies," a roving, 45-minute work designed to move across the Soraya campus.
"We're used to navigating crowds," Neuman said of her dance company, which is known for site-specific eco-choreography and activism. At the Soraya, her dancers will perform at a grove of trees, a fountain and Appleton's "Alluvial Wave," a gently bending, woven sculpture made from stalks held together by fasteners that were 3-D printed using plastic from the river.
Neuman said her artistic engagement with the river is designed to draw attention not only to the river itself, but also to how decisions about its future are made, and who makes them.
"A lot of times a big engineering solution that tackles one or two problems is what gets implemented, hence the reason the L.A. River looks the way it looks now," Neuman said. "With this piece I want to look at things more holistically and creatively. 'Visioning Bodies' does some modeling of things I've observed. There are causes and effects in the river. You'll see that mirrored through our movements. One dancer's movement has an effect on the rest of the group."
Like the river, "Visioning Bodies" is organic, flowing and changing. Neuman's advice to anyone attending the Friday performances: "Wear comfortable shoes," she said, "because you're not going to be sitting down."
♦ ♦ ♦ ♦ ♦ ♦ ♦ ♦ ♦ ♦
Future Currents: L.A. River
Where: The Soraya, 18111 Nordhoff St., Northridge
When: "Liquid State" performed with Arundo donax instruments at 11 a.m. and 2 p.m.; "Visioning Bodies" performed at 11:30 a.m. and 4:30 p.m.
Admission: Free
Info: thesoraya.org
Support our coverage of local artists and the local arts scene by becoming a digital subscriber.
See all of our latest arts news and reviews at latimes.com/arts.
---
From the Oscars to the Emmys.
Get the Envelope newsletter for exclusive awards season coverage, behind-the-scenes stories from the Envelope podcast and columnist Glenn Whipp's must-read analysis.
You may occasionally receive promotional content from the Los Angeles Times.