Why the Gay Men's Chorus of L.A. is singing for survival
The Gay Men's Chorus of Los Angeles is facing a financial crisis, and a recent sexual misconduct controversy has only made problems worse.
Gary Hayashi thought that if he could just get close enough to God, he would be cured. Hayashi was not like other men he knew at church, and he certainly wasn't like his older brother, whom he considered the embodiment of testosterone. As a child, Hayashi was artistic, he cried easily and he gravitated toward "shiny, pretty things."
That made his parents nervous, so when he was 6 and they discovered his singing voice, they were relieved. They guided him toward the church choir, and there he stayed, cultivating a life led in service of God.
In graduate school at Fuller Theological Seminary in Pasadena, Hayashi met a man who had started a Christian ministry that specialized in reparative therapy. The goal? To set gay people straight. Hayashi joined the staff and traveled the world as a speaker for the cause. Seven years later, when he still secretly yearned for relationships with men, he made the painful decision to leave the ministry and come out. He was 42.
Alone, adrift and shunned by his former friends, Hayashi found his way to the Gay Men's Chorus of Los Angeles, the oldest LGBTQ arts organization in the city. The first concert he performed in was titled "Songs of Pride and Joy."
"For the first time, I was in a group of people where I didn't have to pretend to be somebody else," Hayashi recalled during a recent GMCLA rehearsal at First Congregational Church of Los Angeles. "I could sing my truth, I could live out loud."
For 40 years GMCLA has been that safe space for hundreds of gay men. It has also been a place of welcome for their allies, friends and families, as well as a champion of social justice for the LGBTQ community. But now, as the chorus prepares for its 40th anniversary spring show Saturday and Sunday at the Alex Theatre in Glendale, it faces a budget deficit so severe, board chairman Steve Holzer said the group is in real danger of going bankrupt.
Fiscal mismanagement, as well as recent sexual misconduct allegations leveled at former board chairman and former West Hollywood Mayor John Duran (accusations that Duran denies), have left the chorus on life support, Holzer said. Leaders would not speculate on the ramifications of insolvency, but some members fear it could lead to the dissolution of the chorus.
For the first time, I was in a group of people where I didn't have to pretend to be somebody else.
— Gary Hayashi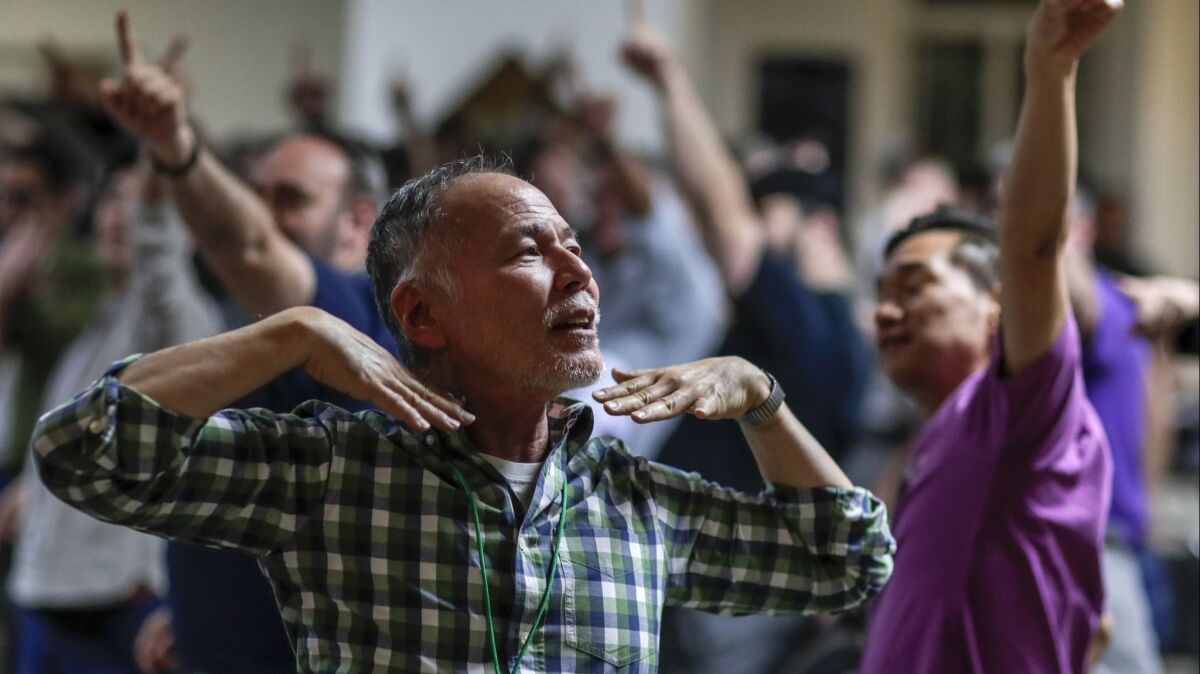 A safe space shaken to its core
The trouble became public in February when the allegations of inappropriate touching and comments by Duran were reported in The Times and elsewhere. Some chorus members protested the handling of the complaints and accused leadership of suppressing allegations for months, if not years. By the end of February, executive director Jonathan Weedman's contract had not been renewed, Duran had stepped aside as board chairman and several high-profile board members resigned, including prominent LGBTQ activist and philanthropist Ariadne Getty.
The bad press accelerated the troubled finances of the group, which had expanded staff and increased its annual budget to about $2 million. Tax filings, however, show total revenue of about $1.36 million in 2017, a 21% decrease from the previous year. Expenses for 2017 were about $1.59 million, sending the chorus into the red. The group's deficit, Holzer said, has grown to about $400,000.
"We are in a world of hurt, and we are struggling to stay alive," Holzer said. "We had a couple of concerts that didn't sell well, we lost some subscribers and we made some bad financial decisions. Pretty soon we found ourselves unable to dig out of the mountain of debt that we are in."
The chorus has reduced its paid staff, dramatically cut production costs and promised to settle debts to vendors as quickly as possible, but the misconduct allegations have presented other challenges. They forced the chorus to look inward, examining what kinds of words and behaviors are appropriate among close to 250 members, all volunteers, ranging in age from 21 to 75, representing a rainbow of ethnicities and races and touching every rung on the socio-economic ladder.
We are in a world of hurt, and we are struggling to stay alive.
— Steve Holzer, board chairman
Duran, 59, asserted that he was part of a generation of gay men who defined itself through a hard-fought sense of freedom as well as a camaraderie in which bawdy, sexual humor was not only accepted, it was celebrated. Some younger members, however, did not feel the same and expected a code of conduct similar to what you might find at other nonprofit organizations. Whereas the first GMCLA members united against homophobia in the outside world, current members found themselves divided within their own ranks.
The wounds are still fresh, and triage is ongoing, Holzer said. GMCLA has recruited an attorney who has conducted sexual harassment training for the Los Angeles LGBT Center to do the same for the chorus, and a member task force is working on solidifying policies and procedures to prevent future upset.
The group also secured an interim executive director, who is working free of charge: Tony-nominated producer Lou Spisto, a former GMCLA board member who was executive director of the Pacific Symphony in Orange County and, as executive producer at the Old Globe in San Diego, oversaw an operating budget that grew to $20 million from $14 million. Spisto raised $75,000 for GMCLA in his first week on the job.
In the meantime, the chorus has a newly awakened sense of purpose: survival. This is a group of men accustomed to singing for their lives.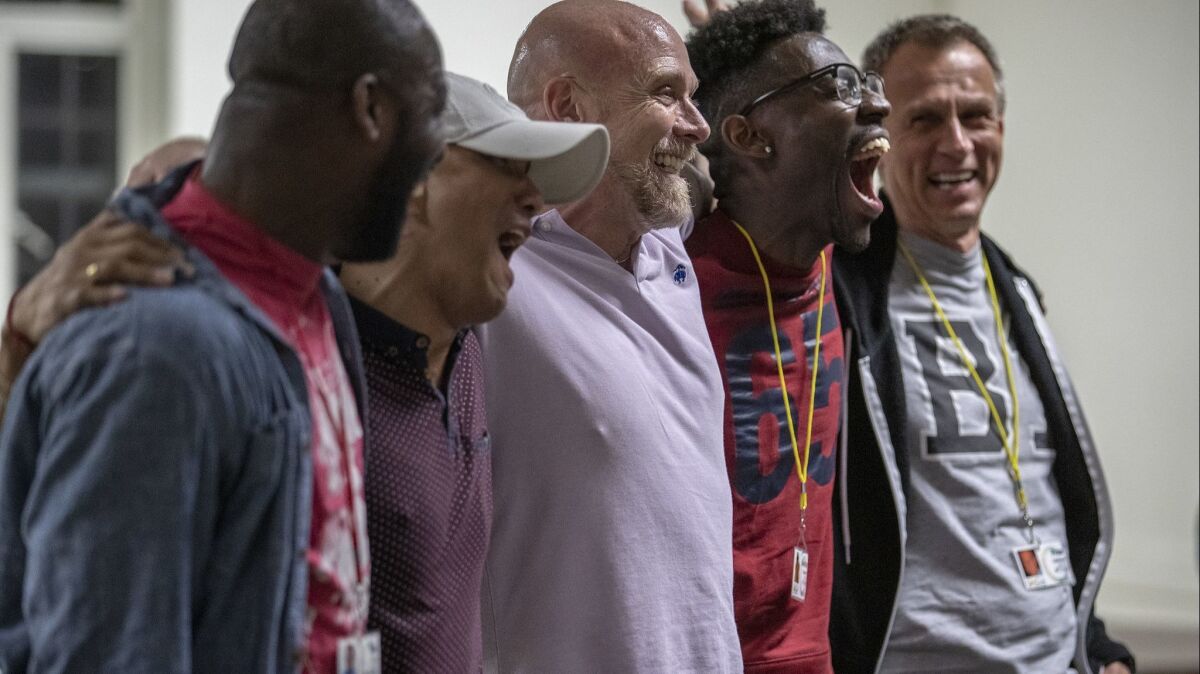 'There were funeral homes that would not even process the remains'
GMCLA was founded in 1979. A flier went out, and 99 men showed up that first night. During the height of AIDS in the 1980s, GMCLA lost a member a week to the virus. In total, 150 brothers would die. During their final days, the chorus was often the only place they could turn for love and support.
"At one point, because we were singing at so many memorials, we unfortunately got the nickname of the AIDS chorus," remembered Kevin Jones, 64, a retired city planner who joined in 1986. "There were funeral homes that would not even process the remains because of fear and lack of knowledge."
Men would show up at rehearsal with IV stands and oxygen tanks. When they became too weak to practice, chorus members would sing bedside in the hospital and later at the funeral.
We are here, and we are part of you. We are your sons, your daughters, your grandparents.
— Kevin Jones
Since then, GMCLA has provided crucial visibility for gay men, Jones said. It taps into the universal joy of music to show the world that members of the LGBTQ community are just like everyone else and not an "other" to be feared, hated or victimized.
Performing sends a message of unity: "We are here, and we are part of you," Jones said. "We are your sons, your daughters, your grandparents. We're your friends, we're your bosses, we're your employees."
In the 32 years that Jones has been with the chorus, he has seen much change. In the '80s and early '90s, Jones remembered, some men stepped out of group photos for fear they might be fired from their jobs.
He came of age in a world where it was unthinkable that he might one day marry his partner, and yet he is married. The day the Supreme Court made gay marriage the law of the land, GMCLA was onstage leading the celebration in West Hollywood Park.
When 49 people were killed at Pulse nightclub in Orlando, GMCLA sang with Lady Gaga on the steps of City Hall. The chorus has lent its voice to the two Women's Marches in downtown L.A., and it sang at the first Lakers pride night last October.
Its greatest, most meaningful contribution, though, just might be in the classroom.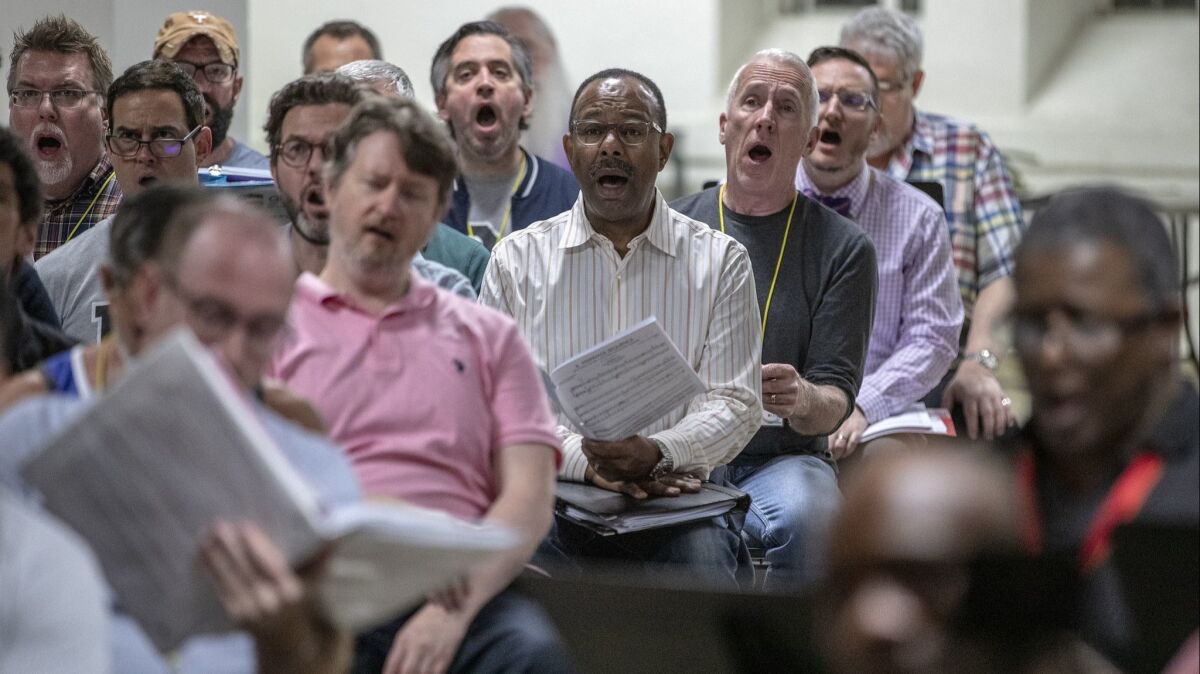 'It gets better'
Sean Cruz had just graduated from college and was living in Orange County when he came across a YouTube video that had more than a million views. It was GMCLA singing "True Colors" by Cyndi Lauper. When the five-minute video was over, Cruz was bawling.
"When I saw that video, it was like seeing family members I had never met before," said Cruz, 31, who joined GMCLA in 2013. "But I could see in their eyes, and hear in their voices, that they are just like me."
Cruz is a first-generation Filipino who attended Catholic school from kindergarten through 12th grade. He is grateful for the good education but called the experience of being gay and Catholic "tumultuous."
"I felt depressed and isolated, like I couldn't talk to anybody," the gregarious computer tech and actor said.
I could see in their eyes, and hear in their voices, that they are just like me.
— Sean Cruz
He talks to as many teens as he can through a GMCLA initiative called the Alive Music Project. In its 10th year, the project sends chorus members to L.A.-area high schools and middle schools to sing and share stories about their personal journeys. Kids are invited to anonymously write questions that members of the chorus answer.
"I go to those Alive Music Project events to be the role model I didn't have," Cruz said. "To be the face for those kids who don't have anybody else to talk to, so they can see someone like me and know that it gets better."
Or as Holzer, 52, is fond of saying: "I can't tell you what my life would have been like if 40 gay men had come to my high school in Yuma, Arizona, when I was 16 years old. But my life would have been very different."
The program has reached more than 50,000 young people, and Holzer said when the chorus gets back on its feet financially, he would like to see the program expanded across the state and to other choruses around the country.
Zach Johnson, a recent graduate from Crescenta Valley High School in La Crescenta who is a freshman at Massachusetts Institute of Technology in Boston, was a senior in high school when chorus members visited his school.
"The work they do is so important because it really gives young people the opportunity to see what it's like to be out and proud," said Johnson, who came out as a sophomore in high school. "If I had seen the Alive Music Project during my freshman year, it would have made me so much more comfortable in my own skin."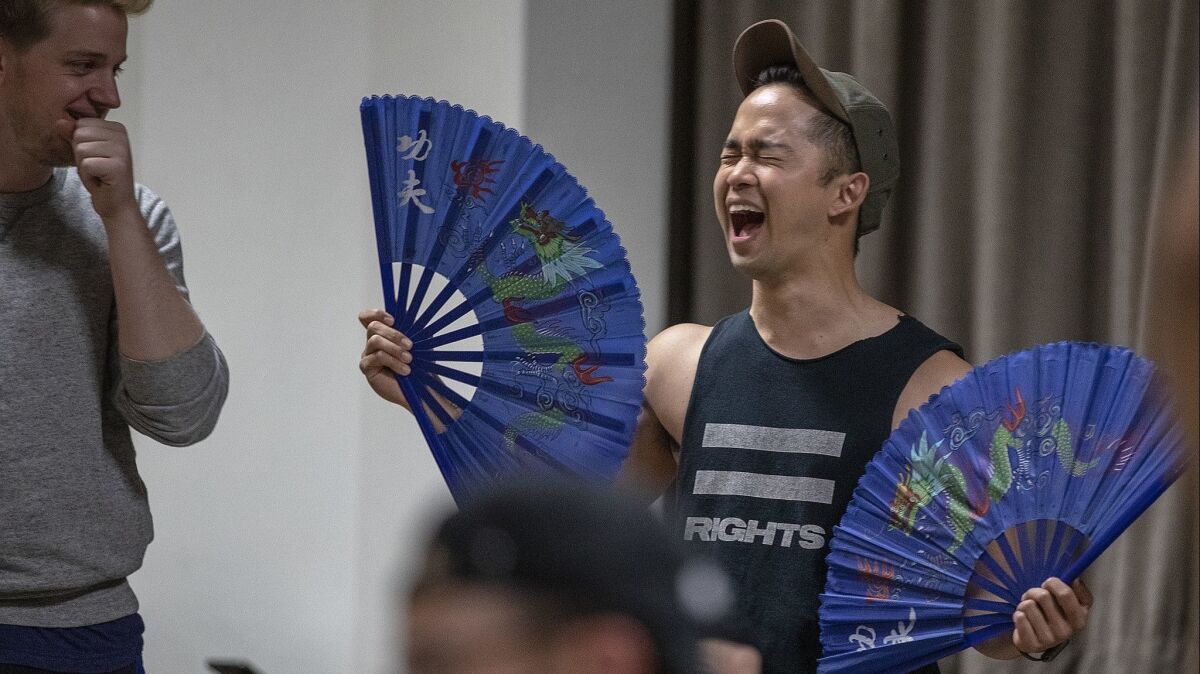 'Your true colors are beautiful, like a rainbow'
During the second-to-last rehearsal before the upcoming spring concert, "Turn Back Time," 180 chorus members run through a 20-song program loaded with hits including a Madonna mash-up of "Vogue" and "Express Yourself."
"It wouldn't be the Gay Men's Chorus without a Madonna medley," Holzer joked as members passed by, patting him on the back and dipping in for the occasional hug.
The mood is light, upbeat and convivial as artistic director Gavin Thrasher enthusiastically leads the men through the set list, stopping to adjust their pitch here and there, to moderate their timing, to have them pay attention to the delivery of certain words.
Thrasher is a straight man raised by lesbian mothers. He too has found community with the chorus.
"We are a chorus because that unites us," Thrasher said. "But it's a community first and foremost; and there is a different level of communication, care and love that can happen in that room through music."
Toward the end of rehearsal, Thrasher conducts the chorus as it sings the song that touched Cruz as a young man yearning to live his truth.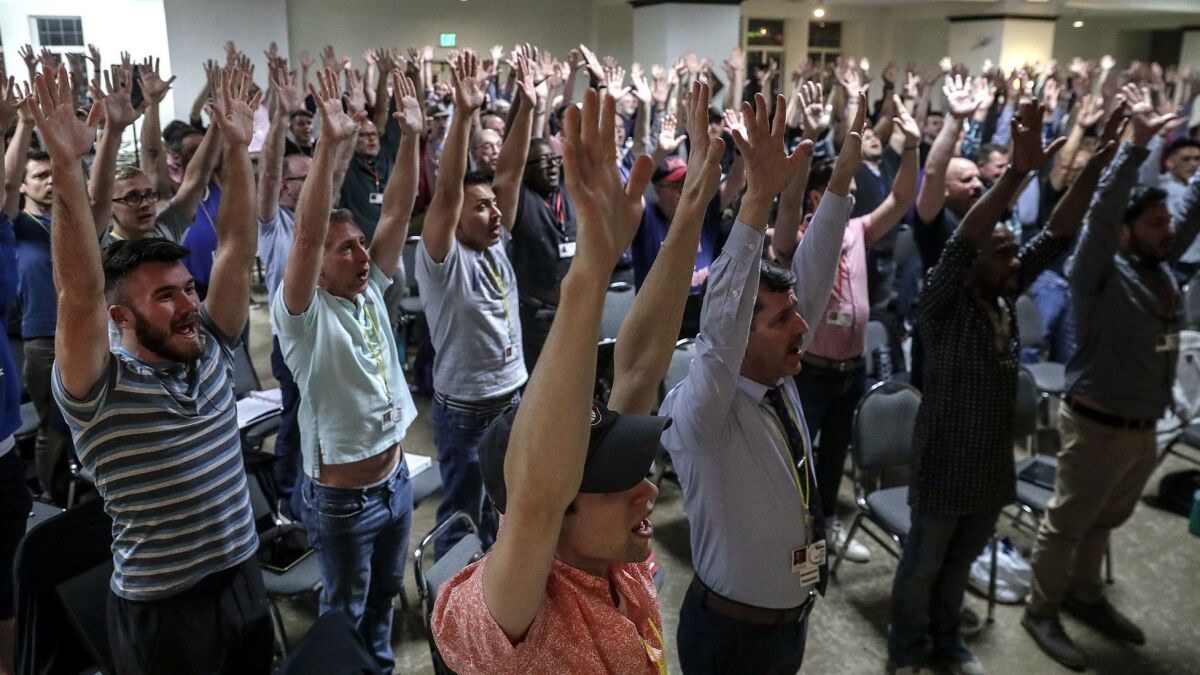 One-hundred-and-eighty voices rise. The sound is sweet and solemn, informed in equal parts by pain, loss, love and joy. And the words, sung by these men, on this night, take on new life and new meaning:
I see your true colors/ And that's why I love you/ So don't be afraid to let them show/ Your true colors/ True colors are beautiful/ Like a rainbow.
As the men sing, Cruz sits at the edge of the stage, leaning his head on a friend's shoulder; his friend loops his arm around Cruz in return. The gesture is easy. It is kind. Life has not always been that way.
♦ ♦ ♦ ♦ ♦ ♦ ♦ ♦ ♦ ♦
'Turn Back Time: The Best of GMCLA'
Where: Alex Theatre, 216 N. Brand Blvd., Glendale
When: 8 p.m. Saturday; 2 p.m. Sunday
Tickets: $20-$90
Info: gmcla.org
Support our coverage of local artists and the local arts scene by becoming a digital subscriber.
See all of our latest arts news and reviews at latimes.com/arts.
---
Get our daily Entertainment newsletter
Get the day's top stories on Hollywood, film, television, music, arts, culture and more.
You may occasionally receive promotional content from the Los Angeles Times.