At the Gay Men's Chorus of L.A., accusations of misconduct and a leader departing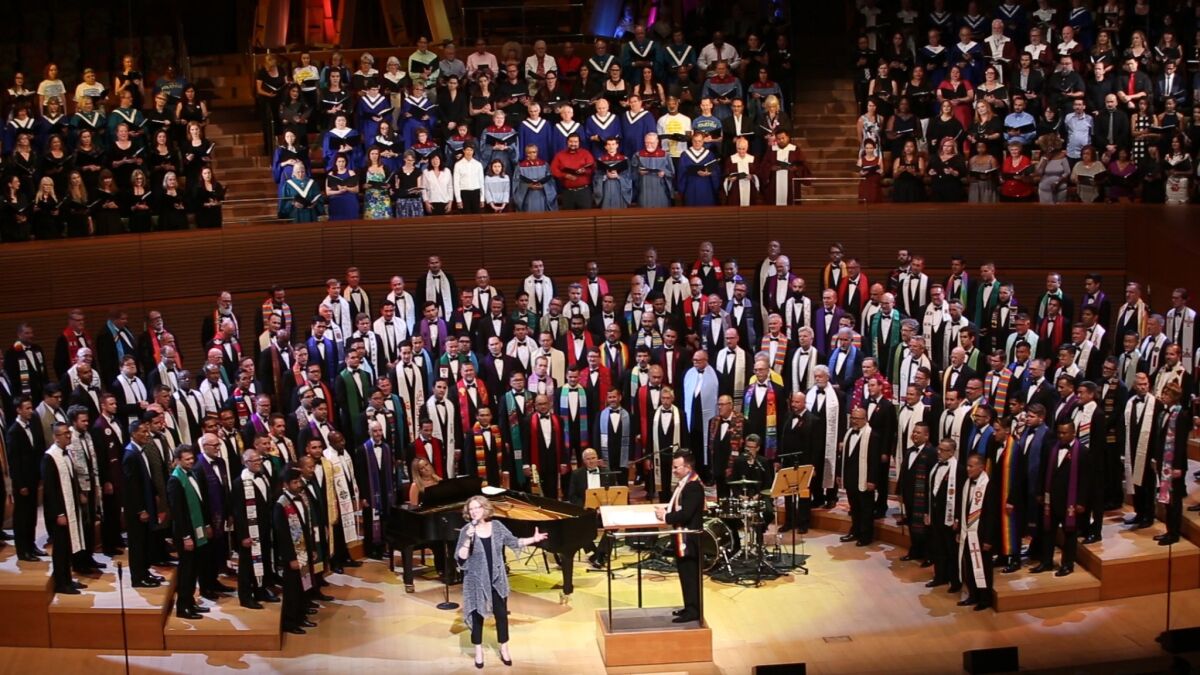 The Gay Men's Chorus of Los Angeles told its members Monday that longtime board chairman and major fundraiser John Duran will step down from his post at the end of the season — a change that comes amid allegations of sexual harassment and misconduct.
Duran, who also is mayor of West Hollywood, denied any wrongdoing and said that after 20 years with the chorus, he was planning to leave anyway. But, he said, the "toxic" climate within the organization spurred by "false allegations" contributed to his decision to step down this summer.
In interviews with The Times, three current or former chorus members accused Duran of inappropriate touching and comments. These allegations, they said, were reported to the chorus membership committee, which handles internal complaints, but chorus leadership did not follow up.
Brian Phillip Nichoalds, who has sung with the chorus since 2014, said Duran slipped his hand inside Nichoalds' waistband and made sexually inappropriate comments.
Nichoalds said that when he was elected to the membership committee, he was made aware of other alleged incidents of misconduct by Duran. Nichoalds said he believes no action was taken.
Joey Firoben, who sang with the chorus for three years, said he resigned last year because of sexual harassment. Firoben said he reported two incidents — one alleging that Duran made inappropriate comments and another alleging that a different chorus member groped him multiple times during a dress rehearsal — but that nothing was done.
Firoben said he was vocal about why he was leaving the group and shared his complaint with as many members as he could. "I flat-out told them that I can't support the organization anymore because there is too much sexual misconduct, particularly from leaders of the organization," he said.
Jason Tong said he left the chorus after Duran slipped his hand inside the waistband of his underwear in a changing room before a show — an alleged incident that Tong called "a traumatic and shocking experience." He was critical of chorus leaders, saying they had "supported somebody who wielded power rather than somebody who is vulnerable and needs community."
Duran said he was made aware of only one allegation, Tong's, and an independent investigator found no corroborating evidence to validate the accusation.
This organization is rife with different levels of what people consider acceptable workplace conduct.
— Executive Director Jonathan Weedman
The discord in the chorus, which is celebrating its 40th anniversary and has won accolades for its public service and outreach, particularly to youth, has reached an all-time high, many members said. Internal disputes have become pitched, and the hashtag #ThisIsEnough appears on internal chorus bulletin boards.
The conflict, which first spilled into public view with anonymous allegations on WeHoville.com, has spurred Executive Director Jonathan Weedman to call for mandatory harassment training so that "everybody understands what is OK and what is not."
The chorus, which 2016 tax returns showed operating on revenue of about $1.7 million, has more than 200 members who participate as volunteers and are not paid. Though many see the chorus as a social setting, others expect certain standards of professional behavior.
"This organization is rife with different levels of what people consider acceptable workplace conduct," Weedman said. "It is time for this, and perhaps a bit overdue."
The Times reported in 2016 that a former aide to Duran, then a West Hollywood city councilman, alleged sexual harassment and settled for $500,000 with Duran admitting no wrongdoing.
Weedman said he was aware of only one allegation of misconduct against Duran in the chorus — the one that went to the investigator contracted by the chorus.
"John Duran is one of the finest men I have known in my life," Weedman said.
Board member Diane Abbitt, who is the chair of the chorus' human resources committee, said she knew of only one allegation against Duran in her 10 years with the organization.
"If there was a problem, if there were allegations of sexual harassment, they would have been brought to the board," Abbitt said. "Nobody has even asked me privately to have a discussion about allegations of sexual harassment or misconduct."
The men interviewed by The Times maintain that problems within the chorus have been evident for some time. Firoben said he reported his allegations, asking the membership committee to "please do something with this, and I never heard anything back."
Harassment complaints are supposed to be escalated through the chorus' membership committee, Weedman said. The Times' calls to current committee president Brian Tillis were not returned.
---
Get our L.A. Goes Out newsletter, with the week's best events, to help you explore and experience our city.
You may occasionally receive promotional content from the Los Angeles Times.