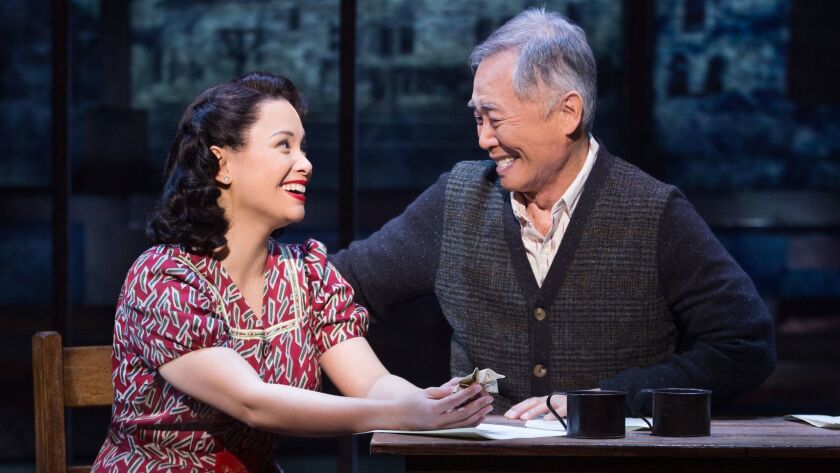 The musical "Allegiance," inspired by the early life of actor George Takei in World War II internment camps, will come to L.A. in 2018, co-producers East West Players and the Japanese American Cultural & Community Center announced Thursday.
The show, with music and lyrics by Jay Kuo and a book by Kuo, Marc Acito and Lorenzo Thione, chronicles the experiences of the Kimura family as they are sent from their home in California to an internment camp in Wyoming after the bombing of Pearl Harbor.
Happy birthday: George Takei is 80 today »
Takei starred in the musical during its 2012 world premiere at the Old Globe Theatre in San Diego, and again when it played at the Longacre Theatre on Broadway for a short run that started in 2015. The cast for the Los Angeles premiere has yet to be announced.
East West Players' artistic director Snehal Desai said he was particularly proud to bring "Allegiance" to L.A.'s Little Tokyo, where the show had its first reading in 2008. East West Players is the largest producing organization of Asian American theater work in the country.
"'Allegiance' sheds light on a dark chapter in American history that's not often spoken about honestly and openly. As we announce this landmark musical, I keep thinking about the Japanese term gaman, a word that means enduring the unbearable with dignity and strength," Desai said in an email. "As we mark the 75th anniversary of 9066 — the executive order that led to the forced incarceration of Japanese Americans — the story of 'Allegiance' serves as a reminder of the high price we asked our fellow Americans to pay in order to 'preserve' our freedom and liberty."
"Allegiance" is scheduled to run from Feb. 21 to April 1, 2018, at the Aratani Theatre in Little Tokyo
"It seems only fitting that this is the venue for audiences to be fully immersed in the history and stories of Japanese Americans, just blocks away from one of the pickup points where they were hauled off to American concentration camps during World War II," Leslie Ito, president of JACCC, said by email in reference to the 880-seat theater. "'Allegiance' is a story for all people to experience, especially at a time when we need to build stronger bonds of understanding with each other for a more peaceful and just world."
Twitter: @jessicagelt
ALSO
Who are these Trump voters? For a thoughtful portrait, turn to playwright Lynn Nottage's 'Sweat'
'Hamilton' musical wins 2016 Pulitzer Prize for drama
What happens when factory jobs disappear? Playwright Lynn Nottage investigates in 'Sweat'
---