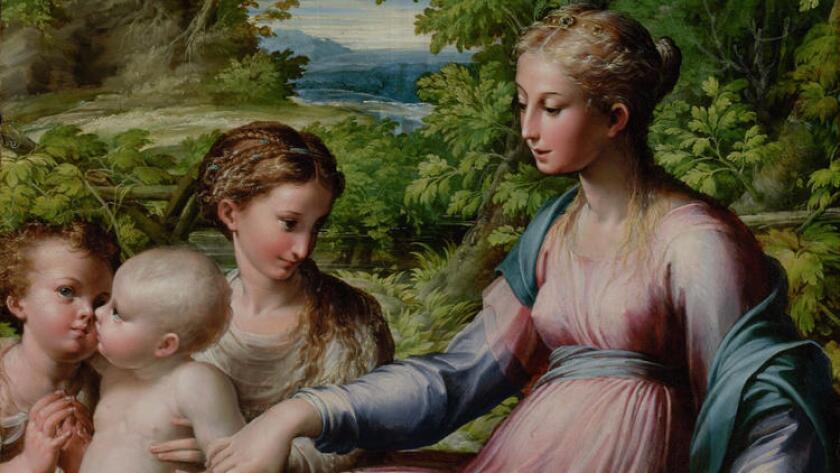 After waiting for more than eight months, the J. Paul Getty Museum in Los Angeles has finalized its purchase of a rare 16th century Parmigianino painting considered a masterwork of the late Renaissance.
Titled "Virgin With Child, St. John the Baptist, and Mary Magdalene," the painting has been in private hands for more than 400 years and in Britain for nearly 250 years.
The Times reported in August that the sale of the painting to the Getty was contingent on whether a British buyer stepped forward to make a competitive offer. An export license allowing the Parmigianino to leave Britain was deferred last February to allow British institutions a chance to bid for the work, but the deferral expired Friday. The National Gallery of London, which has shown the painting, considered a purchase but ultimately decided against it.
Art News reported that the painting (dating from around 1530 to 1540) was sold via Sotheby's by the Dent-Brocklehurst family of Sudeley Castle, Gloucestershire. The publication put the value of the painting at more than $31 million.
In an interview last year with The Times, Getty Museum Director Timothy Potts called the Parmigianino "one of the few late Renaissance paintings still in private hands. It's in fantastic condition, which is so rare for this period."
"Virgin With Child, St. John the Baptist, and Mary Magdalene," is the Getty's first painting by Parmigianino. The museum said it hopes to put the piece on view with other 16th century Italian works but provided no specific timeline.
ALSO:
Getty Museum aims to acquire 16th century Parmigianino painting
Donald Trump Jr. asked, the NEA answered: No funds went to Public Theatre's 'Julius Caesar'
Ben Platt to young people: 'The things that make you strange are the things that make you powerful'
---