ICA LA: A sneak peek inside downtown's new art museum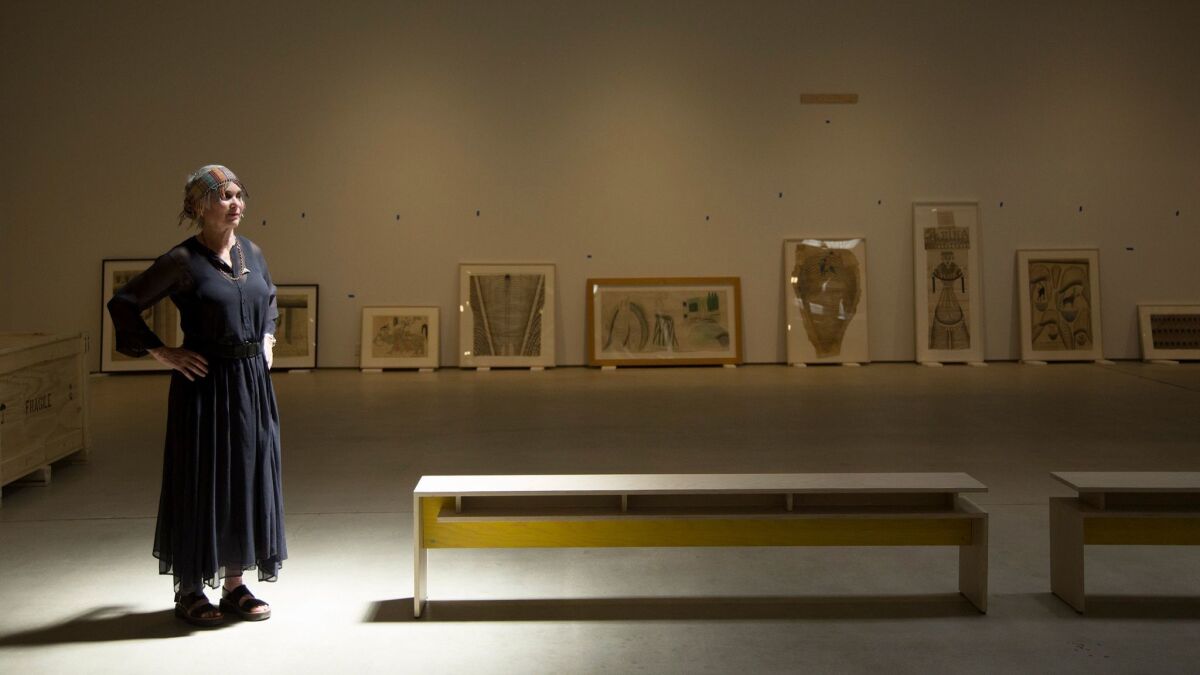 The electric-yellow facade of the soon-to-debut Institute of Contemporary Art, Los Angeles, has brought a bolt of color — not to mention some action — to an industrial pocket of the downtown Arts District. This afternoon, a crew is digging in the courtyard, filling the air with sand, while museum workers stream in and out of a temporary side entrance.
Inside the former warehouse, a scissor lift cuts through the unfinished lobby, sharp with the smell of fresh paint, while workers configure custom furniture and pry open crates of art.
"Just look at this. Isn't it wild?" museum Director Elsa Longhauser says, breathy. She languidly spins a quarter turn, taking in the view. "It's really a moment."
After a journey of more than two years, the Santa Monica Museum of Art, once in the Bergamot Station arts complex, will open to the public Sept. 9 as ICA LA. Longhauser leads The Times on an early tour of the building, designed by Kulapat Yantrasast of the Culver City firm wHY. The inaugural exhibition features the late Mexican outsider artist Martín Ramírez in the main gallery, an airy space with a double bow truss ceiling; a project room will have a sculptural installation by New York artist Abigail DeVille, and the courtyard will have a three-dimensional painting by L.A. artist Sarah Cain. Opening weekend activities include tours in Spanish and English and a musical performance by the L.A.-based Los Jornaleros del Norte (The Day Laborers of the North).
Given all this activity, ICA LA's signature color, that electric yellow, seems especially fitting.
"We want this to be an active space, crackling with energy," Longhauser says. "This is such a vibrant urban community, and we're part of the streetscape."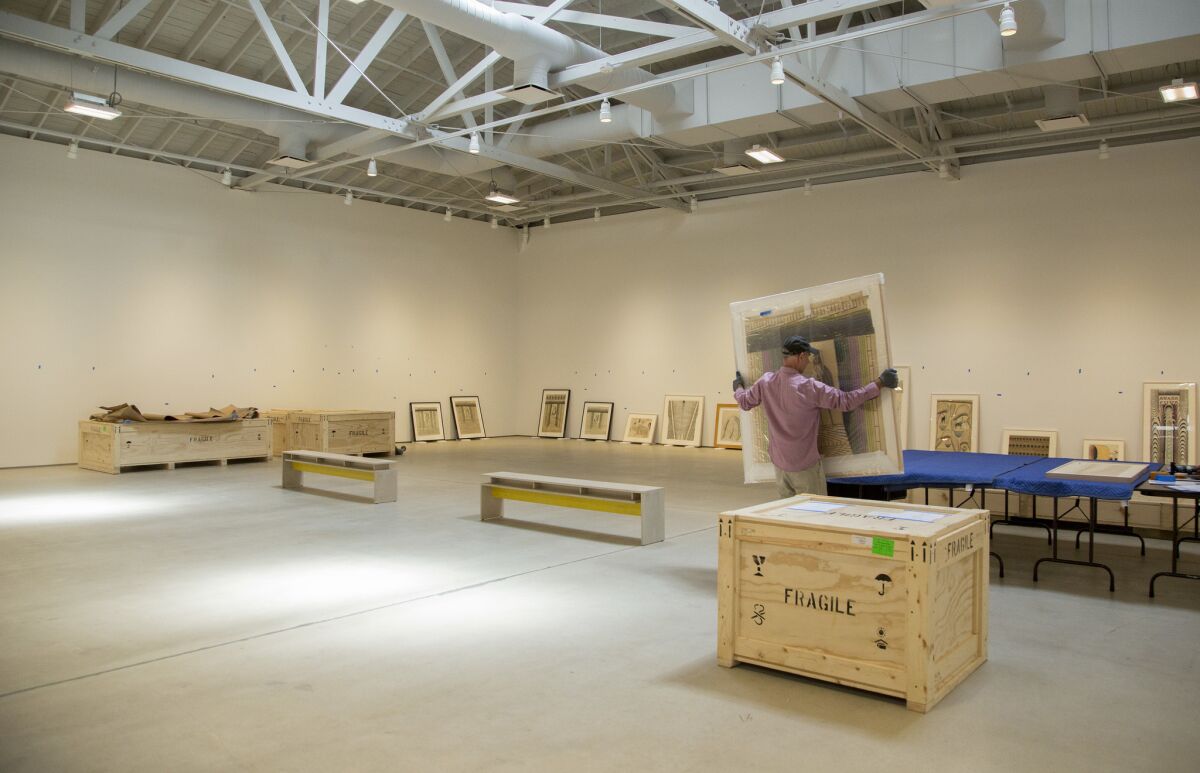 The free institution is the newest addition to Los Angeles' rapidly expanding museum landscape. The Broad opened in late 2015 across the street from downtown's Museum of Contemporary Art. The Main Museum, also downtown, debuted quietly in October. The Marciano Art Foundation opened this May in a former Masonic temple on Wilshire Boulevard near Koreatown. And the future looks even more culturally crowded: In Exposition Park, George Lucas' $1-billion Museum of Narrative Art is aiming for a 2021 debut. The Los Angeles County Museum of Art's $600-million makeover is scheduled to break ground next year.
And that doesn't include the relatively new Hauser & Wirth gallery, which is museum-like in its size and ambition, or the Hammer Museum, which this year announced its own expansion on the Westside.
But how much contemporary art can Los Angeles sustain before its institutions begin chipping away at one another's audiences?
"I don't think you can have too many contemporary art institutions," Longhauser says. "All of the institutions in the neighborhood are different. Here you get a very active, ever-changing, very up-to-date curatorial perspective that can also be experimental. It's much more intimate.
"We're a Kunsthalle," she adds, citing the German word for art hall, the kind of flexible exhibition space popular in Europe. "We don't have a permanent collection of art. We're a collection of ideas."
Longhauser strolls into the main gallery, where Ramírez's framed drawings — psychedelic depictions of train cars, tunnels and cowboys on horses — rest on the ground, waiting to be hung. It's a respite from the lobby hubbub. "Sublime," Longhauser says. She steps into a beam of sunlight under a skylight, surveying the space with glassy eyes, as in disbelief. ICA LA's journey here has been "an intense adventure," she says.
The 33-year-old institution had been at Bergamot Station for 17 years. After disagreements over Bergamot's redevelopment — or lack thereof — and a rent increase, the museum shut its doors in May 2015 and its three remaining employees moved into temporary offices in Century City, calling themselves SMMoA Unbound.
"That gave us time to think, to plan, to determine how to go forward," Longhauser says.
It retained about half its board members, she says. The organization began searching for a new home and, as it wasn't tethered to Santa Monica anymore, a new identity. New board member Yuval Bar-Zemer of Linear City Development brought the 12,700-square-foot downtown warehouse space to Longhauser's attention and the newly named ICA LA — staffed up and equipped with a logo by artist Mark Bradford — embarked on a $5-million campaign for building renovations and its first year of operating costs and programming. It's about 2% away from reaching that goal, Longhauser says.
We're in a state right now, politically, where we have to harness as much creative energy and intellectual energy as possible.

— Curator Jamillah James on the political role of artists and curators
Last year, ICA LA hired Jamillah James, an assistant curator from the Hammer who had been a curatorial fellow at the Studio Museum in Harlem before that. As of fall 2018, ICA LA will reflect her full curatorial vision. A primary goal, she says — in addition to engaging the neighborhood and giving shows to local artists who may have been overlooked by L.A.'s cultural institutions — is creating ambitious exhibitions by artists who address today's turbulent political climate.
"We're in a state right now, politically, where we have to harness as much creative energy and intellectual energy as possible to address the issues we're facing collectively. We're sliding backwards in a way that's really alarming in this country right now," James says. "And we need to foreground the smartest and brightest and most creative [people] to push against that. Artists are well positioned to do that with the perspective they offer."
James has 7,500 square feet to work with, almost double the exhibition space of SMMoA. "Martín Ramírez: His Life in Pictures, Another Interpretation," which Longhauser curated before James' arrival, includes about 50 works by the artist, who in 1931 was a migrant laborer in Northern California when he was picked up, placed in a mental institution and diagnosed with schizophrenia. Over about 30 years of institutionalization, he created art on the backs of doctors' reports, examining-table paper, envelopes and crushed paper cups.
"After having been very hastily diagnosed — or misdiagnosed, we don't know, because the doctor didn't speak Spanish and he didn't speak English — in spite of that, or maybe because of the very difficult circumstances under which he lived, he became an artist," Longhauser says.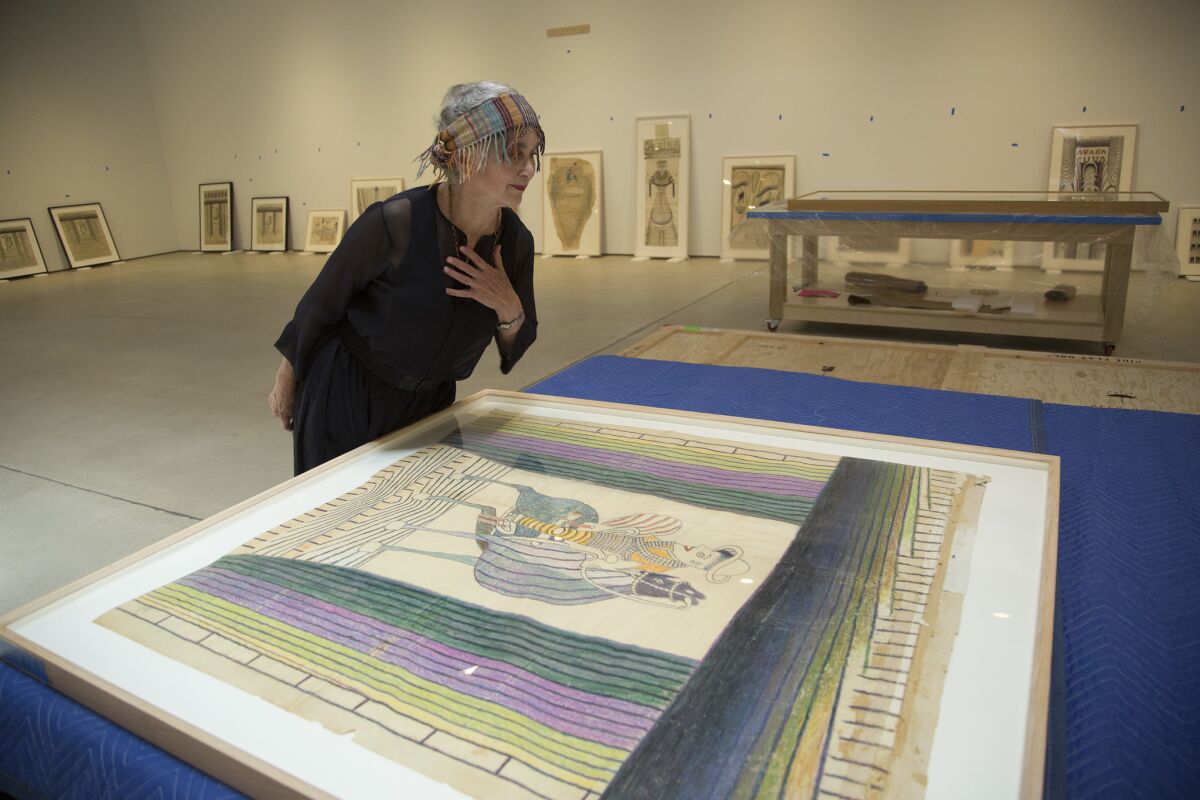 The show, which includes an 18-foot-long, never-before-exhibited scroll that ICA LA had conserved, aims to present Ramírez in a new light. Many works are smaller abstract pieces depicting Ramírez's repetitive line work and giving voice to his creative process. "I wanted to focus on Ramírez the artist," Longhauser says. "It's a show about his evolution and his incredible artistic facility."
It's the artist's first solo show in Southern California and the museum's offering for the Getty's Pacific Standard Time: LA/LA initiative. It's about immigration, a timely topic, and it touches on the power of art to sustain the spirit, something Longhauser says she knows about.
Sitting on a yellow and gray bench, Ramirez's works strewn around her, Longhauser lets out a little sigh.
"Ramirez's determination and his ability to charge through all kinds of difficulties and obstacles in order to fulfill his creative vision, I do feel aligned with that," she says.
"Going from one place in Santa Monica and figuring out how to end with grace and honor and then reinvent yourself and move forward in a new state of evolution — finding a building, getting a lease, raising $5 million, convincing people they should support it — it's a big deal. We did it in a very short time, and it's required a lot of work. But failure was not an option."
♦ ♦ ♦ ♦ ♦ ♦ ♦ ♦ ♦ ♦
ICA-LA
Where: 1717 E. 7th St., L.A.
When: Opening weekend celebration runs 11 a.m.-6 p.m. Sept. 9-10. Ongoing hours: 11 a.m.-7 p.m., Wed. – Fri.; 11 a.m.-6 p.m., Sat.-Sun.
Cost: Free
Info: www.theicala.org
Follow me on Twitter: @debvankin
Get our L.A. Goes Out newsletter, with the week's best events, to help you explore and experience our city.
You may occasionally receive promotional content from the Los Angeles Times.