'Into Action' festival blends art, music and social justice; a 'momentum builder' for sparking activism
It's been nearly a year since Donald Trump's presidential inauguration and the subsequent women's marches last January, when millions took to the streets advocating for women's rights and other social justice issues.
Marking the occasion, "Into Action," a free, nine day festival of art, music and activism, will kick off on Saturday. It brings together more than 200 high profile visual artists from around the U.S., DJs, musicians and more than 100 nonprofits for performances, exhibitions, panel discussions and workshops that will all take place in a downtown Los Angeles warehouse.
The mission? "Illuminate our resilience and take back our hope," organizers say.
"The idea is to take a second and reflect on a year that's left a lot of people feeling insecure, a lot of families feeling like their future is in question — literally whether they're gonna be able to stay in the country or not — there are real threats to families across the country who are feeling great concern," says festival executive producer Yosi Sergant.
During installation of the artworks — which include paintings, prints, video works and large scale sculptural installations — in a 40,000-square foot industrial warehouse on the eastern edge of downtown L.A., one work stands out. The wall collage, by Florida-based artist Derek Gores, is a frenetically-layered mish-mash of 2017 newspaper headlines: "Gun Violence on the Rise." "Fires FBI Chief…" "Sexual Harassment Claims…" "The Wall." "What Does it Mean to be Presidential?" Stepping back from the installation, one phrase emerges from bits of darkened newspaper images: "What A Year."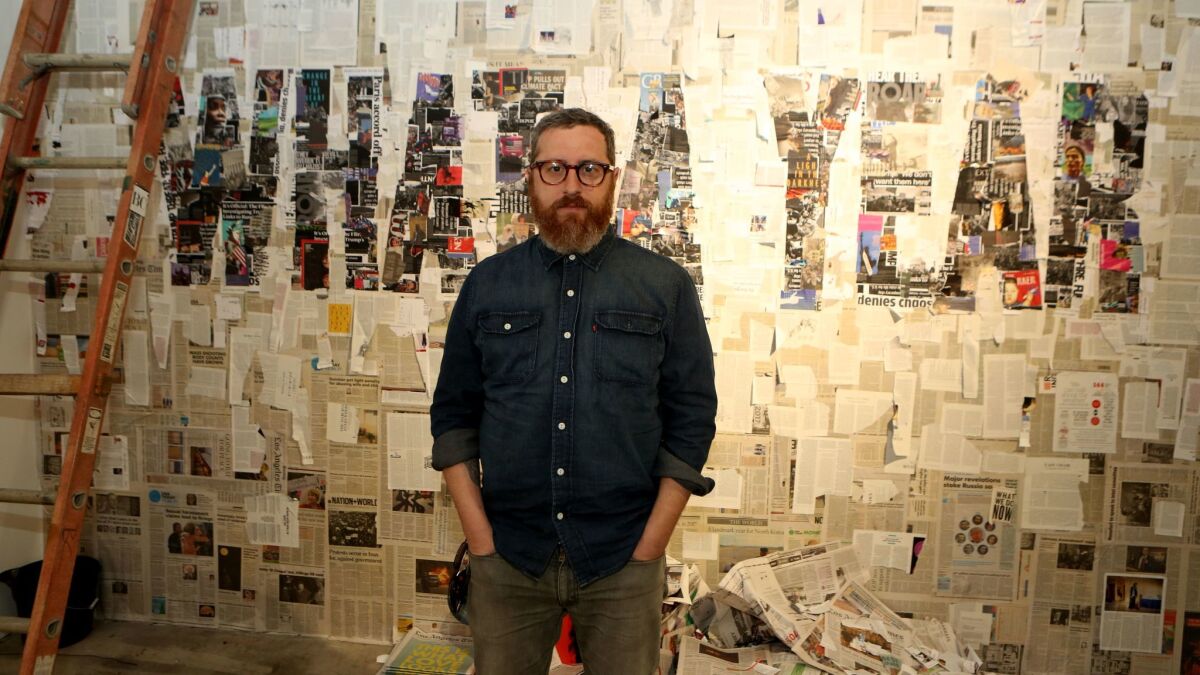 "There's never been a social movement without artists at the tip of the sphere," says Sergant, who co-curated the exhibition with L.A. artist Glenn Kaino, Hank Willis Thomas and Michelle Woo and Oakland-based artist-activist Favianna Rodriguez. Thomas co-founded the artist-run Super PAC for Freedoms, and Woo is its director. "It takes creativity to help us see through our darkest moments, it takes artists to help us make sense of really complex situations and they always have been first to step up to speak truth to power.
"We believe we need to invite them and create space for them in these conversations and dialogues and create a bridge between the artists and the activists and those policy makers who are shaping the laws that govern us," he adds. "I think of this space as a momentum builder."
Artists such as Shepard Fairey, Sam Durant, Robbie Conal, Edgar Arceneaux, Ken Gonzales-Day, Swoon and Cole Sternberg, as well as emerging and student artists, donated or created new works addressing one of six themes: "Justice is a Human Right," "Together We Rise," "No Human is Illegal and No Human Should Feel Unsafe," "This Moment - In History," "Manifesting Solutions" and "Love, Peace, and Empathy." Wall text beside many of the works includes a phone number viewers can text for information on getting involved in causes they care about. Representatives from many of the nonprofits will engage with visitors at an "action hub" adjacent to the exhibition space.
John Legend and Bryan Stevenson, founder and director of the Equal Justice Initiative, will discuss slavery, mass incarceration and criminal justice reform on one panel. Jill Soloway will appear on a panel exploring Hollywood's role in activism. All the while, DJs — who are aligned with panel programming — will perform in the exhibition space. During the "Together We Rise" panel on women's rights, for example, all the DJs will be women. DJ Masha, a "dreamer" originally from Serbia, will perform in conjunction with the event's DACA panel.
But at its core, "Into Action" is a sprawling and energetic art exhibition finely curated around issues of human rights and social justice.
Kate DeCiccio, a Washington, D.C.-based stencil artist, painted a mural on wood board depicting five mothers who lost their sons in police shootings. Another work, by Brooklyn-based artist Jeremy Dean, is a circular sculpture made from 16 salvaged battered folding chairs, all perfectly balanced and upright, that's both heavily industrial and delicate at once.
"One of the most critical questions we're facing right now is 'is community really possible and is democracy possible?'" Dean says. "So there's a tension in this. There's a fragility to it and it does form community, but it's almost at the point of failing. But it's really meant to be a hopeful gesture about the power of community and overcoming cycles of history and weight and gravity and memory."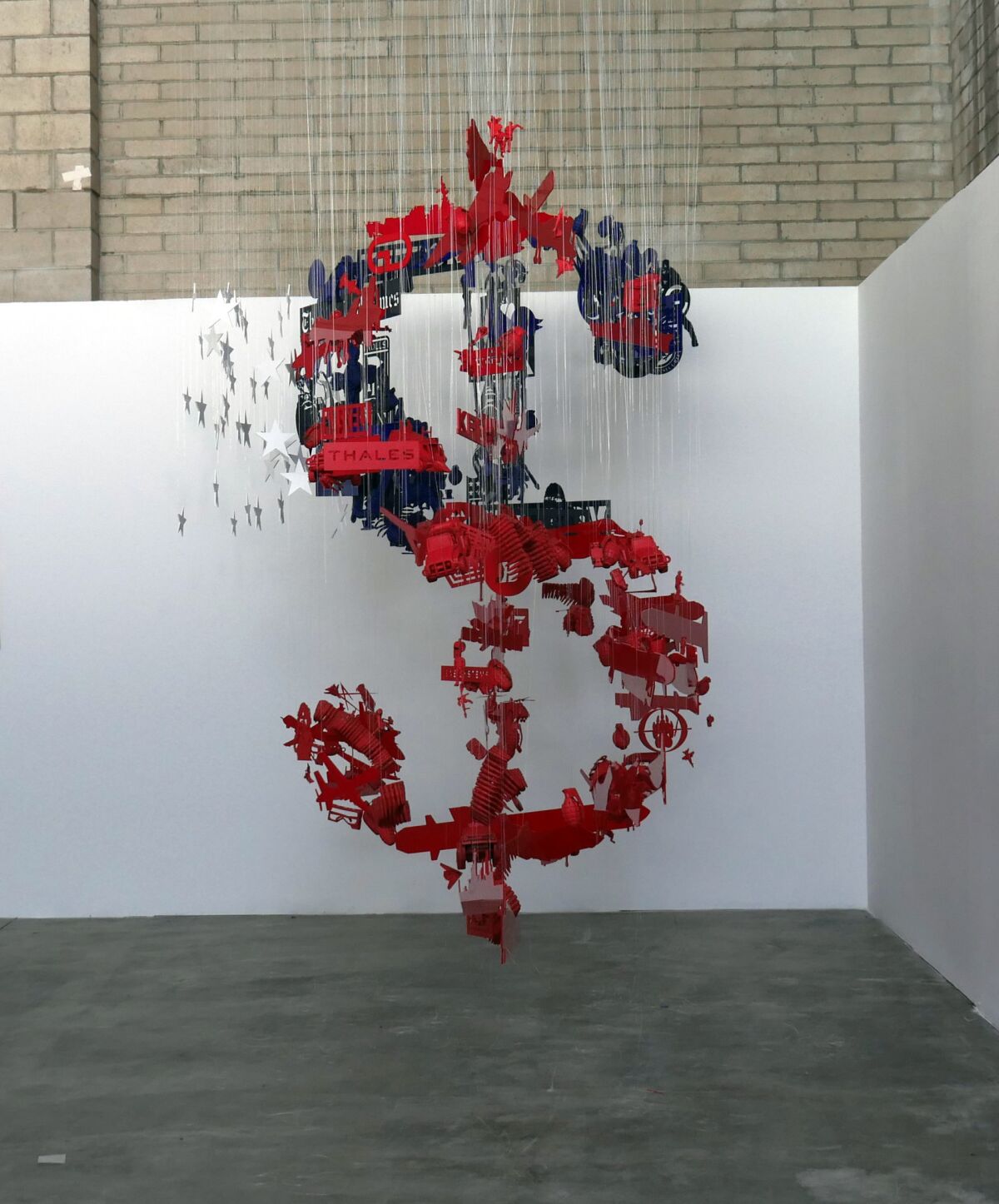 One particularly striking work, by Ohio artist Michael Murphy, is a sculptural installation addressing the military industrial complex or the "war machine," as he puts it. It features dozens of red, white and blue objects – 3D printouts and acrylic laser cutouts of guns and bullets, children's toys, media logos, religious totems -- all hanging from the ceiling like raindrops in a giant mobile.
Tiny stars are scrawled with congressmen's names and the sum of money each has received from defense lobbyists. Looking at the work head on, it appears to be an enormous, three-dimensional American flag. From the side, however, the entire work takes the shape of an American dollar sign.
"I want people to think critically and see the big picture, all the components of the military industrial complex together," Murphy says. "I'm trying to make a vehicle that captures peoples' attention, draws them in, is awe inspiring in some way in its technical trickery, and it forces them to investigate it further. And your brain starts working."
Michele Pred's "Power of the Purse" installation addresses of-the-moment feminist memes. She threads vintage purses with electroluminescent wire, stitching words and phrases such as "Me Too," "Vote," "Nasty Woman" and "Times Up" in blinking neon colors. "They're meant to be small-scale, mobile political billboards," she says. The Berkeley Art Museum acquired one of her installations recently and Hillary Clinton owns a purse, she says.
Detroit artist Ann Lewis' installation, "Shattering," is more interactive.
Viewers are given a white ceramic plate on which they're invited to write something they want to rid themselves or the world of. They're then given safety glasses and ushered into a private chamber, where they can smash the dish to smithereens.
The destroyed bits of dinnerware, marked with the remnants of words such as "Patriarchy" or "KKK," remain shattered on the floor, utterly obliterated.
Which, ultimately, is the point of "Into Action."
When: 10 a.m.-10 p.m., Jan. 13-15; 6 p.m.-10 p.m., Jan. 16-19; 10 a.m.-10 p.m., Jan. 20-21.
Follow me on Twitter: @debvankin
ALSO
What's that shower being wheeled around the city? It's the PST festival for performance art
LACMA and the Autry Museum announce new partnership to share their art
What's next for the Getty's Pacific Standard Time? This critic has an idea
---
Get our L.A. Goes Out newsletter, with the week's best events, to help you explore and experience our city.
You may occasionally receive promotional content from the Los Angeles Times.