What's that shower being wheeled around the city? It's the PST festival for performance art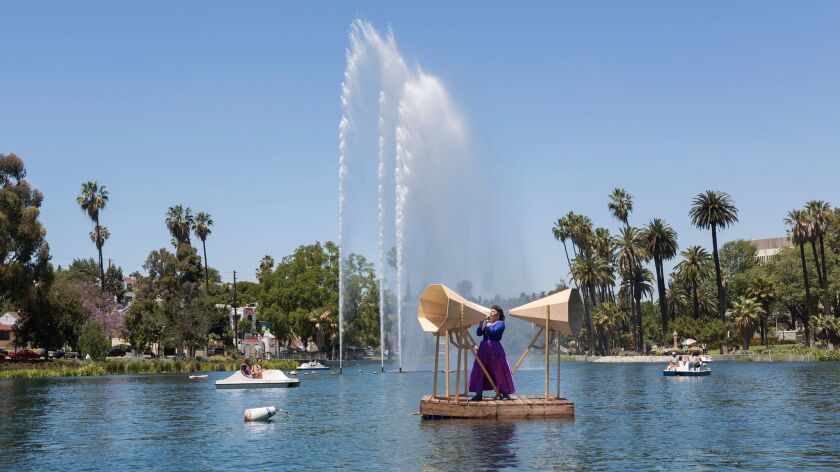 If you see floating stages on Echo Park Lake this weekend with a vocalist crooning a siren song through ginormous wooden bullhorns as brass musicians march on the shore, don't be confused. You've just entered Pacific Standard Time.
About 75 performances by Latin American and Latino artists will be unfurling across Los Angeles starting Jan. 11 as part of Pacific Standard Time Festival: Live Art LA/LA. Organized by CalArts' REDCAT theater, the festival is a performance component of the Getty-funded PST series of exhibitions.
The 11-day festival will feature more than 200 artists, some in intimate happenings at galleries, some in ambitious site-specific installations and others in theatrical events at grand, historic spaces such as downtown L.A.'s 1,000-seat Mayan Theater.
Drawing on a tradition of activist performance-art practices in Latin America and Southern California, many of the artists in the festival will address issues of social justice, often outdoors in free, public spaces the way a protest would unfold, said REDCAT Executive Director Mark Murphy.
"Throughout these pieces, there are very strongly aligned voices that touch on the ideas of feminism, environmental rights, immigration rights, economic justice — those are some of the key issues," Murphy said. "And [they're] often using the forms of community protest or activating town squares — in this case, a variety of parks and plazas — in a celebration of both the diversity and urgency of the voices of artists in this rapidly changing world."
Two events in particular share "a ritualistic element," he said, that addresses the idea of belonging, artistically and culturally.
On Saturday, experimental Mexican vocalist and L.A. performance artist Carmina Escobar will stage "performance interventions" on and around Echo Park Lake. "¡Fiesta Perpetua!" is a version of a piece she staged in May in a commission by the Echo Park arts space Machine Project. The 4-hour-long work draws on Escobar's experiences at ritualistic festivals in Mexico City, where she grew up.
The 40-member Oaxaca-based Banda Filarmónica Maqueos Music will lead seven processions in different spots around the lake, each timed to positions of the sun and lasting about 10 to 15 minutes. As the youth brass musicians play, conducted by 20-year-old Yulissa Maqueos, Escobar will perform surrealistic vocal music on one floating raft, while the movement artist Oguri performs on another.
"The raft positions and performing landing points are all different and designed in triangulation, so the whole space is occupied by the intervention," Escobar said. "The ritualistic aspect is mainly that there's not really a distinction between the audience and the performers. It's all one. So the aim is not only to produce a spectacle, but a spectacle that we share with the community of Echo Park Lake, which is pretty diverse."
The communal nature of the performance, Escobar said, is meant to reveal "the syncretic, crosscultural nature of L.A." The city, she said, "is not a melting pot, because that implies assimilation. It's more about being together in this space with our own cultural references creating a third entity — one in which we all belong."
Raul Baltazar's "Mi Sereno" is an interactive, ritualistic experience over two Sundays honoring multiple generations of cultural workers. On Sunday and Jan. 21 he'll stage an hour-long public procession, a slow meditative hike of sorts, through the Ascot Hills Park followed by a picnic and performances in the park.
The public is encouraged to wear red or blue, a collective costume that he sees as representing lava and water flowing through the hills. Participants are also encouraged to bring food to share at the picnic, where Danza de Compton will perform the Mexican folk dance "La Danza de los Viejitos" wearing traditional wood masks representing resistance to colonialism.
"The first Sunday is focused more on the elders," Baltazar said, "our roots, how we migrated here, the foundation of where we come from. The second Sunday is more geared towards the children, the future, what we're aspiring towards."
The inspiration for the piece came last year when Baltazar visited Mineral de Pozos, near Guanajuato, Mexico, an old mining town his grandparents had migrated from. He learned of a custom in which the miners met once a year for a celebratory picnic.
Baltazar sees the El Sereno location of "Mi Sereno" as integral to the piece. "Mi Sereno" translates as "My Peace," but as someone born and raised in the neighborhood, he also means "My Sereno."
"The trails end up becoming a microcosm or metaphor about how our ancestors have migrated throughout the continent," he said. "In the midst of this political climate where we're meant to feel like lawbreakers or guests in our own home, this little sanctuary in the park is a place to celebrate the fact that we're alive, and moving along the continent. We're here, we all ended up here no matter what our stories are."
Both Baltazar's and Escobar's works, Murphy said, "break down the relationship between the audience and the artist — because you're invited to participate in the midst of a community ritual that celebrates and claims a sense of belonging. It acknowledges connections between the land here and the land south of here. It's a celebration of a neighborhood as home."
Other highlights of the festival:
Astrid Hadad, "I Am Made in Mexico," Thursday: The Mexico City-based cabaret performer and activist, known for the lavish and storied sculptural costumes she makes, will perform with a band at the Mayan. She will play everything from rock to bolero music — and make eight costume changes in about 90 minutes.
Sylvia Palacios Whitman, "Around the Edge," Thursday and Saturday. With five local performers, the Chilean artist will restage pieces from the 1970s that include sculptural props and wearable art. Think ethereal mummies and imposing elephant trunks. There's also a new, architecturally inspired piece, in which some of the performers interact with REDCAT's ventilation system, crawling in and out of vents. Co-presented with the Hammer Museum and Show Box L.A./we live in.
Ligia Lewis, "minor matter," Friday-Sunday. Originally from the Dominican Republic and now based in Berlin, the choreographer will perform an exploration of black identity at REDCAT. Dancers Jonathan Gonzalez and Tiran Willemse will join Lewis in literally climbing the walls — and one another — to a post-apocalyptic-like score.
Teatro Línea de Sombra, "Durango 66," Jan. 16-18. The Mexico City collective will put on an interactive piece in Spanish and English, moving audiences in small groups through stage settings outdoors, adjacent to Walt Disney Concert Hall. The piece speaks to student uprisings in Durango, Mexico, during the summer of 1960s and protest actions today.
Carmen Argote, "If Only It Were That Easy …" Jan. 20. The L.A. artist will stage a two-hour motorcycle performance, in collaboration with other motorcycle-riding artists, honing her still-developing skills on an obstacle course she created near Griffith Park's Old Zoo. The event is preparation to ride her father's old Moto Guzzi motorcycle from Guadalajara back to L.A.
Find the full lineup of events here.
Follow me on Twitter: @debvankin
ALSO
LACMA and the Autry Museum announce new partnership to share their art
Machine Project is closing its door
Contested art and artifacts from Japanese American internment camps go on view
What's next for the Getty's Pacific Standard Time? This critic has an idea
---
Your essential guide to the arts in L.A.
Get Carolina A. Miranda's weekly newsletter for what's happening, plus openings, critics' picks and more.
You may occasionally receive promotional content from the Los Angeles Times.