Review: Jaime Martin electrifies in his warm-up with L.A. Chamber Orchestra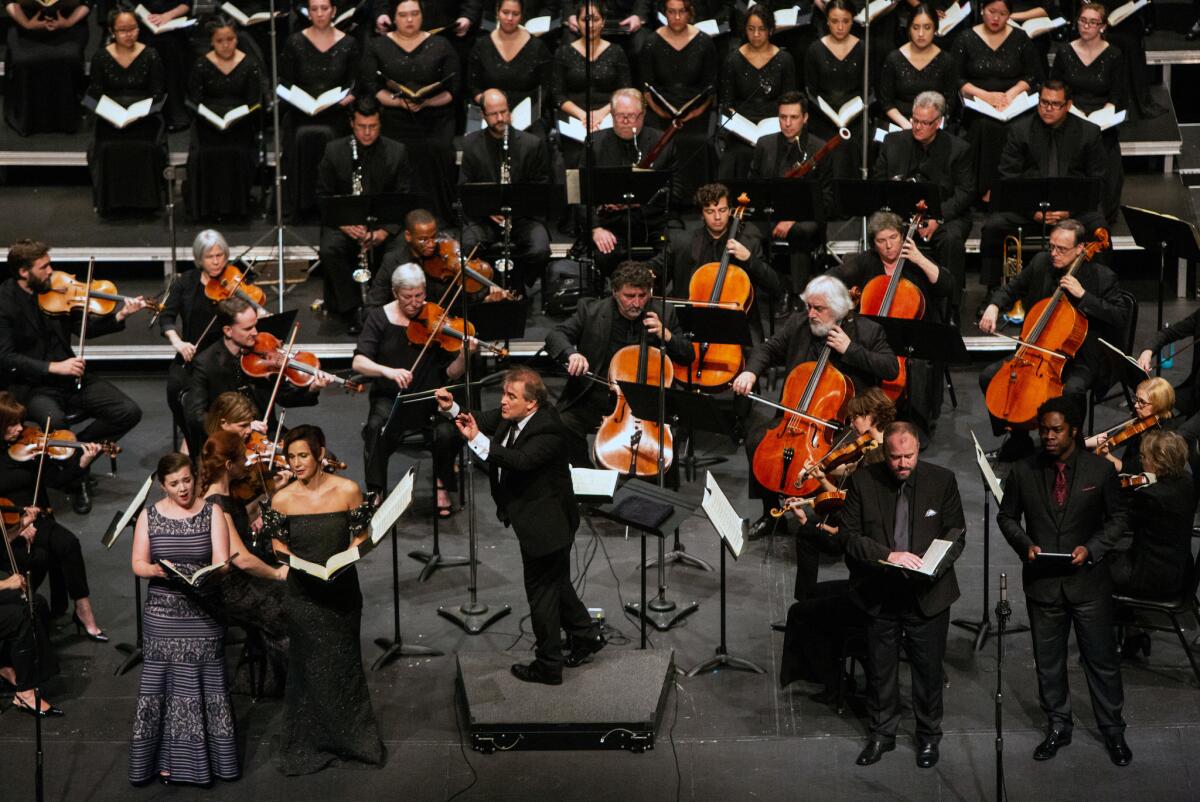 Music Critic
It is only fair to give Jaime Martín a little time. When appointed last year to succeed Jeffrey Kahane as music director of the Los Angeles Chamber Orchestra, the Spanish conductor was barely known.
A longtime flutist in top London orchestras, he had taken up conducting only recently. He is music director of the Gävle Symphony Orchestra in a Swedish city of 100,000 (yeah, I too had to look it up). He had had only a single public concert with LACO, and some very hot conductors also were prospects, including Matthias Pintscher and Karina Canellakis, who would have attracted instant international attention rather than left subscribers scratching heads.
Martín doesn't officially take the LACO reins until September, so, sure, let him have a little time. But just not much, not after hearing him conduct a rousing program with his new band Sunday night at UCLA's Royce Hall. It hardly takes a crystal ball to know that he will make fans very quickly.
I did say rousing. I could also say bewitching. What I haven't said is that the program, every bloody minute of it, was unnervingly stalked by death.
With the West Coast premiere of a Bryce Dessner song cycle setting suicidal poetry and Mozart's death-bed Requiem, the evening posed an unsettling philosophical inquiry: Which requires the greater resolve, to manufacture your own death as a work of incomprehensible beauty, or to defy death at your door in the manufacture of incomprehensible beauty?
Martín, however, found a miraculous third way. He buoyantly clung to life, taking a full measure of pleasure in every note and sentiment, implying that you'd better enjoy life while you can.
A boisterous flutist, Martín has become a boisterous conductor. He appears a musical hedonist whose exuberant physical gestures and facial expressions do not so much appear demanding as his dying, so to speak, to share the joy. From the audience perspective, it's all pretty hard to resist.
Dessner's "Voy a Dormir: Four Poems by Alfonsina Storni," was a co-commission with Carnegie Hall and the Orchestra of St. Luke's, which gave its first performance in February. The Argentine poet Storni wrote the poems on the eve of taking her life in 1938, and they are of exceptional beauty. Her melancholy glistens as "gold dust." In the last poem, the title of the cycle (which translates as "I Am Going to Sleep"), she calls for the lamp to be turned down a bit and asks for a final favor: "if he calls again tell him not to insist, for I have gone away …"
Dessner's bio is gradually being updated from guitarist in the rock band the National and composer of concert music, to composer first and guitarist second. "Voy a Dormir" will likely accelerate the process. I missed the Los Angeles Philharmonic premiere of his music theater piece "Triptych (Eyes of One on Another)" last month, but the new song cycle is the most impressive of his works I have heard since his short string quartet, "Aheym," for Kronos.
In "Voy a Dormir," which was written for the rich and unflinching intensity of mezzo-soprano Kelley O'Connor, Dessner makes little overt effort to understand, let alone explain or defend, Storni. He accepts her evocation of beauty at face value. O'Connor's is the poet's voice, but sounding as if the Storni were having an out-of-body experience. Suffering is not the point. The world in all its momentary glory is. The orchestra moves often in slow, methodic lines, thickened by the lower strings, with the piano the source of a distant twinkle in the heavens. Dressner's piano writing for the dual pianists, Katia and Marielle Labèque, on their new album, "El Chan," is a further, more forward example of such keyboard glitter.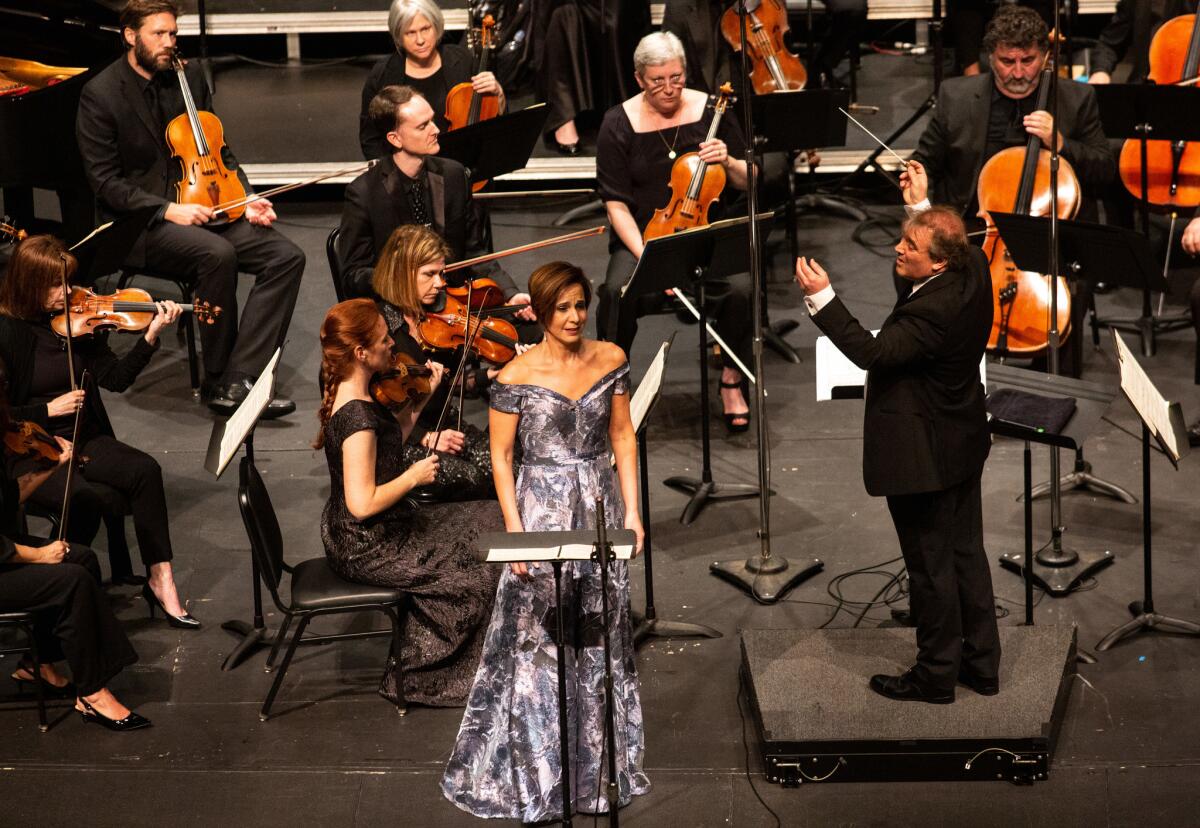 O'Connor was joined by soprano Sarah Shafer, tenor Thomas Cooley and bass-baritone Dashon Burton for the Mozart Requiem, and all of them might well have been singing a Mozart opera full of interpersonal relationships, resolutions and revelations. Martín asked for drama. His tempos were brisk. He reveled in lyricism. He saw to it that mortals confronted God with gusto. The USC Thorton Chamber Singers added additional bright-voiced youth.
The message could not have been clearer. If death is inevitable, joie de vivre is our best defense.
There is a danger, though, to this approach. Mozart died as he was writing the Lacrimosa, its last line beseeching the Lord to grant the dead peace. The version of the Mass we're most of the time stuck with is the one inadequately completed by Mozart's pupil. But to treat the Franz Xaver Sussmayr remaining third with the same conviction as Mozart's music, lessens the effect of a genius' extraordinary efforts to keep writing as life was leaving him.
Nothing more poignantly dramatizes the irreplaceable death of Mozart than to hear the perfectly acceptable music for the final third of the Requiem. Martín's exuberance lessened that a tiny bit.
But give him a little time. This was a thrilling performance, and the orchestra played like it was having the time of its life.
Get our L.A. Goes Out newsletter, with the week's best events, to help you explore and experience our city.
You may occasionally receive promotional content from the Los Angeles Times.