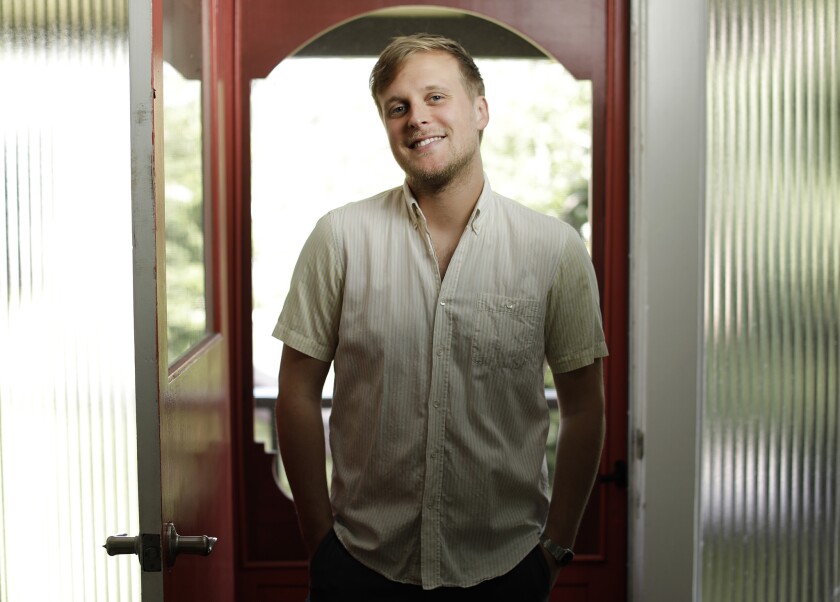 The persona of John Early can be summarized in one facial expression: a gritted smile under a pair of eyes bulging with rage.
But that isn't to say John Early, the person — best known for playing Elliott in the TBS series "Search Party" — has only one note. The comedian is obsessed with the false masks and daily performances of polite society, which he expresses in all kinds of characters (watch his episode of "The Characters" on Netflix for a primer), but in all of them, he said, there's "a consistent undercurrent of rage."
"I don't express that much rage in my personal life — you know, in my kind of day-to-day," said Early, 31, in the breakfast nook of his Silver Lake house. "It literally, thank God, comes out in comedy."
Early's brand of silly will be on display this week at the Satellite in Silver Lake. His live show, "John Early: Now More Than Ever," is a mix of stand-up, characters and full-on pop performance — Donna Summer and Britney Spears covers with a band. His high-wire act on the line between silliness and sincerity was inspired by Bette Midler and Sandra Bernhard.
"Their singing isn't, like, cloaked in irony," he said. "They're really just like, 'I'm going to make you laugh for 10 minutes, and then I'm going to sing a song and it's not a joke.' It's just like this fantasy that I dip into every year, where I'm the lead singer of a band."
Early is famous for his (loving) Britney impression, which leans into her trademark vocal fry. But when he sings her best songs at a show, from beginning to end, he's dead serious. "The Britney always kind of starts as a joke, and then five seconds in I'm like having the time of my life, and it's like just full sincerity," Early said.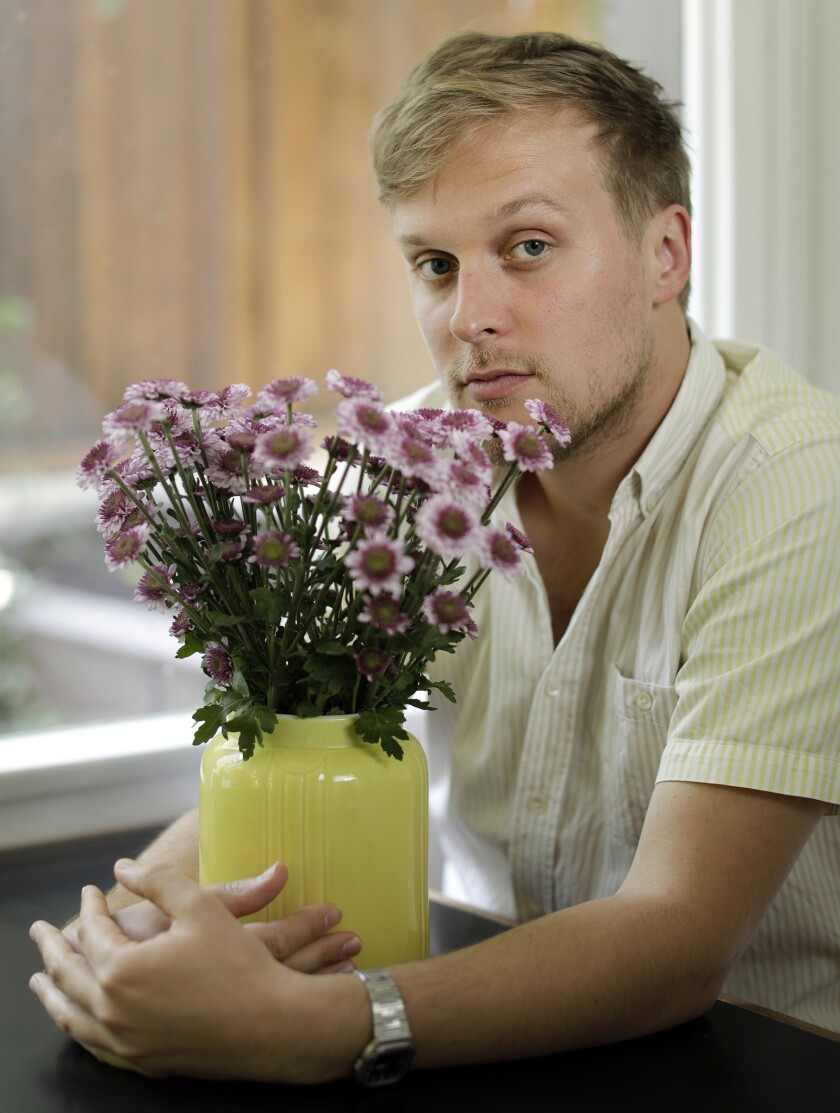 'ATLAS': Who brought a 36-foot orb into Disney Hall? Yup, that guy again »
The son of two Presbyterian ministers, Early grew up in Nashville "feeling like a little bit of a misfit," he said, "being friends with the girls, being a little gay kid. I was picked on, for sure. I think from a very young age I had a very kind of clear understanding of like my own experience of being a little marginalized, you know. And then, of course, I've grown into a more clear understanding of my overwhelming privilege."
Early's early work, in stand-up and online sketches, was fueled by an anger at the lack of queer representation in film and TV. He quickly carved out a persona that both trades on and subverts gay stereotypes, specializing in self-serious, narcissistic characters who are nonetheless endearing.
"There's a kind of a pathos, maybe, to a lot of the characters that he gravitates toward," said Kate Berlant, Early's best friend and comedy partner. "Or like, maybe a darkness. It's all connected."
Early and Berlant met in 2012 and quickly bonded over a shared language of class clowns.
"I guess we're both obsessed with the daily performance of life, and kind of the minutiae of socialization," Berlant said. "And I think playing people, or animating voices that are sort of self-centered or particularly maybe oblivious, but also anxious."
Early had scene-stealing bit parts in a few indie movies and TV series, including the "Wet Hot American Summer" revivals on Netflix, before landing the role on "Search Party." He and Berlant made a sketch series for Vimeo, "555," and wrote and shot a pilot — which starred the late Times restaurant critic Jonathan Gold as Berlant's father — for Hulu, who turned it down.
BREAKING OUT: A surprise star of 'Hadestown' and the chorus boys who steal the show »
"It was so brutal," Early said, "because we were trying to make something that was kind of like big-hearted — to us, it felt very kind of 1940s wartime entertainment. We were trying to make something that felt like vaudeville, and classic physical comedy, and kind of like the sweetest part of our friendship."
Early has a small role in Mindy Kaling's new film, "Late Night," as a writer for the fictional show hosted by Emma Thompson. "He is very familiar to me," Early said. "The ways in which this character is a clown for straight men for approval, which is definitely something I did all throughout my childhood, and then professionally too. Like, in rooms of comedians, I would just flirt and make them laugh — without kind of thinking about my own needs or feelings."
These days, Early's rage is tied to injustice on a larger scale, which has led him into a peculiar kind of political activism. He recently posted a video on Twitter captioned "No @JoeBiden No," in which he pops and locks on a city street wearing an outfit plastered with the word "No."
During last year's midterm elections, he made a comedic video about his efforts at canvassing in New Jersey with the group Swing Left, and another video with New York gubernatorial candidate Cynthia Nixon.
"He had this really adorable idea of doing this interview," Nixon said, "where he keeps trying to trod the straight and narrow path of asking me about the issues on the campaign, but he just can't help himself but be dragged back into 'Sex and the City' and Miranda-land. I think that it kind of exemplifies what's so great about him in the political realm — is that he is able to do these things that, you know, provoke people's interest, because they're funny and they're slightly off-kilter."
Berlant said Early is "exhausted with the more dominant form of political comedy right now, which it feels like we're all kind of choking on, and realizing, in some ways, the impotence of. Every late-night host has their, you know, obligatory sketch — 'How are we going to de-fang Trump today?' or something."
Instead, Early channels his rage into a silly smile and a dance, championing causes that are important to him but avoiding the self-righteous or just purely outraged tone he sees everywhere.
"He's not just like firing off a killer tweet," Berlant said. "He's actually doing stuff on the ground. But also, he would be embarrassed if anyone were to talk about him as like, you know, making a difference. I think he would roll his eyes at that."
The dancing, Early said, is a "pure rage valve."
"Literally, like if you go to the source material, it's like I am truly pop-and-locking," he said. "I'm not like laying out any sort of articulate argument, you know what I mean? So I don't deserve that much credit! I think there's a very limited tone in the way people talk about politics, and it's been cathartic for me to kind of try to create my own tone."
=====
'John Early: Now More Than Ever'
Where: The Satellite, 1717 Silver Lake Blvd., Los Angeles
When: 9 p.m. Tuesday-Thursday
Tickets: $20-$25
Info: thesatellitela.com
=====
See all of our latest arts news and reviews at latimes.com/arts.
---